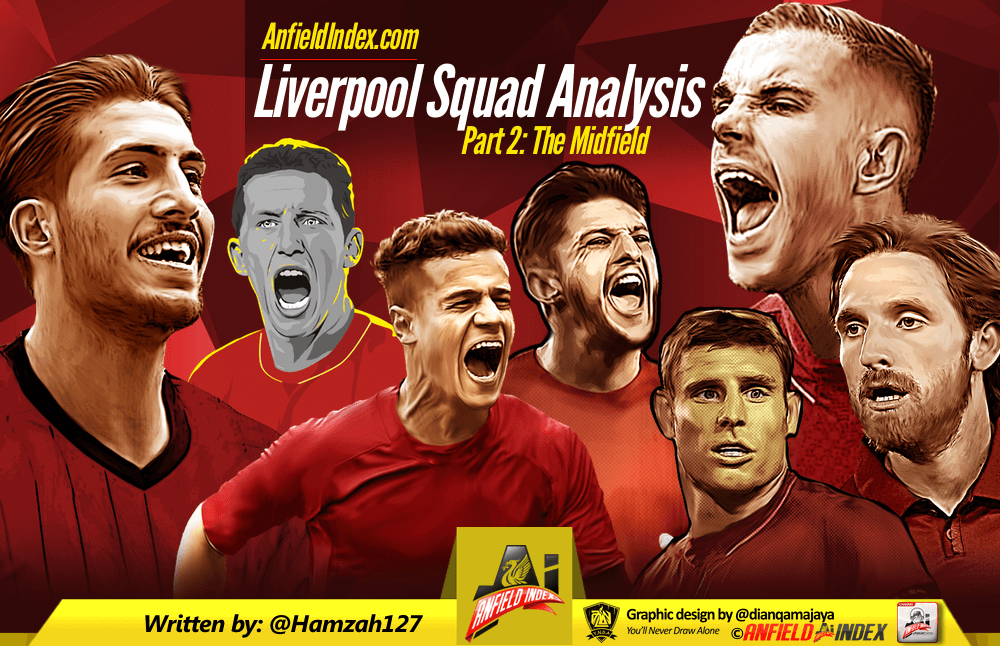 Liverpool Squad Analysis, Part 2: The Midfield
Following the League Cup final defeat to Manchester City, various reports were made of a potential clear-out at Liverpool FC this summer and invariably the possibility of a whole roster of incoming new signings, prompting this three part mini-series looking at the Liverpool squad; specifically, who is anticipated to remain in the squad, and also who deserves to stay. If you've missed the the first part regarding the defence and goalkeeper, and want to check it out, there's a link here, if not, let's begin.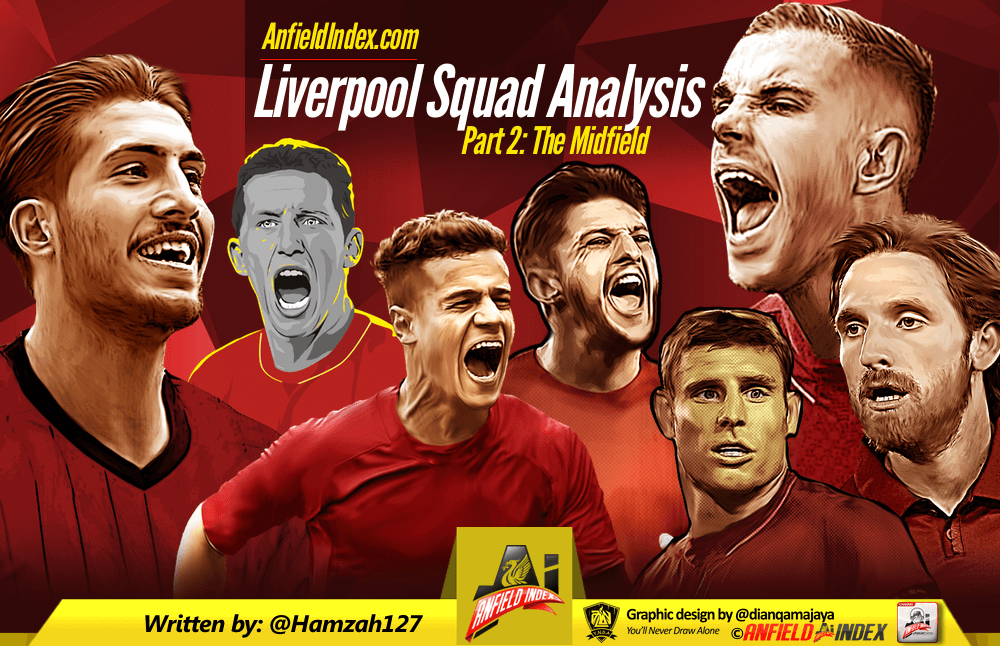 The Liverpool squad is blessed with a wealth of midfield options, ranging from the mesmerising attacking threat of Philippe Coutinho to the industrious Henderson, and then the quietly efficient Allen, but questions have been raised over the quality of several players within the midfield, and whether they deserve to stay on for the 16/17 season, especially as Klopp intends to stamp his own mark on the squad, and is expected to bring in quite a few additions in order to do so.

In this particular piece, I'll be looking specifically at Coutinho, Ibe, Henderson, Milner, Can, Lucas, Allen, Lallana, as well as a few players that often play for the U21s (Firmino will be classed as part of the 'forwards' and will feature in the final part of this squad analysis mini-series).
The first place to start is with the captain, and centre midfielder, Jordan Henderson. Much has been made of him becoming the new captain, but equally, and arguably more important is the focus on his performances across the season. He may have been beset with an unfortunate heel injury this season, but the poor performances and subsequently the growing criticism amongst the fans, questions whether he still be Klopp's man to lead Liverpool next season.
In 22 appearances this season, (2 of which have come from the bench), Henderson has only contributed 2 goals and three assists, all of which have come in his 14 league appearances; in contrast, last season's Liverpool captain and centre midfielder, Steven Gerrard, amassed 9 league goals and 1 assist from his 25 starts and 4 sub appearances. Conversely, Henderson has a 7.12 WhoScored average rating this season – not incredible, but not dreadful by a long stretch of the imagination – whilst last season Gerrard only had an average rating of 7.0, albeit it was both one of his worst seasons and also one where he played deep, and could not contribute as much as Henderson has the potential to.
Without looking at statistics, we know Henderson delivers on the high energy that Klopp demands, but not only has that reduced notably since his injury, he hasn't delivered on his tangible returns – another aspect which Klopp demands from his players – (i.e. goals/assists).
Whilst it could be argued that Henderson is not of the quality to play at Liverpool, that argument is nullified by Henderson's performances over the last two seasons, so we can attribute his poor returns this season due to form, or the heel injury he suffered. Notably, since the injury, he simply has not been at his best, he has not showed the dynamism he is famed for, nor has he produced a notable amount of goals/assists – whether this is a temporary issue or something that will be recurrent is unclear currently, proving to be a dilemma for Klopp. It is most likely however, that due to his injury, potential to deliver on Klopp's tactical demands, and his position of captain, Klopp will not want to move Henderson on without giving him time to fully recover and to show what he is really capable of; that's not to say he will be a guaranteed starter next season, especially if his form stays at its current level; and possibly, if Klopp we to remove the captain's armband from him, it may even liberate him, and relieve the pressure on him that may also be repsonsible for his form.
Equally so, Klopp may decide that Henderson is crucial for his plans, and the incoming Marco Grujic could be used alongside him to allow Henderson to have a 'freer' role within midfield. But it is almost certain that Henderson will be staying on next season, but his role in the team may very well depend on his performances over the remainder of this one.
Philippe Coutinho is undoubtedly an integral part of the Liverpool team, he adds a zip, and directness to the team when he plays, and also contributes in terms of goals and assists, usually important ones too.
This season, despite injury issues, Coutinho has averaged a 7.17 WhoScored average from his 25 games, with a 5:5 goal/assists return, and even 3 Man of the Match awards. Obviously statistics do not cover the whole picture, but they provide a decent guideline – they do fail to show Coutinho's poorer moments within the season though, where he was ineffective, but that could simply be due to poor match fitness, as when he's played below expectations this season, he had recently came back from an injury.
With Coutinho though, like Firmino and Sturridge, his place in the squad looks extremely secure, barring a substantial bid from a top European club. It's evident through his performances alone, and mercurial ability that he deserves to stay, but it is his influence on the team that cannot be understated. Much like when Sturridge plays, Coutinho has the ability to raise Liverpool's game to another level – evident in the 4-1 & 3-0 away victories over Manchester City and Chelsea. He may be criticised for not contributing enough directly through goals and assists as Firmino has for instance, but at the age of 23 he can still be developed, and he also plays a key role in Klopp's pressing and counter-attacking game plan. For Liverpool, their priority this summer should be to keep Coutinho, before considering new signings, as without him, either multiple players would need to be signed, or one stellar player, to make up for his departure.
Emre Can's performances may have been called into question this season, but Klopp has kept him in the team for quite a while, ahead of Lucas and Allen, suggesting that he has faith in Can, and is looking to develop him. Whilst he has not been performing at his very best consistently all season, and is prone to an error every once in a while, his physicality and energy is something that Liverpool require very much, and so it is a safe bet that both he and Henderson will retain their places within the squad, even with new midfield additions expected.
Can has raised his level in recent games, notably the Aston Villa, Crystal Palace and Manchester City league matches, but sometimes lacks that little smidgen of extra sharpness that would qualify him as a top player; his consistency and low returns through goals & assists would suggest likewise. It is impressive though that he averages a 7.06 WhoScored rating as a centre midfielder with defensive responsibilities and also one who is one year younger than Coutinho, who Liverpool fans are slightly more patient with.
With Can's inclusion in the German national squad, as well as being under Klopp's tutelage, his future looks bright – but the signing of Marco Grujic may concern him, as they play a similar midfield role. Can plays a important role within the squad, with 'utility player'-like qualities, and whilst next season Can may not be a certain starter with the increased competition for places, his versatility and clear quality and potential will mean he will certainly make a large amount of appearances anyway, regardless if he's not the first choice centre midfielder.
Is Can good enough to be in a title challenging team – as Klopp aims to be? It is not entirely clear at the moment, but it would seem that Klopp's faith in him to regularly play Can would indicate so.
Much was made about Liverpool signing James Milner in the summer on a free transfer, and whilst many fans were not impressed with the 30 year old Englishman joining, he has made a considerable contribution this season that is often understated.
Milner has scored 5 league goals, and notched 7 assists in 23 league games, and has scored a further 2 goals in his 6 Europa League appearances – a 7.13 WhoScored rating for across the season, higher than that of Henderson and Can.
Milner, like Henderson, is of an industrious nature, and is recognised for his crossing ability too, Generally speaking, he is tidy on the ball, but he does not offer something exceptional as players like Coutinho and Sturridge do. Klopp though, with such a young squad though may look for a player with experience and reliability in his squad, which is why Milner is likely to stay on next season. Whilst Milner may not be a player that will add the extra quality needed for a tilt at the title, it is undoubtable that he adds depth to the squad, and a cool head too – seen through his penalty responsibilities over the season – the red card against Crystal Palace appearing to be an anomaly with it being only the second of his career.
It does not look as if Milner will start all of the games for the rest of the season if fit, let alone those next season, but Milner does offer a very good option from the bench, and may make up for any experience or leadership lost in the dressing room, if players like Kolo Toure or Martin Skrtel leave this summer. It is foreseeable though that Milner may leave, but it does appear unlikely, as Milner's ability to play as a centre or wide midfield player, as well as an ability to press for a full match will appeal to Klopp, but if Milner were to have a poor end to the season, and Henderson and Can both impress, it may become apparent to Milner that he may fall down the pecking order, which may eventually lead to him moving on, but generally speaking, it looks as if Milner will be staying.
Another player with experience, reliability and an ability to keep the ball is Lucas. Lucas has been at Liverpool for 9 years, in which he transformed from the box-to-box midfielder he once was, to a stalwart defensive midfielder. Whilst he may not chip in with goals and assists, nor offer the defensive protection of top defensive midfielders like Busquets or Mascherano, Lucas is more positionally aware than both Henderson and Can, and more defensively astute too. According to WhoScored, Lucas averages 4.7 tackles per game, the second best record in Europe, and even more impressive when considering that he's played just under 1000 minutes less than Toulouse's Akpa-Akpro who tops the tackle table. Also, rather impressively, he averages a 7.04 rating per match, not bad at all for a player oft criticised for his only contribution being to break up play.
Not only this, but when called upon to play at centre back this season, Lucas has excelled, showing leadership and composure at the back, during tough times when the team had suffered multiple injuries.
The issue for Lucas is both whether he will get enough playing time to warrant being in the squad next season with a new centre midfielder confirmed to join, as well as both Can and Henderson too, but also if Klopp believes that Lucas is good enough to play in his team, considering his contribution to the team is exclusively defensive; whereas Henderson and Can offer an attacking threat too, albeit their defensive side is considerably weaker than Lucas'. It's tough to call whether Lucas will be sold in the summer, it may depend on how Grujic performs, or if Liverpool decide to buy a new, specialist defensive midfielder; but like Milner, and Skrtel (mentioned in part one), Lucas can offer a good option from the bench, and keeping him in the squad would retain experience and solidify the depth within it too – as quality or quantity is not enough alone, both are required for a team challenging for a title.
However, of the midfielders mentioned thus far, it would appear that Lucas would be the most likely to leave of them.
Joe Allen has shown in games this season, and last season that at his best he is a very tidy, nifty and creative player that can influence games – his performance against Manchester City at home last season was absolutely stunning, as he outclassed Yaya Toure in the centre of midfield – he doesn't get the credit he deserves for his contribution either, as he stops the play from stagnating, as Liverpool are sometimes guilty of.
The issue for Allen is that he has only made 6 Premier League starts this season, and 8 from the bench; he averages 6.57 on WhoScored – a lower score than any midfielder examined so far – and has only contributed one goal in the league this season to the team. With all of the competition ahead of him, and Klopp's unwillingness to utilise him fully, as well as the necessity for him to play football at the age of 25 to keep his Welsh national team spot, it seems inevitable that Allen will be sold in the summer. Although, if Lucas or Milner were to leave, Allen may be afforded a place on the bench for the upcoming season, and whilst he may not be of the calibre of the substitute midfielders of Liverpool's rivals, he is still a handy player, that can do an efficient and reliable job when called upon. Ultimately, he does look the most likely midfielder to be on his way come summer.
Adam Lallana had been subject to heavy criticism during Brendan Rodgers' tenure at Liverpool, and even during Klopp's reign – with Jamie Carragher notably calling Lallana out for not having an end product. In recent games though, Lallana has stepped up considerably, not only pressing like a madman, but contributing through both goals and creating chances.
So far this season, Lallana has 5 goals and 5 assists in his 29 appearances – averaging 7.04 on WhoScored; but at the age of 27, he is meant to be at his peak and performing consistently at a high level – and it is his consistency which will give Klopp reservations about Lallana; when at his best Lallana is extremely impressive, but he is not consistently at that level, and when he doesn't play well, he can go unnoticed and drift out of games.
Liverpool have been heavily linked with attempting to sign a new attacking midfielder (linked with Götze & attempted to sign Alex Teixiera) – and with Coutinho and Firmino not looking as if they're going anywhere – naturally Lallana would be the attacking midfielder that would fall down the pecking order. With the anticipated return of Lazar Markovic too, Lallana may have trouble justifying why he deserves to be in the squad, let alone the starting XI – unless of course, he keeps up his level of performances for the rest of the season, but that is incumbent on him to do.
Lallana's fate, like Allen is not certain, but it does appear likely that he may also be leaving Liverpool in the summer, especially as Liverpool are searching for a new attacking midfielder, in a fairly concentrated department anyway.
Jordon Ibe was meant to replace Raheem Sterling, and provide ingenuity, pace and width; unfortunately for him this season, it appears that the pressure of replacing Sterling has got to him, and his confidence is fairly low too.
Ibe only has 1 goal and one assist in 26 matches this season (14 of those as a substitute), and averages a 6.59 WhoScored rating – with only Allen having a lower rating amongst the midfielders looked at. His crossing ability is also noted as 'Weak' by WhoScored, an essential attribute of a winger – but Ibe has time on his side, at the age of 20, he still has plenty of time to develop under Klopp, but he will need to improve some of his performances over the remainder of the season to ensure that Klopp is willing to work with him and give him more time at Liverpool. Next season it is unlikely he will start many games, and may even be sent out on loan, but the most likely prospect for Ibe next season will be making substitute appearances for Liverpool, but he will have to compete with Markovic too for the winger position, making for an interesting prospect next season.
There are several players who have made senior appearances this season, but most regularly play for the u21s team, namely Texiera, Stewart, Brannagan, Chirivella and Rossiter.
Unfortunately for both Texiera and Brannagan (23 & 19 years-old respectively), as their preferred position is attacking midfield – currently Liverpool's strongest area, and one which Liverpool are still looking to improve – it appears extremely unlikely that either player will get a chance for those spots in the senior team due to the extremely high levels of competition.
Competition is also an issue for the 22 year-old Kevin Stewart, he may be highly rated by the Liverpool coaching staff, but with Can, Henderson, Grujic, Milner and maybe Lucas, the chances for Stewart to play look at first glance to be limited, but he does have a better prospect than Texiera and Brannagan though, so his future is still up in the air; and his ability defensively may lead Klopp to selecting him more often – as Henderson and Can are not as defensively astute.
Chirivella and Rossiter, both 18 years-old may still have a future, as they have been afforded places within the team this season, and also have youth on their side, but with the heightened competition within the squad for places, as well as anticipated signings, they may well be sent out on loan to ply their trade for a season.
Liverpool certainly have some very good players, and a handful of promising ones; but the clear-out that some fans may have expected is slightly unrealistic however, and it is likely that only a few midfielders will be leaving the club, with some players (such as Milner or Lucas) given a role as a squad rotation or bench player, and Klopp will use these players to add depth, consistency and keep the experience within the squad – in order to cultivate a team that may eventually challenge for the title.
Some players may be good players in their own right, but not good enough to start in a team that is meant to be challenging and winning league titles, these players will either be sold or retained, to perform a role in increasing the depth of the squad.
To conclude, despite the reservations of some fans, the midfield is fairly solid at the moment, and Klopp will only look to make a few changes to increase the quality of it, through one or two signings (most likely another deep lying creative player), in order to avoid another 'transition' season, and attempt to build on the foundation already set to challenge for the title – as throughout the season we've already seen that Liverpool can compete against the top teams, it is just consistency that needs to be ironed out, and by keeping changes to a minimal level, and improving the squad with a few high quality players, Klopp may achieve this.