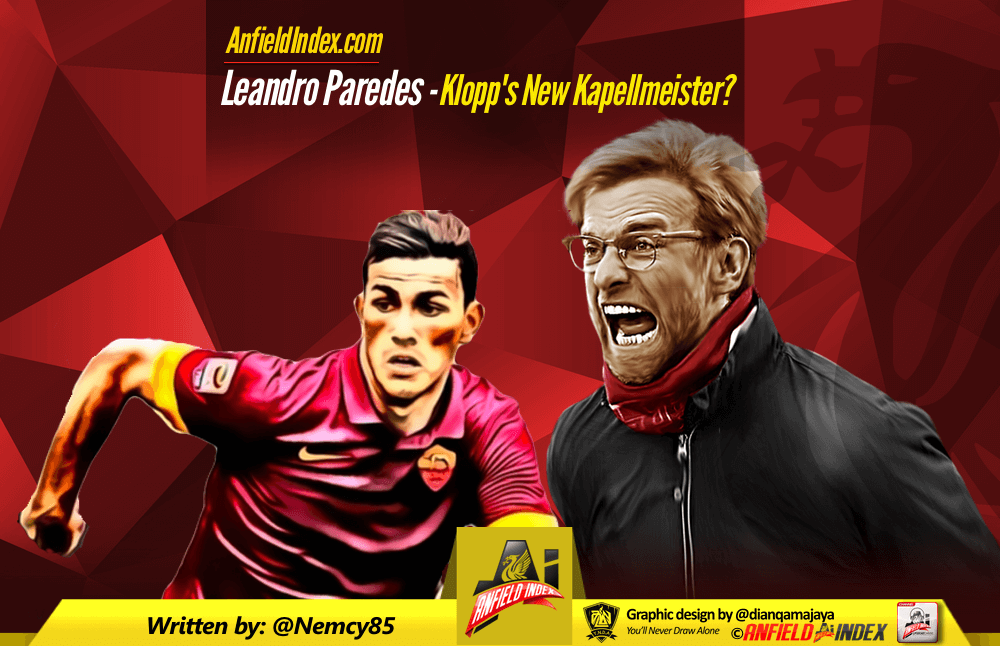 Leandro Paredes - Klopp's New Kapellmeister?
Simply translated, "Kapellmeister", is a German word used to describe a musician in charge of music-making. Nowadays in Germany, Kapellmeister is considered as the Director or conductor of the orchestra. That's what Leandro Paredes represents at Empoli. When the music or in this case football is played right and beautifully at Stadio Carlo Castellani – it is all down to Argentinian midfield maestro who is the conductor of everything great that is happening at Empoli this season.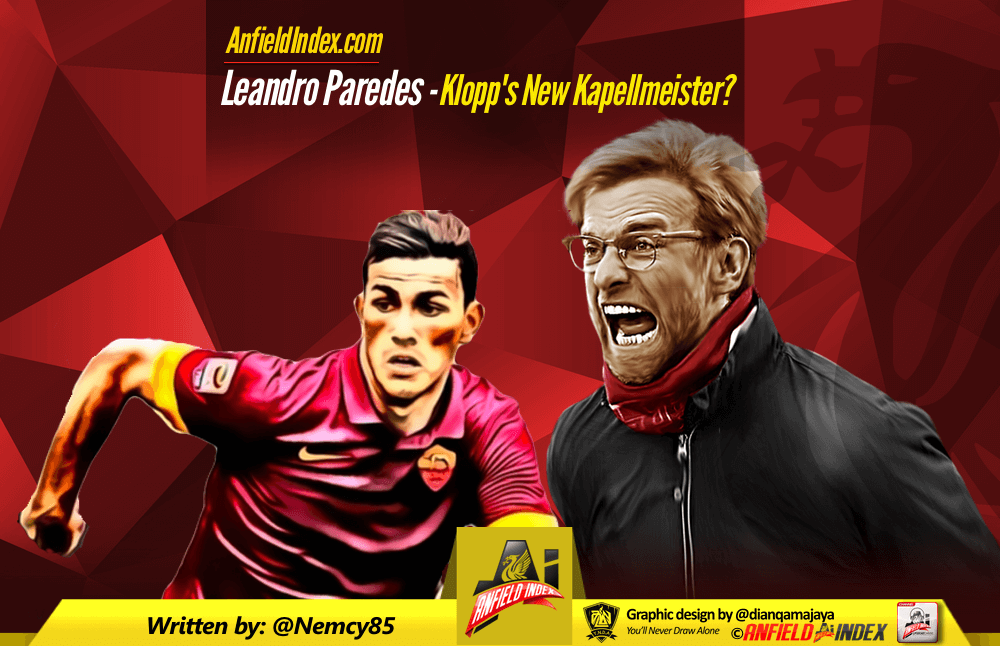 To some Empoli's current 11th position at the table doesn't seem impressive, but given the fact that they finished the last season in 15th and that they had Maurizio Sarri as their head coach as well as the players such as Daniele Rugani, Elsaid Hysaj and Mirko Valdifiori in their ranks, the Italian team was expected to fight a tough battle to avoid relegation this season. Instead they are sitting comfortably at the mid-table position without the fear of being relegated.

It is not just about results however, as Empoli are playing some stylish and attractive football this season. They are a side who likes to have the ball at their feet, dominate the possesion and dictate the play. All this would be almost impossible without Paredes who joined them last summer on a loan from Roma.
The 21-year-old's future at Roma was not looking bright and they sent him on a loan to Empoli in order to gain some experience and get more playing time before they make a final decision about the player. Now the Giallorossi are aware that they have a real gem of a player spending his time away from the capital and will have to hold off the interest of Manchester City and Liverpool in the summer who are reportedly heavily linked with the player.
From the continuous expectations to fill in the boots of Juan Roman Riquelme during his time at Boca to drawing comparisons with Andrea Pirlo now, Leandro Paredes went through a lot and has come a long way despite still being at tender age of 21.
At his homeland and since the day he stepped out on the pitch of La Bombonera Stadium, Paredes had to cope with the pressure and with the imposed fate by the fans that he will be the heir of Riquelme. Initially he impressed, but the burden of those expectations soon became too heavy and his progress was also interrupted with a career-threatening injury.  When he recovered to many he seemed like a pale picture of himself before the injury struck him.
Roma however, decided to gamble and brought Paredes to Italy (via Chievo due to non-EU players regulations in Serie A), in an attempt to resurrect his career and develop him into a player he was destined to become.
Paredes is naturally considered as an attacking midfielder and as such, he struggled in 2014/15 to find a place at Roma who at the time didn't use an attacking midfielder within their formation. He only made 10 appearances and started only four games for them last season; it looked that he would be one of those hundreds of other players who failed to escape from purgatory and fulfil their potential.
Fortunately for Paredes, Empoli have somehow became a club who can recognise players' true talents and utilise them by switching and adapting them to new positions and roles. They did it with Piotr Zielinski and they did an even more amazing work with Paredes.
Just like Andrea Pirlo, who used to play as a striker or in more advanced midfield roles as a youngster before making his name as one of the greatest registas who ever graced the game – Paredes also discovered himself in the same position.
In a 4-3-1-2 system (the diamond formation) at Empoli, Paredes occupies the central role in the three-man midfield and fulfils the duties of a deep-lying playmaker. If you only look at Paredes' numbers this season, you will not get a clear picture of the player and those stats might leave you disappointed and lead you to a conclusion that he is nothing better than Joe Allen.
Two goals, one assist, 83% passing accuracy, a little more than one dribble per game, 1.85 shots and 2.65 tackles per game. Not bad, but nothing impressive either, right?
Wrong!
Paredes brings so much more to his team than those numbers. Everything begins with him at Empoli and not a single attacking move goes without the Argentinian touching the ball. He is not one of those deep-lying playmakers who is playing it simple with short passes and away out of trouble.
He is an intelligent creative midfielder blessed with neat technique and with enough brash to take on an opponent, run with ball and attempt risky passes which could open up the defence. His vision, passing range and the ability to hold onto the ball with ease even when he is under heavy pressure are the main reasons why is he drawing comparisons with Pirlo.
Paredes also has that Pirlo surgically-precise long ball, which finds a teammate in the opposition's box, but the difference is that Empoli don't have enough talented strikers to make use of them.
With the risk of labelling the player further as the new Pirlo, Paredes is also a dead-ball specialist and would most likely be a first choice at Liverpool when taking free-kicks and corners. He has a cannon in his right foot and the opposition should think twice before they leave him unmarked and with enough space to shoot from distance.
Considering that Paredes is playing his debut season in a new position, he should also be praised for the work his doing in defence. He covers a lot of ground, tackles and he is aggressive. His positioning is still questionable and his timing with tackles is far from being perfect which is vindicated by his collection of eight yellow cards this season. But as times goes by and if he continues to develop the way he did so far, there is no doubt he will improve in these areas too.
Paredes doesn't have many weaknesses. Apart from his aerial ability and his lack of strength, he is not particularly a fast player. There are also those who would claim he needs to be more consistent with his performances and they might be right to some extent but you have to keep in mind that he still needs some time to fully understand and adapt to his new role. His off the ball movement is also not perfect yet, but it is evident he improved there too compared to few months ago.
All in all, Paredes is definitely a player who would suit a club that favours possession football and therefore it is no wonder why Manchester City are also linked too. He is a player who could find his place easily under Pep Guardiola and his football philosophy which he will try to implement there. The Catalan manager has a soft spot for midfield pivots and it would be natural for a player like Paredes to work under his guidance.
The Argentinian is not just a player who brings his skills and talent to a club but also a footballer who could allow and provide any team to change their style of play because of the characteristics he possesses.
At Anfield Jurgen Klopp has a midfield full of destroyers and is in a need of imaginative midfielder with Paredes' qualities who would polish their squad. The German boss might have identified him as someone who is similar to Ilkay Gundogan and could do the same job he does successfully at Dortmund. With his creative mind and exceptional ball control in tight spaces, Paredes offers alternative methods to Liverpool and the way they could play in the future.
Nevertheless, Klopp's team requires the Director who can help him create his own symphony and play his kind of music at Liverpool. The only question left answering is: will Leandro Paredes be the one who will lead his orchestra and become his new Kapellmeister?