We are back with the second part of this series looking at the potential candidates to be Liverpool's captain next season. After assessing Jordan Henderson in the first part, this time we turn our attention to Henderson's midfield partner, Emre Can.
I'll say this: If Emre Can stays at the club for the next 4 or 5 years, he will definitely be the Captain by then; there is absolutely no doubt about that. But, is August 2016 too early to thrust a young man into such a big role?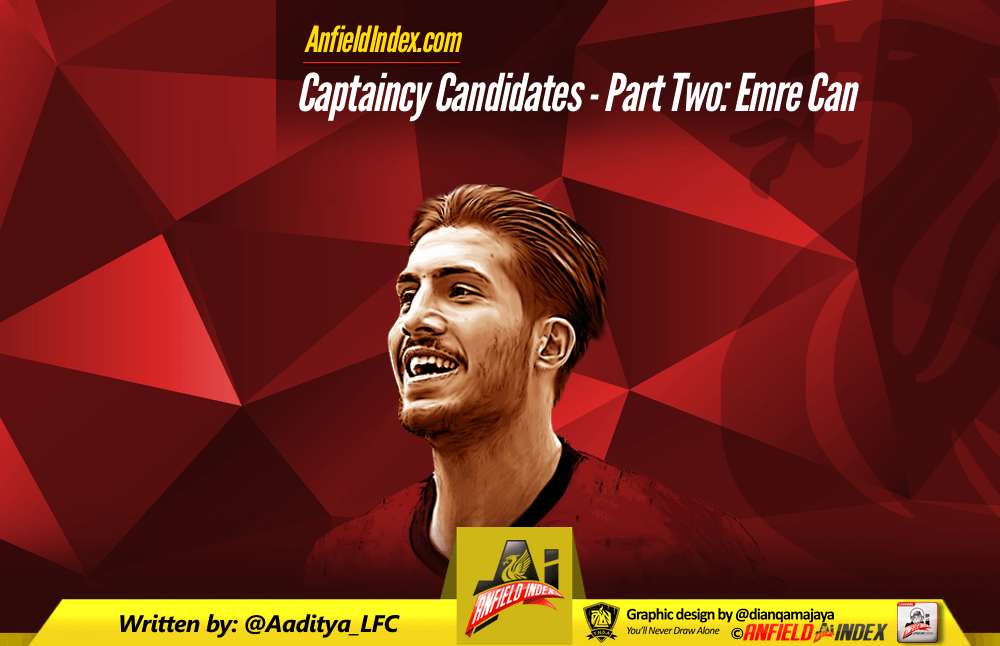 There is the old adage that if you're good enough, then you're old enough. And I think that is certainly true with Can. I think he is ready to take up the additional responsibility if Jürgen Klopp entrusts him with it.
It is so refreshing to see Can when he is on the pitch. It is easy to forget that Can is only 22 when you see him. There is little doubt that he is our most expressive player on the pitch.
The first time I saw Can was on our pre-season tour to the USA in the summer of 2014. Being a youngster who had just arrived at a new club to completely different surroundings, it would have been very easy for Can to get bogged down and make the excuse that it takes players some time to settle into a new club. Instead, Can was straight at it, and in one of those games, I vividly remembering him having a right go at Kolo Toure for a mistake.
That to me, sealed the deal right there. He was 20 then, and yet there was no inhibition about Kolo being the senior statesman. A mistake had been made and it had to be called out.
Keith Cross raved about Can, here, about him being the instigator of a lot of good things that Liverpool do on the pitch. He is almost always the one leading the press. I've seen when we lie too deep in defence, the person trying to lead us out is seldom anyone else.
His development has been tremendous this season, and that is largely down to Klopp. But Can is just the sort of midfielder that Klopp's system demands. He is fearless both on and off the ball, and for someone built as he is, he has got really good feet – albeit slightly heavy at times. Klopp has underlined Can's importance by very rarely moving him away from central midfield.
But what has stood out for me is Can's temperament. He has never been overawed by any situation and in the "big" matches, he has invariably been among our top three players.
But, all of this is evidence that Can is ready to take the role of captaincy. Whether it should be given to him or not is a completely different issue.
I believe that for all that he has displayed, it would be best for him and his growth as a player if the captaincy went elsewhere. He has got the potential to reach stratospheric heights, and if things don't go to plan with him as captain, that could hugely impact what we get out of Can as a midfielder.
For me, Can is a player who doesn't really need the armband to be the leading figure on the pitch. He is already doing that, and with more games, he will only get wiser.
Ultimately, I think Can is definitely captaincy material, but the armband could work as a negative influence on his development as a player, and for the moment, Liverpool needs Emre Can the midfielder more than Emre Can the captain.
Maybe, if we can find someone else to take the captaincy, the big German can be to that man, what Jamie Carragher was to Steven Gerrard.