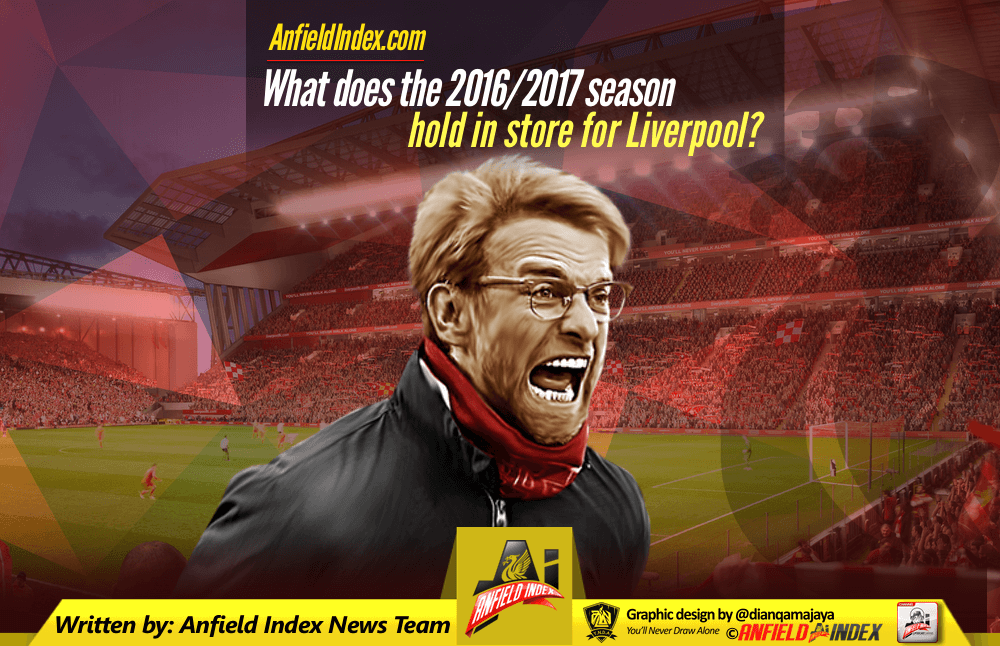 What does the 2016/2017 season hold in store for Liverpool?
The disappointment of losing the Europa League Final in Basel may leave a different angle on the 2015/2016 campaign, but it should not take away the many positives that Liverpool have experience since Jurgen Klopp arrived at Anfield. A rollercoaster of fortunes and emotions may be the most fitting way to sum up the season, particularly in Europe where fantastic comebacks against Borussia Dortmund and Villarreal put Liverpool within touching distance of the trophy. However, Klopp is fully aware that there is plenty of work ahead of him at the club, but there is no question that the fans are right behind the charismatic German and the way he wants the team to play. His vow that Liverpool "will come back stronger" following defeat against Sevilla should fill us full of confidence that Liverpool can recover, and although there will be no European football next season, it may prove to be a blessing in disguise. Finishing eighth in the table, which equalled Liverpool's lowest ever Premier League position, will undoubtedly be the focus of attention for Klopp, but while Coral may jump the gun and include the Reds amongst the title favourites next season, it may prove to be a crucial summer at Anfield.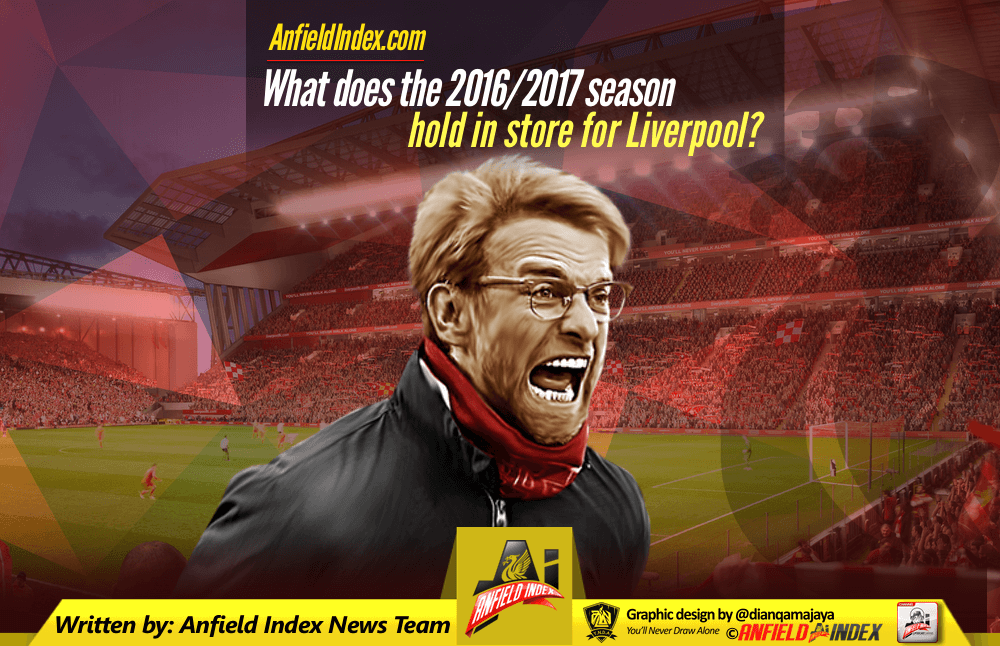 The upcoming European Championship in France may limit the amount of time that Klopp has on the training ground to further implement his philosophies ahead of his first full season in charge, but missing out on the Europa League qualifying rounds will allow the team to get their heads down instead of think about travelling to obscure parts of Europe. Liverpool's high pressing, otherwise known as the "gegenpress", is something that could become a hallmark of the team going forwards, but the manager will have learnt a lot about his team over the last seven months. Klopp and his coaching staff will have paid close attention as to where Liverpool can improve next season, and although some would point to the fact that he chose not to bring anyone into the club during the January transfer window, it could have been a case that his preferred targets were unavailable and he placed his trust in the players currently at the club to show whether they can fit into his philosophy.
The manner in which Liverpool fell away in the second half of the Europa League Final may provide Klopp with food for thought, with the manager tasked with the responsibility to improve Liverpool's mentality. Fantastic performances at Manchester City and Chelsea illustrated just how good the team can be when firing on all cylinders, but there have been other games where Liverpool have significantly dropped off and played within themselves. It is difficult to put a finger on why there has been a distinct contrast in performances over the campaign, but Liverpool will not get away with it, particularly next season when the quality of teams across the Premier League is likely to improve even further due to the increase in television revenue.
There is no question that the summer transfer window cannot come soon enough for Liverpool, with the rumour mill likely to throw up a whole host of names that could be arriving at Anfield. Klopp does not appear to be the sort of manager that will make wholesale changes and bring an entirely new line-up to the club, but although it remains to be seen what level of financial backing is provided by FSG, the manager may already have his eye on a number of players he believes would make a real difference at Anfield. Bringing in three or four marquee signings could see Liverpool highlighted amongst the early tips for next season's Premier League title race with Coral, but Klopp will not sign players based on name alone. His eye for a bargain became a trademark of his time at Borussia Dortmund, with Shinji Kagawa (free transfer in 2010), Robert Lewandowski (£3.33m) and Mats Hummels (£2.94m) to name just three of the players who proved to be wonderful value for money. Liverpool may need more than bargain signings to meet Klopp's objective of turning the Reds back into a Premier League force, but given how much Riyad Mahrez and Jamie Vardy cost Leicester compared to what they have achieved this season, his time in Germany is more than enough to trust Klopp in the transfer market.
Every fan will turn into a football manager and make their own decisions on the current state of the squad, but bulking out the squad with stronger options and adding more quality to key areas would be a clear sign that Liverpool are making the desired progress. Christian Benteke has failed to live up to expectations since Brendan Rodgers brought him to the club for £32.5 million, while Martin Skrtel may feel that his omission from the Europa League Final is a sign that his time at the club could also be coming to an end. Fellow centre-back Kolo Toure is currently out of contract this summer, and with Mamadou Sakho facing an uncertain future following his failed drugs test, Klopp's first port of call could be to make significant improvements in defence.
Joel Matip will arrive this summer following a pre-contract agreement, with Liverpool likely to search the market for another centre-back and possibly a left-back amid concerns over Alberto Moreno's defensive qualities. There would also be room for a proven goal-scoring striker if Benteke departs, and while Daniel Sturridge could be amongst the Premier League tips to finish next season as top scorer, a big question mark remains as to whether Klopp can rely on the England striker to stay fit for an entire season. Mario Gotze would be an unbelievable signing if the tabloid speculation turns out to be true, but no European football next season could prove to be a major dent in any possible deal for the Bayern Munich star or any other top level player. However, Klopp's pedigree and reputation, not to mention Liverpool's rich history in world football, will undoubtedly serve as strong appeal to any player that the club makes an approach for as the German will view next season as the one where Liverpool can return to the top.