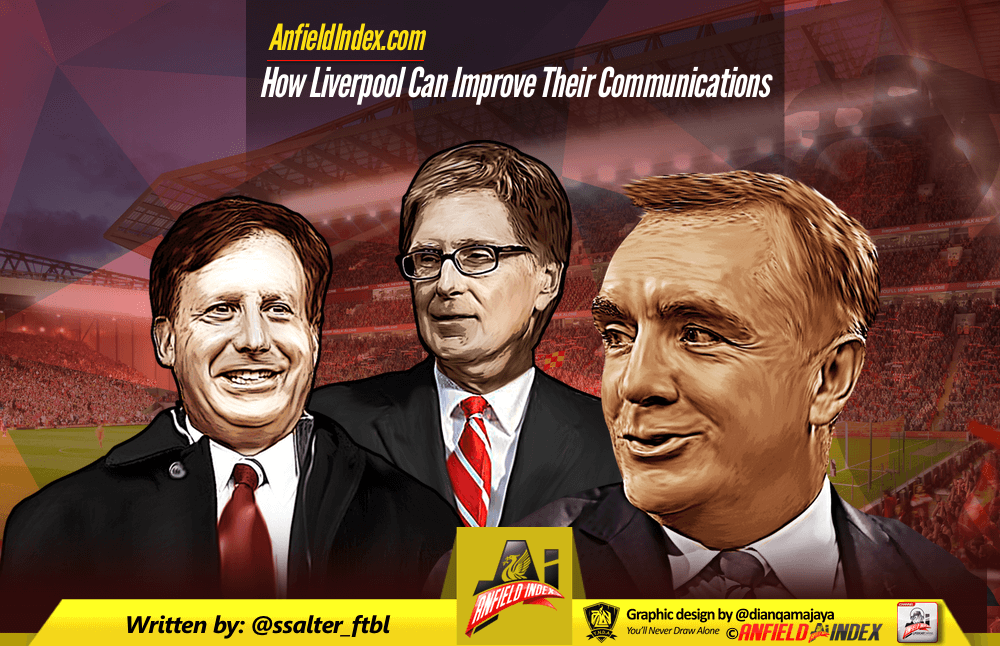 How Liverpool Can Improve Their Communications
Following on from Sam McGuire's excellent analysis of the PR disaster that is Liverpool Football Club, it got me thinking of how Liverpool should improve their communications.
Working in public relations, I consider myself to have a level of authority on the subject. It's often difficult to watch Liverpool operate in a communications field, with a number of errors made.
As Mark Borkowski of Borkowski PR explained "There is a lack of imagination around the people inside the governing bodies, a failure to grasp behaviour and how that extends beyond the pitch or the bankroll –­ dangerous when a middle class media has colonised the ongoing commentary."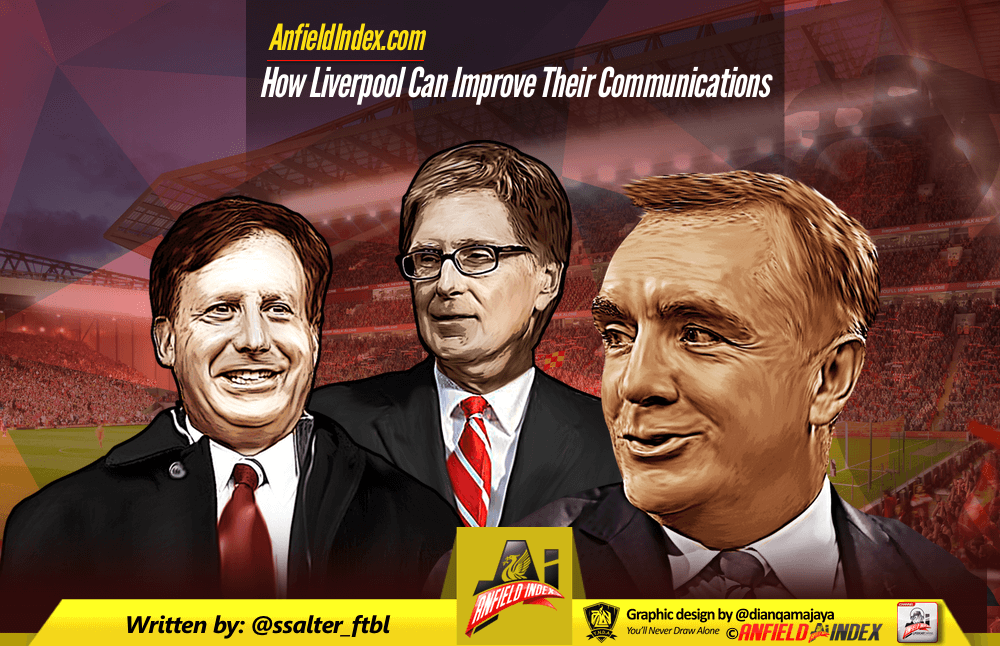 So how can the Reds improve their communications? Here are my suggestions:
Lock Up
For too long, Liverpool have missed out on transfer targets because of communications errors. Interest in a player has been leaked to the press, who in turn have created frenzy around the signing of this specific player. As a result, the club's fans get excited; countless articles, analysis and tweets are sent out about the player and what he'd bring to Klopp's side. This creates a sense of anticipation among the fan base, who are subsequently let down when the deal falls through.
It's happened this week; the club's interest in German World Cup winner Mario Gotze has been long documented. Reports broke that the club had "thrown the kitchen sink at Gotze" and that a deal was edging closer. Some reported the relationship with Klopp was key, some reported that he had the same agent as Karius.
Then some reported he was going to Dortmund, some reported that he wanted to stay at Bayern. Gotze himself then confirmed the latter, all but ending the dreams of Liverpool fans worldwide.
This isn't the Liverpool way of operating, though. What's happened to the club where almost everything was secret, kept behind closed doors until the player is pictured in a red shirt? It happened with Roberto Firmino last summer and should be happening more often in the club's transfer dealings.
I understand that in modern society, with the advancements in technology and social networking, that rumours are going to circulate and players will be discussed.
The club, though, needs to lock up their communications to ensure that not only do they hold their dealings in the highest regard, but don't end up with egg on their face and angry fans.
Increase Interaction
For football clubs, fans are the most important part. They're the people who buy the tickets, buy the merchandise and create a buzz around the club. There needs to be an increased level of interaction from Liverpool Football Club with its fans.
Liverpool FC is a brand – the club must capitalise on this by engaging fans.
As hard as it is to type, the club must follow the example set by Manchester City, who have significantly upped their fan interaction and digital activity in recent years.
The blue half of Manchester has increased the level of behind-the-scenes content for fans, produced more interactive content and has put the fans at the centre of what they are doing. In turn, this has immersed fans into the Manchester City experience and has turned the club into a global brand.
Jamie Nicholson, Project Manager at Manchester City, told econsultancy.com:
"I think the club considers digital to be more than simply another marketing and communication tool and has done for a few years now. Our supporters want to be informed, helped, entertained and involved – and digital is often the most effective way to do this, in terms of both cost and impact.
Given the central role technology now plays in our lives, and in particular mobile devices, the motivation is always to make a big impression in the digital space with any initiative the club runs.
#citystories is a good example – we wanted to create an easy-to-digest history of the club and decided to deliver this through an online space which gives the fans a platform to populate their memories and stories of supporting City."
Content
I wonder how many Liverpool fans visit the Liverpool FC official website for Reds content. I'd guess that it's not that many. I wonder how many watch LFC TV. Again, I'd guess not that many.
Instead, the fans are turning to their fellow fans for the best LFC content. The likes of Anfield Index, This is Anfield, Empire of the Kop, Anfield Edition and many more are providing fans with unrivalled content about their club.
As a result, few are turning to the official outlets for their LFC content? The club are in a tough position, of course, because they can't control what the fans are writing or posting on social media.
What they can do, though, is work with the fan sites to increase engagement for the club itself. By providing these fan sites, rather than major media outlets, with interviews, comments, first-looks and behind-the-scenes, the club can increase fan engagement and improve external communications.
Anfield
With the redevelopment of Anfield set to be complete in August, it is a real chance for the club to regenerate their external communications. More behind the scene content should be made available for fans, enable those who will be using the stadium to feel a part of the project.
Many in football get their redevelopments wrong. Away from a stadium, the football league announced its forthcoming redevelopment of digital activities and rebrand. It is a perfect example of  fans not being consulted, resulting in an embarrassment for the organisation after the launch did not go down too well.
There are lessons to be learnt for Liverpool, who must strive to improve their external communications and PR to increase engagement with fans in the digital age.