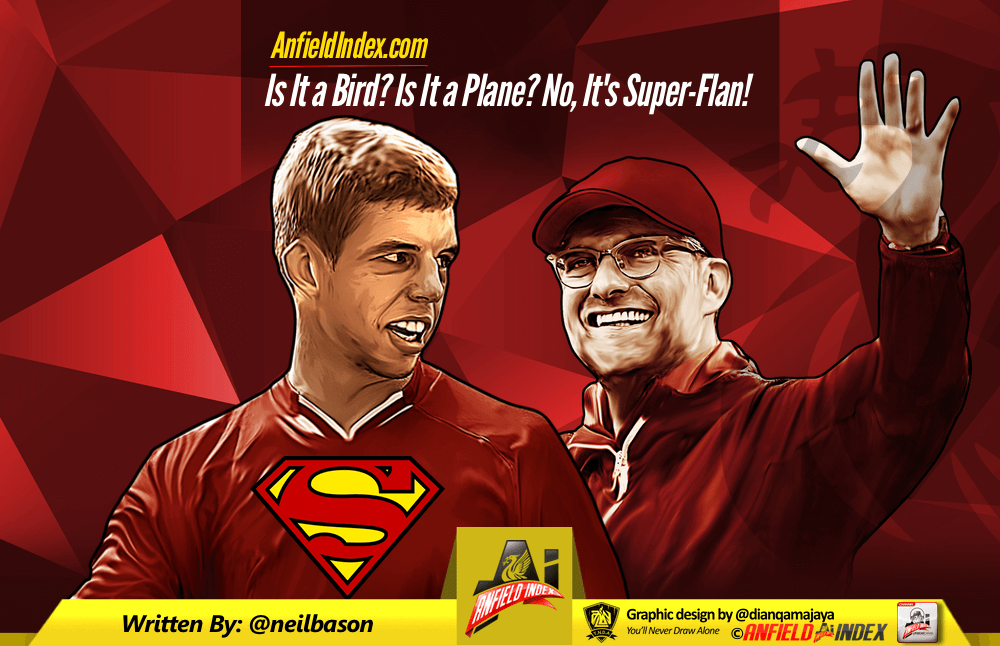 Is It a Bird? Is It a Plane? No, It's Super-Flan!

As another round of transfer window madness sets in, the rumour mill is already in overdrive. Seriously, I used to be okay with the window, but that was pre-Twitter when we lived in much quieter less bullshit-riddled times.
Of course every hushed tone player rumour, once kept to the smoky backroom of the local, now booms onto Twitter via some in-the-know who usually knows sweet FA, and triggers a ripple of retweets that quickly grows into a tidal wave before crashing all over my timeline.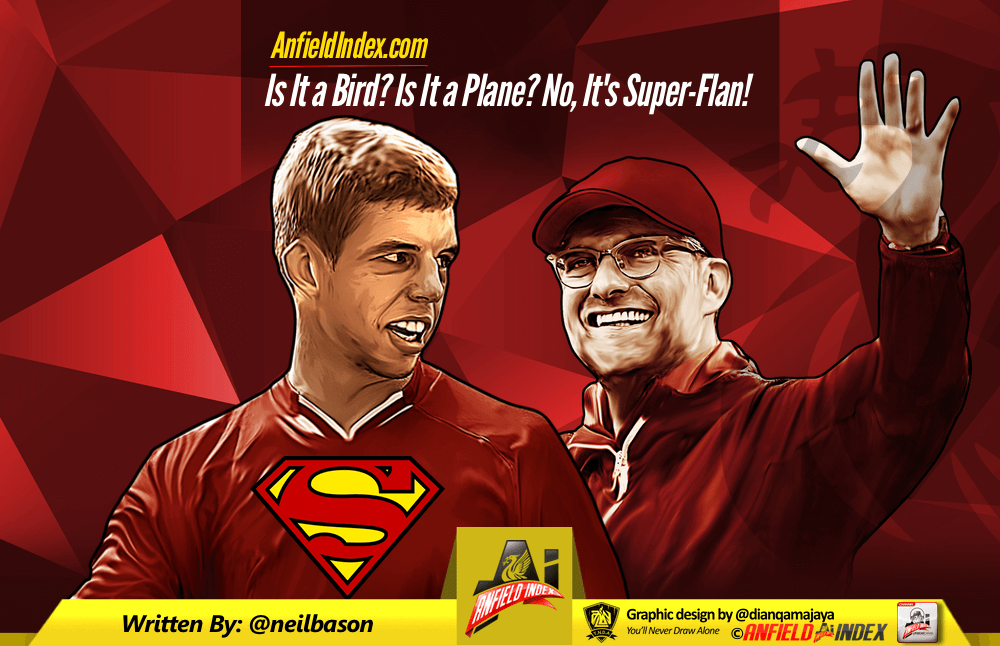 On the back of that, let's say mini-rant, I'm here to state the case for a player who is almost certain at some point over the coming months to be linked with a move away from Anfield. I'm here to say why it is imperative that we keep hold of Jon Flanagan. Don't worry you can also read why we should bin Flanagan on this very website by Aaditya Narayan if that tickles your fancy.
First off let's put aside talk of him being the only Scouse heartbeat left in the Liverpool dressing room. Despite me having already made my opinion clear on that situation, it's not the main reason I want him to be wearing the red of Liverpool next season. I mean I wouldn't want John Bishop in the side despite his Liverpudlian roots.
With Flanno, the Scouse thing remains a key point in my eyes, but becomes secondary to what really matters, and that is that the lad can play. And not just get by or muddle his way through 90 minutes at full-back in the way that say, Djimi Traore, or Alberto Moreno might (shit, I said I would stop digging at Alberto). What Jon Flanagan brings is a touch of genuine old fashioned defensive play, and I'm all for it.
Prior to his lengthy injury, Flanagan was producing top class performances pretty much week in, week out. I make no joke when I say he almost instantly began to remind me of Rob Jones. Great touch on the ball, decent vision for a pass, two things he never seems to get credit for, bravery, and zero worries about hitting hard or putting himself in the line of fire.
Jones famously made his debut against Manchester United and put in a performance that spoke of true class. For Flanagan it was a 3-0 win against Manchester City that the then, 18-year-old made his mark. Looking instantly at home amongst the stars he played with the sort of assured self confidence that can't be taught, belief in his own ability well warranted and for myself I took an instant shine to him.
From here Flanagan impressed me whenever called upon. His grit and determination summed up everything I want in a defender, his unsung ability on the ball and unwavering cool, the icing on the cake.
But then came injury.
Problems with the left knee, operations and a long rehabilitation saw our home grown full-back spend nearly two years on the sidelines.
His return against Exeter City drew a standing ovation from the Anfield crowd, highlighting the depth of warmth felt for the player, as he slotted straight back into the role he was made to play, Liverpool's defensive heartbeat and defensive snarl.
But from there it's gone a little cool again for Flanagan. Fleeting appearances in the side and his usually solid performances peppered with odd mistakes drew a few despairing words from reds who questioned his place in the future of Liverpool. But, let's not forget how long he was out for. Coming back into the action after such a lay off is bound to be a turbulent experience, he needs time, and given what he has shown previously, it's time we must allow him.
No other player currently wearing the Liverbird walks out on to the pitch with more pride. I always look for him because it genuinely looks like the pride might just burst from his chest at any moment. He's the local lad living the dream of ten thousand other local lads, but he's also a damned good full back.
A fully fit, fully firing Jon Flanagan is more than enough to offer Nathaniel Clyne a challenger for the right-back spot. I'm a fan of Clyne because he's a solid defender, he's been pretty unremarkable going forward but does know his job. Flanagan is cut from the same cloth, a defender who knows how to do his job and is can do it well. Let him work in pre-season and come back stronger still, Clyne needs a competitor for his position, but when we have Super-Flan there's no need to look any farther.