This piece is based on the idea proposed by one of the Anfield Index editors Dan Rhodes, where the challenge is to assemble a Liverpool XI I would be happy to put forth on the opening day of the Premier League Season 2016-17. We are allowed to spend up to 100 million Pounds towards building the team. I am not going to consider any outgoing sales value in this article, thus the 100 million will be spent strictly on incoming sales. The 100 million will also include already completed transfers in this window if they are part of the XI. You can find the first attempt at this by Sam McGuire here: If I had £100m to spend at Liverpool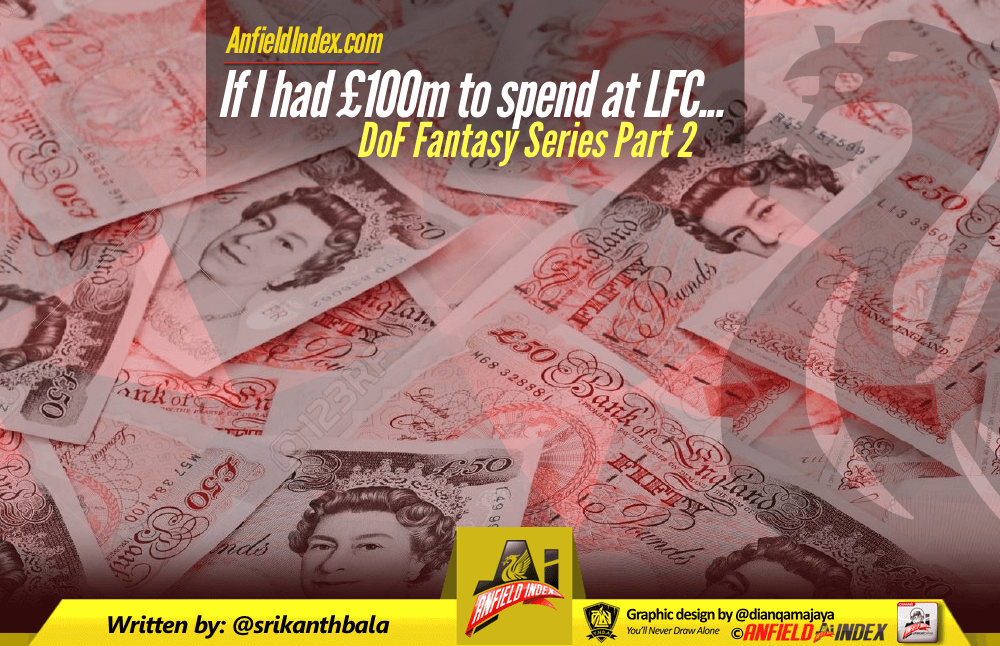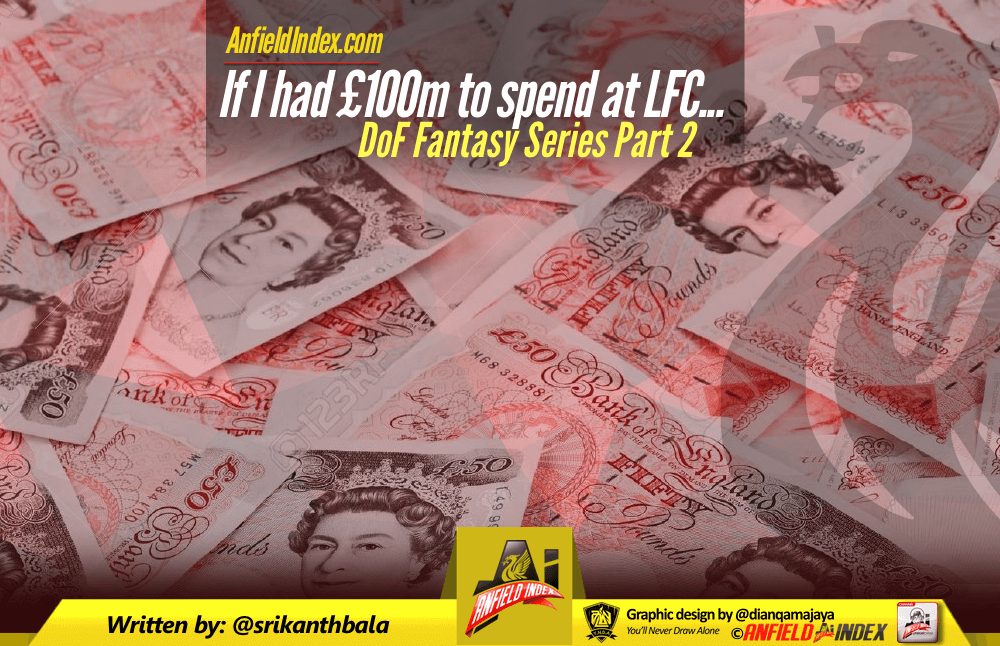 The below article is aligned to a 4-4-2 Diamond Formation.

Goalkeeper
Loris Karius
Market Value (acc to Transfermarkt) –  5.25 million pounds (mp)
Fee Paid : 4.65 mp
As we can see above, Liverpool have actually got a bargain in getting Karius for a fee quite below his potential market value. Karius is at the right age to improve, yet his age belies his top flight experience. Karius was majorly responsible towards ensuring that Mainz had a great season and qualified for Europa League. He could have easily stayed for a year and played in Europe, but as he has constantly mentioned he is an ambitious player and did not hesitate towards a move back to England. Karius should start as the first choice keeper.
Defenders
Nathaniel Clyne
Clyne had a solid debut season at Liverpool the previous season. He was literally omni-present playing over 50 games for the club across all competitions. With Liverpool not involved in Europe, it should not be surprising if Clyne plays every Premier League game barring injuries.
Medhi Benatia
Market Value (acc to Transfermarkt) –  13.5 mp
Potential Fee : 20 mp
Medhi Benatia personally would be my choice to fill up the right-sided centre-back position. With Bayern Munich signing Hummels this season, there should be a possibility that Benatia might be available for sale. Benatia can play on both sides of the centre-back position. Benatia started just 14 games of the Bundesliga last season and there is a high possibility he might be relegated to the bench in the upcoming season. Munich paid 21 mp for the transfer couple of seasons ago and would want to recoup most of their transfer fee if possible. With his Bayern contract running till 2019, there is literally no chance that the fee would be lesser than 20 million pounds. Liverpool should be bold and try to get Benatia if he is up for sale though.
Mamadou Sakho
There is a bit of confusion about the outcome of the case regarding Sakho, but as on date the player is free to play and thus I assume he will be the first choice starter under Klopp the next season. His performance against United in the Europa League at Old Trafford has to be classified as one of the best ever performances from a Liverpool centre-back in the last few years and we can be hopeful he can get rid of his tendency to pick up knocks during the season.
Jose Gaya
Market Value (acc to Transfermarkt) –  13.5 mp
Potential Fee : 15-18 mp
Lots of Liverpool fans have been clamoring for signing Ricardo Rodriguez from Wolfsburg in the last couple of years. Personally I would sign Jose Gaya, the left back from Valencia. He is ultra quick and ultra fit with a strong technique, which should ensure the transition to the Premier League would be smooth.The player has come through the academy system at Mestalla and his ability to tear up the field with his close control means that he gets fouled quite a lot. He is going to be the future left-back for Spain, hence the earlier the player is targeted, the fee has a good chance of being lower than potential astronomic levels. He has a long term contract till 2020 at Valencia. He is part of the agency which handles the player affairs of Chirivella also (A transfer which Valencia were clearly unhappy about and might be a roadblock for Gaya)
Deep Playmaker
Leandro Paredes

Market Value (acc to Transfermarkt) –  4.5 mp
Potential Fee : 15 mp
The Roma midfielder, who spent the last season on loan at Empoli is my preferred choice for this position. A huge part of Empoli's surprisingly strong finish is due to the excellent performance from their on-loan midfielder. An attacking midfielder by nature, he was not part of the plans at Roma who did not require the services of an attacking midfielder and thus was loaned out to Empoli.
Empoli who favour possession based attacking football converted him to the deep play-maker role, where he has excelled in his debut season in the unfamiliar role. Empoli also employed the 4-3-1-2 diamond formation, which this piece also is trying to employ. Almost every attacking move was routed through Paredes, with his all round capability of long passes, creativity, ability to run with the ball and excellent passing capability all shining through. Plus Paredes possesses one skill which Liverpool clearly lacked last season; set piece delivery. He has a mean set-piece delivery and will be a huge asset at the club.
There is interest from a few clubs for Paredes and Liverpool will have to be swift in their dealings to snatch the player.
Center- Midfield
Emre Can and Philippe Coutinho
With Paredes at the base of the midfield, Can will be free to show his true capabilities in a box to box role alongside Paredes. The move to drop Coutinho deeper in the 'Iniesta' role (a comparison which has been made quite often) will ultimately benefit him and the team.
Attacking Midfield
Roberto Firmino
A sterling debut season with a double of 11 Goals and 11 assists in all competitions in 2015/16. The upcoming season can only be better and we might get to see the true capabilities of the Brazilian next season
Strikers
Daniel Sturridge & Divock Origi
One of the primary reasons of playing a front two is the fact that opponents have often struggled to cope up with two attackers in recent seasons (Vardy/Okazaki, Suarez/Sturridge, Aguero and Iheanacho to a lesser degree). Sturridge and Origi can link up well with one of them dropping deeper or moving wider based on the needs of the team. With no European football, Sturridge would play only one game a week with sufficient rest and Danny Ings should be an able deputy.
Total Transfer Fee : 54 – 57 mp