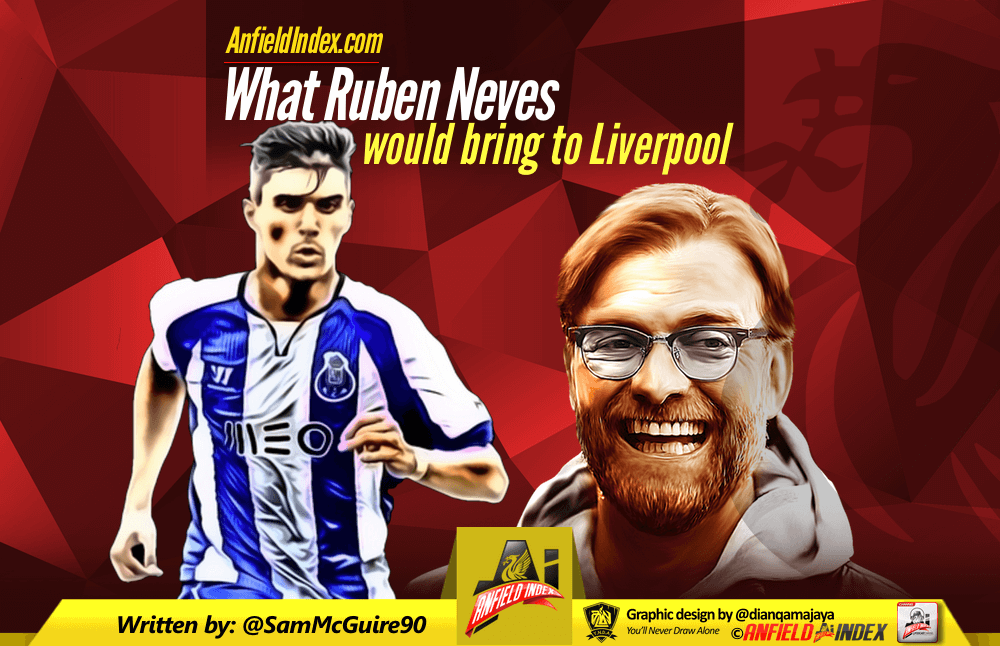 What Ruben Neves would bring to Liverpool
The link to Ruben Neves is a strange one. It's not out of the ordinary to see a player of his profile being linked with a move to Liverpool in the media. He's young, talented and has a huge resale value if he lives up to his potential. He ticks the boxes. It's that formula, the basic profile for many FSG signings, which makes linking players to Liverpool fairly easy for the press in their quest for clicks.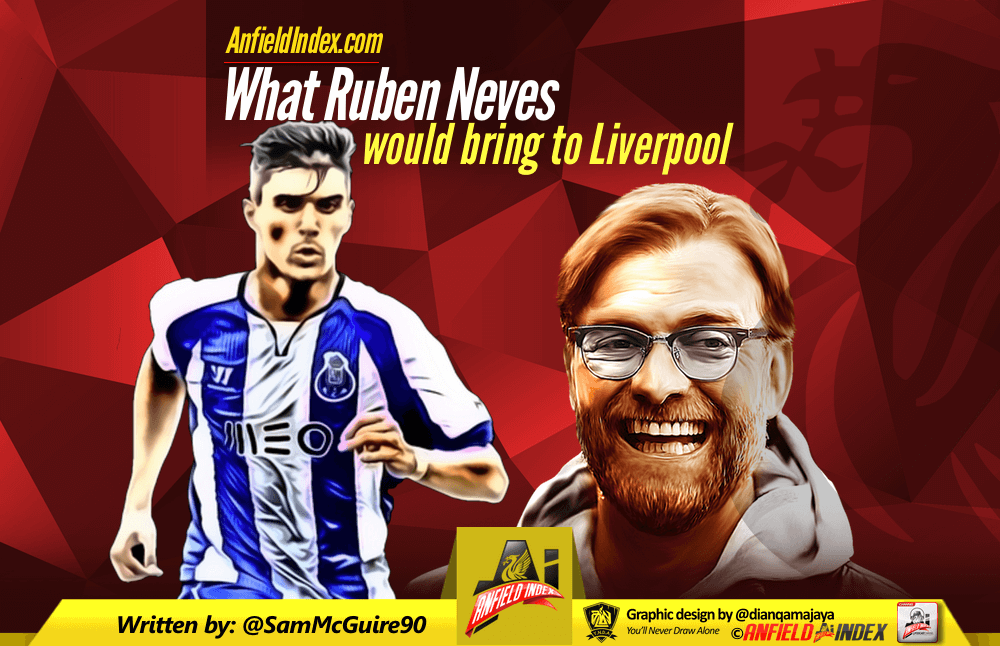 What is odd is to see the same player being linked with a move on three separate occasions in just over eight months. That sort of frequency seems to indicate that it's not a nothing story and there may be come credibility to it. Porto's Ruben Neves has been linked with Liverpool since October.

If reports are to be believed upon Klopp's appointment in October the Liverpool committee already had a deal in place for the Portuguese prodigy. Klopp kind of vetoed the deal as he didn't want the club to be paying out for a player before he'd had time to assess just what and who he had at his disposal. Given the fact Neves' rumoured release clause is over £30 million Klopp's reluctance to pay out can't be viewed as anything other than a positive. Even more so if the latest rumours are correct and Porto are willing to accept £17 million due to FFP issues.
Given less than a fortnight ago the press made it clear that Gladbach's Mahmoud Dahoud and Udinese's Piotr Zielinski were the top midfield targets for the Summer it indicates one of two things. Firstly, Liverpool have failed in their pursuit for one, or both, of their top targets or maybe, just maybe, their target was Neves all along and they were using other players as smokescreens. The latter scenario seems unlikely though, with Liverpool said to have already made bids for both the players. If Liverpool have missed out on both of their midfield targets then Neves isn't the worst fallback option.
Neves' playing style.
There is some credibility to the link. It isn't a 2+2=5 scenario where journalists just link a random talented youngster with a move when it makes zero sense.
Ruben Neves is a bit of an all-rounder in playing terms. He's not just a defensive midfielder, similarly he's not just a deep-lying playmaker. Sticking him in one category is disrespectful. He merges the two roles together. He's a hybrid. For those familiar with Fernando Redondo there are comparisons between the two.
He's the type of player to shield the defence, make an interception but instead of playing it to his midfield partner he'd play an incisive thirty yard pass into your attacking midfielders feet and he gets the team on their way.
In spite of his young age, he only turned 19 in March, he plays with a seasoned approach to the game. There are glimpses of youthful exuberance occasionally but for the most part he's disciplined and carries out his job to the best of his abilities.
Despite the Portuguese League being accessible on BT Sport these days it's still difficult to find stats from that league. For what stats you can find on Neves, mostly made up of his appearances in the Champions League and Europa League, he has an 83% pass success rate. Wyscout has a little more information on this and says he averages 55 passes per 90 and of these passes 93% of them are seen as positive. He's always looking to move the team forward. He's not a crab.
When it comes to passing he has the ability to mix it up. He can play the simple passes, the long diagonal switches and he can also execute the creative passes. What's admirable when watching him play is how he always seems to be brave when in possession. When you're a tempo setting midfielder it's vital to get the team going, it may be tempting to play simple passes here and there but Neves always looks to play the 'risky' passes. It can be viewed as a negative because he occasionally loses the ball but it should be seen as a positive that he has the confidence to even attempt some of these passes. It's an asset to have when you're up against teams with two compact lines of four. He has the ability to break through their lines with a single pass.
He's disciplined without the ball but expressive when on it. He tracks runners all over the pitch and even drops between the centre-backs when necessary meaning he builds attacks from deep.
He has great technique when striking the ball, one of his two goals for Porto was a 25 yarder right into the top corner. He can take set pieces – both corners and free-kicks- he's by no means a specialist but all of this does stack up in his favour.
Neves also has it his skill-set the ability to dribble away from danger. He's not going to go on a forty yard dribble and vacate his position but if pressed deep he does have it in his play to dribble away from them before playing a pass.
He would arrive with both Europa League and Champions League experience. He also had the honour of captaining Porto and becoming the youngest captain in Champions League history. It shows he has leadership qualities.
Of course, there are weaknesses to his game. He's only 19 so he's going to be inconsistent. It's going to be a few years before he can really dictate games by himself but the key part here is he has that ability.
Impact on Emre Can
Fans have been working under the impression that Emre Can will be the deep-lying playmaker even though he has the ability to be a destructive and influential box-to-box. Links to Zielinski and Dahoud, both of whom aren't really in the Neves mould, seemed to imply that's the path Liverpool where going down but this link changes things. With Neves it would mean he'd be the sitter and the rest of the midfielders would be the ones pressing and influencing the game further up the pitch. Luckily, tweaking Can's position doesn't detract away from his game because he's still young and he's already versatile. Unshackling him may be what's best anyway for his development.
Neves for £17 could be a bargain in the long-term. You won't often find him ahead of play, he offers balance to the team and he's the sort of player Liverpool have lacked since Javier Mascherano departed in 2010. Many may argue such a signing may hinder the development of Cameron Brannagan, who the academy have high hopes for, but it could aid his progression. Both players vying for a first team spot can't be a bad thing.