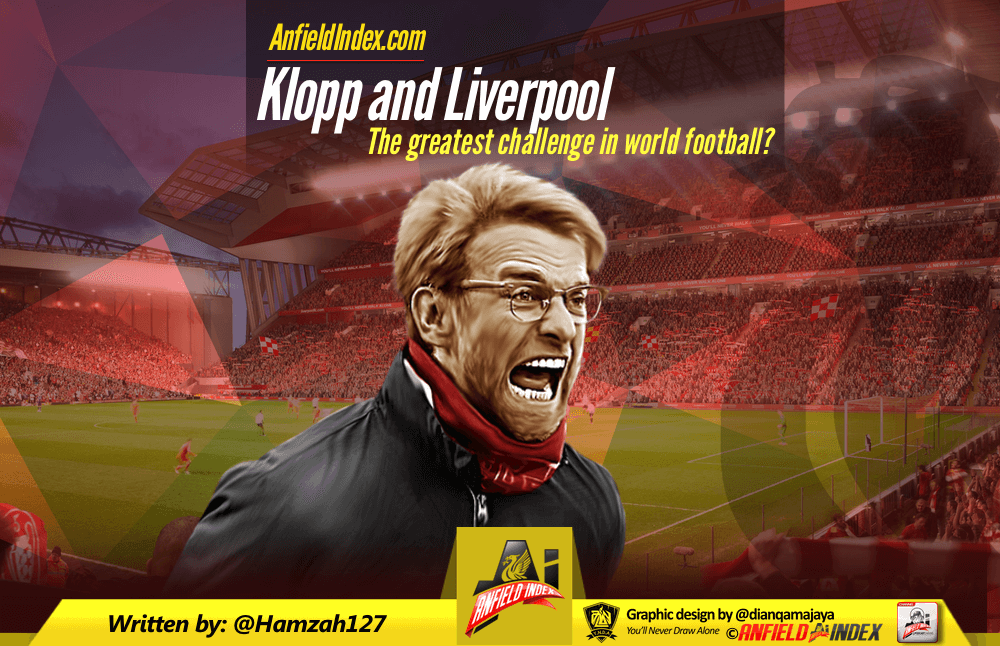 Klopp and Liverpool: The greatest challenge in world football?

When Jürgen Klopp was appointed in October of 2015 he promised to deliver a league title within four years. Yet the prospect of winning a league title & achieving consistent success over the upcoming three seasons looks a far fetched one, especially with both Manchester clubs strengthening at an alarming rate, and building upon strong foundations, whilst Liverpool still do not have a squad that has the capability to permanently challenge at the highest level. Those who point out that I should have faith in Klopp and his judgement are not wrong, but I do doubt the ability of Klopp to a degree; he is undoubtedly a fantastic manager who grasps the Liverpool psyche well, but he is not a magician and cannot perform miracles with the players at his disposal; furthermore, there are limits to what Klopp and his team can do in the face of Manchester United, City, Chelsea and Arsenal, all of whom have equally impressive managers, but with a greater pool of resources to dip into when required. With all of Liverpool's competitors strengthening, investing, and pushing onwards, new competitors emerging, and transfer targets being of a questionable level or rebutting Liverpool FC's approaches, all whilst the club twiddles its proverbial thumbs – expecting Klopp to deliver on his promise with his current squad – is the prospect of returning Liverpool back to the top level of English and European football the greatest challenge in world football?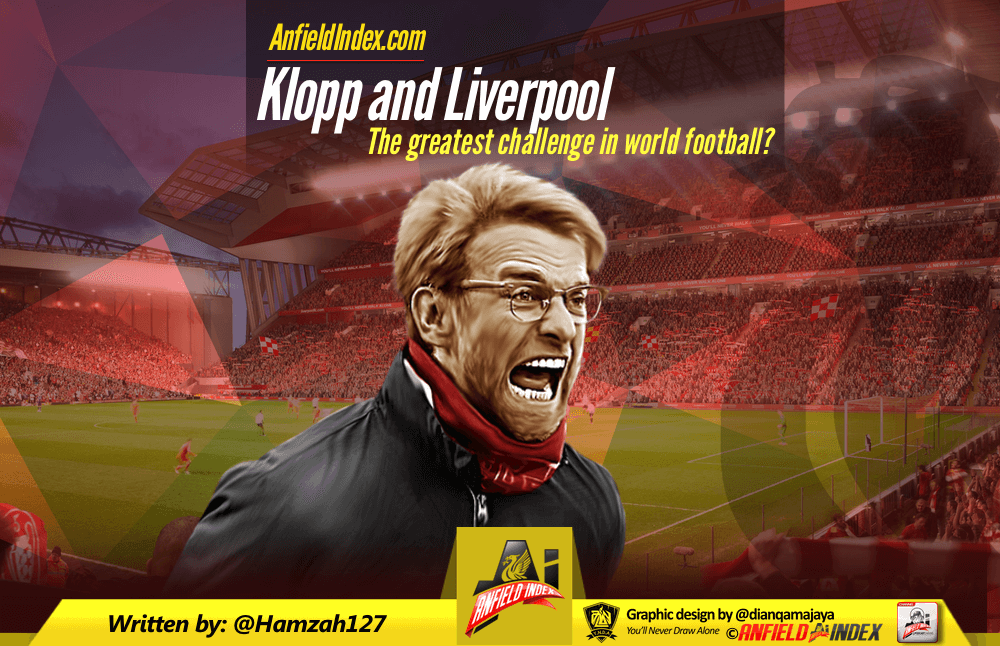 There are several factors that contribute to my own personal doubts of whether Liverpool can really challenge at the top level, even under the leadership of Jürgen Klopp, Firstly is the institutional factors, i.e. the owners, the club itself and the attraction of joining Liverpool, and all of what that entails.
The 'Liverpool project', something I alluded to in my most recent piece, is arguably one of the largest footballing challenges in the world. But what exactly is it?
The 'Liverpool project' is the term I use to describe not just FSG's approach to rebuilding, restrengthening & renewing Liverpool's position at the top table of both English & European football – an extremely challenging, but intriguing prospect for many managers, which should also attract ambitious players – but the term also encompasses the approach of Liverpool's previous owners, who were similarly fairly averse to actively purchasing and pursuing players at their peak. However, the approach of FSG, which focuses on buying young players, making steady profit and looking to unearth gems through scouting and shrewd purchases is arguably an outright failure and far too optimistic, but also a hindrance to any Liverpool manager. Whilst this model may have worked in previous years, and in other leagues, such as United's Class of '92, and Klopp's Dortmund side in the Bundesliga, these models cannot be applied to the current world of football, with 'hyper-clubs' dominating such as Bayern Munich, Real Madrid and Barcelona, all of whom invest heavily in proven players, or at least extremely promising players – not looking for cut-price bargains such as Coutinho and Sturridge in every deal, which is wholly unrealistic. In other words, success at the highest level is now solely bought.
Of the players that can genuinely improve the Liverpool FC squad, there is extreme competition for these players, and the lack of Champions League football, the lure of higher wages elsewhere, and the poor record in recent years of success domestically is hardly an enticing prospect for players being courted by Champions League regulars, who also secure silverware fairly regularly. All of which contributes to the enormity of the task that Klopp faces, in trying to deliver success for Liverpool FC.
Some may argue that it is the lack of Champions League football that has led to Liverpool missing out on key targets such as Teixiera, Mkhiratyan, Willian, Costa, Konoplyanka etc. but the signing of both Zlatan Ibrahimovic and Henrikh Mkhitaryan by Manchester United clearly illustrates that Champions League football is not the most important factor in signing high quality players – and these players obviously improve the team, and allow teams to challenge at the top.
Perhaps it was the wages on offer, or the prospect of working with Mourinho, and helping Manchester United regain its status in English football that enticed Ibrahimovic and Mkhitaryan to join; yet Liverpool have a very impressive manager, sizeable wages potentially to offer, and an ambition to return to the top too, so why have Liverpool failed in their pursuit of Götze?
I may have one answer to the question, and that is simply that Liverpool do not have a chance of silverware in the future with the club's current approach to building the team, and prospective players recognise that, and are unwilling to sacrifice playing for a successful club to only have a small chance of winning trophies and titles at Liverpool. This comes back to the 'Liverpool project' I mentioned earlier. It is not just a project, it is a mindset. A mindset that breeds mediocrity by refusing to bend to the evolving market, that is European football, which demands that for a team to succeed they require and need to purchase at least some players of a 'world class' level.
Take Manchester City for instance, who recently won the League Cup, reached the semi-finals of the Champions League and appointed the coveted and decorated Pep Guardiola as manager. A mere eight years ago, Manchester City finished 10th in the league, losing more games than they won (18 losses, 15 wins), whilst Liverpool only lost two games in the season, and finished second.
Rather ironically, Manchester City now represent what Liverpool are striving to achieve, success domestically, and competing in Europe. Initially, after being bought by Sheikh Mansoor, they struggled to purchase top quality players, so instead bought players that improved the squad, for fairly generous amounts of money, much like Liverpool have done over the past six years, but unlike Liverpool, they promised success to prospective players, through buying marquee players in consecutive seasons; first Robinho, then Tevez, then Silva, and then Agüero. Once the first was bought, players began to respect Manchester City more, and accepted them as a viable club to move to, if they wanted success in their career. For Liverpool to do the same, and progress up the table, they must convince players of a high quality, be it through wages, or the promise of buying more quality players to the first potential marquee signing, to join. But the current belief at the club, that they do not need to offer big wages, or sign world class players, and still can challenge at the highest level is delusional. Klopp needs more to work with than just Coutinho, Firmino and Sturridge. A select few good players cannot win titles alone, you only need to look at Liverpool's title challenge under Rodgers – even with the SAS partnership that bagged over 50 goals, there were failings that were independent of the manager, and that could have been prevented, if better players were employed in certain positions.
I am not disputing that young players cannot help to improve the team, and contribute to succeeding at the highest level, but it is an approach that needs to be used in tandem with a more ambitious transfer policy, where a marked, genuine and immediate improvement is made to the team; similar to the one Bayern Munich use, or how Arsenal in recent windows have bought key and top quality players (Özil, Sanchez, Cech and now Xhaka).
Manchester United were in a very similar situation to what Liverpool are in, only a few months ago, missing out on Champions League football, seeing revenues falling, and having a squad beset with average players, with a few shining lights. United had title winning odds of 9/1 before appointing Mourinho, odds which actually had Liverpool as more likely to win the league; yet now Manchester United, following the appointment of Mourinho as manager, and his incoming signings, have seen their odds slashed to 7/2, the second favourites for the title. Illustrating that through well targeted, selective and meaningful investment in players, clubs can improve their team regardless of previous performances, history and Champions League status – something Liverpool should certainly be looking to do.
What is more concerning than failing to sign world class players such as Götze though, is the failure of the club to close simple deals for young players such as Zielinski, Dahoud and Chilwell. The prospect of working with Klopp is an extremely impressive one, especially for young players, so there clearly must be an issue elsewhere, perhaps the 'Liverpool project' I mentioned earlier, wages, or sub-standard negotiators working for Liverpool, unwilling to compromise on simple fees, and more interested in short-term profit and yearly revenues, than the welfare of the team and the club in the long-term, which is dependent upon success. This attitude arguably comes from FSG, but also the air of arrogance that still remains within the club, believing the club is too big to give into big wage or transfer fee demands. The club is arguably unwilling to accept that the market for players has moved on, and Liverpool FC wishes to make deals on its teams as much as it can. To really push onwards and achieve success, Liverpool FC must get over having to pay large sums of money in the short-term for one or two players – but more importantly, Liverpool FC need to identify players that are genuine and distinct improvements to what the club already has. Paying money is one thing, but it being spent on the right players, is just as, if not more important; you only need to look at the signings of Carroll, Benteke, Aquilani etc. to see the justification for that.
All of this in itself is institutional in nature, and this does not even consider the comparative prospect of players looking at London based teams for the 'London life', or the Manchester clubs and the generous wages on offer there. Now whilst the club cannot make the city of Liverpool another London, the club can make the prospect of joining LFC much better, through the manager (which has already been done), improving the squad, facilities and the stadium, as well as the global Liverpool FC brand, all of which will lead to better players joining and more success – which is cyclical in nature, bringing more success and even better players. And good players, regardless of their desire for the 'London life', will always choose success and trophies first and foremost.
The next obstacle to success for Liverpool is the squad itself. As I mentioned earlier, there is a limit to what Klopp can do with the current squad. There are currently only three leading, established players in the team; Sturridge, Coutinho and Firmino; now whilst all three are of the quality Liverpool require to challenge at the top level, much of the rest of the squad are of mid-table quality, and only entrench Liverpool's current predicament. Yes, Lallana, Allen, Henderson, Moreno, Lovren, Sakho etc. can all be very good at their best, but they are not playing consistently at their very best, and would not seriously challenge for starting spots in competitor's starting XIs. The solution to having a sub-par squad has already been addressed, through signings, so I shall move onto the last part in solving the greatest challenge in world football.
Klopp himself is clearly a fantastic manager. He has already reinvigorated the Anfield faithful, and has led Liverpool to two cup finals and enjoyable victories over Chelsea, Villareal, Dortmund, Everton, Manchester United and Manchester City. But the victories in the league over the Manchester clubs, Chelsea and Everton were all against teams who would deem their respective seasons enormous disappointments, and vastly underperformed last season; however, all of these clubs have already strengthened, and will look to challenge much higher up the table in the coming season. Additionally, Klopp's success against Bayern Munich in the Bundesliga with his Dortmund side was impressive, but that was a much more simple two-horse race, in his native league, of which he had been familiar with for decades. The Premier League, in its current state, is a completely alien prospect to most managers, and without a superstar filled squad, which teams such as Chelsea and Manchester City possess, competing with his current resources, Klopp faces a monumental task, in a situation he is simply not accustomed to. He lacks experience at the highest level, with only one Champions League final appearance and two Bundesliga titles to his name when compared to say Mourinho and Guardiola; and it is one thing competing with Jupp Heynckes, and then Guardiola one at a time, but competing with Mourinho, Conte, Guardiola, Wenger and Pochettino simultaneously, whilst they have squad depth and quality that makes a mockery of Liverpool's, and an inability on Liverpool's behalf to secure players that will improve the team to the level of the competitors makes the challenge of top four a remote one, and the ultimate challenge of returning Liverpool to the highest level in English and European football minuscule.
Now, returning to the key question: is getting Liverpool back to the top the greatest challenge in world football? Other clubs previously tasked with rising to the top of their respective divisions, such as PSG, Chelsea and Manchester City, all did so with huge spending into the club's facilities, the squad, through world class players, and the global brand, whilst Klopp at Liverpool does not have the luxury of this. Thus a view could be taken that quite simply, no, it is not the greatest challenge in world football, providing the the club decides to reform itself in key areas such as its transfer strategy and buys the right players, so Klopp can build a team that can really challenge for the title and in Europe – which he is capable of doing, with the right assets at his command. However, if Klopp is shackled by the current system, it may well be the toughest challenge in world football – with the intense competition and elite nature of the Premier League, where being out of the spotlight for too long can lead to irreversible damage to the club's future prospects – hence it could well be a challenge too great for even Klopp, his squad, and the club.