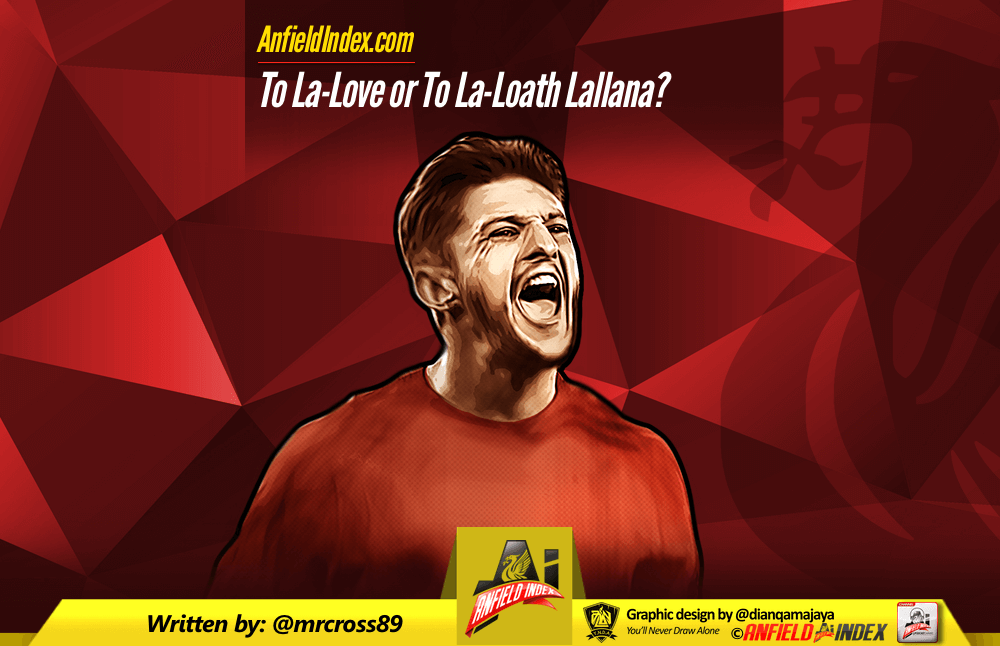 To La-Love or To La-Loath Lallana

Our fan base loves a debate.
The defeat against Burnley last weekend exposed the chasm that exists between our fanbase as Twitter became ablaze with fans fighting over numerous topics including Klopp's tactics, FSG transfer strategy and whether any of our players are any good at anything. But there is one debate that has raged on for three years with little sign of easing off;
Is Adam Lallana good enough to play for Liverpool?
Since his £25 million transfer from Southampton, many fans and pundits feel Lallana has failed to live up to the form which earned him the opportunity to play for one of the biggest clubs in world football. Few can say he didn't deserve the chance; he produced ten goals and eight assists for the Saints in his final season for the club. Unfortunately for him, he has failed to replicate this output since putting on the red shirt.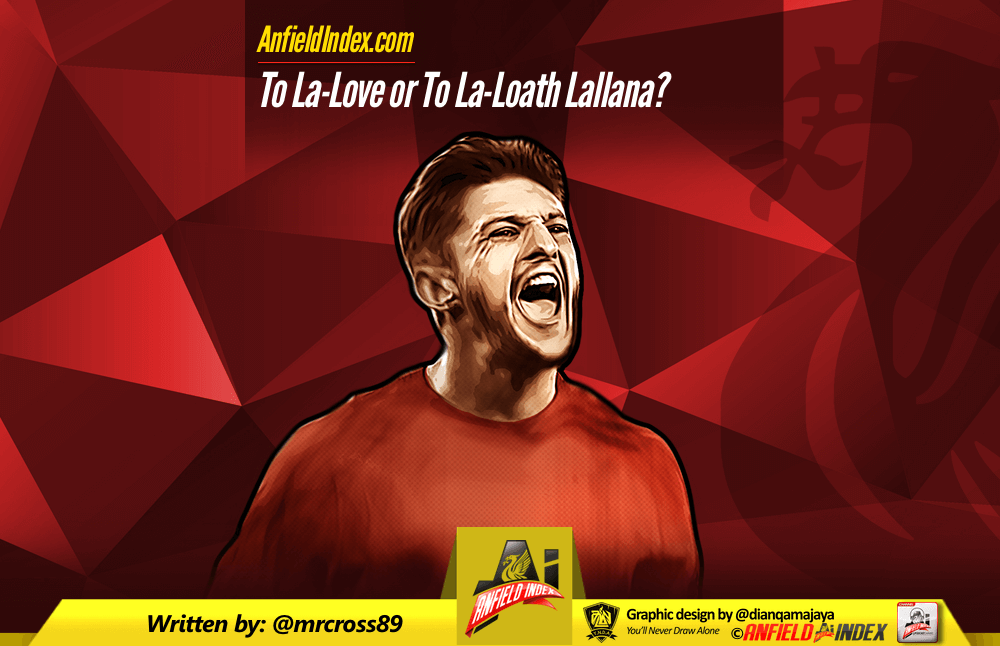 Lallana's breakthrough season was enough to convince Brendan Rodgers and the committee that he was worth every penny of the £25 million asked for, despite serious objections from our fan base. He was the captain of a team that miraculously finished 8th in their second season back in the Premier League, and performed in a style suitable to the style of play endorsed by Brendan Rodgers. The problem for Lallana however, is that Liverpool still was still reeling over several issues. These issues included; Overpriced attacking English talent failing to live up to the price tag, a recent of a failed title challenge, the loss of our star Player Luis Suarez and a growing rise of discontent between the fans and the manager.
Lallana walked into a perfect storm were only a world class debut season could save him.
Lal-Loath
Starting the season off with a knee injury is the last thing you want to happen when you're trying to make an impression, but unfortunately for Lallana, the injury curse would rob him of the start he wanted and would continue to take a further 16 games away from him during the season.  In the games that he did play, Lallana failed to win over the fans, producing displays that lacked quality and confidence. He was far too ponderous on the ball, over thinking in critical moments of play that often frustrated the home supporters and his team-mates. In times when a risk taker was needed, Lallana would opt for his safety move, the Cruyff turn often using it at the wrong time which allowed the opposition to regroup into their defensive shape as opposed to taken players out of the game as the move was intended. Despite glimpses of class and a return of six goals and four assists, Lallana had plenty to prove the following season.Unfortunately, for Lallana, History would repeat itself as a thigh injury disrupted his start to the season; a season he had to prove himself to the fans, much like his manager.
Unfortunately, Rodgers didn't get another chance, and once Klopp arrived, fans thought Lallana's days were numbered. Far from demoting the England international from the starting eleven, Jurgen Klopp has fallen in love with the man to the point where if he's fit, he starts!
Those that La-loath Lallana would agree that he has put in a good shift for Liverpool with glimpses of top quality performances. But they would also argue that his inability to be more decisive in attacking situations lets the team down and his contribution in the last three years does not warrant the acclaim of 8th most expensive English signing in history. Not only is he still on the team (to the annoyance of the La-Loath camp) Lallana now looks set to be Jurgen Klopp's first choice option in an unfamiliar central midfield position. The decision to restructure Lallana's place in a more central role has pierced the heart of some sections of the fans who have been crying out for a midfielder all summer (Dahoud and Paredes just to name a few). The La-Loath fan base fails to see that despite his goal in the opening game of the season, why Klopp should be wasting his time trying to reinvent Lallana.
The Cruyff turns have become too much to bear for some fans.
La-Love
Rival fans continuously mocked Liverpool for spending so much money on Lallana, but their tune changed during England's depressing run in EURO 2016 as England fans fell for Lallana and his most endearing trait; pressing. Lallana is excellent at cutting significant pressure on the opposition in possession and often wins the ball back in the opponents half making it easier for his teammates to counter attack in dangerous situations. Lallana's ability to be quick in the press has seen him become a major asset to Klopp's Gegenpressing and a significant reason as to why Jurgen Klopp rates him so highly. A perfect example of how effective his pressing can be, came in last season 1-3 win at Chelsea, were Anfield Index's main man Gags noted that;
However, it wasn't James Milner or Emre Can who completed the most pressing actions at Stamford Bridge. That accolade fell to Lallana, who amassed 44 pressing actions across the 90 minutes.
When Lallana is on form, his pressing game is a joy to watch and with Jurgen Klopp helping the player press more efficiently, his ability to win the ball back high up the pitch has become just as valuable as goals and assists. Klopp has had a significant impact on Lallana's defensive contribution to the team, with an impressive uplift in performance since the Germans arrival;
Lallana's Defensive Contributions 14/15                    Lallana's Defensive Contributions 15/16 
Attempted Tackles- 2.6 Per 90                                                   Attempted Tackles- 3.1 Per 90
Successful Tackles- 1.7 Per 90                                                    Successful Tackles- 2 per 90
Interceptions- 12                                                                            Interceptions- 20
Blocks- 27                                                                                        Blocks- 40
And it's not just his pressing game the England international has improved on since Klopps arrival, his contribution to the attacking phase of our play has improved since his debut season;
Lallana's Attacking Contributions 14/15                      Lallana's Attacking Contributions 15/16
Goals- 5 goals (6 in all comp)                                                      Goals- 4 goals (7 in all comp)
Assists- 3 (4 in all comp)                                                              Assists- 6 assists (8 in all comp)
Successful Dribbles- 1.5 per 90                                                   Successful dribbles- 1.8 per 90
Key Passes- 33                                                                                Key Passes- 50
Fans who love Lallana feel that he is an essential squad player and has proven his worth despite a difficult start to his time at the club. He continues to improve in his output both offensively and defensively and with an injury-free start to the season, feel he has the perfect opportunity to show his worth this time around. Even the La-love crowd are sceptical with Klopp's plans to move the attacking midfielder into a more central area, but they do appreciate that his tactical flexibility will allow him to thrive in the position.
Whether you La-love or La-loath Lallana, both camps can agree that he is a man willing to fight for his place in the team. He's never kicked up a fuss when times were hard and continues to represent the club in a professional manner off the pitch while giving his all for the Reds on it. Time will tell if Klopp will live or die by his decision to re-invent his position in the starting eleven but one thing for sure, he will give 110% effort in trying to make it work.