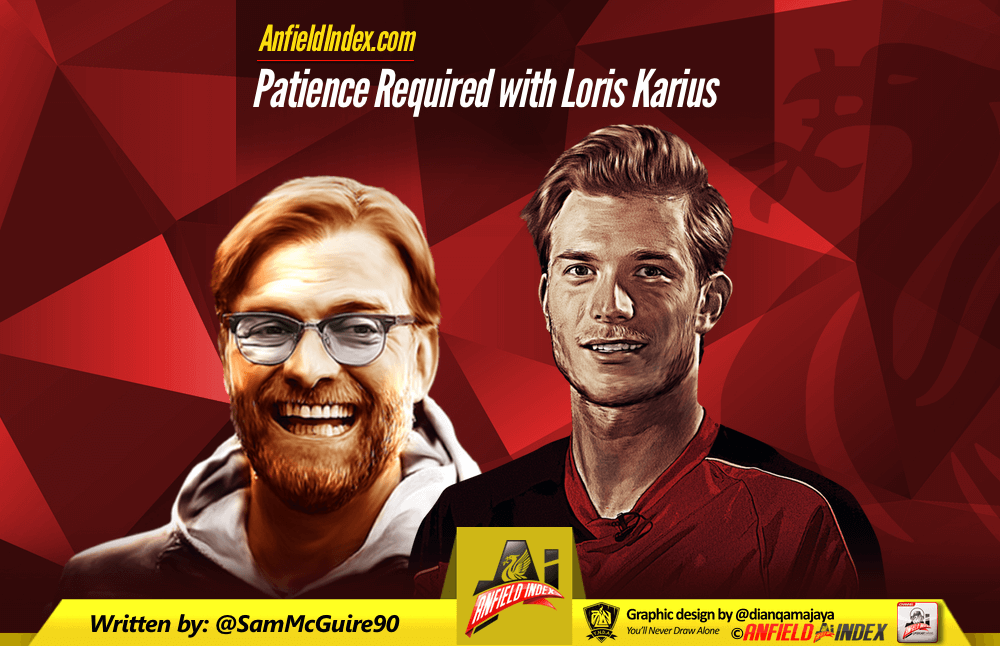 Patience Required with Loris Karius
Football can be strange.
Fans are often found moaning about the current state of the sport, about how players are overindulged and clubs are greedy.  How everything in the player's existence is excessive – the wages, the cars and the lives they live.  So it's kind of ironic that in reality we as fans are just as greedy as the players we bemoan.
One such example of this is inspired by new Reds 'keeper Loris Karius. In theory 99% of the fan base was overjoyed when the Mainz 05 shot-stopper joined Liverpool in the summer for less than £5 million. The arrival of the 23-year-old was considered quite the coup. There's a 'keeper there with the potential to be just as good as David De Gea but at a fraction of the price that United paid for the Spaniard. Getting one-up on United is always nice but what was important when signing Karius was that he suited Jurgen Klopp's style.

£4.7 million for a 'keeper with close to 100 appearances in the Bundesliga, huge potential to improve but who already suits your style? The Liverpool recruitment team played a blinder.
Unfortunately, in practice it's completely different. After just two Premier League starts, granted they weren't the most dominant of performances, Liverpool fans are already complaining about how the club has yet again cut corners in the transfer market and how they didn't buy a guaranteed upgrade because Karius isn't Gigi Buffon reincarnated. Instead of being pleased with Liverpool's business in the market they're dissatisfied that more money wasn't spent.
"You can't have a no.1 learning on the job."
Lots of frustration. Plenty of faux outrage. Loads of "we should've signed Jan Oblak" shouts. But you know what there isn't a lot of? Patience.
It's as though a section of fans have't learnt from past experiences. Spending more money doesn't equate to more success. Jan Oblak is one of the best 'keeper in Europe but it doesn't mean he'd adapt to the Premier League any quicker than Loris Karius will despite the fact he'd cost close to six times what the club paid for Karius. The aforementioned De Gea signed for more than three times what Karius cost and it took him an entire season to fully bed in and get used to the physicality of the Premier League.
On top of that, it appears fans have short-term memory when it comes to writing off young players. Both Emre Can and Divock Origi. Both players got off to rocky starts in their Liverpool careers and both were written off despite their potential being clear for all to see. After Emre Can found a settled home in centre-midfield under Klopp he was basically a one-man midfield at times and showed his class in the Europa League Semi-Final against Villarreal. Divock Origi bulked up, embraced what Klopp wanted from him and ended up challenging Daniel Sturridge for a starting position. His performance against Dortmund in the away leg was one befitting a player with a lot more experience than Origi has. He was tactically perfect.
David De Gea's start to life at Old Trafford was far from ideal as he acclimatised to life in England but they stuck with him. The potential he had meant he was worth persisting with and the patience United showed is now being rewarded. He's currently considered to be one of the best 'keepers in the world and he's literally single-handedly won United matches over the past few seasons. Imagine if they'd replaced De Gea with Anders Lindegaard after just two starts in England?
Mignolet is of course better than Lindegaard but let's not pretend Mignolet hasn't been at fault for various goals throughout his time at Anfield. It's not as though Klopp favoured Karius over a consistently solid 'keeper, is it? The calls for Simin Mignolet to start against Man United are premature and it would be a backward step.
As was mentioned on the Anfield Index Under Pressure podcast the club would have known about Karius' lack of aerial dominance. It wasn't a secret. Anybody could have watched a Mainz match and told you that. But he wasn't bought by the club to be that sort of 'keeper. He was signed, in my opinion at least, because of his distribution. His quick passing, his calmness on the ball and his ability to execute a pass that another 'keeper wouldn't even spot – see the pass to Clyne against Swansea on Saturday.
Karius will no doubt work on the commanding of his area and the centre-backs will work on defending their 'keeper. Karius' performances so far shouldn't be cause for concern and the hysteria surrounding him is nothing more than an overreaction.
How do these people function in real life? They finally distance themselves from the serial cheat that they'd been in a relationship with for years only to run back to them when their new love interest shows for the first time that they're not perfect? Masochists, the lot of them.
As Jim Boardman rightly pointed out in his recent article, Loris Karius needs time to adapt, he needs patience and he needs support. There shouldn't even be a debate whether or not he starts against United. He's Klopp's guy and he's the first choice 'keeper. He's going to make mistakes but his response to that will be what separates him from being a good 'keeper and a great 'keeper.