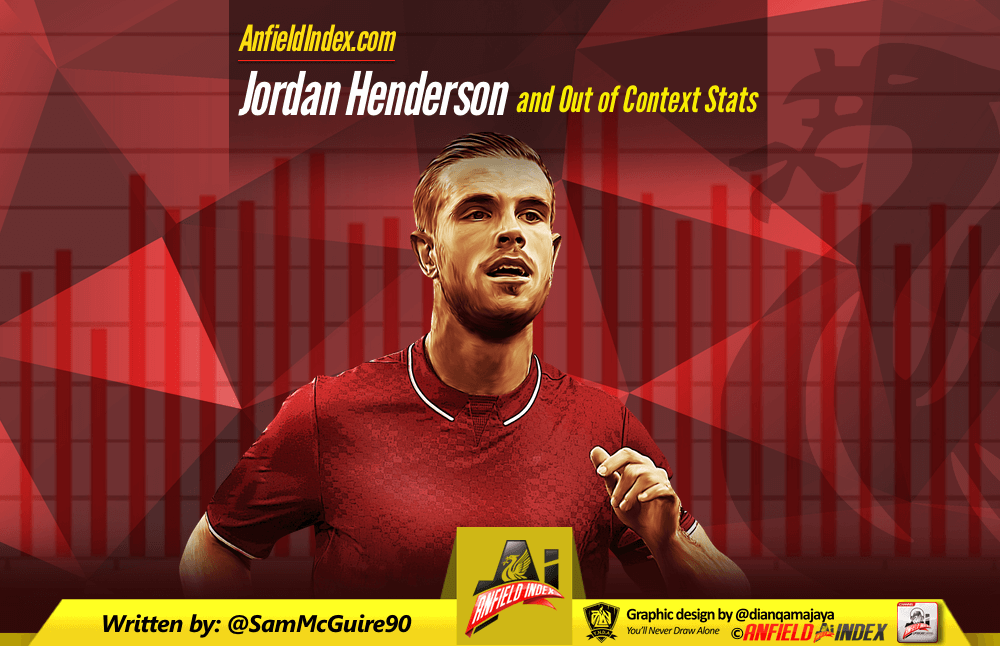 Jordan Henderson and Out of Context Stats
In hindsight it was probably definitely naive of me to write an article highlighting my concerns about Jordan Henderson's ability on the ball when the opposition press him. I was under the impression that you were allowed to point out a player's weakness and not simultaneously hate him. But alas, it was perhaps a quixotic idea and simply not practical.
In the article, which you can read here, I voiced my concerns about Henderson in that deepest midfield role, how he's not press resistant and how teams may target him as a way to stop Liverpool playing much like Hull, Swansea and Burnley tried to do. Not once did I mention his ability when in possession or whether he should or should not be the captain. Yet after reading my article there was a section of Liverpool fans who started throwing random stats at me to back up their opinion that Henderson is boss and that I'm a cynical bastard for writing about the worries I may have for Liverpool's long-term future after a run of four consecutive Premier League victories.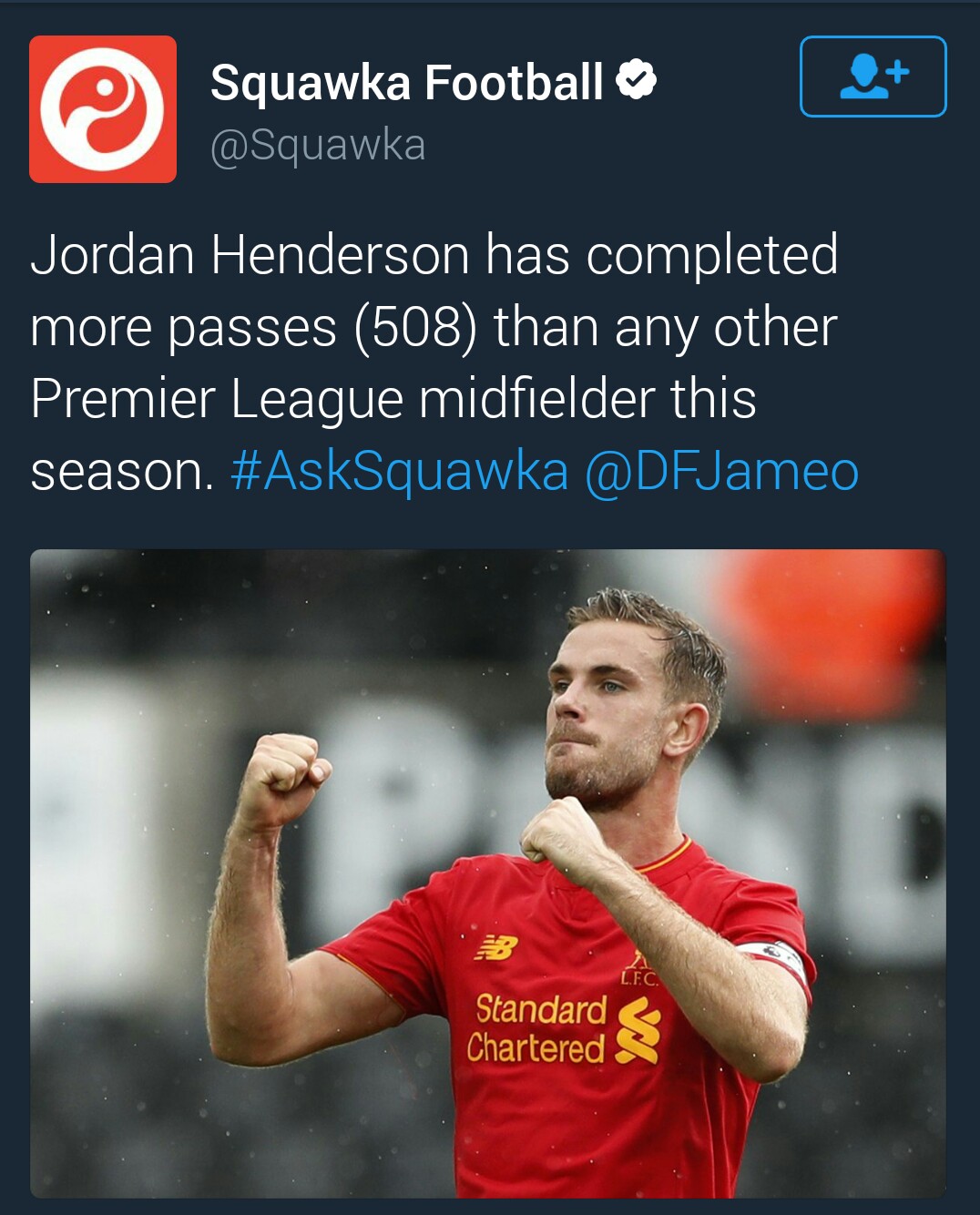 One such stat thrown my way is the one above. That Jordan Henderson had completed more passes than any other Premier League midfielder so far this season. Hang your hat on that.
Stats without context are just numbers. Too many people on social media just throw numbers at you, they don't use stats. It's dodgy ground to base an entire argument or form an opinion off the back of stats without looking into them properly. Stats can be manipulated to suit any argument. You can find stats that make it look like Lucas is a superior player to Sergio Busquets. It's hard to find a balance; some people over analyse stats (stat wankers) whereas others don't look hard enough (stat voyeurs). Depending which side of the fence you find yourself on will dictate how you view a player. One player. One set of numbers. Two opinions.
The Henderson stat shouldn't really be that surprising. Liverpool have faced two sides in Hull City and Burnley who have effectively forfeited possession for various reasons. The Reds had 80% possession against Burnley and 74% possession against 10 man Hull. Henderson is bound to see a lot of the ball with his role in the team being a deep lying playmaker of sorts. He's the one to link defence to midfield, the one to start the attacks. With Liverpool looking to move the ball around, and from side to side to break the defensive lines, it's inevitable that Henderson would be the instigator of it all.
In the matches against Hull and Burnley Henderson completed 229 passes meaning 46% of his total completed passes this season arrived in those two matches.
On average he's completed 55.8 passes per 90 in the other five Premier League games he's featured in, which is quite the drop from the 114.5 passes he averaged in the two matches Liverpool dominated possession.
For the seven Premier League matches he's played in this season, on average he has attempted 84 passes per 90 minutes and has completed 75.6 of them.
During the 2013/14 season the Liverpool no.14 attempted 58 passes per 90 minutes but only completed 47.5 of them. During the 2014/15 season Henderson attempted 59 passes on average per 90 and completed 48.4 of them. In the captain's injury interrupted 2015/16 season he attempted 55 passes per 90 minutes on average and completed 43.6 of them.
While there is clear progression to Henderson's game, and he deserves credit for managing to maintain a 90% pass success rate in the Premier League this season, I wouldn't get too ahead of myself just yet.
It's a small sample and given his record you have to ask whether these high numbers are sustainable. Is it not like singing "we are top of the league" after a handful of Premier League matches?
There's all that to consider and that's before looking at his pass selection. What areas of the pitch is he hitting with these passes and are there opportunities to create a chance which he overlooks to play a 'safer' pass. That, of course, is if you're going to use the passing stat as a base for an entire opinion.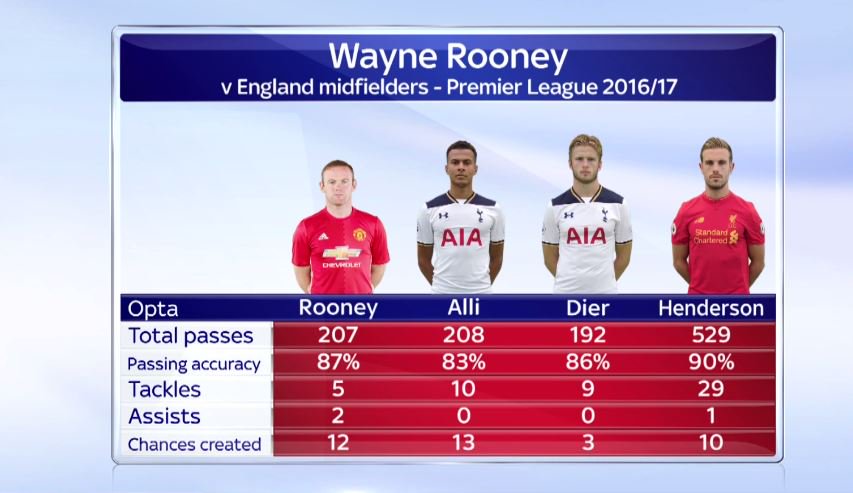 The above graphic was on Sky Sports and the purpose of it was to compare Wayne Rooney to the other possible starters in the England midfield. It's another advert for why stats without context are pretty useless.
None of these players are really comparable. Rooney has featured as a striker at times, Dier has filled in at right-back and centre-back for Spurs, Alli has primarily played as a no.10 and Henderson as a holding midfielder. They're all different types of midfielders and if you had a particular style in mind it's not like it would be a straight fight between these four for a starting role. On top of that the team play in different styles so you don't actually get a decent picture of the players from these selected stats. You just get numbers carefully selected to help manipulate an opinion.
This isn't supposed to be a dig at Henderson. He's improved under Klopp and he's put in some impressive performances but why as a fan base do we have to be so reactionary? Lucas went from being the weak link in the Liverpool midfield to being heralded as a God because he'd completed the most tackles in the Premier League. Henderson's season started with many suggesting he wasn't good enough for mid-table clubs and now, just 5 games later, people are suggesting he's the best midfielder in the league. Why can't there be any balance?