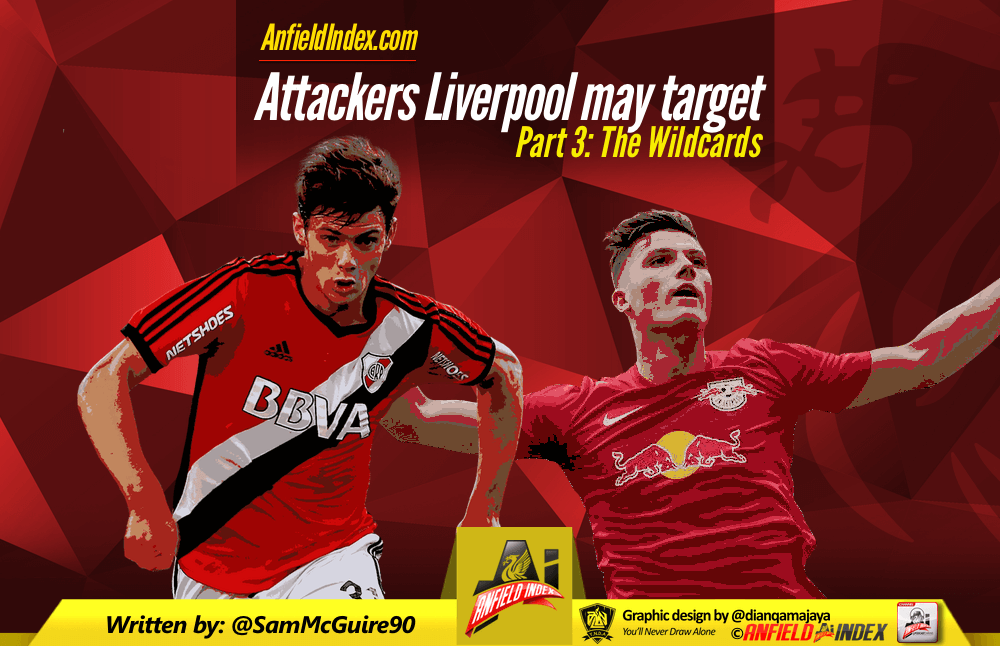 Attackers Liverpool may target - Part 3: The Wildcards
Liverpool's impressive early season form, which sees them at the top of the Premier league after 11 games, has been largely down to just how rampant their attack has been.
The summer acquisition of Southampton's Sadio Mane has really seemed to be an adrenaline shot to what was at times a pedestrian, lacklustre Liverpool front line during 2015/16. Yes, at times Philippe Coutinho, Roberto Firmino and Adam Lallana clicked and Liverpool seemed unplayable but moments like those were few and far between and the team lacked the ability to go from 3rd gear to 5th in the final third. That's what Sadio Mane offers and that's why Liverpool have looked pretty formidable when going forward at times this season.
Before Mane Liverpool had the creativity, the guile and the goal threat but they didn't have the power, the pace and the directness that he's brought to the team. He's already showcased just how much damage he can inflict on the opposition with all three of the aforementioned traits with that sumptuous fourth goal in the win against Arsenal. So far it looks as though Mane was the perfect fit for Klopp's revamped Liverpool side.

In his absence, the 2-0 defeat to Burnley, looked like they'd ran out of batteries in attack. Make no mistake about it, Burnley did defend well. They sat deep and they smothered the space centrally meaning Liverpool had to look wide and it played straight into Burnley's hands. There wasn't as much incisive movement from Liverpool's attacking trio.
Barring an injury it looks as though Mane will be going to the African Cup of Nations in January. It's a loss to this squad with Liverpool not really having a viable replacement on their books. The closest player to fitting the profile seems to be Divock Origi but for all of his talents it's unlikely you'll see the talented Belgian offering the team half of what Mane does from that inverted right role.
Liverpool scouts will no doubt be looking for potential incomings, not just to cover for Mane but for the long-term to improve the squad. There will be a clear profile for the recruitment team to work with. If we use Mane as the blueprint it's clear they will want to identify an attacker with great speed, one who doesn't ignore his defensive duties, is an attacking threat and can not only do a job now but has a lot of room to grow further down the line. After all, It's not often you'll see the club buying the finished product. It's hard to judge an attackers influence defensively because it really depends on how their team sets up and the players instructions but using Roberto Firmino's stats whilst he was at Hoffenheim you can get a picture of how much defensive work an attacker does. Firmino averaged 3.8 tackles and interceptions throughout his time in Germany so that will be the measuring stick.
Part one, which can be found here, looked at the slightly pricer options in the market. Part two looked around those that may not look ideal on the surface but their stats make them hard to ignore. Part three will look at players many may consider to be wildcard choices.
Lucas Boye
The Argentine forward only signed for current club Torino after joining the Serie A side from Newells Old Boys. The 20-year-olds nickname is the bull and it's his brutish ways that may make him ideal for Klopp's Liverpool.
By nature he's a striker but at Torino he's played wide as part of an attacking three and it's done nothing to have a negative impact on the player. Over the past 14 months he's played 1793 minutes of football and has 2 goals and 4 assists to his name. However, it's not his goal record that makes him appealing it's his work rate which, for a natural striker, is rare. The goals will come if he gets into good positions but teaching that sort of selflessness isn't easy. He tracks back, he puts in tackles and he runs himself into the ground for the benefit of the team. He currently averages 1.7 tackles and interceptions and completes 3 dribbles per 90
Marcel Sabitzer
The 22-year-old Austrian has been one of Red Bull Leipzig's standout performers as the Bundesliga new-boys started the season in fine form. RBL are currently undefeated in eight Bundesliga matches and sit in third place, just two points off leaders Bayern Munich.
Sabitzer is a versatile attacker who is capable of playing anywhere in midfield or attack. He's combines good positional awareness with good work rate to ensure he's in the right areas to not only defend but to support the attack if the counter-attack is on. Before joining Leipzig he played for Red Bull Salzburg in Austria and it was here he scored 19 goals in just 33 appearances. The goal threat is there. He's scored once and assisted twice in just the 466 minutes this season. He currently averages 1.2 successful dribbles and 1.5 tackles and Interceptions per 90. However, as Elston Gunn said on Twitter he's perhaps more similar to Roberto Firmino than he is a Sadio Mane.