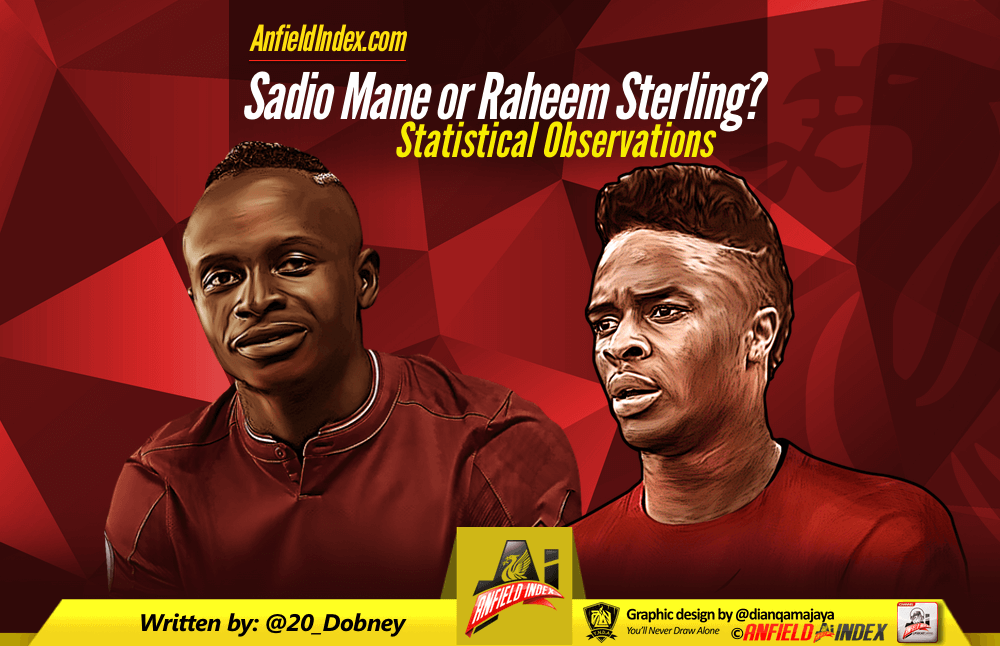 Sadio Mane or Raheem Sterling? Statistical Observations
Just this past Monday, Dominic King of the Mail Online, produced an article stating how Manchester United nullified the effectiveness of Liverpool's Sadio Mane, during the recent stalemate at Anfield. Where he might have been correct in this statement, it was clear to see that Jose Mourinho's significant attention towards the Senegalese forward, in itself harboured the biggest compliment for Mane.
'Half spaces' is what Jurgen Klopp defines as space on a pitch, where defenders do not know whether to stay touch tight or mark in behind the Liverpool front line players, due to their clever positions taken up. And there is little doubt that Mane's prolific and destructive performances in these spaces this season, has rightly seen him become a huge cog in the Liverpool goal machine.
Direct in his play, possessing a plethora of trickery, Mane has struck a chord with Liverpool fans, who recognise his up-field displays as well as his industrious performances in defence for the team, example being he statistically recovers the ball for the Reds every 14 minutes.

Yet there is a temptation as there often is with great players, to use the power of comparison when assessing if a player is better than another one, let us just say for instance a previous one. Unable to resist temptation this is something I'll be doing in this piece, with hero turned zero and loathed ex winger, Raheem Sterling.
Attacking – Goals, shots and conversion.
Sadio Mane this season has scored three goals in his seven appearances this season, whereas Raheem Sterling has scored four in seven, yet the latter has played 60 minutes more than his opposition this season notching 597 minutes on the pitch compared to Mane's 537. This gives Sterling a goals per minute (GPM) ratio of 149, whereas as Mane's GPM ratio is 179. Additionally, and quite weirdly, each player has 16 shots to their name this season, but again the Manchester City man boasts a higher shot on target percentage, with 50% of his efforts testing the keeper compared to Mane's 31%.
Once more it is evident that Sterling, yet again, comes out on top this season regarding shot conversion, with a quarter of his shots finding the net compared to 19% of Mane's.
WINNER: RAHEEM STERLING
Assisting and productivity 
Where Sterling has thrived at Manchester City is in large part, due to Pep Guardiola who opts to plays his wingers predominately wider than that of their Merseyside counterparts (figure 1). This means his goals and particularly his shots statistics are going to be marginally better than Mane's, due to the space he will be offered as a result of him enjoying a wider starting position.
That being said, Liverpool's theory of 'half spaces' can be very much seen in Mane's final third statistics, which proves him to be the vital cog in the well-oiled Liverpool goal machine as aforementioned.
Where it is correct Sterling edges the direct assists, three to one, Sadio Mane's total final third passes and the success rate of these are significantly higher than that of the Jamaican born wingers. Statistically, Mane produces a final third pass every four minutes, producing 37 more of these passes this season than that of Raheem, whilst boasting a higher success rate of these, 74% to 70%.
Furthermore, regarding important passes into the penalty area, Mane edges this too with 28 compared to the 21 of Sterling.
The half spaces offered to Mane will allow him to pick up these intricate positions, which almost sees him play as a right attacking midfielder at times (figure 2). Which when compared to Sterling's touchline positions taken up, allows these important passes to be made to the likes of Roberto Firmino and Phillipe Coutinho.
WINNER: SADIO MANE
General play   
As much as one could talk about half spacing, and the Pep way of playing, it is clear to see there is a defining similarity between the players, and this is nowhere as evident as in the pairs general approach play.
With each enjoying identical stats regarding their pass successes, with both possessing an impressive 79%, Mane just shades the Manchester City man, in terms of beating his opponent. Every 24 minutes Mane beats an opponent in comparison to Sterling who beats an opponent every 26 minutes. Surprising when you think of the positions Sterling takes up, but with that in mind, Mane's direct and very bullish approach play, that specifically Leicester and Arsenal endured, ensures this is not surprise at all.
Nevertheless, in what Mane is superior in there, Sterling certainly holds his own, losing possession far less than the Liverpool forward, and he can be seen as being more cautious with the ball.
As statistically Mane is dispossessed every 28 minutes of play, compared to every 21 minutes that Sterling is dispossessed of possession.
WINNER: EVEN ROUND
Defence
With each recovering the ball 38 times in the defensive area of the pitch, and with their net tackles equally as similar, it was actually Raheem Sterling who produced the most interceptions, whilst enjoying a higher success rate when tackling, 88% to the 73% of Mane.
Yet where the Manchester City man shades that area, Mane has produced more clearances this season, with Sterling yet to produce a single clearance compared to Mane's brace.
WINNER: YOU DECIDE…
Overall Observations
We sold Raheem Sterling acrimoniously for £49m in 2015, and splashed out £34m for the acquisition of Sadio Mane this past summer. Who or what team has the best of the deal, no stats can decide, this is not a who scored more scenario, and situations like these cannot be solved quantitatively.
Previously I have mentioned the tactics that the two managers opt to play, and does this have a bearing on statistics? Absolutely.
Liverpool this season have usually opted for the trio of Roberto Firmino, Philippe Coutinho and Sadio Mane, a fluid yet dynamic front three capable of interchangeability. Manchester City and Pep Guardiola on the other hand have employed Sterling mostly as an out and out winger, whilst the players around in interchange.
Then there is the question of the surrounding players of the pair, as Mane is usually seen as Liverpool's outlet and big player, Sterling is arguably in the shadow of Kevin De Bruyne and David Silva, two of the best play makers in the league. Sterling would often feed off the two play makers, where in comparison Mane would usually instigate an attack with his direct approach of play, as was seen against Arsenal.
There is also the very important factor of fixtures.
Liverpool have played three of this year's top five all away from home, with five of the Red's other eight games further being away due to the redevelopment of Anfield (although Mane missed the game vs Burnley), and this would have a significant impact in the way the team was to set up.
Whereas Manchester City have faced four of the bottom six already, and this would be hugely favourable to the Manchester giant and Raheem Sterling setting up against lesser opposition.
Overall, we must appreciate the player Raheem Sterling was for Liverpool and is now for City, he was never going to be replaced quickly and with coaching from Klopp he could have become one of Anfield greats.
However, in Sadio Mane Liverpool possess a live wire, a Klopp player and an industrious worker, the money paid will prove shrewd investment and the respect he is getting from opposition managers, further shows his effectiveness on the pitch.
Are we and were we too harsh at the time with Raheem, based on these statistics? Who would you prefer, a Klopp coached Raheem Sterling, with Anfield experience, or the recently signed in-form Sadio Mane?
You decide.