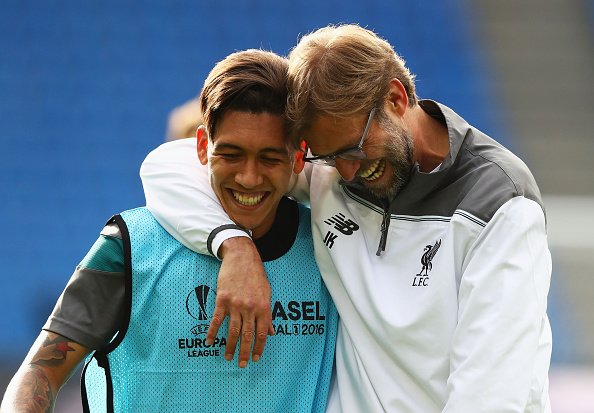 Firmino Pledges Allegiance
I have a theory that you can identify what kind of a Liverpool fan you are and, by extrapolation, what kind of human you are, based on your current attitude to Roberto Firmino. You see, some people are judgers. It's what they do. (I'm not judging them for it) They feel possessed of some moral authority, I imagine, which allows them to pontificate with impunity. Fair play, I guess. I'm not wired that way myself, but yes, have at it.
Your scribbler was as irritated as anyone by the recent unsavoury tale of our Brazilian forward's unprofessional and irresponsible off-field behaviour, but that was where it ended for me because, well, the way life has panned out I need football to be fun. In fact, it must be fun. I lack the constitution for po-faced pronouncements about the mores of the modern game. Others are far better at it and seem to really enjoy doing the outrage tango, bless 'em.
From an exclusively footballing perspective, the Firmino story is one of the most uplifting in recent Liverpool history. A player of outrageous talent, it is testament to his character and application on the field that he is now almost more revered for his endless endeavour when out of possession – a kind of Dirk Kuyt with obscene virtuosity. Like Ragnar Klavan, he has noted the difference between German and English football and adapted accordingly.

"I think I have already changed my way of playing," said the former top-knot sporter. "First of all because I was adapted to the European style of football due to playing in Germany with Hoffenheim for three years. But then I had to make another adjustment because English football and the Premier League is much, much faster. You really do notice that the pace is very high here but it is a type of football that I enjoy."
Firmino credits his cousin and uncle as massive influences on his very early career and, intriguingly, it is his former dentist-turned-agent, Marcellus Portella, who has helped shape much of his professional path. This, at least, may explain the terrifying sheen emanating from his choppers every time he flashes that ready smile.
"I was playing in the Brazilian Serie B in Alagoas and I had no-one representing me," Firmino explained. "Marcellus came on board and gave me a lot of support and effort. I was very young and he has been a very close friend. I'd like to think I have been good to him too and he has been good to me. I love talking to him and I respect him a lot."
Like all of Jürgen Klopp's players, Firmino seems eager to tell anyone who'll listen about the happy atmosphere the German has created and most Liverpool fans will be very heartened by his insistence that he sees his long-term future at Anfield.
"I am giving my best to the team like all the other players and everyone is happy with the work they are doing," says the seven goal striker. "That's reflected in the football we are producing and the fact that everyone is enjoying themselves. I love playing here and hopefully it is something I can continue to do for many years."