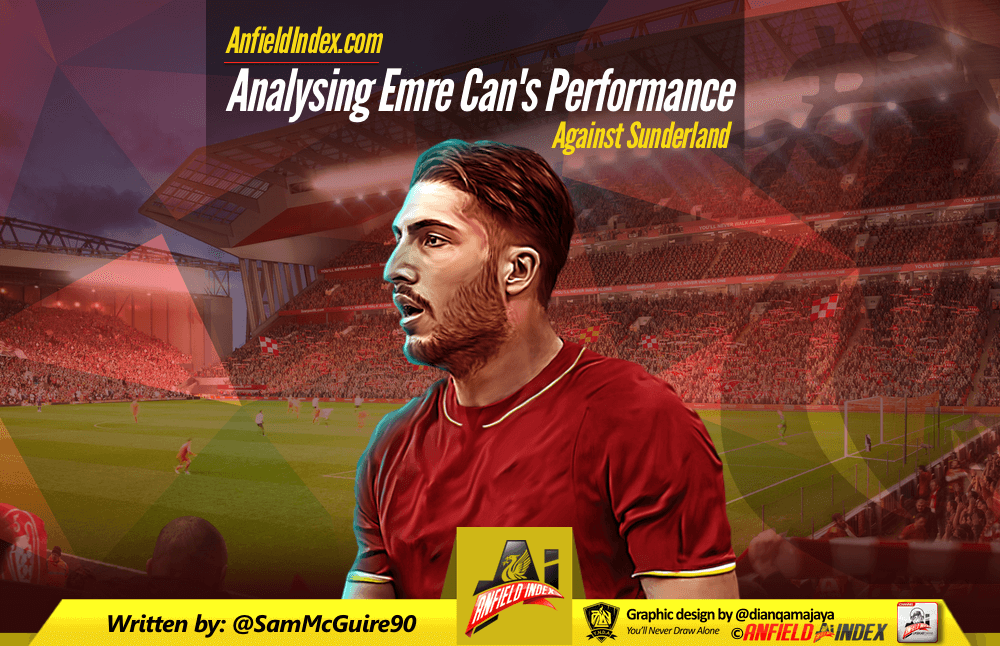 Analysing Emre Can's Performance Against Sunderland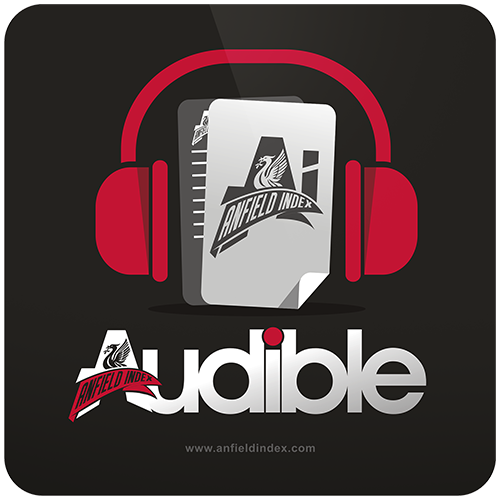 Listen to this article via @AIAudible !
The disappointing 2-2 draw against Sunderland was the first Premier League match Liverpool have been without Jordan Henderson all season. The captain has been a bit of a divisive figure amongst fans since Jurgen Klopp moved him to a slightly more withdrawn role, which has seen him operate as a number 6. He's expected to break up play, cover the space vacated by the attacking full-backs and start attacks. He does the former two aspects of that role well but it's the latter point which causes debate.
It's the whole passing stats vs too safe on the ball argument.
Are the passing stats out of context? Probably. Is he too safe on the ball? Potentially. It's hard to come up with a definitive answer because the more you watch Henderson the more you realise he does have the ability on the ball to play a decisive pass so there must be a reason behind him opting to play a safe one? Is it a Klopp instruction? I'm not particularly brave enough to open up that can of worms again. All I know is the Reds missed him against his former team.

The scapegoat for the draw was Emre Can. Neither Loris Karius or Alberto Moreno were starting so it was a flip of a coin to see whether Twitter turned on Dejan Lovren or the German midfielder. This time around the former Bayern man lost.
The Liverpool Midfield
Against City the Liverpool midfield was utterly dominant. They were organised, disciplined and controlled the space, the ball and the match but it was the complete opposite against Sunderland. In Lee Scott's analysis he highlights just how uncertain Emre Can was in a position he should be familiar with despite not starting there in the league this season. He's right as well. Can wasn't at his best but the balance of three in midfield was disappointing.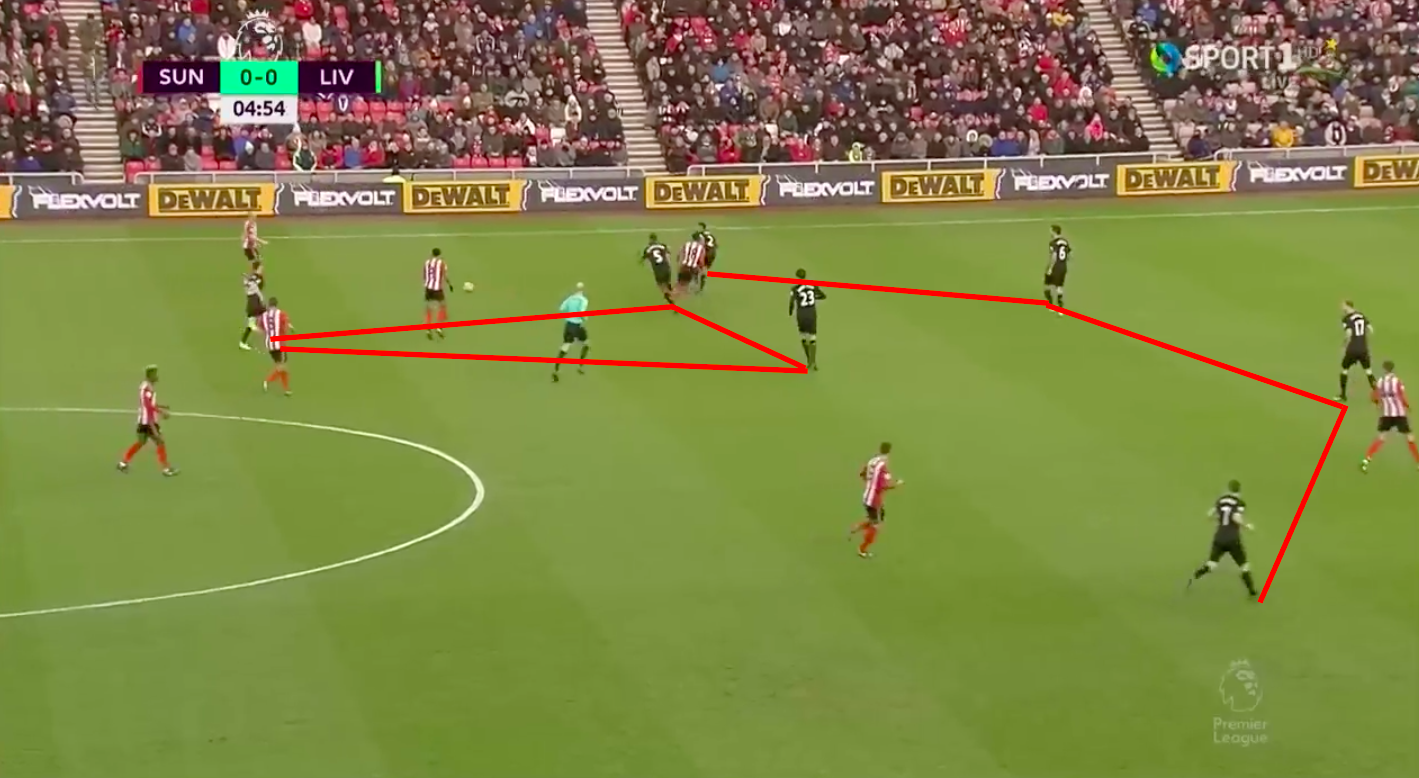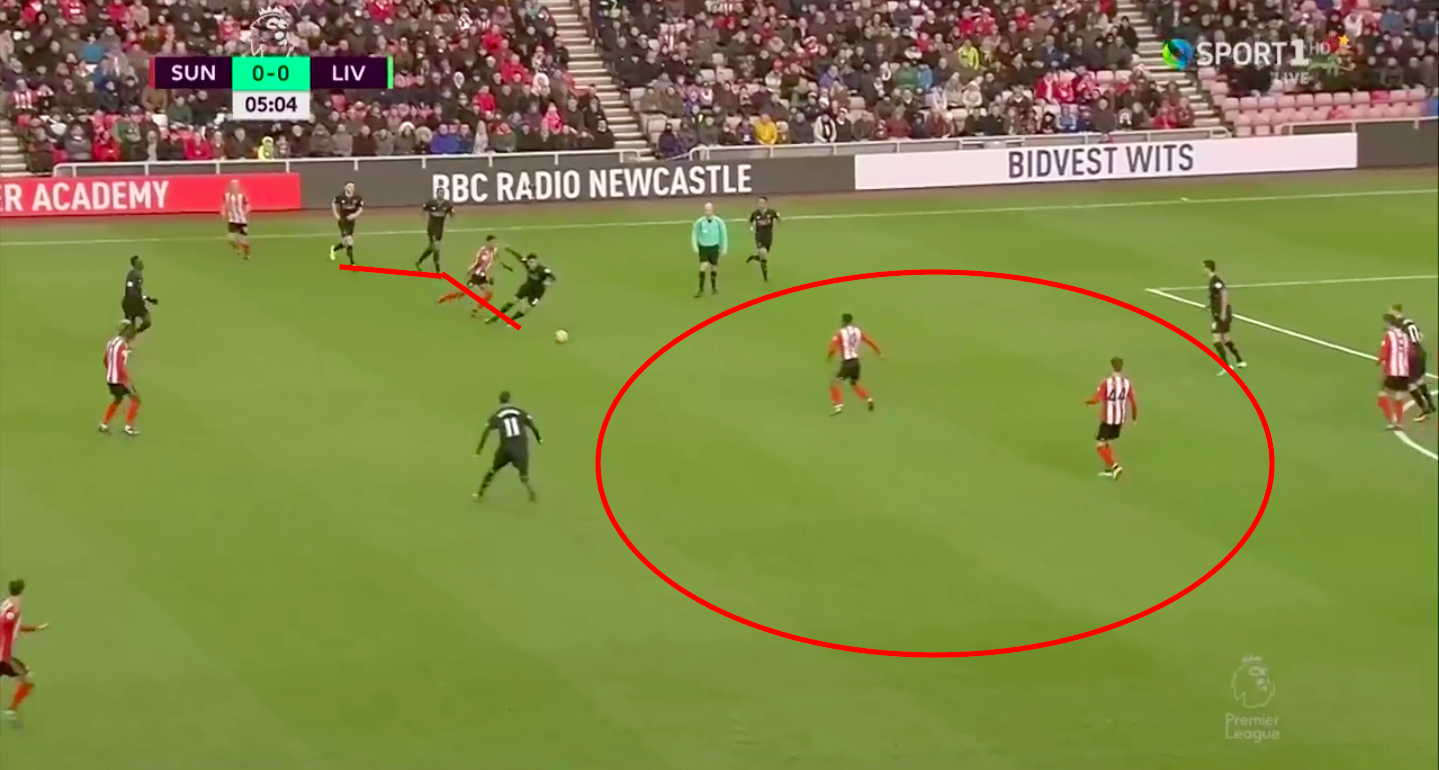 In the two pictures above you see how easy it was for Sunderland to create space. In the first picture you see the Liverpool back four with the midfield three in a triangle ahead of them. More often than not Sadio Mane would retreat here to the right hand side and that would allow Lallana to drift centrally. Mane doesn't track back and Lallana is forced to engage with Larsson on the Sunderland left meaning both him and Wijnaldum are occupying the same area. Van Aanholt escapes from the left and drives infield meaning Emre Can is forced to look to close him down. This leaves both Jermaine Defoe and Januzaj in a fair bit of space ahead of the defence with Jack Rodwell occupying Ragnar Klavan.
The easy thing here would be to say 'look at the space Sunderland have, why isn't Emre there?' but really, he's in a no win situation. If he doesn't look to tackle Van Aanholt then the left-back is running at him in a lot of space with Defoe and Januzaj to pass to and no teammate helping him out. He's looked to stop the attack but hasn't been able to prevent the pass and the outcome can be seen above.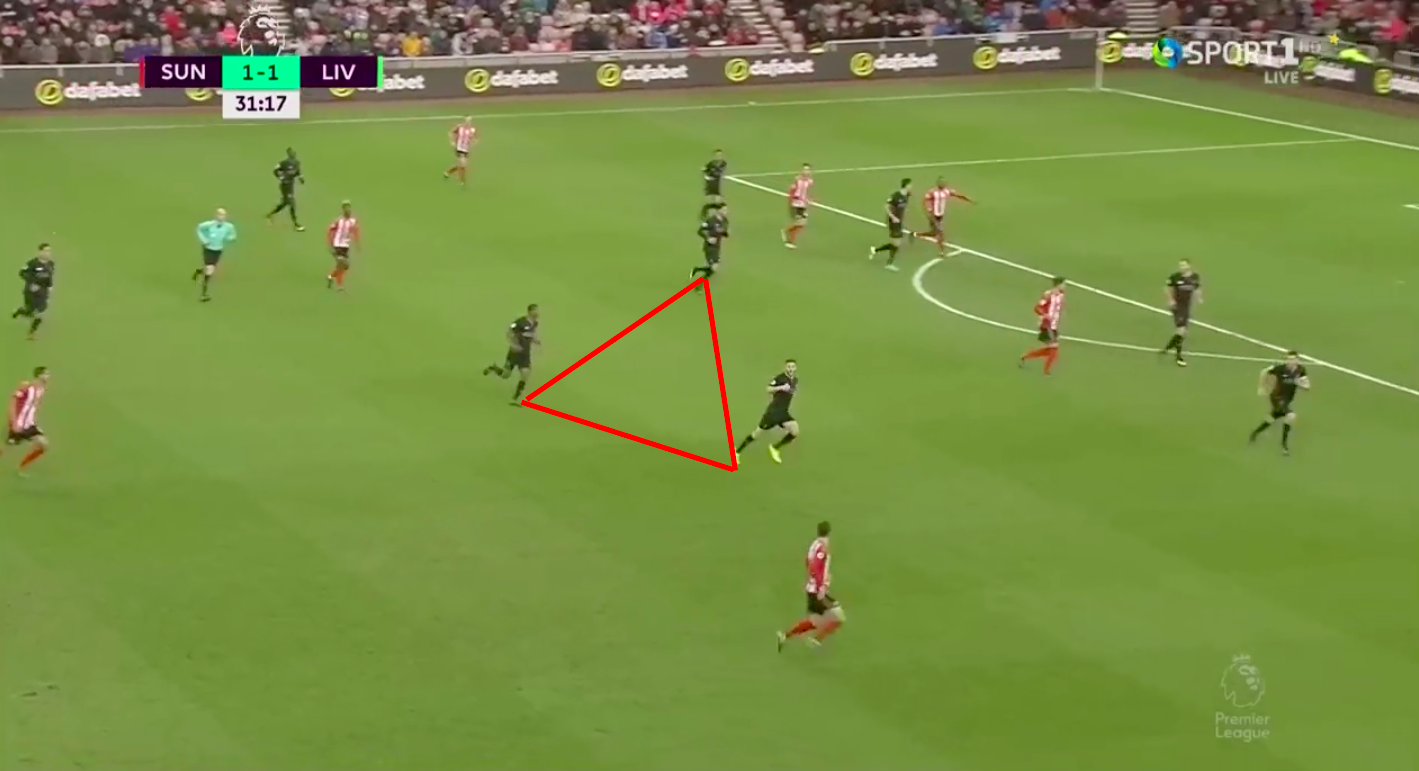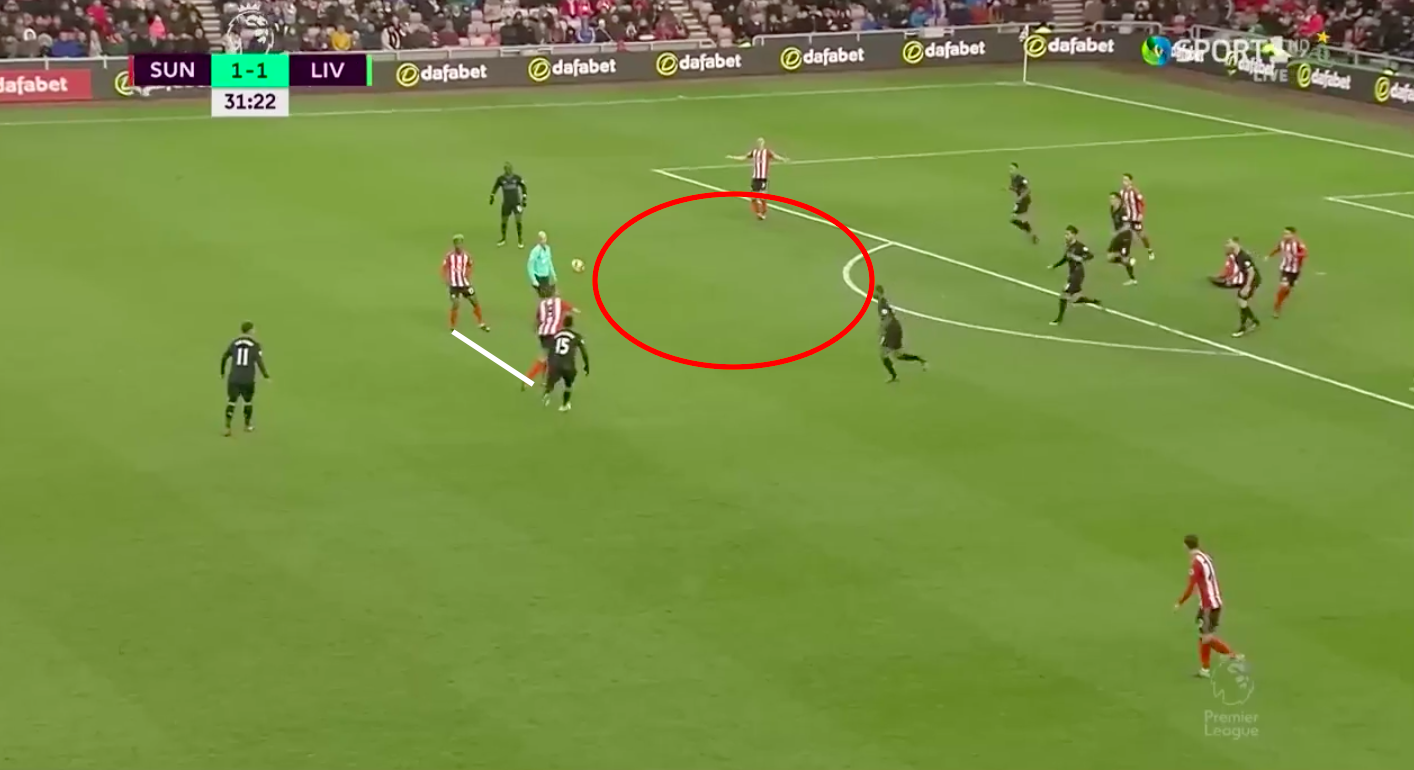 It's a similar story above. Both Lallana and Wijnaldum push out to the Sunderland right and leave Can with a lot of space to cover. He's not able to be in two places at once and he's blamed for not being in a position to prevent the Sunderland shot.
Henderson may cover ground quicker than his German counterpart and he may have put a stop to both of those attacks shown above but the system shouldn't be dependant on specific individuals, should it? Perhaps fatigue played a part. Whatever the reason, it can't be repeated.
Emre Can's Passing
The 22-year-old's use of the ball was also questioned after the draw at the Stadium of Light. Apparently he was lazy in possession, he was erratic on the ball and his passing was wayward. Yet if you look at the stats from the game he attempted 90 passes and completed 91% of them. He couldn't have been that erratic on the ball if he had a 90%+ pass success rate.
Another thing to note was how progressive he was trying to be on the ball. Henderson is often criticised for being too safe and cowardly when in possession. He doesn't try to break the defensive lines enough. It's an opinion. It doesn't mean it's right or wrong. But what's funny is those who call Henderson safe were the same ones saying Can should've kept the ball better. Basically these people want a midfield who never loses possession but is always playing an decisive pass. They don't exist.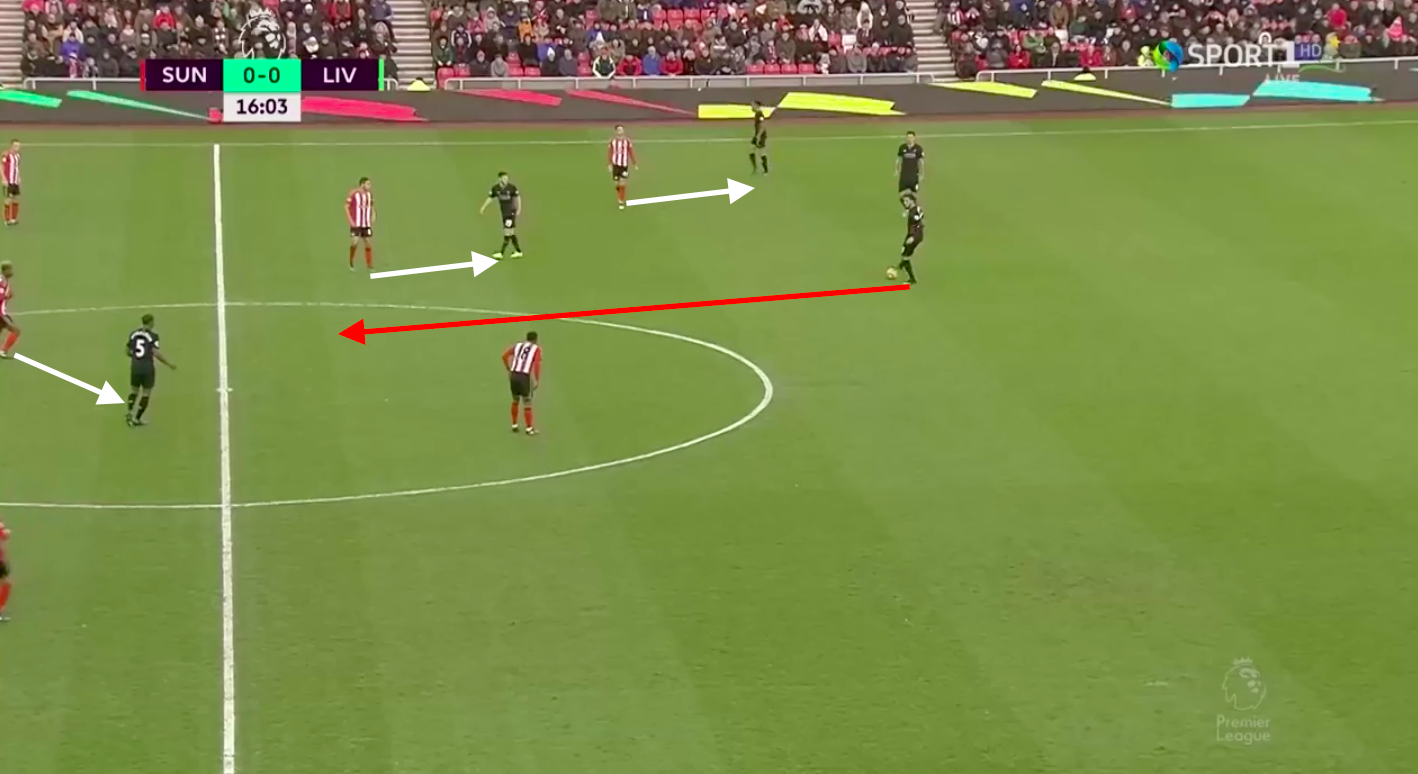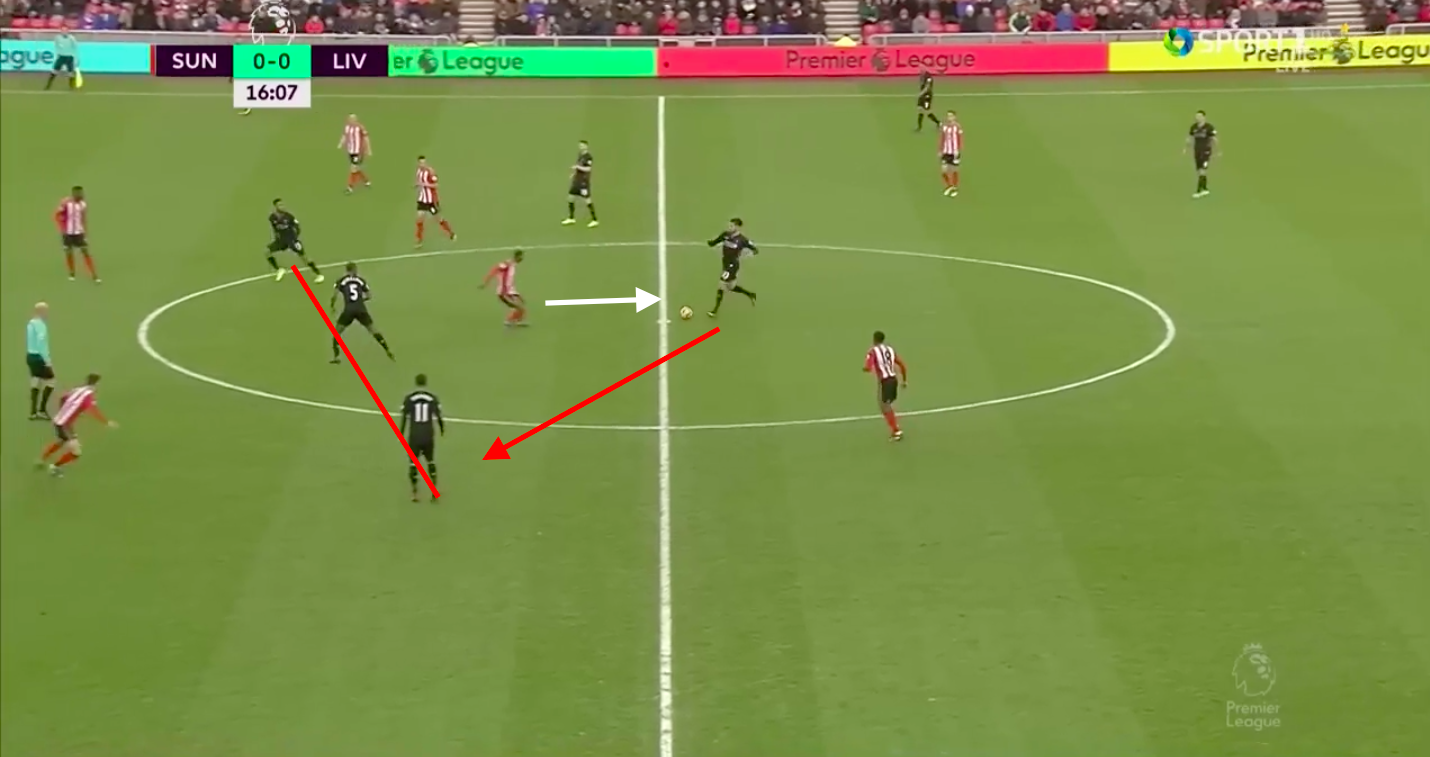 In the two pictures above you see how progressive Emre Can is when in possession with space ahead of him. He receives a pass off Lovren in the first picture and there's a pass on to Wijnaldum, highlighted by the red arrow. However, Ndong is closing in on Wijnaldum and it's a risky pass so to move play on Can drives into space ahead, which leads to the Sunderland man having to close him down. As soon as he's dragged out of position Liverpool have three players in behind the Sunderland centre-midfielders and Emre Can releases the ball to Firmino. The Brazilian tries to play a first time pass to Wijnaldum but it's intercepted.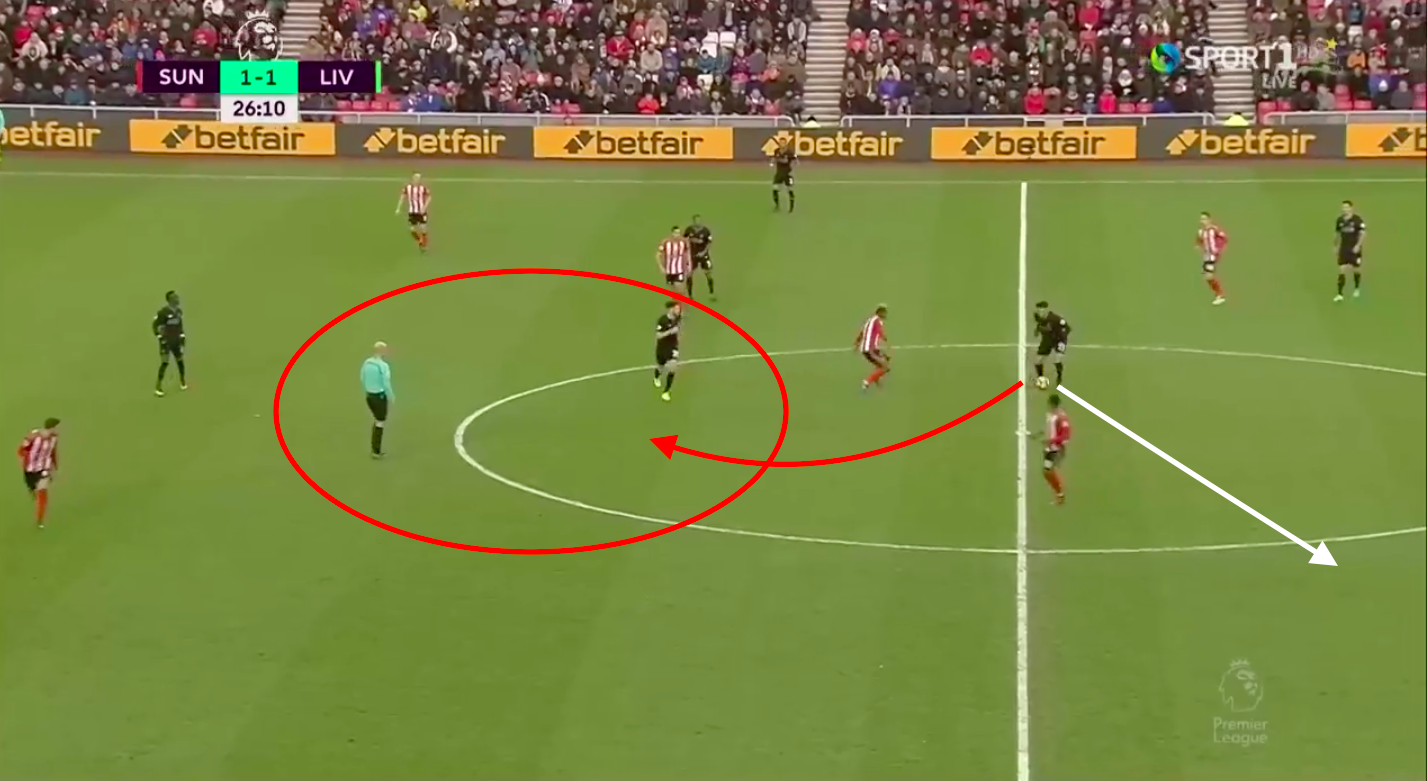 In the above picture Ndong has squared Can up and the easy pass here would be for Can to play it back to Klavan, highlighted by the white arrow. But Can plays an outside of the foot pass in the hope of finding Lallana who has found himself in copious amounts of space. Had the pass been better, Liverpool had an opportunity to get at an exposed Sunderland defence. The pass wasn't the best and Sunderland almost hit the Reds on the counter. Again though, isn't it the sort of pass you want to see from your number 6? To break the lines and take the opposition out of the game? It should be encouraged but obviously a better outcome is favourable.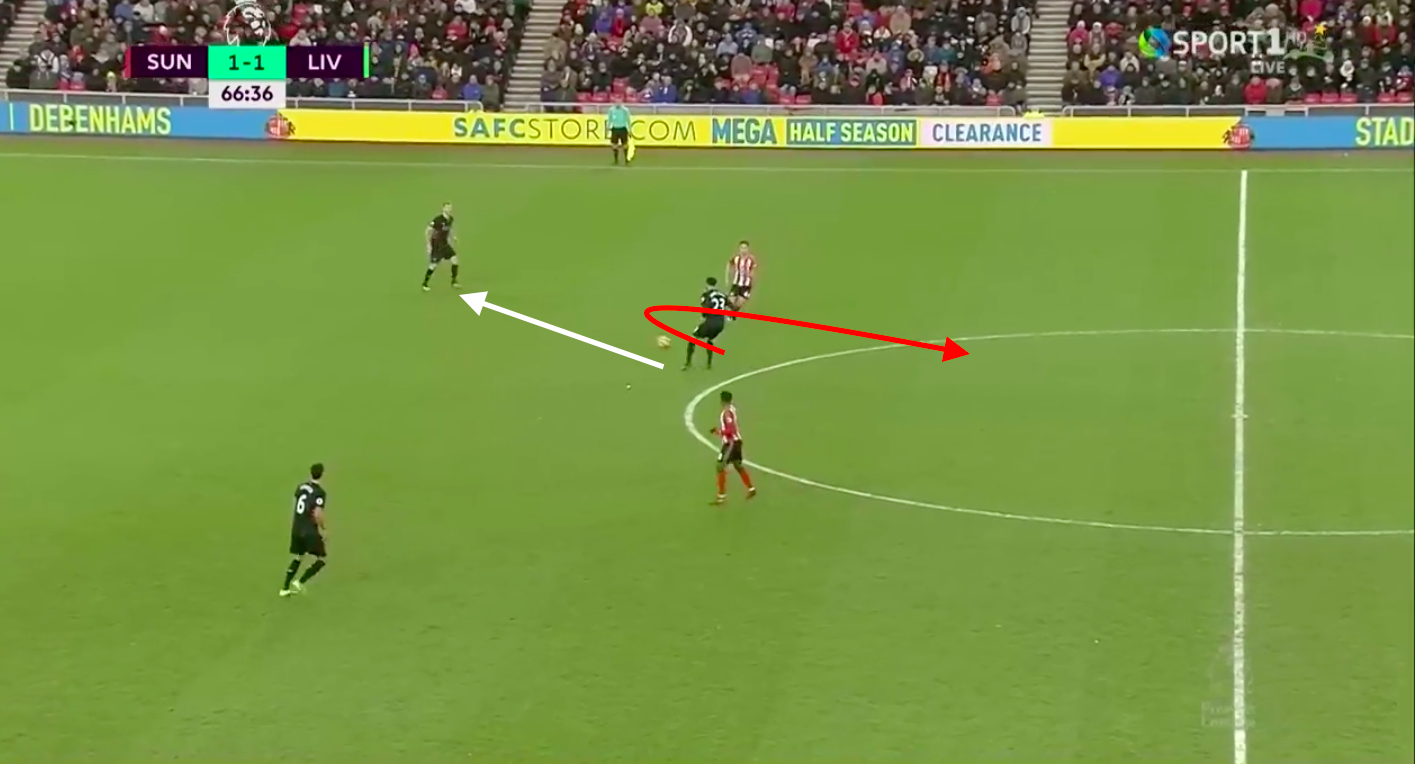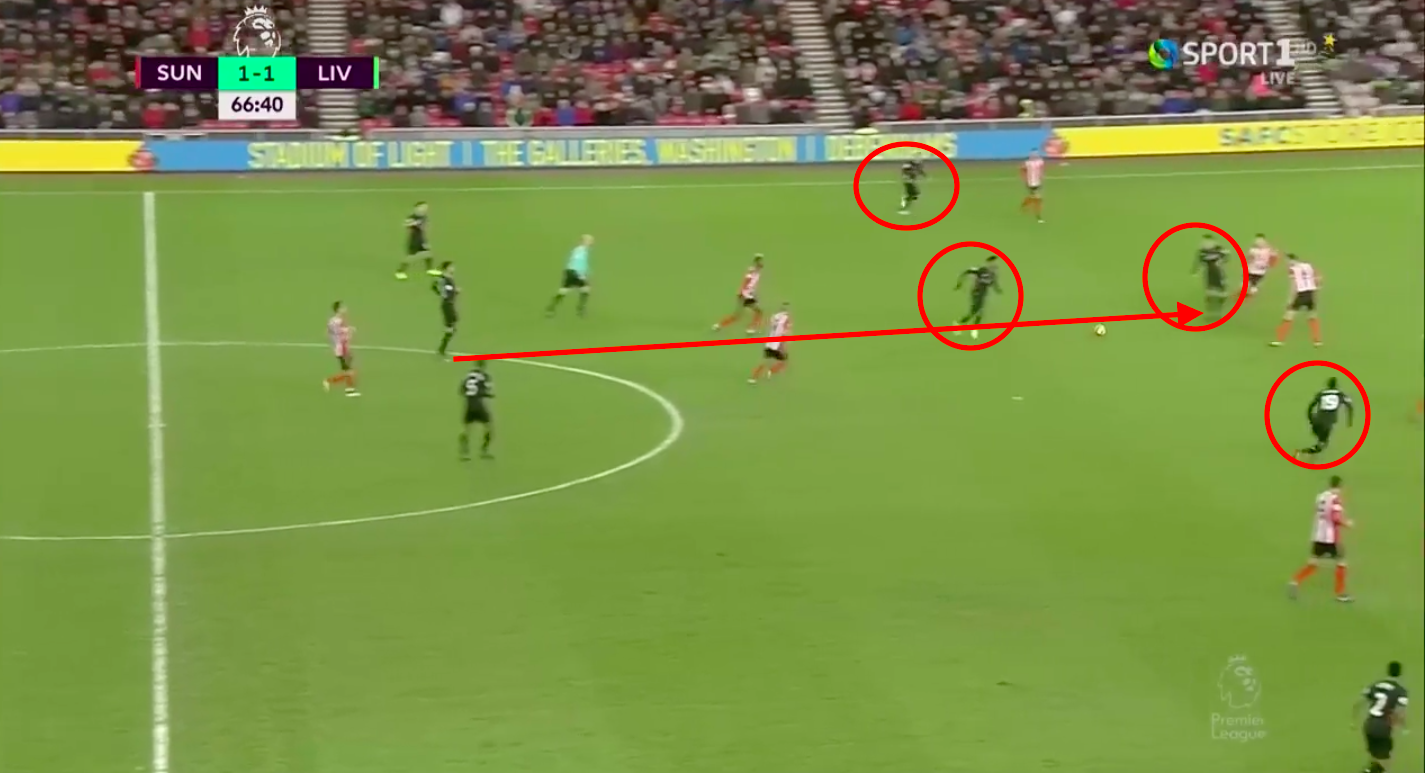 Can picks the ball up in a deep position and spins on it even though he's under pressure from a Sunderland player. He then carries the ball forward into the acres of space ahead of him before playing a pass between the two Sunderland midfielders, which Sturridge leads and Firmino is able to control. The Reds (wearing black) have four players in behind the home side's midfield and had the touch by Firmino been better a chance would have come from it.
Can wasn't at his influential best by a long shot but he was progressive, aggressive and positive. It was hardly worth isolating and blaming him for the underwhelming draw.