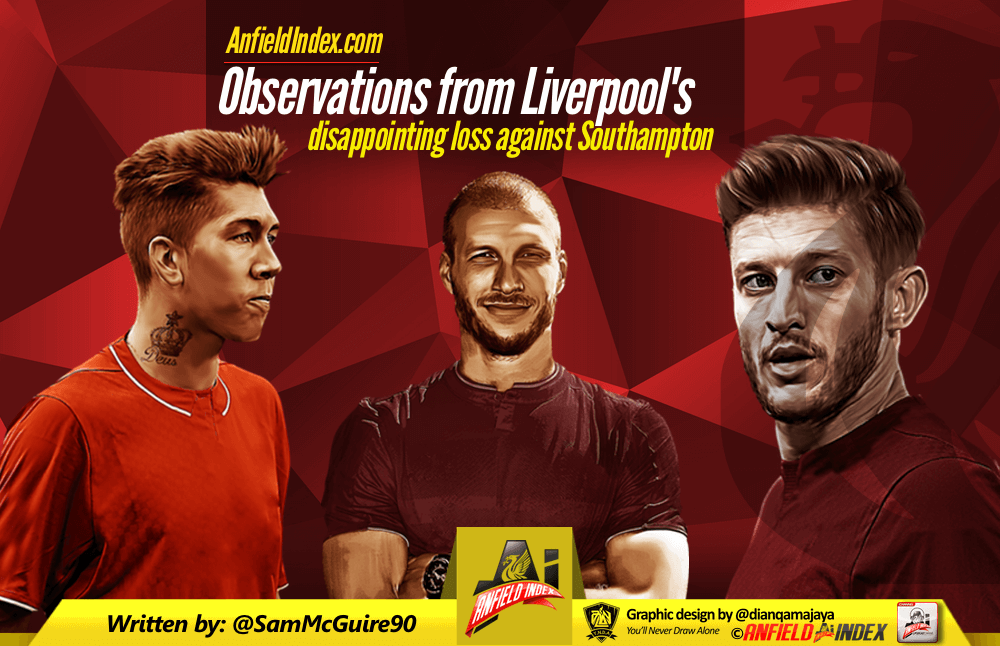 Observations from Liverpool's Disappointing Defeat at Southampton
A defeat in a semi-final isn't the best way to warm up for a trip to Old Trafford. Want to know what's worse though? A poor performance just a few days before travelling to a United side who can be described as rampant after nine consecutive wins. Klopp named a strong side but it just didn't click for a variety of reasons.
That performance, coupled with the fact James Pearce hinted at no January business, will just exacerbate things and it may reach boiling against United if things don't go our way. Fans are already getting a little twitchy.
However, we can count ourselves lucky tonight. We're fortunate to be taking them back to Anfield just a single goal behind. This tie could have been out of our reach had Southampton been clinical when in on goal. So, a second consecutive league cup final isn't off the cards just yet.

Lapses in concentration defensively
It's a bit like Friday the 13th, part six – Jason's Revenge. We expect something a little different but at the end of the day we've seen this movie before, it's just been labelled differently. That's how you could describe the goal Nathan Redmond scored. It was unfortunate but entirely preventable. Klavan lashed at a clearance and messed it up, Clyne wasn't anticipating it, and Redmond was able to slide the ball home to make the most of our ill fortune.
It's unlucky but it happens far too often in our defence. You can't plan for that rogue kick but it's getting a little tedious now isn't it?
Missing Jordan Henderson
The midfield hasn't looked the same without Henderson. I've been a critic of his because of how limited he is at times but the more I watch him and the Liverpool midfield the more obvious it becomes that it's all like jenga right now. It's a machine, a setup and a system which has been put together and the sum is greater than the parts. So although he may not be the best individual there for everything you need from a number 6 he's a good counter-weight for the rest of the team. Emre Can looks better beside him and is given license to roam.
It's a concern that we lack a replacement for the captain now.
In need of an adrenaline boost
With Mane missing we seem to miss that pace he offers. It can all be a bit flat and predictable in attack, even with the creativity of Firmino, Coutinho, and Lallana. Should we really be passing up the opportunity to add players this month?