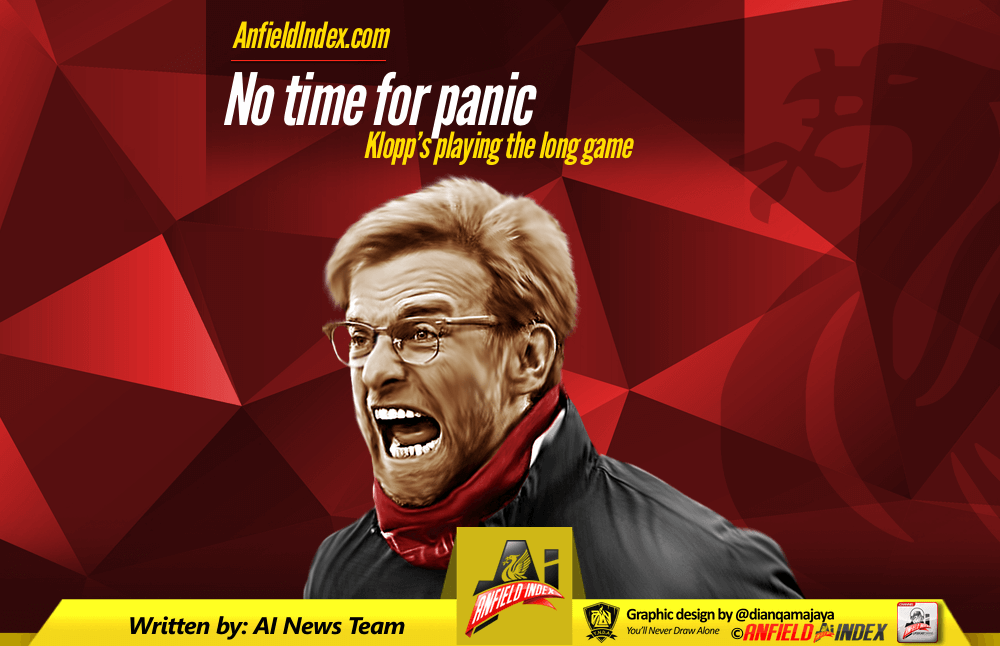 No time for panic – Klopp's playing the long game
There's no doubt that we've had one of the worst starts to a calendar year since, well I'd rather not look into it, to be honest. We've had enough dark moments the past few weeks without adding stats to the feeling of doom permeating the club and practically every Kop forum and Facebook group out there.
In fact, there have even been calls for FSG to sell up or send Klopp on his merry way, P45 in hand. But rather than dwell on such bleak possibilities, let's take a more positive look at how we're doing so far under the charismatic German's tutelage.
In his first 85 games, Klopp has 41 wins, 25 draws, and 19 losses. That's a win percentage of 48.2 which is pretty much on a par with Brendan Rodgers' record much to the chagrin of Buck's detractors.

But comparing Klopp to previous Liverpool managers and Rodgers, in particular, is an exercise in both futility and frustration and we, as supporters of the club need to get out of that mindset. Let's not forget that while Rodgers inherited Suarez, Sturridge, Gerrard, Carragher, and Sterling, Klopp took over a club in turmoil still reeling from our captain's move to LA and a significant loss of self-belief.
To fully understand Klopp and his methods, we need to take a look at his time with Borussia Dortmund paying close attention to those first two seasons that everyone seems to have conveniently forgotten.
At Dortmund Klopp had a vision and the club hierarchy bought into it. He knew it would take time to bring this team from mid-table mediocrity to the European qualifying positions and dared to believe that he could turn them into champions. A belief that was ultimately proven true. But as the press look on Klopp's incredible success in the Bundesliga with rose-tinted glasses, they seem to wantonly ignore the fact that in his first two seasons at Dortmund, Klopp made steady progress in the league and nothing more.
In the 2008-09 season, he guided the club to a respectable 6th place in the league, an improvement on the previous season's 13th. The following year they finished one place higher in 5th, and that was pretty much the height of their success. No glorious cup runs or classic European nights, just a solid display of grit and determination and the introduction of gegenpressing, a tactic that would see them become Bayern's most notable adversary for the next five years.
His belief that players could be coached to excellence was always intended as a long-term plan and the fact that it showed minimal short-term gains is hardly surprising. This ethos also allowed for the club to keep their transfer budget to a minimum, something that was incredibly important to a club that was near bankruptcy just a few years earlier.
His insistence on buying players with potential and promoting from within the club brought the world's attention to players such as Lewandowski, Erik Durm, and, of course, Gotze and Reus. Two Bundesliga titles, a cup, and a Champion's League Final later and Dortmund are finally back where they belong, and it's all thanks to Jurgen.
And so back to Anfield where we can draw comparisons with his activity in the German transfer market to each of his windows here so far. The man simply won't tolerate paying over the odds for players yet is not averse to ratifying a bid for an obvious talent, Sadio Mane being the perfect example of the latter.
Overall, the improvements in our squad are there for all to see. Lovren, Lallana, and Henderson have all made incredible progress under Klopp's new regime, and if his track record of promoting from within is anything to go by, then we're likely to see a lot more of the likes of Ojo and Alexander-Arnold in the not too distant future.
The similarities between his start at Dortmund and his first 17 months in charge at Liverpool should be cause for nothing less than optimism. Because let's face it, 4th place was this season's target and we are, in fact, overachieving when it comes to the long-term plan.
So when the many voices of past legends join the press chorus of 'Klopp's been found out' it's a little disheartening. Didi Hamann has been particularly vociferous in his opinion that the club made a mistake handing Klopp a six-year contract. In fairness to Didi, he is fully entitled to his opinion, but it comes at a time when the team's form is shockingly poor, and confidence is seemingly at an all-time low. A quick look at the odds on us winning the league show that as far as the bookies are concerned, we're out of the race and now a club legend is casting doubt over the club's faith in the manager's long-term plan. Hopefully, this won't have a detrimental effect on the player's self-belief.
Borussia Dortmund bought into Klopp's vision for the future, and he repaid their faith with success. Now it's Liverpool's turn to keep the faith. Remember this season was all about getting into the top four, anything else is just the icing on a German-baked cake.