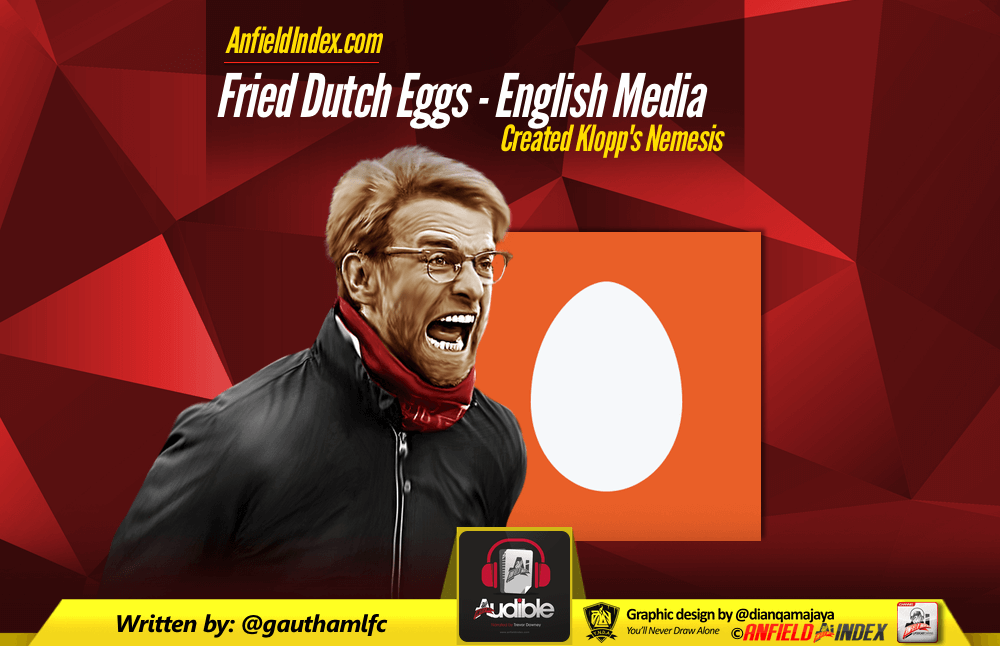 Fried Dutch Eggs - English Media Created Klopp's Nemesis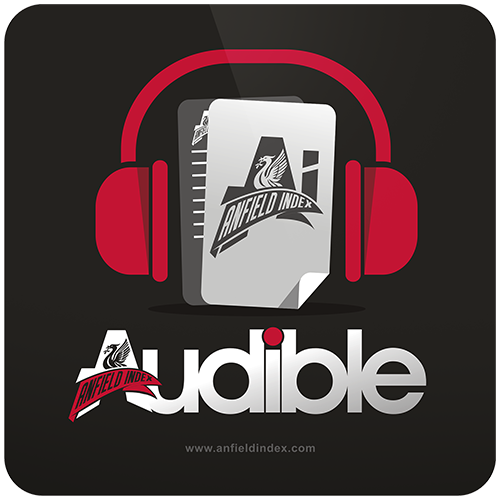 Listen to this article via @AIAudible !
We've been through a difficult patch. Liverpool squandered the momentum of late December with a string of lacklustre performances against substantially lesser sides, and we found ourselves teetering on the edge of the Champion's League spots and crashing out of both the FA and League Cups. A byproduct of this disappointing run is the first inkling of an anti-Klopp sentiment by a very small but very loud section of the bizarre world known as LFC twitter. Klopp, of course, is not going anywhere. The same can't be said of the ownership and a great many of the players. But Klopp is here to stay. And if the digital reaction to Liverpool's victories over Arsenal and Tottenham are any guide, Klopp is still deeply loved by the strong majority of the fans.
Yet the rise of even a smattering of Klopp-outers has provided an opening for the reemergence of Klopp's number one critic, mockingly known as the Dutch Egg for his anemic Twitter avatar game: Dutch fitness "expert" Raymond Verheijen. Close listeners to Anfield Index' Under Pressure podcast will know by now that Verheijen's shtick is less than convincing. Resident sports science expert Simon Brundish has repeatedly argued that Verheijen's obsession with his own training philosophy known as 'periodization' almost predisposes him to lash out at those, like Klopp, who use alternate fitness and training models.
Verheijen's distasteful behavior toward the clubs that employed him further sullies his reputation. In 2008, while with the Feyenoord youth ranks, he turned on first team coach Gertjan Verbeek by saying that a rash of injuries could have been "prevented easily by balanced training." Mark Hughes had brought Verheijen to Manchester City but it was Hughes' successor Robert Mancini who would feel the wrath of the Dutchman: Mancini's "double sessions" exposed City's squad to injuries and cost the club millions of pounds. Manchester City responded by smartly observing that there was an odd coincidence between the timing of Verheijen's criticism, coming as it did "several months" after he'd been sacked by the club. But Verheijen's most craven performance came as a member of the Wales coaching staff. In December, 2011, after the tragic suicide of manager Gary Speed, Verheijen declared himself the chosen one. It was "Gary's wish" that he be named the new Wales manager, explained Verheijen. For this Verheijen received a richly deserved public flogging by former Welsh international Iwan Roberts who complained loudly to the BBC about the unsavory angling for the manager's post only days after Speed's death.

Make no mistake, Verheijen, a man who has won just about nothing in a journeyman career, has gone after successful managers in the Premier League and beyond: Wenger, Mourinho, Pochettino, Conte, Zidane. It was Ray Wilkins who captured the likely bewilderment of these managers at being attacked by a man of Verheijen's low standing: "Raymond, first and foremost, is a fitness coach. Do not talk tactically about football…You are fitness coach. Get on with what you do." But Verheijen is not just a fitness coach. He is a man obsessed with hearing his own voice. And Verheijen's notorious penchant for self-promotion is most clearly visible in his persistent hectoring of Klopp.
There is a method to Verheijen's madness. His tactics are to either hide in the tall grass and pounce on injury news to blame Klopp, or to make vague and ominous claims about the carnage to come. An example of his sniper tactic came over the 15/16 festive season. "Liverpool were already struggling with injuries before Klopp arrived, so to introduce this pressing game over this bury period was asking for trouble," wrote the Dutchman, before concluding by calling Klopp's method "Russian Roulette." In the summer of 2016 he resorted to his other tactic: "In past weeks media reported how intelligent coaches like Conte & Klopp do 'too much too soon' with double & triple sessions in pre-season." So the stage was set for any injury to befall a Liverpool (or Chelsea) player. A month or so later, when Daniel Sturridge took a knock—the same Daniel Sturridge who has suffered injuries for many years—Verheijen reminded us that he told us so. Rinse and repeat. In October, 2016, Verheijen again set himself up for glory: "Because of Klopp's intense training & playing style, it's very likely the Liverpool players will struggle in the last months of this season." Struggle how? Would Klopp's training methods be the specific reason Liverpool missed out on the treble? Would the entire squad be out with injury? The specifics, of course, matter little to Verheijen. But when trouble came for Liverpool this past January, with an insane fixture schedule and the departure of Sadio Mane for the African Cup of Nations, Verheijen again pat his own back: "Why are so many people surprised about Liverpool fading in second half of season? Klopp has run his players into the ground during pre-season. Consequently, players cannot perform during an entire season."
For his part, Klopp has shown remarkable restraint in responding to Verheijen, perhaps most memorably alluding to an annoying "Dutch guy" fitness critic during a press conference. One wishes that the English football media were able to match Klopp's restraint. The sheer amount of articles sourced only from Verheijen's boorish twitter feed or from solicited quotations from the "Dutch guy" are evidence that the press is the one stoking a "feud" between a world class manager and a purportedly reputable critic. But that is far from the truth of what is playing out in these websites and newspapers. You may disagree with Klopp's tactics and call him out for errors in preparation or during matches. But Klopp is among the top managers in the world. Raymond Verheijen is something else. He's the human personification of the term that has come to loom so large over our digital culture: troll.
In a recent attempt to discourage trolls like Verheijen from influencing public dialogue, Twitter made it easier to "mute" or silence those 'eggs' that lack complete personal profiles. But Verheijen is not Twitter's problem. Rather, it is the English media that has in effect created the Raymond Verheijen that we know. Hopefully they begin to realize that they've played the role of enabling his narcissism and begin to ignore Verheijen for good.