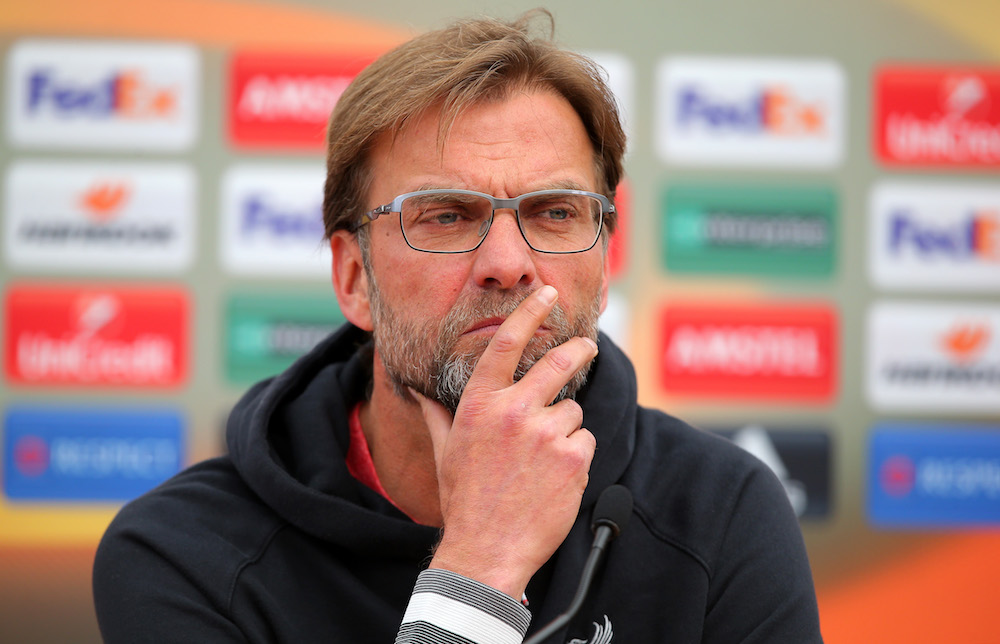 Liverpool must focus on a top three finish… just to be certain

It was only a second-half meltdown in Basel in the Europa League final against Sevilla that deprived Liverpool of a place in this season's Champions' League and there remains a remote possibility that the two competitions could combine to cause us more sorrow this term.
All the media focus is on the race for Champions' League places via a top four Premier League finish but, as we reach the business end of the two big European club competitions, there could yet be a sting in the tail for the club that finishes in fourth spot.
Due to the UEFA ruling regarding the current top three associations in the rankings (Spain, Germany and England), Liverpool need to ensure a top three Premier League finish to be absolutely guaranteed Champions' League football next season.
That's because of the admittedly unlikely scenario in which should Leicester City win the Champions' League and Manchester United claim the Europa League (but finish outside the top four in the Premier League), it would result in both teams qualifying for Europe's premier club competition.  As a direct consequence, whichever club finishes fourth in the Premier League would be consigned to the Europa League.
Whilst Manchester United are favourites to win a tournament that doesn't look the most challenging this year, the Foxes are rank outsiders for the Champions' League.  However, they've already seen off the aforementioned Sevilla, have suddenly hit form and know all about defying the odds.
It would certainly need an unlikely series of results both in Europe and domestically, but whether you use a traditional High Street bookie, laptop, iPhone or betting apps for Android device, it might be worth having a couple of quid on a Leicester/ Manchester United double to win their respective European cup competitions.  It could just ease the pain should the unthinkable happen.
The best-case scenario would be Liverpool embarking on a storming end of season run, so making events elsewhere irrelevant.  The run-in does look very favourable on paper, particularly when coupled with all our rivals having distractions from European or domestic cups.
Following the Merseyside derby at Anfield, Liverpool's remaining fixtures look relatively benign – Bournemouth (H); Stoke City (A); West Bromwich Albion (A); Crystal Palace (H); Watford (A); Southampton (H); West Ham United (A) and Middlesbrough (H).  That's about as good a run of games as you could hope for at this stage of the campaign.
A point from the 1-1 draw at Manchester City last Sunday not only cemented our position in the top four, but it also ensured that we will finish the campaign as the top team among the 'Big 6' head-to-head.
However, whilst the Reds have accumulated a hugely impressive 20 points in 10 games against our top six rivals, we seem to undergo something of a Jekyll & Hyde transition once the level of opposition drops a level or two and have only won a relatively modest 19 points from 10 matches against the bottom six clubs to date.  When it comes to Liverpool betting, the bookies must love the Reds this season.
It's a record that has included damaging losses at the hands of Hull City, Leicester City and Swansea City.  There were also dropped points at Sunderland and further unexpected defeats at Burnley and Bournemouth, two teams currently just a little higher in the standings.  As a result, instead of being hot on Chelsea's heels, we're anxiously looking over our shoulder.
Whether it's down to complacency, difficulty in raising their game when there isn't an intense atmosphere to accompany it or an inability to handle opposition teams that are generally more direct and physical, there's clearly an issue somewhere.
It's something Klopp will no doubt address over the summer and the customary speculation as to comings and goings is already starting to gather pace.
Predictably enough, Liverpool transfer betting looks likely to focus on the Bundesliga, with the likes of Sead Kolašinac, Julian Brandt, Timo Werner, Naby Keita and Emil Forsberg among the names regularly linked.
With Marko Grujic, Joe Gomez and Danny Ings all hopefully fit and available going into next season, Danny Ward back and ready to challenge for the goalkeeper's gloves and the likes of Ben Woodburn, Trent Alexander-Arnold and Ovie Ejaria looking to get more game time, it's unlikely that there will be a major overhaul of the squad this summer.
With many of Liverpool's remaining fixtures being against teams with little left to play for this season, there really are no excuses for not securing a top three finish.
It would just be nice if Atlético Madrid or, preferably, Anderlecht could ensure that we have that additional cushion.