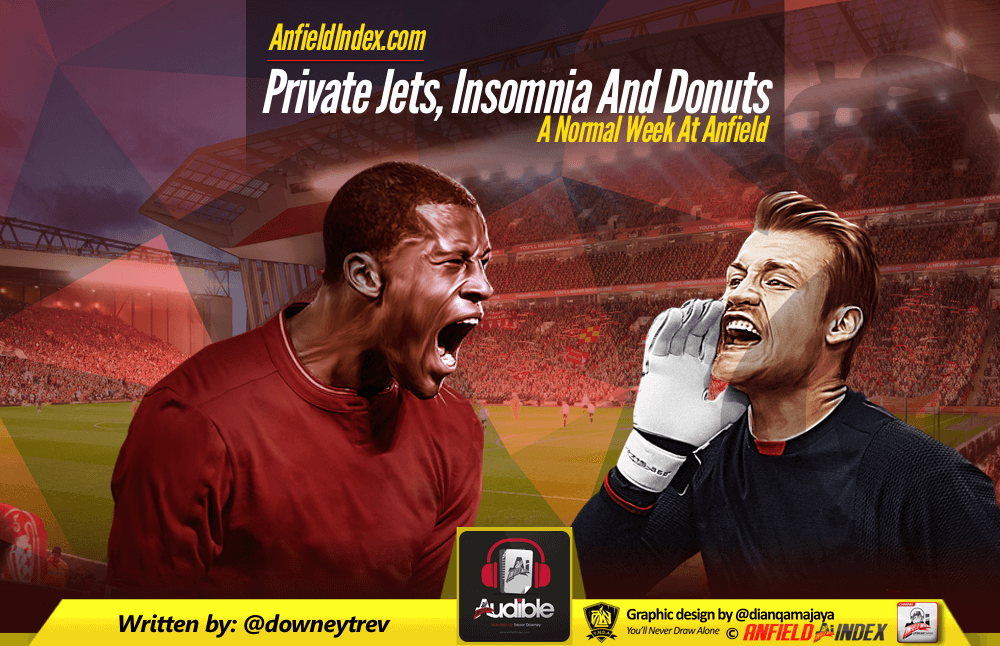 Private Jets, Insomnia And Donuts - A Normal Week At Anfield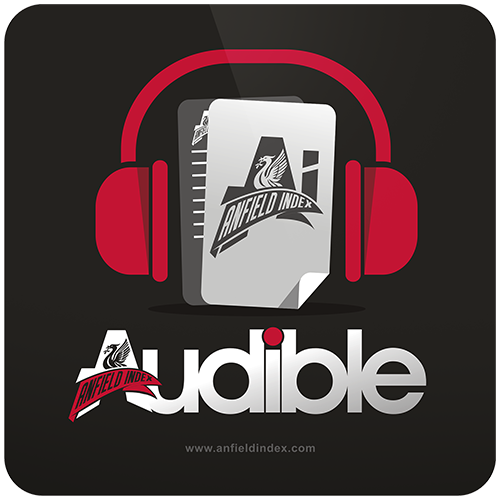 Listen to this article via @AIAudible !
Here is the latest in a sequence of ways in which writing a daily football column knocks your perspective into a cocked hat. Number 73: Comparing your reality to that of Roberto Firmino.
Having missed a day from both my jobs for what the Twitter kids call "reasons," your columnist was left incapacitated enough that he was unable to drive his own beloved mode of transportation to work this morning. It seems as though my employers were anxious to avoid being short-handed for a second day, however, as there were several suggestions in a text message about folk who would be happy to have a passenger on today's commute. Yet, as I sidled into the car of a gracious colleague earlier, all I could think was, 'not exactly a private jet, this, is it?'
Of course, I made the usual noises of gratitude and exchanged the pleasantries required in such circumstances (I'm not a monster), but as we wittered inanely about the local weather patterns, I was tormented by images of Philippe Coutinho and Roberto Firmino's dazzling teeth glinting out from the selfies they took aboard the luxury aircraft the club had chartered to speed them back to Melwood. Behind a politely nodding head and a wonky rictus grin of Ronaldo bust proportions, I berated myself for all my terrible life choices. As I said earlier, and to channel South Park's Mr. Mackey, immersing yourself in this stuff is bad kids, m'kay?

As jarring as that experience was, it cannot have been as unpleasant as Simon Mignolet's rare start for Belgium in midweek in a 3-3 draw against Russia. It could easily have been a five-goal concession for the amiable 'keeper, with one ruled out for offside and another narrowly missing in the 90th minute. To make the experience worse, the third of the goals he did concede was an injury time equaliser. This is hardly the ideal preparation, ahead of the most vital derby in seasons, for a man who is prone to sporadic howlers whilst wearing the Liverbird.
Unsurprisingly, there is no evidence of this in Mignolet's words. The man never lets the side down when it comes to toeing the party line. On a Dunkin' Donuts marketing event with Nathaniel Clyne and Georginio Wijnaldum, the net-minder sounded positively bullish about the match against Everton, citing his own winning record against the bluenoses and getting himself a tad confused about how something can be "hostile" but not have much "hatred."
"In the time I've been here, we've always had great results against Everton at home," he told the official website and made every single reader wince in the process with his flagrant tempting of fate. "The fans are up for it. It's always a big fixture to look forward to. On the day itself, it's nice to be part of it.
"It's always a bit hostile, but like in any other derby game that's something you relish – two groups of fans who are cheering their team on. It's a bit special, of course, in Liverpool because in some families you have got both Everton and Liverpool supporters. Although it's a derby, I don't think there is so much hatred between the two clubs. Everybody wants to win and everybody is cheering their team on, but it's still in a fair way."
Bless him. It's obvious that Simon is very concentrated on the field of play during derby matches, because if he were to cock an ear to some of the things being said about him in the stands, he would have a wildly different perspective on the fairness of the "cheering," and that's only the Liverpool fans.
Meanwhile, his fellow doughnut shill, Gini Wijnaldum, who was the focus of my last column due to his expression of interest in mentoring the young Reds in Jürgen Klopp's squad, seems to be going beyond the call of duty with his latest efforts for the cause. The classy midfielder is the focus of a multi-part interview sequence with Liverpoolfc.com with the express intention of educating readers on how best to recover and prepare for a match.
As you might expect from such an earnest young man, the advice is excellent and the admissions are frank and honest, as the player details his own routines and illustrates his own specific issues, anxieties and methods around preparation and recovery. The club's excellent dietician, Mona Nemmer, emerges with terrific credit and Wijnaldum is disarmingly candid about his own peculiar foibles.
"I have to say, Mona and the physios here help us with it and there's a lot of choice," he revealed. "Also, when you have problems, she'll help you by looking at your diet – so for example, my stomach sometimes might hurt after games. I must say, since I spoke with Mona about it, I've had it less than before. Mona is aware of everything and she is always trying to find solutions to help your body go forward and to change it for yourself."
On the topic of rest and sleep, he is particularly interesting. Shut-eye, it seems, does not come easily to the Dutchman, whose body seems intent on torturing him in the wake of a match, resulting in some odd nocturnal practices.
"…I find it really difficult to sleep after games because I have adrenaline in my body," he says. "It means I won't fall asleep until really late, I'm not really tired enough to sleep – my body will be tired, but my mind and things are still going. So I have a lot of time to do things and in some situations, I will look at the game back. It can sometimes be five or six o'clock in the morning before I fall asleep after a night game. I will lay in bed and rest. I will watch TV and those kinds of things, then I hope to fall asleep, but it's really hard after a game."
With Adam Lallana's unfortunate injury whilst on England duty, and his human dynamo action AWOL next Saturday morning, Wijnaldum may find his energy more sapped than usual after the Everton match. Hopefully, a blissful combination of exhaustion and pleasant derby victory thoughts will see him nod off and so avoid having to watch Storage Hunters and Judge Judy re-runs as the sun rises. Of course, if he's seen that Ronaldo bust, he won't be able to sleep anyway.