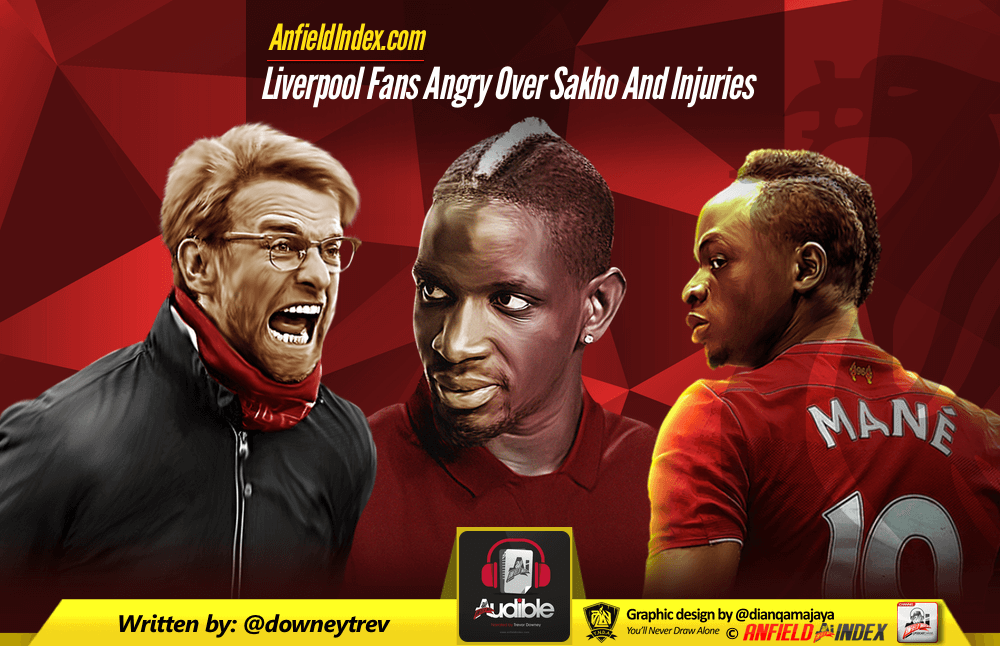 Liverpool Fans Angry Over Sakho And Injuries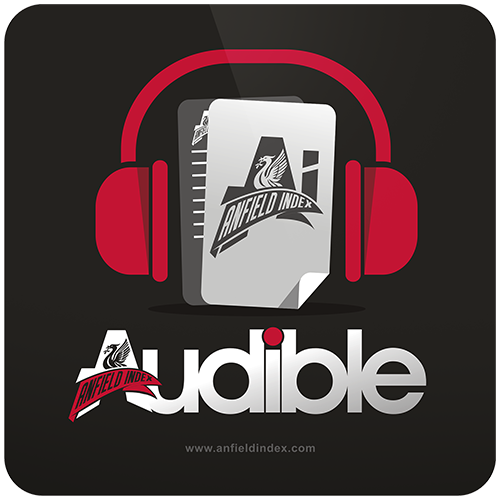 Listen to this article via @AIAudible !
Occasionally, this columnist will sigh in exasperation at the petty squabbling that seems to be so prevalent amongst the diverse collective known as Liverpool supporters. It's normally testy difference-of-opinion stuff but sometimes it can be ugly, bile-laden posturing, revealing the ignorance and unpleasantness of the individuals in question. Mute buttons were made for these people. Yet, for all one may cringe at such Twitter and Facebook keyboard hardmen, offering each other out for scraps that they know will never happen, at least they are not Arsenal fans. Never go full Arsenal.
After a draw against Manchester City on Sunday, the bluds and the fams were in full civil war mode. As ever, the cameras of Arsenal Fan TV caught some unpalatable exchanges, which they absolutely in no way set up or encourage. At all. The most recent broadcast featured some outraged Gooners attempting to stop the recording and threaten the host. Meanwhile, back in the stadium, a scene of comically awful attempted fighting played out in front of the watching world. Truly, the ineptitude and half-heartedness of the intended violence served as a fitting metaphor for the travails of the team they all support.
The fighting words coming from vanquished Everton boss, Ronald Koeman, were the focus of yesterday's column but the violent play that was central to the Dutchman's odd comments is continuing to create headlines today, as Dejan Lovren passed judgement on Ross Barkley. The Croatian, who was solid in his first appearance since January 31st, nearly had his shin snapped by the Toffees' would-be tough guy. Even with his wet-look curls and sulky demeanour, however, Barkley was fooling nobody and Lovren was disappointed by the Evertonian's attitude.

"That is the only thing I do not like," said the centre-half, referring to Barkley's failure to acknowledge his violent play. "If you make a hard challenge then be open about it and say sorry or something like that. Don't talk to the referee and say it was not a foul. I think everyone saw it, especially me, but now it is over. If I show you my leg, you will be 'Eeeewww!' (pulls a face). I won't, because it will be the headlines tomorrow if I show you my leg. It was a tough challenge, but we have seen it many times before and if I talk it will be all over the newspapers."
Too late, pal, but then you knew that really Dejan, didn't you, media-savvy, Instagram demon that you are? With a new contract nearly sorted, it seems as though the angry hordes who dread his presence in the Liverpool side, will have to learn to embrace the idea of the elegantly bearded number 6 as part of Jürgen Klopp's squad going forward. By contrast, Mamadou Sakho, by dint of his solid showings for Crystal Palace since going on loan, is only adding zeroes to a summer transfer deal most see as inevitable, following his falling-out with Klopp.
Sam Allardyce, whose side have won all four of the Barclay's Premier League fixtures in which Sakho has started, would love to have him at Selhurst Park next season but today's newspaper tittle-tattle is suggesting that Liverpool might look for as much as £30M for the rangy French international defender. Regardless of the veracity of that rumour, the husky white-wine-in-a-pint-glass pioneer was all praise for Sakho after a huge win over Chelsea
"Securing our Premier League status is our priority, and then we'll see what Mamadou's aspirations are, to be with us or anywhere else," said the man whose mere 67 days as England boss made some pine for the bland underachievement of the Hodgson era. "His future doesn't look as if it is at Liverpool. He's enjoying his football and his life here. He's brought that resilience to the team by leading by example. He's taking a commanding role in his performance and the information he's giving out on the field. That has helped with our defensive resilience: one goal conceded in four games."
You'll forgive me for not being overly delighted at the apparent renaissance of a former snivelling disciple of The Dark Lord of Mancunia. Allardyce's rehabilitation brings no joy to this corner of rural Ireland but I can't deny a morbid fascination at the potential for heads falling off on Planet Liverpool if Sakho concludes the season successfully and is embraced back into the Anfield fold. Actually, the exact opposite will also result in rabid in-fighting, so either way, grab your popcorn, as the guys from the opening paragraph are going to kick off.
Finally, with the news that Jordan Henderson and Adam Lallana are taking their bromance on a Stateside road trip, which will, officially at least, contain no medical treatment, our thoughts turn once again to the injury crisis which has befallen the club at precisely the worst possible time. With the matches at home to Bournemouth and away to Stoke within the next 5 days, Klopp could really have done without yet another first teamer out of contention.
The manager made some hopeful noises about the possibility of some Daniel Sturridge involvement, name-checked Ben Woodburn and praised the recent contribution of Trent Alexander Arnold but he knows that without Henderson, Lallana and Mané, his side is massively compromised in attack and midfield.
"We can cope with his absence (Mané) but we don't have a one for one replacement," the German gaffer admitted. "That is the truth and hopefully Daniel Sturridge can be available. Trent was brought in (on Saturday), Ben Woodburn. If he's injured (Mané) that is not cool and that is why I don't feel 100% happy. Now we have three days to find 'the solution' but we don't have a one on one replacement."
The bliss of beating the bluenoses will be all but completely eclipsed by failure to register a home win on Wednesday night against Bournemouth and another on the road at Mark Hughes' Stoke. This thing is so close now that failure would be even harder to take than the defeat in the Europa League final last season. Fingers crossed then, for the swift return of our truant twosome from their American sojourn and the even swifter reinstatement into the starting line-up of Sadio Mané, lest the LFC rage-monkeys go full Arsenal.