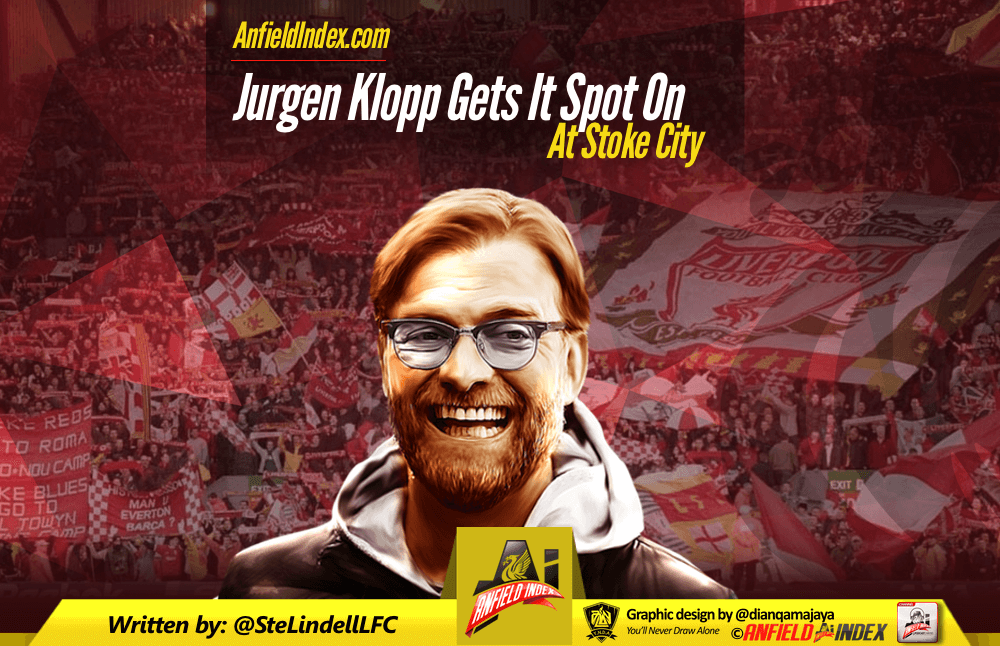 Jurgen Klopp Gets It Spot On At Stoke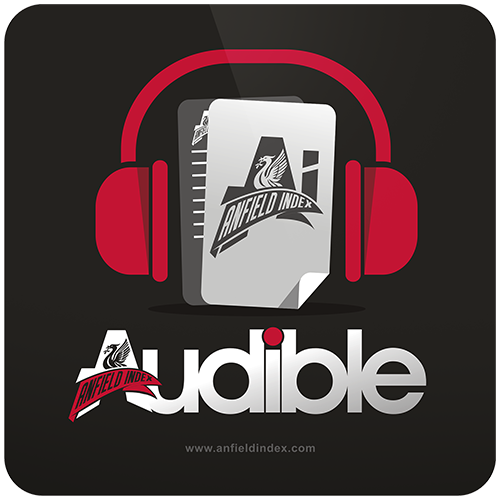 Listen to this article via @AIAudible !
I've been peppering Jurgen Klopp with criticism of late – especially following the draw against Bournemouth in midweek. But it's time to give him credit for finally appearing to put the factors that derailed Liverpool's title challenge to bed.
He rightly came under stick after repetitive tactical and poor time management against the Cherries on Wednesday – and hopes weren't exactly high ahead of the trip to the bet365 Stadium.
Liverpool had not won a league game without Sadio Mane – and were also without a Premier League away win in 2017. With stellar winger Sadio Mane out injured along with Jordan Henderson and Adam Lallana, Stoke must have seen this as an opportunity to end an inconsistent run.

The team selection was met by several grimaces by Liverpool supporters – with the likes of Alexander-Arnold and Ben Woodburn brought into the side. Philippe Coutinho, Roberto Firmino, Marko Grujic & Daniel Sturridge were all on the bench.
But all of Klopp's tactical and personnel decisions paid off in the end. There are plenty of positives to take forward from the win – aside from the result which further consolidates our hold on the top 4, it shows that Klopp is ready to be a little more ruthless and hand youth a chance. If he can continue this feat going into the new season with an improved squad depth, the Reds have every right to look forward to an assault on the title next season.
Here are just a couple of big decisions he had to make – which fortunately paid off!
Change of Tactics
Klopp has been regularly criticised for repeatedly playing the 4-3-3 against low block sides which the Reds have continuously hit a brick wall against – but he definitely deserves credit for finally having the ruthlessness to switch systems.
In a separate article, I discussed how the 3-5-2 formation could be a potential Plan A/B for the rest of the season – and how the 4-3-3 lacked width and is too one-dimensional in central areas.
I have to admit, I really wasn't expecting him to rotate the tactics especially after what happened when we rotated to a back three in the last 10-15 minutes against Bournemouth.
But he had the courage and ruthlessness to do so – and it paid dividends.
I felt reverting to a 3-5-2 was an excellent decision; considering the interchanging attacking players we have in the side. Like I've said, the personnel is a problem that comes in hand with the system. With Klopp expected to spend up to £200m this summer, the system would be wholly more effective with a good LWB and CB along with a contingency winger.
Many expected Klopp to revert to a 3-5-2; but it was very astute that the German had realised the problem lied with the personnel. Leaving Roberto Firmino and Philippe Coutinho was the cynical factor that lead to the slow start in the 3-5-2 setup.
That substitution never happened, but he made the right decision by preserving with the system. Obviously, the system change hasn't been beneficial to everyone in the side. Dejan Lovren and Ragnar Klavan looked completely at odds with it – but then you can't win with everyone in the squad. I feel both would be acceptable replacements next season, but the latter needs to be sold as the Reds look to tighten up their porous defence.
Nathaniel Clyne wasn't convincing either – but perhaps that traces to his lack of end product in the final third.
I do feel there was a lack of movement from the overlapping players in the final third, and Divock Origi wasn't offering enough support for Ben Woodburn up top. But in the second half, it was a different story when Firmino and Coutinho came on.
The overlapping runs of Clyne and Trent Alexander Arnold created half spaces for Emre Can, Georginio Wijnaldum and James Milner to take advantage of. The midfield was previously stretched due to some static movement in the final third – but no doubt the introduction of Roberto Firmino and Philippe Coutinho inspired the side to take control of the second half.
When Jordan Henderson and Adam Lallana return from injury, our midfield will only get stronger. Same can be said with if Daniel Sturridge or Alberto Moreno gets the nod.
The unhealthy cult of being stubborn when it came to tactics was finally put to the sword. I do feel it's a sign of positive things to come – it was very refreshing to see a new change in formation, especially if you were impartial. If he can be slightly more vigilant and act quicker in the future, a title challenge is definitely on the cards.
Improved Time Management
Jurgen Klopp has been guilty of some poor substitutions during the latter stages of the game – but he got it absolutely spot on this time around.
He was rightly berated for his poor time management in the 2-2 draw against Bournemouth – bizarrely refusing to bring on Daniel Sturridge, Alberto Moreno or Marko Grujic – opting to go for a solitary change in Joel Matip.
His gameplan was also criticised – appearing to adopt a defensive style which saw Liverpool unnecessarily invite pressure on themselves. And low and behold, the Cherries scored the equaliser instead of the Reds killing the game off.
But this time he got it spot on. It did seem bizarre to leave Roberto Firmino on the bench (Coutinho's exclusion was understandable) along with Daniel Sturridge in favour of a 17-year old.
In the past he has been guilty of bringing on potential game-changing players in latter stages of the game – where it's far too late in the match for any impact whatsoever to be created.
But he was far more proactive this time – bringing on Coutinho and Firmino at half-time. That changed the game, however he didn't stop there.
He rightly brought on Daniel Sturridge and Divock Origi was hooked for a really ineffective performance.
Moving Coutinho to midfield spoke volumes of how important he is to Liverpool. His creative passing and flair from deep was what the Reds had missed in the absence of skipper Jordan Henderson.
Firmino; well, what more can I say? He doesn't score many, but when he does, they can be sensational. His off the ball pressing came to the fore, offering something different that Origi failed to do despite being given a starting berth.
If Origi does continue to perform as toothless as this, I don't think it's the right time to sell. He is still very much a raw talent who needs time, patience and also needs to be nurtured. A loan would benefit both parties – although a striker will most likely be needed in the summer.
Room for Improvement?
Obviously, I don't mean to be too pessimistic after a vital away win which we could look at in May as the catalyst for sealing qualification into Europe's premier competition.
But there will be problems that come in hand with the squad depth showcased in the lineup. Obviously, an ardent supporter will imply that we've had barren luck with injuries – but you cannot deviate from the fact that we lack a mobile central midfield, a prolific striker, a natural left-wing back or a centre back. It will promise to be a shopping spree in the summer for Klopp, as he looks to transform the Reds into genuine title contenders next term.
What is concerning is the lack of match winners on the substitutes bench bar Saturday's game – where we needed some Brazilian brilliance of the bench. There are a good mix of talented youngsters on the bench, but not enough who can create an impact seamlessly.
And the lack of contingency for injured players is definitely not helping the cause of the youngsters being recalled to the squad; almost creating a burden at times for them to deliver.
For the first 45 minutes at the Britannia, never did we see any ruthlessness or player around the pitch capable of delivering. However, to everyone's relief, the introduction of Firmino and Coutino, as invariably, made the difference.
But, there can be no denying there needs to be more experienced players to deputise in the wake of injuries, not just potential.
Summary
These type of games are the most satisfying ones. We had to dig in deep to win, despite a poor first half performance. The turn-around shows the character and mentality was clearly corrected at half-time by Herr Klopp – and it was very refreshing to see that change in personnel. This could go down as our most vital away win yet, albeit our first away from home since the turn of the year.
A colossal test has been passed; only six more await. West Brom away from home will be difficult, especially with Tony Pulis at the helm! I want to see a subsequent change in back three – Lovren and Klavan struggled to deal with those high balls yesterday.
Pessimism aside, let's go and secure that coveted fourth spot!
You'll Never Walk Alone.