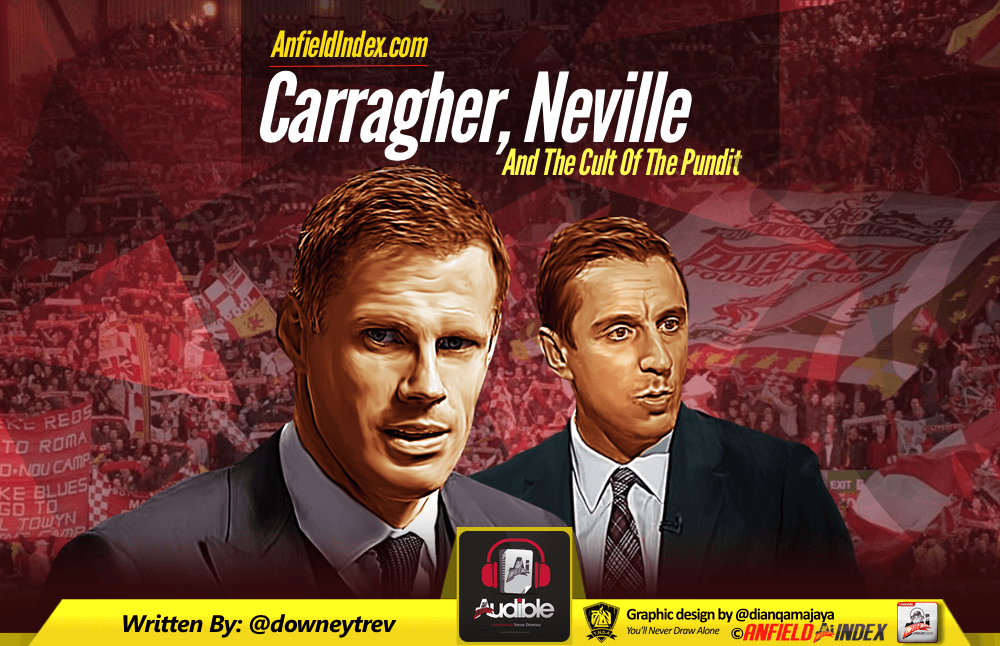 Carragher, Neville And The Cult Of The Pundit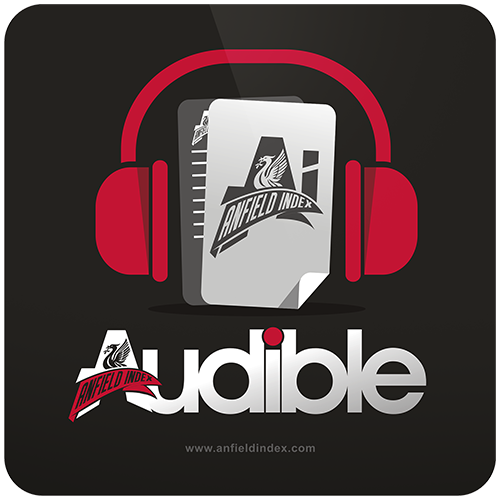 Listen to this article via @AIAudible !
Regular visitors to these paragraphs will know that profound analytical breakdowns of systems and tactics are anathema to this columnist. It's not that I don't appreciate the folk who do that sort of thing, you understand. They provide us all with a valuable service, bless 'em. How many times have you drunkenly thrown out a stat or tactical observation that had been painstakingly compiled by one such hard-working analyst – their slaving over a hot laptop serving only to earn you some pub points with your mates before some more pub pints with your mates?
I will often check the tables of possession retention or aerial duels won, before wittering on about one of the Redmen with an authority I have essentially built on foundations laid by others. As is the case with so much football opinion and dissection nowadays, the best of the work being done is quite often not coming from the highly paid professional pundits. Here on Anfield Index and on other fan-driven platforms the level of examination is of an infinitely higher quality and more detailed nature than the type of cliché-laden guff that is pumped out by the media behemoths, like Sky, BT and the BBC.
We were led to believe that in shape of former Manchester United captain, Gary Neville, and ex-Liverpool stalwart, Jamie Carragher, punditry on the television had made the leap into the modern era, with two recently retired top-level players affording us insight into the reality of the modern game. They were supposed to be the antidote to the Garth Crooks and Alan Hansen generation that I mentioned in yesterday's column.

Initially, the no-nonsense attitude for which both men were famed on the pitch seemed to manifest itself in a flurry of impressive early appearances on our screens, the two notorious moaners expressing outrage in their three-piece suits at sloppy defending, questionable refereeing or managerial incompetence. They even perpetuated the famed antipathy that had existed between them on the pitch with carefully curated twitter 'beef' and some on-screen 'banter' that was certainly superior to the Richard Keys/Andy Gray variety, but always struck this Irishman as a bit stagey and try-hard.
Now, do not misunderstand me here, the efforts of these two bellicose and garrulous gents are on another plain entirely compared to the kind of vacuous twaddle spouted by the animated mannequin that is Jamie Redknapp, the perpetually indignant muttering of Alan Shearer, or, heaven forfend, the unintelligible stream of drivel that emanates from ex-Gooner, Paul Merson. However, Merson's former club seem to bring out the worst in Sky's Monday Night Football double-act, with both men launching separate tirades of vexation in Arsenal's general direction over the last week or so.
First, was Neville's irritation at the "weak spine" of the Arsenal team, who were hiding behind the club's managerial uncertainty and, in football parlance, bottling it. After the clash with Manchester City Neville was particularly incensed by Mesut Ozil's perceived lack of effort. Sadly, in trying to articulate his displeasure with the German World Cup winner, the former England man claimed that Ozil played football "looking like he's down a coal mine." Now, I'm not sure where to start with that daft analogy but it's fair to say that the Mancunian would be wise to give Ozil-fancying miners a wide berth for the foreseeable future.
The oddness of that particular rant was immediately rivalled by Neville's sparring partner on Monday night. After a thoroughly inept display by Arsenal in their 3-0 defeat by Crystal Palace, the Bootle man delved even deeper into the ludicrously inappropriate analogy bargain bucket. Invoking a comparison made by another ex-Red pundit, Graeme Souness, Carragher was rendered momentarily inarticulate by his indignation at the ineptitude and cowardice the North Londoners had displayed.
"A team of son-in-laws" was what the Scot had dubbed Arsenal in a clear reference to their 'niceness' and lack of edge. Carragher, went further, suggesting that no father would want that "type of man" as a husband to their daughter. What with their inclination towards "bottling it" and "ducking out of challenges," they were, in the former defender's opinion, "cowards." Again, it's probably best not to even begin to deconstruct the unfortunate nature of those comments. Suffice it to say, both men need to up their game.
Meanwhile, in Liverpool news, there IS no Liverpool news, unless one counts the apparent fast-tracking of Steven Gerrard, with the revelation that the recently retired former skipper will take charge of the club's u18 side next season. In what will come as a surprise to nobody who ever saw the Huyton legend play, Jürgen Klopp and Academy director Alex Inglethorpe have apparently been very impressed with the 36-year-old's work ethic since taking a kind of general coaching role at the club. It is thought that placing him in sole charge of a specific group will acclimatise Gerrard still further and no doubt many will be tempted to think of the precedent set by Zinedine Zidane at Real Madrid.
Perhaps, in light of the extra gravitas of his new role, Stevie might take his old mate Carragher aside and give him a good old fashioned rollicking about getting his punditry game back on track. He should certainly speak to aspiring coach Georginio Wijnaldum about the example he set by being filmed for Sofiane Touzani's YouTube channel, nutmegging pedestrians on a busy high street, whilst wearing a disturbing old man mask. That was just creepy.