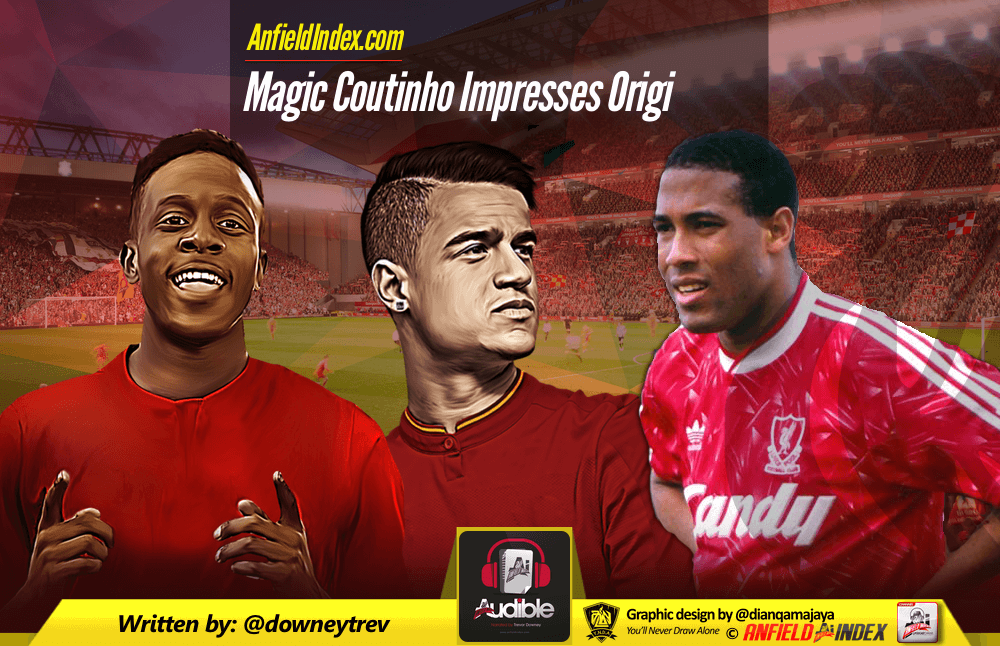 Magic Coutinho Impresses Origi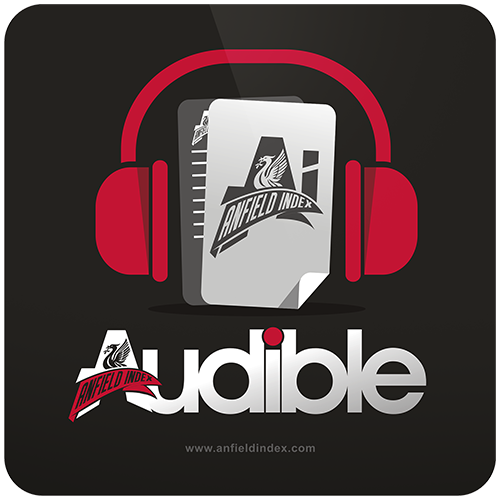 Listen to this article via @AIAudible !
As I sit down to write this, there are actual people of intelligence preparing to watch David Moyes' Sunderland take on Arsenal in the hope that the Mackems will eke out some kind of result. This is the kind of entirely avoidable madness that leads to dark bouts of depression. To compound the lunacy, the same people will probably have one eye on Everton's attempts against the Gunners on the final day. If anything, expecting an Evertonian gift is the greatest folly of all. Friends, have you not been listening to the incessant dribbling of our finest Redmen? It's not about other teams doing us favours. We need to try until the very end. It's a cup final, y'know. It's in our hands, and that.
At least the week began auspiciously enough, with Emre Can's gloriously athletic Watford winner sealing the Goal of the Season prize on Sky's Monday Night Football, much to the chagrin of failed Valencia manager, Gary Neville. The vexation and begrudgery in the Mancunian's voice, as he acknowledged the Liverpool man as the winner, was the very stuff of life to Reds everywhere. Play it again and drink deeply, as he laments the unity of Liverpudlians and the commonplace nature of Can's bicycle kick.
"It's a great goal, but it's a little unsurprising," mewled the former Manchester United stalwart. "If you ever watch X-Factor or those types of programmes it's always somebody from Liverpool who does well because they always vote for their own in droves! It's a brilliant goal and it would be wrong of me to dispute it, but I think it's the type of goal we've seen quite a bit of. It isn't for me the best of the season, but how can the public be wrong?"

Wonderful stuff. His discontent is my elixir. It is not just Neville who is responsible for raising our collective spirits today. Elsewhere, a genuine Reds legend, John Barnes, was speaking about the remarkable progress being made at Liverpool under the stewardship of Jürgen Klopp. In a tone of appreciation for what is good that may sound familiar to readers of this column, Digger insisted that the German coach was responsible for lifting the club to heights above what should be reasonably expected. The man who is second only to Kenny Dalglish in the personal top 5 Reds of this Irishman, also had some very specific ideas about what areas of the team could use some improvement in the summer sales.
"I think Liverpool will finish in the top four," the double league winner told Sky Sports. "Jurgen Klopp is maximising the potential of that squad and he's got them punching above their weight. If you look at Liverpool's squad generally and compare it to Chelsea, Man City, Man Utd and Arsenal – you can see he [Klopp] is doing a fantastic job because the harmony is there and everything is positive. We have to trust the manager to sign the right players. I don't want to speculate on names but I think we need a left-back, another centre-back and a striker."
The judgement of a Kop idol may be ringing in the ears of Divock Origi today. His is one of the positions that Barnes feels needs strengthening and the young Belgian's form has been less than stellar over the last couple of months. However, having benefitted from the dual boost of a change of system and a strike partner, Origi managed to look more like his exciting self against West Ham, notching a delightfully scruffy goal in the process. He was full of good will to his fellow Reds in the aftermath, praising, in particular, the artistry of Philippe Coutinho and the nous of Daniel Sturridge.
"He has moments of magic," Origi opined of Coutinho. "I think he has a lot of talent and he's a top player and an experienced player and he's still only 24, so I think that's very special. He helps us a lot, is there in the big moments, and for me, he is a joy to play with. Daniel, as well, is a big talent and of course, he has experience and I always enjoy playing alongside him. He showed his qualities again for Liverpool and he's very important."
With the irritatingly relentless speculation linking Coutinho to Barcelona and the equally prevalent tales of a future away from Anfield for Sturridge, Origi, assuming he avoids a summer cull, may have to find new objects of his admiration next season. Given the fickle nature of fans and the inexorable drive towards the next objective, Liverpool supporters will adjust, whatever the outcome. A victory in what Gini Wijnaldum has helpfully identified as "the biggest game of the season," will assure the opportunity for Liverpool to truly begin a period of real progression. It could be, as the Dutchman insists, "the beginning of something that can go much bigger." John Barnes has faith that the club is on the right track and that is good enough for me.