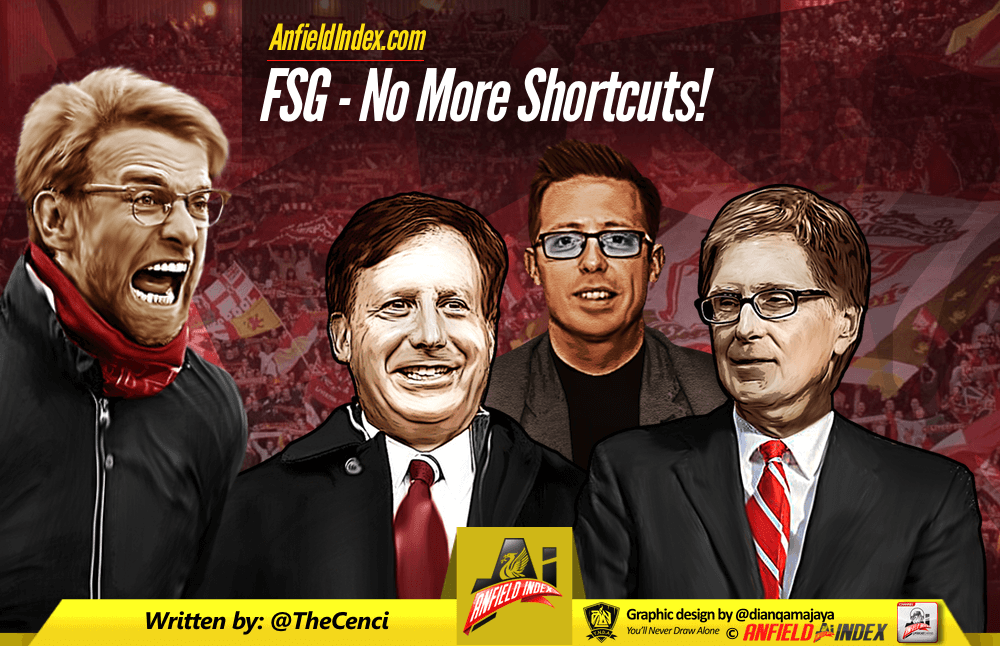 FSG: No More Shortcuts!

The Small Faces once sang about the joy of resting in the afterglow. I've had similar thoughts this week, safe in the knowledge that a) my weekends no longer contain 90-95 minutes of intense panic and worry and b) Liverpool have had an enormous door opened to them and been ushered into the green room of European football.
Personally, I like a break from football. At my age it's good to recalibrate and take stock before stiffening up the sinews and summoning up the blood for the next arduous campaign. Even the biggest bodybuilder will tell you that 'rest days' are important so while the Reds have been cavorting around Australia I've left them to it and got back to seeing what my friends and family look like.
What's more I've been able to do this with a smile on my face. There's no finer footballing feeling in football than a good May. The 6-1 to Stoke on the last day of the 2014-15 season put me on tenterhooks for the entire summer. What now? Are we to start again? Who's going to leave? Who would want to come to us? Will we shop in the bargain basement because we were humiliated by a side who finished ninth?
Similarly, last summer I was in a right state. Yes, there were the two finals and a great new manager but Liverpool finished eighth in the League and, though we didn't exactly bust a gut once the Europa League campaign was in full swing, that got between my ribs. Eighth is Southampton, say, or West Ham. Liverpool are better than that but we were steadfastly proved the opposite.
So, May 2017 is lovely. Reds arounds the world can repair to beaches, beer gardens or whatever with a feeling of calm. We're back in the big league once more and it feels great.
But, as noted sage and wit, Peter Parker said 'with great power comes great responsibility' and, to be fair to the arachnid obsessed geek, he's right. This is a major point in the FSG era and not one to be taken lightly.
When we qualified for the Champions League in May 2014 the club spent £117m on eight players and one loan deal for Javier Manquillo. This received a lot of criticism at the time but I could see a reason for it. When Jordan Henderson was sent off at Manchester City that April it highlighted just how short of numbers the team were. There was no finer example of how paltry our options were when Iago Aspas started in that infamous Chelsea game. By way of contrast the Londoners casually brought on Andre Schurrle (and played him as a second left back). We needed bodies in 2014.
We still need them now, of course. The squad is lightweight even before you consider the damaging yet inevitable injuries, but we can't afford to throw the odd £20m at a player and hope he comes good. Nor can we wait for them to settle in, really. That 2014 transfer window included Adam Lallana and Emre Can and there aren't many who don't see them as significant today but we can't afford to take risks of a Balotelli and Lambert nature if we want to move forward, or even stay still. We need first teamers. We need players who will worry the starting eleven and for that to happen we need our administrators not to blush when a transfer fee is quoted.
It's time to step up, FSG.
The club and owners have made no secret of their focus – Champions League qualification comes first. Well, they have their wish now so and as the manager and players have delivered the goods, they need to join in and do their part.
The money is there. We've barely spent a bean lately as the dreaded term 'net spend' has covered much of their outlay. True, £60m on Sadio and Gini was hardly chickenfeed but we need more if were serious in our ambition. This manager, though he too likes to be frugal if possible, needs all the help he can get.
There's talk of £100m alone being needed for Virgil Van Dijk and Naby Keita before we beef up the squad elsewhere but if that's what we have to do, then so be it.
There'll be money made from outgoings and saved wages so it's not as if Tom Werner will be just be making nothing but bank transfers from now until the end of August.
I just hope we see ambition from the club. No more £15m 'hit and hope' purchases. No more stopgaps. No more short cuts. A Liverpool squad capable of competing on at least two fronts – the big ones – rather than ending the next season hoping we have enough players to fill in the sufficient roles. What I'm saying is that – God love him – I don't want to see Connor Randall lining up at the Bayern Munich semi-final.
It's going to be interesting to see how the club approach this term. Will they be satisfied with a regular top four place and qualification or will they try to make the next jump? Obviously, I'd like to see the latter as Liverpool are ultimately about domination but given this is only our second appearance in eight seasons there, you could forgive a stab at stability before we take on Real Madrid.
Luckily, the manager wants what we want. He wants Liverpool to win trophies and build dynasties. He's done the hard part. He's got us here and shown that every club who finished above us can be vanquished when it comes to eleven against eleven, but now he needs help from his paymasters. Over to you, Fenway.
In the meantime, here's to years of nice, relaxing summer breaks and a growing squad, crammed with quality.
Up the Reds.