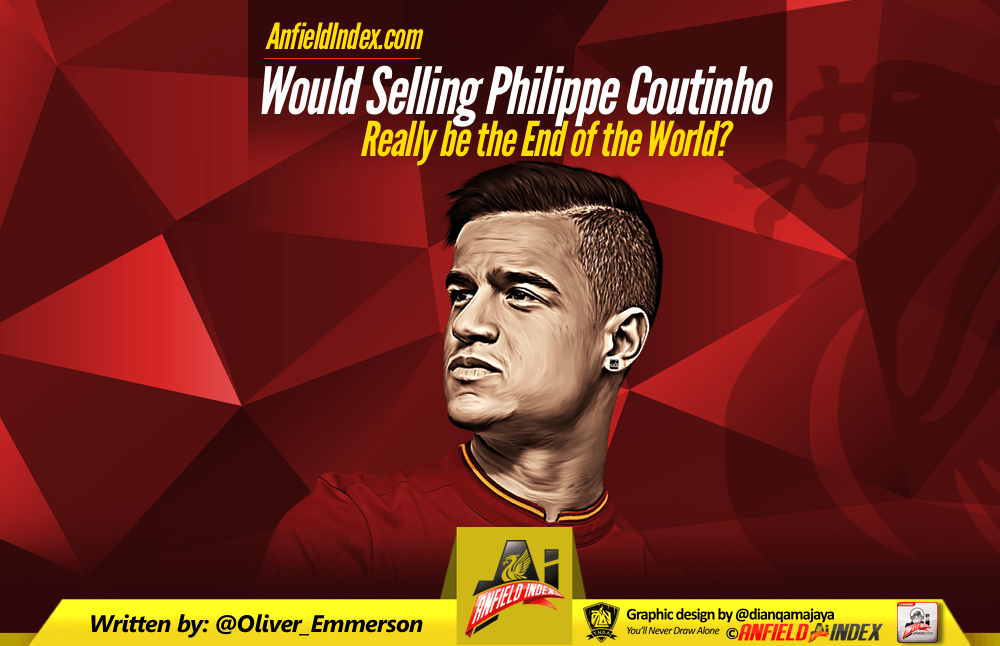 Would Selling Philippe Coutinho Really be the End of the World?
Right then. There's a fair chance you've sent me a tirade of Twitter abuse before actually clicking to read this piece, so I'll thank you for *hopefully* not having wished death upon everyone I know and love. If you have, then here we are.
Philippe Coutinho. What a treasure, Liverpool's darling. The adopted Brazilian that we've all loved for a joyful four and a half year's now, watching his astonishing development ever since that eight-million-pound move from Inter Milan.
Heaven forbid that anyone attempts to buy our sweet prince. Heaven forbid that he actually leaves.

Except, that could become a reality. Liverpool Twitter was struck with panic as reports of a £72M bid from Barcelona landed last week, before being somewhat relieved to hear that it had been met with a firm rejection by those at Anfield who doth the dark suits.
After all, when any club comes in with any kind of bid for arguably your most talented player just weeks before the season begins it's hardly ideal.
But after a season of Coutinho pitching up his best ever goal and assist figures in the Premier League, combined with months of calmness amongst Liverpool fans in terms of enjoying the rarity of going throughout a summer without fear of selling a prized asset, it's unsurprising that doubts have kicked in.
Fans are already talking up potential price-tags, ranging from £100M to the staggering £196M that PSG are reportedly ready to pay Barca for the services of a certain Neymar, a close friend of Coutinho's.
Barcelona could be bidding for Coutinho to replace Neymar, or in a bid to try and convince him to stay, depending on who you believe. Either way, they want him.
Liverpool fans are staunch in the opinion that selling Coutinho would be a catastrophic decision, especially this summer with so much riding on a first season in the Champions League since 2014/15.
But, would it really be the end of the world?
Many of the fears over selling a Coutinho, or Mane, whoever, come from Liverpool's poor form in terms of replacing players.
The likes of Xabi Alonso and Javier Mascherano were never truly replaced after moving to Spain, whilst Fernando Torres' replacement was in-effect, Andy Carroll. More recently, the Raheem Sterling fund went largely on Christian Benteke, whilst Luis Suarez's £75M fee was squirmed away on the likes of Mario Balotelli, Lazar Markovic and Dejan Lovren.
Therefore, it's no surprise to hear completely fair shouts such as "There's no point selling Coutinho for a billion pounds, we won't spend it properly."
However, all the aforementioned sales and resulting purchases must be taken in context with the time-period in which they occurred.
The Alonso and Mascherano sagas came towards the back end of a troublesome final period for Rafa Benitez. Liverpool didn't have the money to spend on a replacement, so they couldn't make the mistake of spending it unwisely.
Fernando Torres was replaced by Kenny Daglish, who had been out of management for over a decade.
And who can forget how power-crazy Brendan Rodgers seemed to get in the summer of 2014, regarding transfers. He threw money at mediocrity like Manchester City do at full-back's. A year later, he was on his last legs as Liverpool manager, using his last £32M throw of the dice on Benteke.
It's all change this year, if Liverpool do sell Coutinho. In Klopp we have a manager who has shown in his short time on Merseyside that he's well adept in bringing in players that improve the first-team. See Wijnaldum. See Matip. See Mane. Hopefully, see Van Dijk.
Hand Jürgen Klopp 'the Coutinho money', likely in advance of £100M or thereabouts and he'll target quality, just as this summer he has with Van Dijk and Keita.
It's wishful thinking, but not totally unrealistic, to suggest that Liverpool could bid more for a real game-changer such as Pierre-Emerick Aubameyang or Kylian Mbappe should they lost their current magician.
That's not a definite though, and concerns would grow amongst the fan-base that Liverpool selling their best player would signify two steps back following a season where they took one huge step forward.
However, the question must be asked as to whether or not Coutinho is Liverpool's best player.
I love him as much as the next person, but do admit his faults. Coutinho at times last season looked like the best player in the league, but can often lack consistency, especially when returning from injury.
To criticise his form post-injury seems unfair, and it's definitely not an attack on his qualities as a player. However, his dribbling style does leave him open to impact injuries (that have seen him miss crucial periods as a Liverpool player).
Toiling after coming back from injury last season, fans begun to grow tired of Coutinho's form and many may have accepted a £72M bid at the time. On the flip-side though, the form he showed in the Autumn and during the run-in is something that was rarely matched by his colleagues.
Still, the question is fair as to whether or not he is Liverpool's main man all the time, especially with Sadio Mane's instant impact and the possible captures of Virgil Van Dijk and Naby Keita.
Liverpool share the goals out in this team and would find a way to function going forward without Coutinho. Would they score as many goals? Possibly not. Probably not, in all fairness. However, if the money is invested in defensive upgrades primarily – a possible option given Liverpool's wealth of midfield and attacking options – a more balanced Reds squad in terms of quality could prove more beneficial in the long term.
Another pro, if you could even call it that, to the idea of selling Coutinho, is that – whether you like it or not – it helps sell the FSG 'model' of an attractive LFC even further.
Think about it. A talented youngster comes to a club for peanuts, is sold years later to arguably the biggest club in the world for a record fee. During that time he helps the team progress, grows immeasurably as a player and is adored by fans.
Selling Coutinho could, in a strange way, make Liverpool more appealing to certain types of players in the long term.
I'm not writing this because I want Liverpool to sell Coutinho. I don't think it would be a good idea, and nor do I think the negatives of losing (in my opinion) our finest talent can be compensated enough in the short-term to prove beneficial, unless Klopp and co did something very extraordinary post-sale.
It seems more likely that if the Brazilian is to leave in his prime, it will be next summer. Liverpool will hopefully have a better group of players by then, still be a Champions League club and perhaps even have won something under Klopp.
But, if the little magician is to set sail for sunny Spain before September, the world may not come crashing down as some believe.