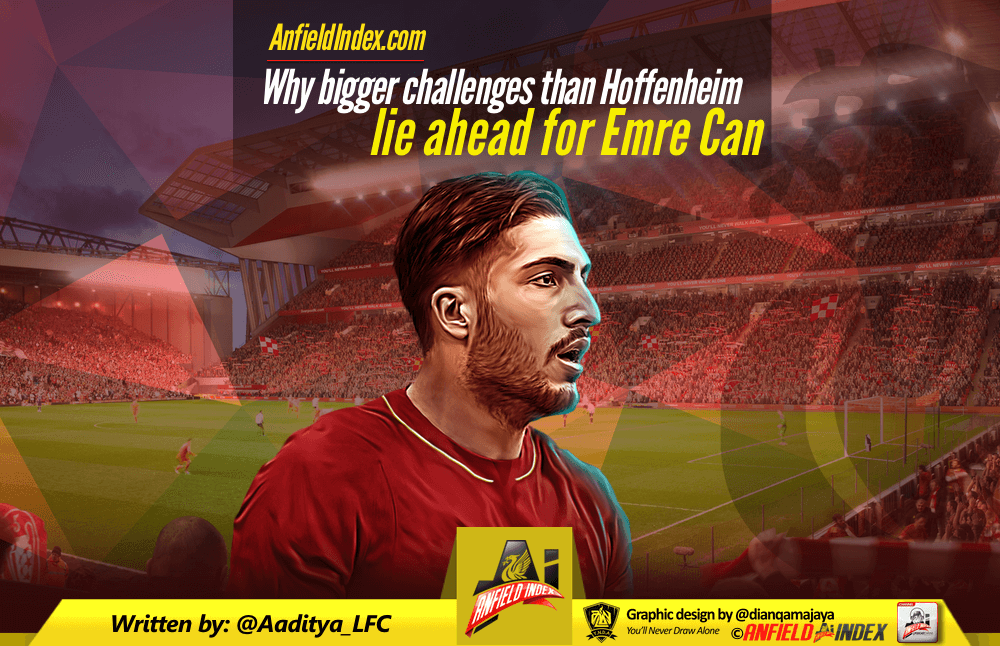 Why bigger challenges than Hoffenheim lie ahead for Emre Can

Okay, first things first. Liverpool Football Club have got to tie Emre Can down with a new deal ASAP. There is no two ways about that.
From the potential that Can has shown, it is clear that he has it in him to become a superstar midfielder. The man has the ability to do everything you need from a midfielder, be it as a no. 6 or as a box-to-box midfieder.
Against Hoffenheim, the third goal encapsulated what Can is capable of. He was deep in our own half when Gini Wijnaldum pinged an outstanding through ball for Sadio Mane to latch on to. Eventually, when Mane back-heeled it through to Roberto Firmino, Can's lung-bursting run demanded that Firmino lob it to him at the far post so that he could put the tie beyond Hoffenheim.
In that game, Can did everything that Joseph Norton asked of him when he wrote this piece.
But it is important that we don't get carried away by one such performance from the German.
Hoffenheim were set up in a way that Liverpool could get at them and attack from the offset, which meant that Can had space to run into, and he had space to pass the ball to Mane and Mo Salah, so that they could get in behind the defense.
Against teams that set up this way, what Jurgen Klopp got out of Can was absolutely perfect. But can he do that when the sterner tests come along?
By sterner tests, I mean how Jose Mourinho set his United side up against us last season, or how the Leicesters and the Burnleys of the world sat back, absorbed the pressure and then hit us on the counter attack.
That is a challenge for Can because there will be no space and there will be a need for incisiveness and subtlety. Subtlety is definitely something that isn't a part of his game yet. Can has given a sense so far, in his time at the club, that he either all action or no action.
Against teams that sit back and line up with two banks of four in front of the goalkeeper, it will be difficult for Can to provide what he did against Hoffenheim. It is for the simple reason that he wouldn't have the space to work in, in areas of the pitch that matter.
In that scenario, can he find the nous to play the waiting game? Can he find the patience to not be daft and give the ball away going for the spectacular?
We need a dominant presence in midfield and Can has all the characteristics required to provide that. But a dominant midfielder is not just one who covers a lot of distance and offers varied attributes both defensively and offensively.
A dominating midfielder is also one who can find the nous to carry the side against the teams that play those low blocks and make it difficult for the attackers to run in behind. Let's face it, Liverpool's biggest weapon is the pace of Mane and Salah and their ability to get behind the defensive line.
Will a Tony Pulis side allow Mane or Salah that kind of space to make those kinds of runs? The simple answer is no. That is where Klopp will look to the likes of Can and Gini Wijnaldum.
I still think his best fit is as a no. 6, but with Jordan Henderson there, it looks like this box-to-box role will be what Can will play, at least for the foreseeable future?
Will Can be able to call on the side of his game that provides us a presence in the box against a Gareth McAuley or a Craig Dawson?
What a Pulis or a Sean Dyche did so effectively last season was ensure that there was no space between the lines for Liverpool to work in. They would be happy if Henderson, Joel Matip and Dejan Lovren had possession because that wouldn't hurt them.
If Can get into further advanceed positions, then it would mean that Firmino would have more room to drift and drag defenders along with him.
Against teams like those, what Can has tended to do often is lose patience and look for the spectacular. In truth, all that needs to be done in those situations is stay patient, keep moving the ball calmly, drag players out of their positions, and someone in the side will be able to benefit.
That is where Can will have to improve if he is to help us break low blocks down this season. And why am I saying this with such authority? Because he has shown enough that he can be that player.
If anybody can, Emre obviously Can.