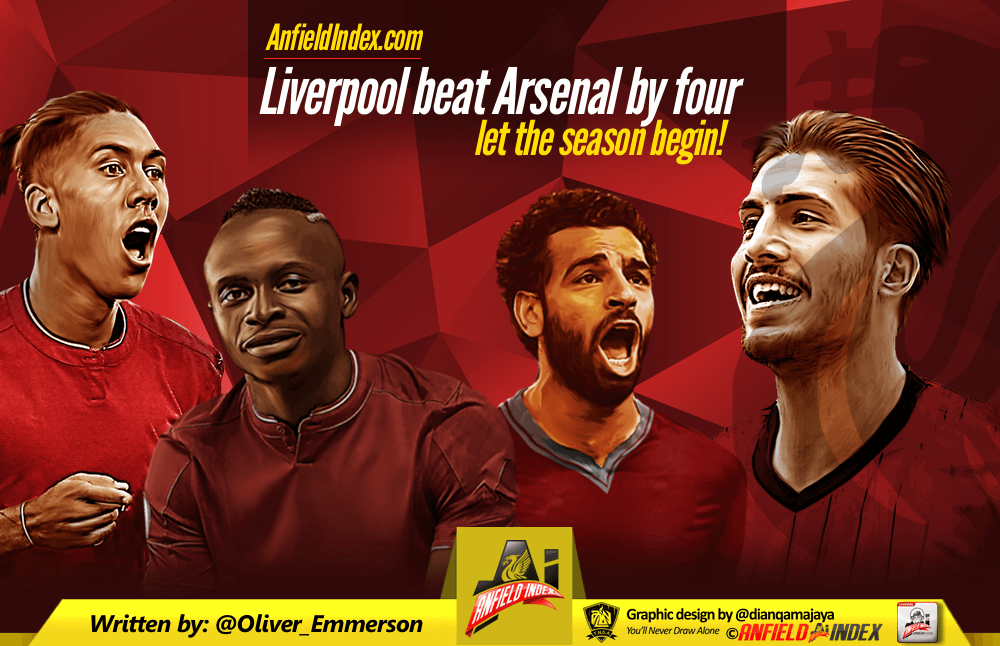 Liverpool beat Arsenal by four, let the season begin!
Arsenal rolled over like a puppy as Liverpool produced a devastating attacking display to whack the Gunners by four on Sunday evening.
Jürgen Klopp's side were improved at the back, impressive in midfield and imperious going forward.
The pre-match decision to drop, rest, whatever, Simon Mignolet for Loris Karius was much talked about, but mattered little thanks to fantastic display's from those in front of the German.

Joe Gomez again filled in capably for Trent Alexander-Arnold, filling in himself for Nathaniel Clyne. Gomez lacks the nous of Clyne or pace of Trent, but his aerial abilities help Liverpool deal with an obvious weakness.
Dejan Lovren was good, that's the biggest praise I can offer him as a regular Lovren-slater, whilst Joel Matip looks to be back to his best.
Alberto Moreno, selected again as Andy Robertson became the second Red to cradle a new-born this week, looking every bit the new left-back everyone wanted back in 2014. Harrying his man, making quick tackles and good interceptions, Moreno's defending was fine and yet again he was an excellent outlet in the final third.
Wijnaldum and Henderson put in their best performances of the first five games in the midfield, whilst Emre Can could probably base a late run for the balon d'Or off that performance alone. Running the show from start to finish, he had to be good to stand out as many people's MOTM on a day where all the forwards were amongst the goals.
And oh my, the forwards. Sadio Mane must now surely be in a realm of world class, at least. He was electric, again, whilst Roberto Firmino put in the second best 'false 9' performance the Reds have seen this week, but perhaps the second best they'll equally see all season. If he keeps this up, Coutinho will *really* have to worry about no longer being the favourite Brazilian.
A mention for Mo Salah too, the man who sent Hector Bellerin, a commonly known 100M rival of Usain Bolt, back to Spain before finishing with aplomb.
What a start to 17/18!
It may get lost in the coming days with all the transfer saga's and what not, but Liverpool can go into the international break reflecting on a stunning start to 2017/18.
Five games in 16 days have been overcome with style, swagger and, most importantly, substance.
The draw at Watford was disappointing, especially in the fashion in which it came about, but has proved a mere blip on an August where the Red hammer struck hard.
Crystal Palace were overcome in a 1-0 performance at Anfield that had the blueprint of a league win nearly carved into it, whilst little else can be said about the sheer dismantling of Arsenal.
Aside from that, Hoffenheim – Germany's fourth best team last season – were well and truly dismantled over two legs by Liverpool – England's fourth best last season.
The 'nightmare draw' that Julian Nag-smartarse-man's men presented was anything but, Klopp's team selection and careful rotation paying off to maximum effect.
And all without Philippe Coutinho, all without Adam Lallana, all without Nathaniel Clyne, all without anything showing a reasonable sign of mental stability amongst the fans!
Liverpool are second in the league. Above league winners Chelsea. Above saviours of football, Tottenham Hotspur. Above 'how about spending £700M on full-back's' Man City. Above the cowardly Arsenal. Above the billion dollar Blues down the road.
They're also in the Champions League group stages. With a fairly good draw. All of this done, without key men, amid a huge transfer saga, off the back of one *major* summer signing.
Up the we'll-do-it-under-any-circumstance Reds.
The bloody next few days…
So, whilst we bask in the glory of what's going to be a severely underrated start to the season, we'll be focusing on the next few days. You simply can't ignore them.
I love the confidence of the fans that suggest we'll be making three signing's. By the time you read this, we might have one sealed.
I'll take one signing, and that would be Virgil Van Dijk. But, if you add a Naby Keita, an Alex Oxlade-Chamberlain, or perhaps a Julian Draxler or Renato Sanchez to the big Dutchman, I won't complain.
Hanging on to Philippe Coutinho, which it looks like the club will now do, is important. It's important for most, and for me – although there are reason's why it wouldn't be the end of the world under a different scenario.
But, with hours of the transfer window to go, the world may come crashing down.
Liverpool want to add the talent of Coutinho to the team that ripped apart Arsenal and Hoffenheim, not deny him the chance of playing with such talent in his best position.
Get Coutinho back in, add VVD and another one or two over the next bloody few days, and we really can let the season begin!