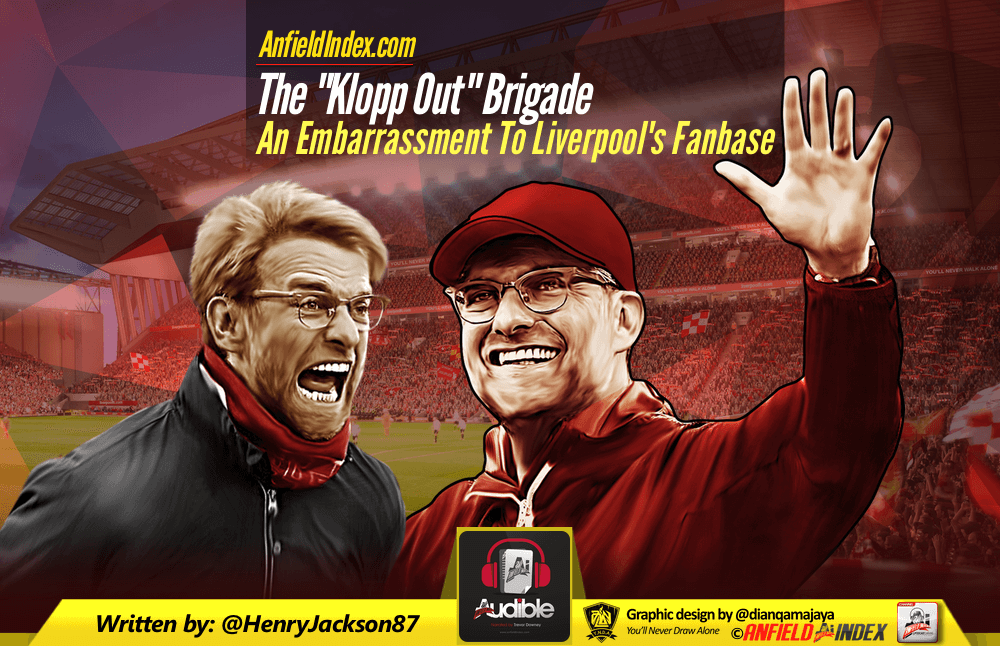 The "Klopp Out" Brigade: An Embarrassment To Liverpool's Fanbase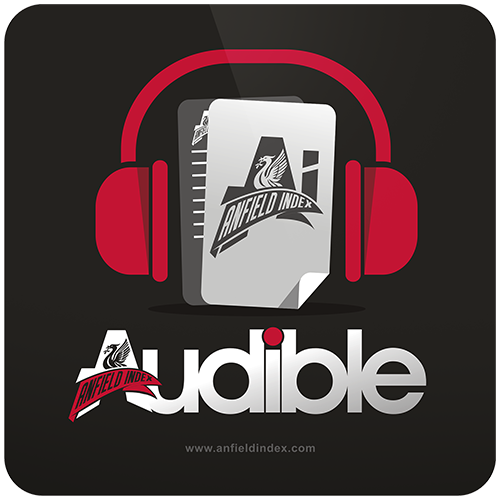 Listen to this article via @AIAudible !
If you want Jurgen Klopp to be sacked as Liverpool manager, you are talking complete nonsense and are everything wrong with modern football. It really is that simple.
Opinions are part of what makes being a football fan so much fun, but when people spout knee-jerk bile for the sake of it, it becomes irrelevant.
All it shows is that they clearly don't understand the game, and that they will only ever be happy with the Reds if they win every match for the rest of time. It may shock you, but the 1970s and 1980s were littered with bad Liverpool performances.

Now, let me say this straight away: Klopp is a long way from blameless when it comes to assessing the current situation. He has made mistakes this season, and in the two preceding it, and deserves some of the criticism that has come his way. He isn't perfect.
Not addressing the defensive mess that has held Liverpool back for so many years is baffling in the extreme, and an endless string of frustrating displays have left us scratching our heads at some his decisions.
Substitutes have taken too long to enter the fray, if used at all, and the goalkeeping situation is a long way from being ideal, too.
Managers make mistakes, though. Every manager in the history of the game has, from Bill Shankly to Pep Guardiola, and that will always be the case. Is Klopp making too many at the moment, in what is a difficult run of form for the Reds? Possibly. But anyone calling for his head does not deserve to be taken seriously. They deserve their own team to be created all for them, with Roy Hodgson as its manager.
Just look at what Klopp has done since taking charge in October 2015 – a time when Brendan Rodgers had left the team in a real mess.
He united the fanbase, for starters, something that has inevitably changed now because some people are so short-termist it's painful, and his impact was felt immediately, with some stunning wins against the likes of Chelsea and Man City. In his first seven months in the job, he got Liverpool playing some of their most exciting football since the 1980s, and reached the final of both the League Cup and the Europa League.
He lost both, of course, which was a mighty shame and led to questions marks about the team's mental strength, but the progress being made was undeniable.
Then, in his first full season in charge at Anfield, he had Liverpool swatting everyone aside up until the late autumn, when injuries crippled the progress of the country's most exciting side. Had they been afforded the luck of Chelsea in the injury department, they would have challenged for the title right up until May, and possibly won it.
Should Klopp have built a squad capable of thriving without key men? Quite possibly. Managers make mistakes.
Still, the goal at the start of 2016/17 was Champions League qualification – let's not forget the majority of fans and pundits thought the Reds would finish sixth – and Liverpool did just that, coming fourth in an extremely competitive Premier League campaign.
It was just the second time that feat had been achieved since Rafa Benitez built such a strong side almost a decade earlier.
This summer was hit-and-miss in the transfer market, and once again Klopp deserves criticism for that. Failure to sign Virgil van Dijk was an enormous disappointment, and not bringing in an alternative was even more inexcusable, but Mohamed Salah is an exceptional signing
Whether it was ultimately down to Klopp or FSG, they got it badly wrong, and it is now likely to hurt Liverpool until January, at least.
The start of this season has seen a similar mix of positives and negatives, with superb displays against Hoffenheim and Arsenal but also toothless showings against Watford and Leicester. Some of the performances have been in between good and bad.
Liverpool have to do better, we all know that, and nobody be will more aware of it than Klopp himself.
He is having a tricky period, just like Bob Paisley, Alex Ferguson, Jose Mourinho, Carlo Ancelotti, Diego Simeone and every other great manager past and present has experienced, but he will prevail and shut up the naysayers.
So what about those unbearable individuals pathetically calling for Klopp to be relieved of his duties? These keyboard warriors and phone-in callers who have so little knowledge of football and so little patience.
We shouldn't have to put up with them, but they keep appearing like irritating insects that won't fly off never to be seen again. Can they honestly not see the progress being made? Are they really so stupid that they judge things on such a game-by-game basis?
I am incredibly wary that this all sounds very arrogant on my part, and 99 percent of the time I welcome fans having a different opinion to me.
The difference here is that I just know these "supporters" are wrong, and that anyone whose opinion I respect will be not be wanting our great club to dispose of such a special individual.
Klopp is a magnificent manager who is rightly seen as one of the best Europe has to offer, and it is still incredible to think that he is Liverpool's manager. It may be a tough time to feel too positive right now, following such a dispiriting few matches, but remind yourself how much you wanted Klopp a couple of years ago.
When things were going horribly wrong under Rodgers, the acquisition of the former Borussia Dortmund boss felt nothing more than a pipe dream. He was literally the ideal available candidate in world football.
His character felt perfectly in-tune with everything Liverpool represents, and while it is fine to think a select few are better than him, nobody felt more right for the part.
Klopp hasn't yet been at Anfield for two years, but some have already had enough of him. That's despite the great football, some stellar signings, Champions League qualification and admirable promotion of youth.
Frankly, if you can't be happy with what is doing on the whole, you will never be happy with any manager. Who on earth do you replace him with? I'd advise taking up rugby and giving the rest of us some cheer.
Klopp is the man to take Liverpool forward, and in the coming weeks, months and years, he will prove that. He should be judged over a long period, rather than three or four-game spells when anything can go perfectly right or horribly wrong.
Mistakes will be made along the way, and the Reds might not be able to achieve the levels of success that some of their big-spending, wealthier rivals do, but our brilliant manager will go on to be the club's most significant appointment of the Premier League era.
Benitez was great and still has a special place in our hearts – no doubt the "Klopp out" oddballs hated Rafa too – but Klopp can eventually usurp him. Whether that's in two years or five remains to be seen, but I can't wait to sit back and slowly watch his lazy critics disappear with their tails between their legs.
This current poor run of form is infuriating to watch, and anyone excusing Klopp from any blame clearly has too much blind loyalty towards him, but the positives are outweighing the negatives by a country mile.
It is so frustrating to see this side so close to being something special with a few tweaks made, but things are only going in the right direction.
It is going to be a long time before the "Klopp Out" brigade can be taken seriously – something will have to go horrendously wrong with Klopp for that to happen – but from this point on, ignoring them makes sense in order to preserve our sanity.
They are an embarrassment.