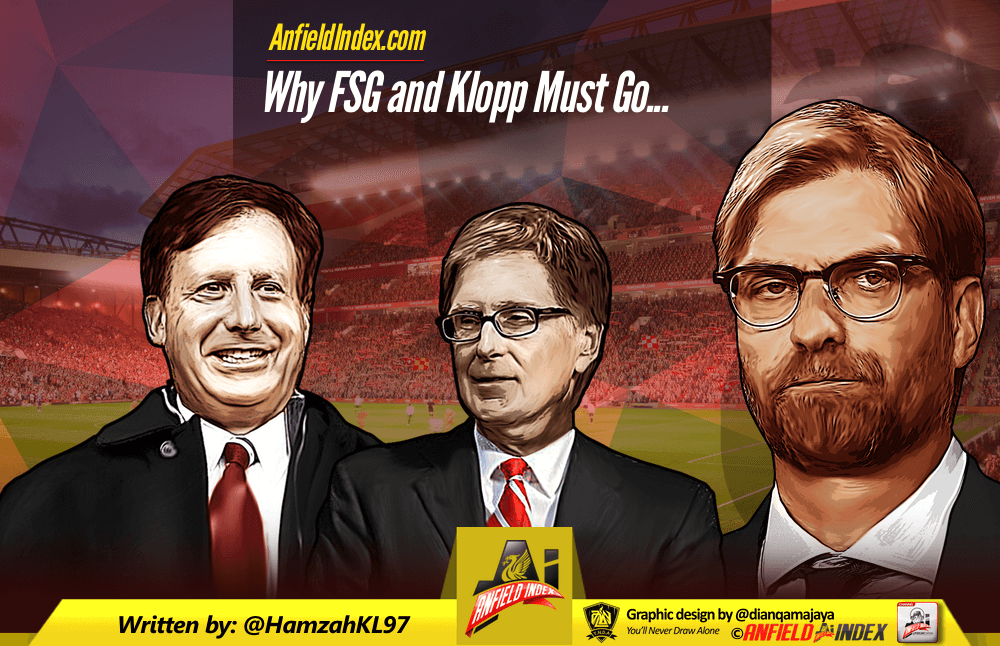 Why FSG and Klopp Must Go...
Sorry, I didn't quite have space to write my full title: Why FSG and Klopp Must Go On as Before.
Now that I have your attention, I'm going to take you back a short while.
On the morning of August 31st, 'Liverpool Twitter' was a happy place: Liverpool were still in for Lemar and Van Dijk. Yet, predictably, the FSG Out group were circling, ready to pounce, looking for a slip-up, to prove their own misguided hypotheses right, in their eyes, and of course, get a few more followers and retweets.

It's been some time since the window closed, and we've had some time to really look at the window, without the cloud of transfer rage obscuring the facts.
But here's one example of the sort of extremist, hardline, nonsensical approach that defines the FSG out group, from an account with a significant following:
Today is FSG's biggest day since purchasing the club. A chance to convert every fan from a doubter to a believer, including me.

— Dharma Bhagalia (@Kloppholic) August 31, 2017
So, let's just get this straight, just for my sake. After buying Mohamed Salah, for a club record fee, then somehow securing the services of one of the most exciting prospects in the world – Naby Keïta – in a cut-price and preemptive deal, whilst also committing 70m GBP to try and purchase AS Monaco's Thomas Lemar, FSG have not yet convinced you of their commitment to the club? Not only this, but for some reason, your judgement comes not from the previous seven years, but a single day, which is dependent on negotiations, cooperation with other clubs and subject to market fluctuations? Ok.
What about that pretty new Main Stand? No?
How about appointing Jürgen Klopp? (We'll come to this later) Still not sure?
Net spend? Well, under FSG Liverpool have turned profit in one window alone. With some quick, but shoddy maths, I've calculated FSG's net transfer expenditure at well over 200m GBP.
Maybe the line on Philippe Coutinho, that under no circumstances would he leave Liverpool was a bit too ambiguous for them.
Well, here it is, verbatim:
'We wish to offer clarity as regards our position on a possible transfer of Philippe Coutinho.
The club's definitive stance is that no offers for Philippe will be considered and he will remain a member of Liverpool Football Club when the summer window closes.'
If you still don't understand that, I'll provide a concise translation.
'The club's definitive stance is that no offers for Philippe will be considered and he will remain a member of Liverpool Football Club when the summer window closes.'
Oh, sorry, that's about as concise and definitive as it gets.
The owners wanted to send a clear message, that Liverpool is a club on an upward trajectory, is a club that does not sell, and a club that certainly is not bullied or pushed around. For me, a Liverpool fan, this is music to my ears, the equivalent of the fourth movement of Beethoven's 9th. This is exactly what I want to hear from my club and the owners. A professional, determined and driven sense of direction coming from the very top – with a clear ambition for Liverpool to be one of the best clubs, in terms of competing, in the world, again, plain to see.
You may have noticed it was actually FSG that issued the statement – not the board. It's actually very rare that you'll find the owners of a club, when they own multiple assets, issuing such a statement, regarding one player. This was almost certainly a direct intervention from the very top, something that I, personally, welcome, as it illustrates commitment and attention at the very least.
But yeah, FSG out.
Just imagine Liverpool let Coutinho go, and then got trounced, as they did, by Manchester City. The entire commentary would be focussed on why Liverpool let Coutinho go, and how it cost them against City. The FSG out bunch would be in full force, tweeting abuse at John Henry, his wife, and Peter Moore (who, I should add, and like Ms. Pizzuti, has no responsibility for transfer policy).
Naturally, I understand your frustration if you feel the club failed in the transfer window, to sign a centre-back. Is that FSG's fault? Well, as fans of Rafael Benitez, I'm sure we're all familiar with cold, hard facts, and the simple fact of the matter is that the Liverpool manager, Jürgen Klopp, wanted Virgil Van Dijk alone. Klopp informed Micheal Edwards that Van Dijk was his man, and appears committed to attempting to sign him in the future.
After the 'tapping-up' farce, that resulted from a leak within the club, Southampton had every right to refuse to sell their club captain, who was, and still is contracted to them. Liverpool, understanding this, knew they could only make an offer providing Southampton invited them.
It's hardly as if FSG did not back Klopp with regard to Van Dijk, the money was there, as Paul Joyce – the most reliable journalist on Merseyside – confirmed.
Here's Klopp himself talking about how he's happy with his defenders.
'Look out there and tell me five that would make us stronger. Five. Then you win a prize. It's difficult how it is," said Klopp, following Liverpool's 3-1 win over Athletic Bilbao last weekend.

'We have four. I don't think we need more. We cannot force the things and we would never get a centre back just because (of the sake of it).

'I'm happy. You can imagine we are still working on different things and we will see if it works. I am already here to work with this squad and not just always thinking 'but if we don't get this or this'.'
I understand Klopp is not going to come out and criticise his group of defenders, but logically, if he was really concerned, he would have used the money that was available to him to buy another centre-back. Do I think Klopp should have purchased a centre-back? Of course. But that's his decision, not one from the owners, and conflating them is simply stupid.
How then is John Henry responsible for Liverpool not signing Van Dijk? The answer is, he isn't. And if you think he is, you need a Zaf Iqbal examination.
The Van Dijk deal was dead from the point Liverpool publically apologised and Southampton reiterated their stance that, like Coutinho, under no circumstances would he be leaving the club. If you believe ITK accounts, with dubious and unverifiable connections to the club ahead of events that have unfurled publically and in front of your own eyes, that's your problem. Not the club's, not Klopp's, and not FSG's.
Look at the state of 'ITK's'. I mean really. Have a look at how they build their brand, and announce 'news'.
Here's one such tweet:
https://twitter.com/LFC_RV/status/902125227697737730
It took two and a half hours for the follow-up tweet:
Told ya #Keita https://t.co/ubddSJTWbc

— Roopa (@LFC_RV) August 28, 2017
Now, I have nothing against people who try to engage and converse with the Liverpool fanbase, hell, I'm one of those people, albeit one with a rather small personal following. What I will say though, is have a think about the 'news' you read. If Paul Joyce had received real information on the deal of the season, would he have sat on that scoop for over two hours? Erm, no.
"ITKs" contributed to the Van Dijk deal collapsing. Not FSG. So if you want to vent at someone for Liverpool's transfer failures on Twitter, it shouldn't be John Henry, et al.
This all feeds into the FSG Out group though, a group that will also base their claims on falsehoods, conjecture and lies.
This group is anything but pro-Liverpool. It's simply about populism and individualism, both of which are deemed more important than the club. Here's another example: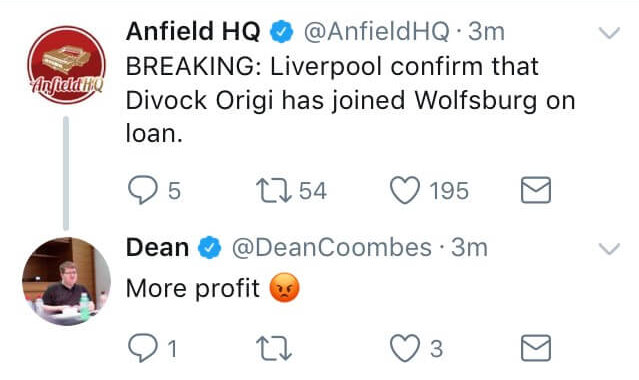 Now, there's certainly a few credible points to be made about Liverpool losing Origi. Will Liverpool be left short upfront? Will Origi's confidence take a hit, with Solanke coming in to replace him? Is this poor management by Klopp?
Unfortunately, instead of asking the right questions, one FSG Out proponent, with a large following, angrily tweeted about profit. On a loan deal.
'Profit', for a player who struggled last season, and is likely to do so again, for minutes – hardly a position he would welcome, especially considering it's a World Cup season.
I'm no FSG apologist, but the FSG Out group within the fanbase is a hardline, populist, cancerous cult, that needs to be sidelined, ignored and cut out. Unrelenting in its criticism, selective in its praise, and unremittingly blinkered. They provide simple answers for complex questions, and they simply are not true. If you value analysis and facts about your club there are plenty of outlets that are not just seeking retweets and publicity – there's the Tomkins Times, the Anfield Wrap, Anfield HQ, us, here at AnfieldIndex (who, I can personally guarantee, are unbeholden to any agendas) and all of these will try to find the answers to those complex questions, to the best of our ability.
Now though, there's an even more radical club of loonies, the "Klopp Out" group of 'supporters'.
After a draw against Burnley, a defeat in the League Cup – which nobody really cares about – and then a draw against Spartak Moscow, the Klopp Outers have, and were in full-force.
'Klopp OUT!'

'Klopp is s**t'

'Even Rodgers was better than this idiot'
These are just three messages from a Liverpool Whatsapp group chat that I'm in. If you go onto Twitter you'll no doubt find more of the same or worse.
Now let's really try and get a grip on what these people are saying.
After reaching the Europa League final in his first season – beating Dortmund and United in the process – and then after delivering Champions League football to Liverpool, (for the second time since 2008/9) in the toughest race for qualification in living memory, and building an offensive line that can obliterate any side, all in under three years, you want him gone?
Ok.
One of the most coveted managers in world football, with a philosophy that suits Liverpool to a tee, and you want him gone?
Sure.
Because Klopp didn't sign Van Dijk, he should resign?
Well, I guess we could do with some depth on the wing too, but personally, I wouldn't get too worked up about us not signing Neymar.
Maybe I'd understand if Liverpool's previous manager was Alex Ferguson, and Liverpool had provided Klopp with a title-winning team when he joined. But if I remember correctly, Klopp inherited a team that got bullied by Stoke, 6-1, and its only major additions were Christian Benteke and Roberto Firmino – who Rodgers played out of position.
Yet this means nothing – the Klopp and FSG Out fans are all too short-minded, they seem to forget the dark days of Hodgson, where he admitted that relegation was a prospect for Liverpool. Do you really want this?
If Klopp goes, who are Liverpool going to get in? Redknapp, Bruce, Allardyce? It's truly amazing that when under the slightest bit of scrutiny, the whole idea falls apart, yet people back it wholeheartedly. The whole idea is to simply get rid of Klopp and then everything will be fantastic, and the sooner the club does it, the better.
There's no analysis, alternatives, or considered thought to it all. Pochettino is often cited as an example of success, but ironically he was supported financially and given time to build his team. The exact same support these fans are not giving.
In fact, this all reminds me of a certain referendum, of which the consequences are not panning out all too well. But that's something for another time.
I was sure the Klopp outers were taking the mickey initially, but they genuinely do believe it. It's almost as if they're living in a fantasy world, where Liverpool have a divine right to win, just for them. This is football. If you can't cope with a draw against Burnley, you may as well pack your fucking bags, because even Real Madrid drop points from time to time. This is not FIFA, and listening to FIFA players does not offer any real insight to what's going on at the football club at all. (See image below).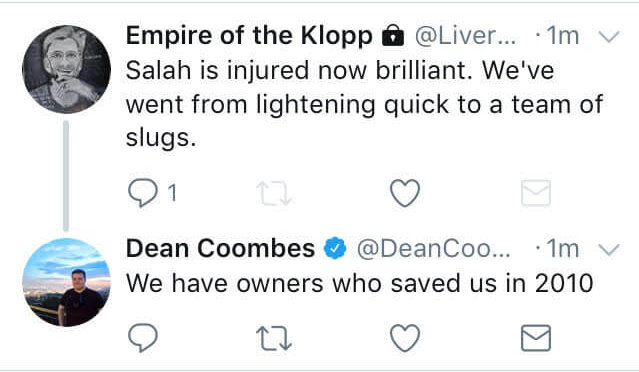 If you look at the football Liverpool are playing, which is comfortably the second or third best in the league, you'll realise, Liverpool are just a bit unlucky at the moment. It's individual errors that have cost Liverpool – against Watford, Man City, Sevilla, Leicester and now Spartak Moscow.
Really, look at the goals and point out which of those are Klopp's fault. I'm talking about the system and tactics he uses. And when you do look at those goals – as I have, on my tactical breakdowns, which you can find on the site – you can see why Liverpool have dropped points, and more often than not it's because of some individual error you cannot account for, such as Lovren missing the ball, Matip leaving a header, Karius not positioning himself well enough, a midfielder not tracking his man properly, or the team of officials being useless in enforcing the laws of the game.
The team performances in all of those games, (and up until the red card, against Man City) were good. Liverpool created chances but failed to convert them. Surely you can remember the days in which Rodgers' Liverpool passed in front of the opposition defensive line meaninglessly until they were dispossessed and the opposition scored?
That's all it is, a few individual errors, and some awful finishing – there's no way this will last, and demanding the manager's head for good performances, but underwhelming results is misguided at best, and fucking stupid at worst.
That's right, if you're Klopp out, you're actually a fucking idiot. There's simply no two ways about it. It really makes no sense at all, and if you can't get your head around that, you truly are lost.
Football manager or FIFA is probably the best option if you want Klopp or FSG out; there you can live out your fantasy, and win every single game without conceding, proving that you really do know everything. Of course, there are better managers and owners in the world: Carlo Ancelotti and Manchester City's Sheikh Mansour for example. But Liverpool would struggle to prise Ancelotti away from Bayern Munich, and there simply is not enough money in the world for every club to have a billionare owner, with near limitless resources.
We should not be afraid to give credit where it's due. Some fans are blinkered when it comes to players, be it Mignolet or Moreno or Henderson. When they play well it's only because of somebody else, or the manager. But we should be happy to be proved wrong. Many fans did not have faith in Firmino when he arrived, or Mané, now they're two of the best players in the league. Likewise, it seems, right now, that FSG have developed into owners that are committed to the club, after a shaky start, that looked defined by a corner-cutting approach.
If you want to criticise FSG, do it properly: have a look at my assessment of their tenure, from the end of the 2016/17 season.
Want us, or me, to reassess FSG after the summer window? Tweet at us, comment. Let us know – and if FSG are poor, or need to go, we'll let you know, and we'll back it up with facts. So when you talk about FSG and Liverpool down in the pub, you won't be the loony in the corner, delivering a spiel nobody cares about.
It's strange for me though, I'm hardly old, but I remember when FSG bought the club. I also remember what Hicks & Gillett did to the club. My father has also told me about how Liverpool's owners, before Hicks & Gillett, neglected the commercial and business side of the club, and effectively allowed Manchester United, Chelsea and Arsenal to grow, as Liverpool regressed. At least with FSG, I've seen considerable progression over the past two seasons, and an undeniable effort during this summer window too.
Arsenal, who Liverpool recently battered, are a public laughing stock, because of terrible mismanagement by their owners and board. The FSG Out group seem to have the answers to everything, but there's a very real possibility that if Liverpool were sold, we could well have owners like those at Arsenal, who rarely attend games, invest minimal capital, and siphon off resources. The FSG Out group should be careful what they wish for and actually open their eyes to the ownership who have delivered on their promises, in this window at least.
Liverpool fans should reciprocate this good faith, shown by the owners in appointing and supporting Klopp, but also in reinvesting in the team, squad, stadium, and commercial-side of the club. We're now seeing a greater level of engagement than before, with Peter Moore a constant and positive presence on Twitter for instance.
The '200m GBP warchest' that was reported was backed up too, even with Liverpool's 70m+ GBP deal for Lemar not reaching fruition:
That £200m spend thing:
Salah 39+35salary
Solanke 5+6salary
Ox 36+32salary
Keita 48+32salary

We committed to £232m

— SimonBrundish (@SimonBrundish) September 5, 2017
Top 10's by clubs summer deals in and outs pic.twitter.com/F9o0b1p6LP

— FormFormTwo (@formformtwo) September 5, 2017
FSG have put their money where their mouth is. They've backed the manager, even in a ridiculous market, they've steadfastly refused to bend to pressure to sell Liverpool's star player, Coutinho. Even for the most staunch FSG Out people, surely this must mean something.
It's time for these 'fans' to stop plugging themselves, and stirring up nonsense, and instead to get behind the team and the club, like a real fan. As Liverpool finally seem to be on the right track.
Klopp is so close to a team that can do something very special, all it takes is a bit of luck, and some intelligence from the Liverpool players. And, after the FSG outers demanded FSG step up, they did. Now with a little patience and common sense, it will soon be time to reap the rewards of both their work and investment.