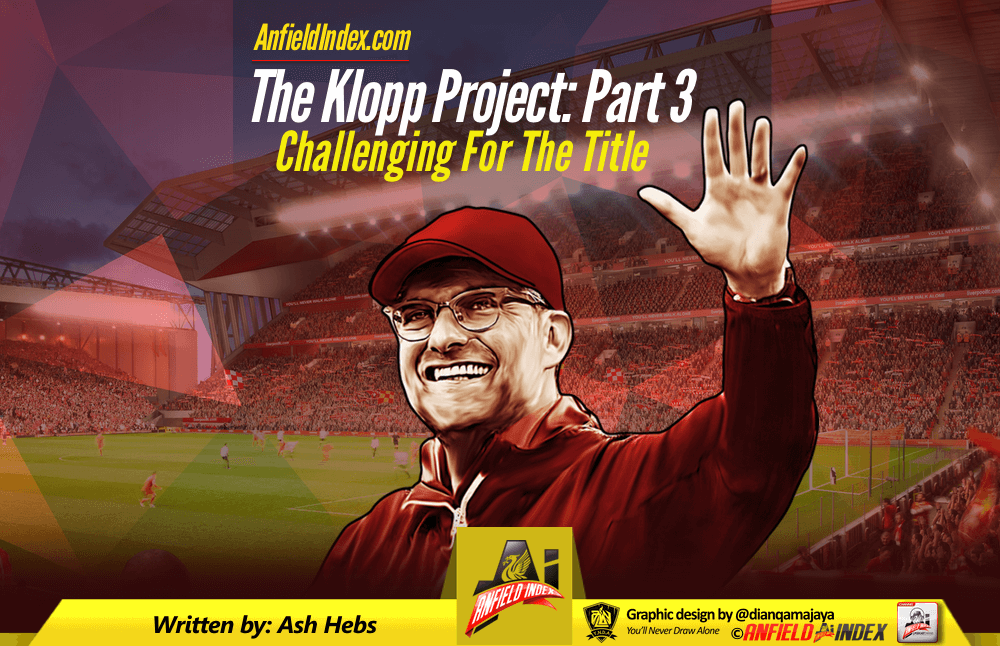 The Klopp Project (Part 3): Challenging for the title
In my previous pieces, you can also read part 1 and part 2, I discussed the challenges facing Jurgen Klopp, or indeed any Liverpool manager, in landing the league title. Namely, the issue of finances and the sensible "restrictions" FSG pose on spending money; also, the issues that Klopp's tactical approach has had in overcoming the proverbial parked bus. This series is a look at what it takes to win a title so I will look at various options available to Klopp. The job is extremely difficult but not impossible. It's not about revolution but evolution. Subtle tweaks of the existing system. That's a more sensible approach than going back to the drawing board which can lead to more confusion for the players.
For the doubters amongst the fanbase who insist Klopp is rubbish and needs to be sacked, my question is who do they propose to bring in, and why are they so sure that the job will be any easier when fundamentally the conditions and challenges remain the same? As fans, we cannot assume Liverpool exists in a cocoon. As we improve so do our rivals so we have to improve to stand still; improvement on its own isn't a guarantee of success. It's the degree of improvement relative to our rivals that matters.
Recruitment
Klopp doesn't waste money and I think his transfer record since coming into the club has been pretty good overall considering that all transfers in are a calculated gamble at best. We chose a manager that is used to be being an underdog in Germany but has proven he knows how to build a winning team. Therefore in accepting Klopp as our manager, we have to accept that he does things in a certain way. His strength is in coaching and the improvement in a number of players since he has come into the club is a testament to that. He won't give up on players and buy for buying sake. More importantly, when we look at the "big" signings he was interested in then I think that tells us about his ambition and recognition of the pieces he needs in his puzzle to build a winning side.
Going back to last season and starting with Dahoud, who is a mobile midfielder, enabling quick transitions and penetration with his dribbling skills and playmaking ability. He was the right name to be linked with for the system, but once Klopp experimented by using Lallana in a deeper role, the experiment was vindicated as it proved a success and negated the need for Dahoud. There isn't much that needs to be said about Naby Keita, VVD or Salah. Top signings all of them, which definitively improve the first XI and elevate it to a whole new level. Given our biggest problems are structural and mainly down to protection and decision making I feel a new centre-back plus the addition of Keita will improve this team significantly. I also believe that Klopp was perhaps willing to make do with what he has with the intention of bidding for VVD in January or scouting an alternative in the meantime.
My view is that the right balance and right calibre player can make all the difference to this team. The signings of VVD and Keita, if they could both happen, would show this as they have the right stats and complementary attributes to the existing players in the squad. Then as Klopp improves squad depth and players learn from these quality additions there becomes less reliance on such players. Tactically intelligent players take on board the ideas that Klopp is trying to implement and there will be more cohesion and composure to our play. It's all about the team building but this is not achieved overnight. For now, Klopp has to make do with the players he has. In part 2, I discussed my thoughts on the outcomes of the summer transfer window.
Given our defensive issues and Klopp's clear frustrations this term I would be amazed if he doesn't sign a centre-back in January. Until then I think we can say that Klopp's careful and selective approach to the transfer market (given the specific system he wants to play) possibly makes the chances of buying players that hit the ground running higher than most managers. This bodes well for future activity as he hones the team to be a competitive force both domestically and in Europe.
Retention
The biggest challenge for Klopp will be to retain the likes of Coutinho, Can, Firmino, Mane. I feel the Coutinho and Can sagas this summer have, without a doubt, unsettled the dressing room at the worst possible time. The reality is that when bigger clubs bid for our key players we will eventually have to sell. The challenge for Klopp is to hit certain targets every season to show that this is a team going places and will be challenging for honours on a regular basis. He's seen first hand at Dortmund how losing your best players annually can cripple a team.
Klopp's approach of securing a replacement before selling is the kind of pragmatism we will need to ensure we don't under-sell and end up in the mess Everton have after selling their best player (not adequately replacing Lukaku). FSG have shown this summer that they are willing to keep a strong core and money isn't more important than jeopardising their team's chances of success. If you believe Klopp can still improve the current team further, then he has a better chance of retaining key players. The rise in transfer prices also protects the club from losing players although buying upgrades becomes harder. Again Klopp's reluctance to overpay forces the scouts to work harder which can only be a good thing.
Tactics
Formation
It is hard to implement a defensively stable 433 in the Premier and the infamous AVB notoriously failed at his attempt to try this approach at Chelsea. Enforced rotation and injuries have been challenges for Klopp this season, in establishing a stable defence. I think as soon as he can, he needs to decide between Karius and Mignolet and try and keep a stable back 5. Despite the popularity of the back 3, I don't know if the tradeoff to have one extra defender warrants the reduction in attacking players, especially in light of the parked bus problem.
I think an ever-changing back line and low confidence in players like Lovren and Klavan, who know VVD was meant to replace them, means minds haven't been settled. I have a hunch Matip may also have been carrying an injury, with really sluggish movement in recent games. We also haven't upgraded on our existing midfielders other than the Ox coming in and he hasn't had time to settle. This is exacerbated by the return of Hendo to the number 6 role and he himself is rusty from a serious injury layoff. These aren't excuses but mitigating factors.
The best formation for a parked bus is a 433 morphing into a 343 in the attacking phases. I think this is the system Klopp should persevere with until Keita arrives at least. So please choose a back 5 Jurgen and stick to it to build continuity, enforcing rotation with our key players further upfield.
Patterns of play
Clearly, the team struggles beyond the 60-minute mark of games where the scoreline is level as the opposition become more confident in their low block. However, Klopp has still not had sufficient time, in my opinion, to show that he can adapt due to a number of different reasons including injuries and insufficient game time for his new-look team this season.
The way to overcome the parked bus is to use acceleration and crisp passing in small pockets opened up by sharp movement. Too often players are ball watching, occupying defenders in terms of giving a marking option, but not moving the defenders around enough. This impacts on the frequency and effectiveness of little triangular passing movements that the 433 allows. Klopp brought on Solanke against Newcastle and his movement was impressive in the way he didn't stand still but kept defenders moving about. As an example, Cavani is a superb role model of a player with world-class movement and anticipation, albeit let down at times by poor finishing. These are the type of forward men we need which is why Firmino's role in the team is so important. You can't afford to have a poacher that does nothing else in such a dynamic system.
I feel we need to slow the game down at times and pace ourselves better, picking up the tempo only when the opportunity presents itself, thus giving time for runners to be in the right position at the right time. All too often you see Salah or Mane in yards of space further upfield in space but with no supporting runners. I feel to address this issue Klopp maybe needs to be more rigid in our attacking patterns of play like Rafa, Conte, Mourinho, with pre-rehearsed game scenarios (rather than giving the players too much freedom to pick the wrong decision). Our dynamic style which thrives on pressing and causing chaos sometimes leaves a myriad of passing options at a high tempo which can lead to rash decisions on the ball under pressure.
Anyone who has watched recent Bayern Munich teams and their patient probing against top opposition will have seen the effectiveness of such an approach. Patient passing, from one side of the pitch and back again, working the defence and looking for tempo through killer balls and clever movement to exploit gaps. This comes from experience, confidence and composure, things that are sometimes lacking in our young team. Look at United with Herrera, Mata and Mkhitaryan, Chelsea with Willian, Hazard and Pedro; City with De Bruyne, Silva, Aguero. Football doesn't always need to be played at 100 mph and Klopp's toning down of the pressing has shown his acknowledgement of this.
Now let's mix up lateral with diagonal passing, mix passes with runs and dribbling using the angles of the 433 to create well thought out overloads in and around the inner channels. Let's make the ball work for us, rather than just legwork. I hope to see a learning curve of matching intensity with patience and varying the speed and timing of our passing.
Coutinho, in particular, has to learn to be a playmaker rather than a dribbler from deep, more often than not looking to shoot and be the hero. He needs to more David Silva and less Steven Gerrard, as he doesn't have the same physical attributes and his shooting is more miss than hit. The jury is still out on whether he can successfully play in a deeper role, although the early evidence suggests that's his best position on the pitch, he needs to temper the urge to be the hero and pick out his teammates more regularly. This will bring others into the game more rather than being bystanders and tires out a defence as we work the ball back and forth, side to side constantly.
If Phil stays deeper and acts more like a playmaker then it enables a better distribution of players across the pitch and brings out the qualities of all 3 of Mane, Salah and Firmino more. Too often we are caught on the counter with way too many men in advanced positions just ball watching and not affecting play. I feel this is what makes Wijnaldum seem a liability as he has nothing to do and is caught between two stools, stick or run ahead of the ball. When Phil stays Wijnaldum can then drive ahead of the play and look to get on the end of crosses. When Phil drives forward Wijnaldum can stay deeper to support Hendo and the back line. Phil needs to keep a surprise factor to his game which is why a deeper role is more suitable for his skills and preserves his legs.
Related to this point I would also like to see Matip and Lovren kept as far away from the ball as possible. Matip, in particular, is a good playmaking defender but I don't want to see him too high up the pitch unless he is going up for set plays. Phil, playing deeper, should see as much of the ball as possible in deeper positions. He can then be our playmaker and dictate when to go direct or when to slow the game down. He also has Hendo and a Wijnaldum on hand to help. Giving Matip and Lovren too much time on the ball as we saw in the second half against Newcastle just makes everything slow, slow, slow and leaves plenty of time for the opponent to get set in their deep block.
Substitutions
Klopp has been criticised for not being quick enough in making in-game changes. I think this is a combination of being too emotionally invested in the game at times and also having a sub-par support team. He isn't the "best" tactician around so needs help. Even if Klopp is missing things his team of Buvac, Krawietz and Ljinders should be able to assist him on and off the pitch and fix issues. Of course, the players themselves aren't blameless either but inspiration comes from management. There is a valid question mark over whether this support team is good enough. There is a case that to reach the next level Klopp needs to change parts of his support team as Rodgers did before him and that is an option going forward.
Klopp has also made inspired substitutes before so he is not totally hopeless here. I just feel that he needs to spot those games where we aren't going to break a team down (and it's clear for all to see) and make a change around the 60-minute mark to give replacements sufficient time to get up to match speed and make an impact.
I think for our substitutions to have the desired impact Klopp needs to keep his squad fit and manage rotation to avoid last season's injury crisis. Toning down the amount of pressing we do will help here. We should also hopefully start to the see the benefit of the backroom team Klopp brought in last season.
Width
This has some relation to the pattern of play but merits its own section.
Referring back to the Newcastle game, I could see that the patterns of play weren't too far off. Let's not forget the front 4 haven't had a huge amount of game time together yet. But we were mixing things up, getting to the byline getting crosses in, probing patiently, playing triangles, trying to create overloads. But it didn't seem as if it was all coordinated properly. More game time will bring more cohesion. The issue was also the way we used width.
As well as assisting with the recycling of the ball at the back and helping the team to progress up the pitch, our fullbacks are massively important in a 433 system for the attacking width. They give the stretching effect on the pitch to pull the opposition apart. We need to use the width more effectively by resisting the urge to cut infield all the time (which enables Coutinho, for example, to get into predictable, easy to defend shooting positions). The positional patterns of play need to be used to manufacture better and more coordinated crossing opportunities, rather than getting the ball into the box for the sake of it.
Statistically, the best crosses are those from the byline, especially the low cutbacks, which City and Arsenal work brilliantly. We are not seeing enough of these and this is why it is important that whoever is playing fullback keeps as wide as possible and only crosses when they have a proper option in the box.
At the moment we play with width in name but aren't sufficiently maximising this advantage of the 433 formation. Too often we aren't patient enough and end up working a move that leads to shooting on sight which boosts the shots on goal stats but aren't quality chances. Better use of width should open up the inside channels more and see better xG performance as a result.
Conclusion
Klopp and his team have much to ponder over in taking LFC to the next level. But we can rest assured that they are assessing all the options to try and improve the club's fortunes with the aim of bringing back the glory days. Hopefully, that proves to be sooner rather than later but, for the record, based on what I've seen so far I'm still a believer.
In the weeks to come we need to see the team now rise to the pressure and scrutiny and show us how good they can be. Constructive criticism is fine and I think channelled in the right way, can help management find solutions. What we need to watch out for is knee-jerkism when we don't know all the facts. Klopp identified areas for improvement in the summer, he didn't deliver on all of them but that does not mean he isn't still assessing all the possibilities. I think the evidence shows he is. Despite all the problems, we finished with 76 points last season and now have the players that can potentially improve on that, even when all the upgrades to the squad are still to arrive.
The underlying play of the team is good despite the known imbalances. If we were to convert more efficiently we would be practically winning every game, despite the defensive flaws. The team isn't lacking ideas and imagination like we were at the latter stages of the Hodgson, Dalglish and Rodgers reigns. When that ceases to be the case then we can rightfully ask whether Klopp is the right man to lead us forward. Now is not that time.
Let's remember we're meant to be supporters and support our team and our manager.