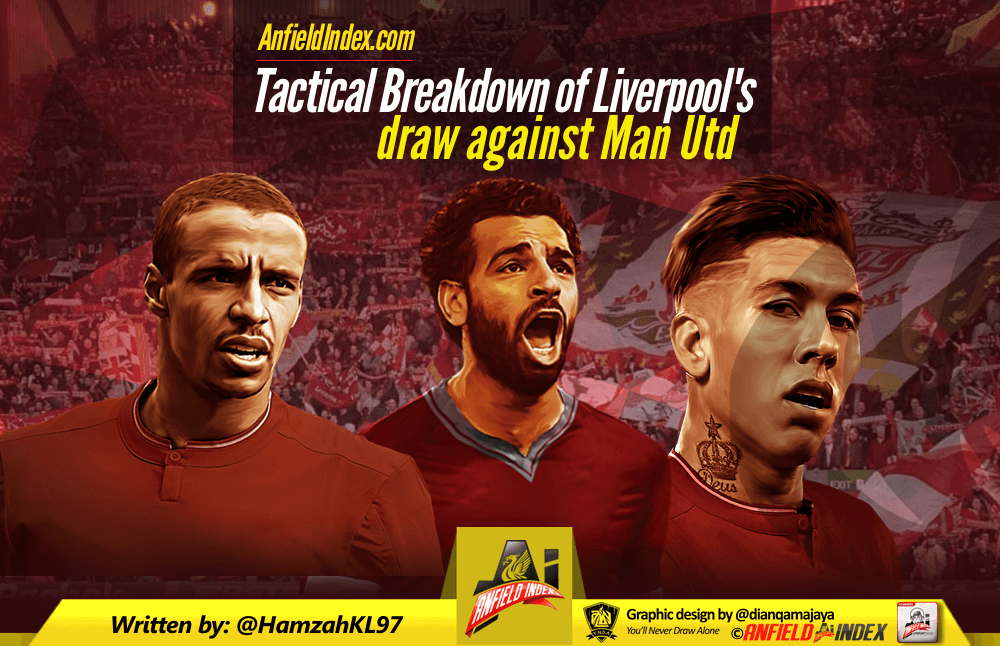 Tactical Breakdown of Liverpool's Draw with Man Utd
This is always the most nerve-racking match of the season. It's certainly a match that gets to me: I can barely eat on the morning of a match against United. But after two back-to-back drab draws at Anfield, maybe it's time to reassess if it's worth it all…
That's not to say there was not much riding on the game though, with Mané out, Liverpool stuck in a rut and both Manchester clubs totting up and impressive number of points, this was a game in which Liverpool would have to really battle through, but most importantly not make mistakes – and in that respect, they succeeded.
Stats
Shots
LFC: 19 (5)
MUFC: 6 (1)

xG
LFC: 2.16 (tegen), 1.8 (Caley), 1.8 (BBC)
1.92 avg
MUFC: 0.29 (tegen), 0.3 (Caley), 0.22 (BBC)
0.27 avg
xG map for Liverpool – Man United. The usual narrative after a Mourinho team takes an away draw is, "Jose done it again." This was not that. pic.twitter.com/iAPHjkKUXH

— Caley Graphics (@Caley_graphics) October 14, 2017
A number of fans and pundits drew comparisons between Liverpool's 0-0 draw with Manchester United at Anfield a year ago, in which Liverpool's best chance was a long-range effort from Coutinho, which was denied spectacularly by De Gea. Yet this fixture was not anywhere near similar: Liverpool may have dominated with the ball, but what they did with it was vastly different – with an xG representative of that.
vs MUFC 16/17 (h)
Big chances: 0-1
Shots: 9-7
xG: 0.28-0.65

vs MUFC 17/18 (h)
Big chances: 2-0
Shots: 19-6
xG: 2.01-0.28
Clear improvement

— Sports Analysis (@AnalyseSport) October 15, 2017
On two occasions in particular Manchester United were opened up: denied by a reaction save by De Gea first, and then wastefully prodded over the bar by Emre Can from near six-yards out. Roberto Firmino's cross, across the six-yard box to Salah – only a few inches too high for him – arguably could count as one of these big chances too. It speaks volumes about Liverpool's performances that they opened up such a defensively resolute team – arguably the best in the league – and while wasteful on one occasion, and unlucky on the other, this was a performance that should be hailed, especially on the back of some poor results, and having lost star attacking threat Sadio Mané.
Possession
LFC: 62.2
MUFC: 37.8
Henderson, 10.6pc, Lovren, 7.8pc, Matip, 5.5pc, Moreno, 6.4pc, Can, 6pc.
The individual possession figures in this fixture take a break from those that we've analysed this season – rather than a defender having the majority of the ball at home – instead it was Jordan Henderson. We've already noted in previous pieces how Liverpool often play poorer when the centre-backs dominate possession, yet here, despite Lovren and Matip having the second and third largest shares of possession, respectively, Liverpool's offensive efficiency did not seem as stagnated – perhaps because Henderson instead was allowed time and space. We've also noted a pattern of how Liverpool's offensive performances are stronger when the full-backs are given a larger portion of possession than the centre-backs – and Liverpool's fullbacks were given a surprising amount of freedom in their own half at least – and were only really pressed as Manchester Untied brought on their second-half substitutes.
Passes
LFC: 578, 86pc success
MUFC: 354, 75pc success
Key passes
LFC: 17
MUFC: 2
Firmino, 5, Henderson, 4, Chamberlain, 2, Salah, 2, Gomez, 2
Touches
LFC: 799
MUFC: 545
Dribbles (Attempted/Won/Success Rate)
LFC: 26/21/81pc
MUFC: 14/9/64pc
Salah, 7, Coutinho, 4, Firmino, 4, Wijnaldum, 3
The Chances
Usually, this section is devoted to the goals of the matches, but well, it seems Mourinho has done a job on us too…
Anyway, Liverpool's best chance of the match was Matip's effort, which actually came courtesy of reworking the ball, following an unsuccessful corner.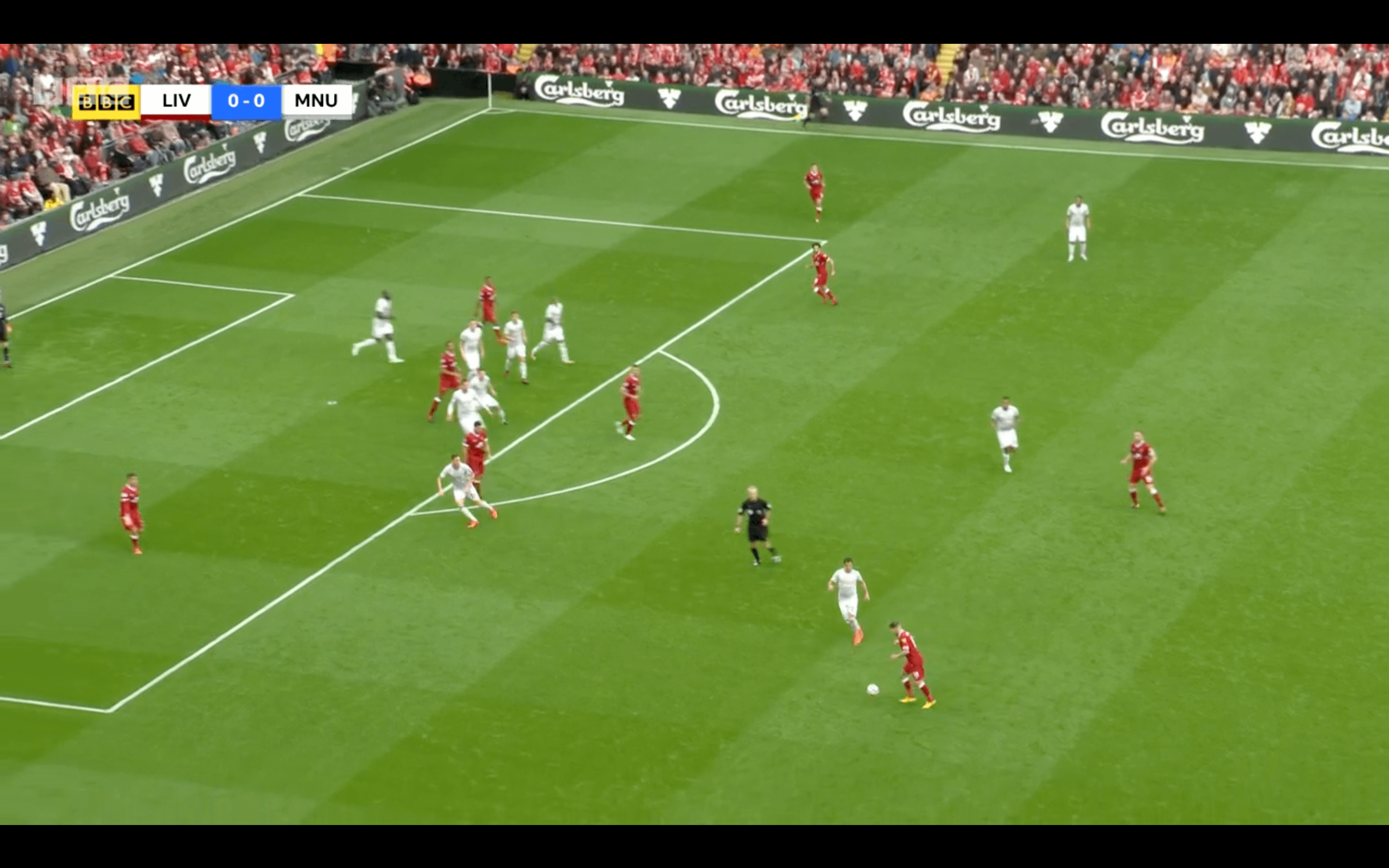 Henderson fed the ball into Moreno, as the United players pushed out – however, Firmino pulled wide, as he did throughout the game. Tactically, there really is not much here to pick apart, as Liverpool capitalise on some uncharacteristic slow defensive work by United.
Salah and Coutinho both found themselves unmarked, but Firmino picked out Matip who, from there, we would expect him to score.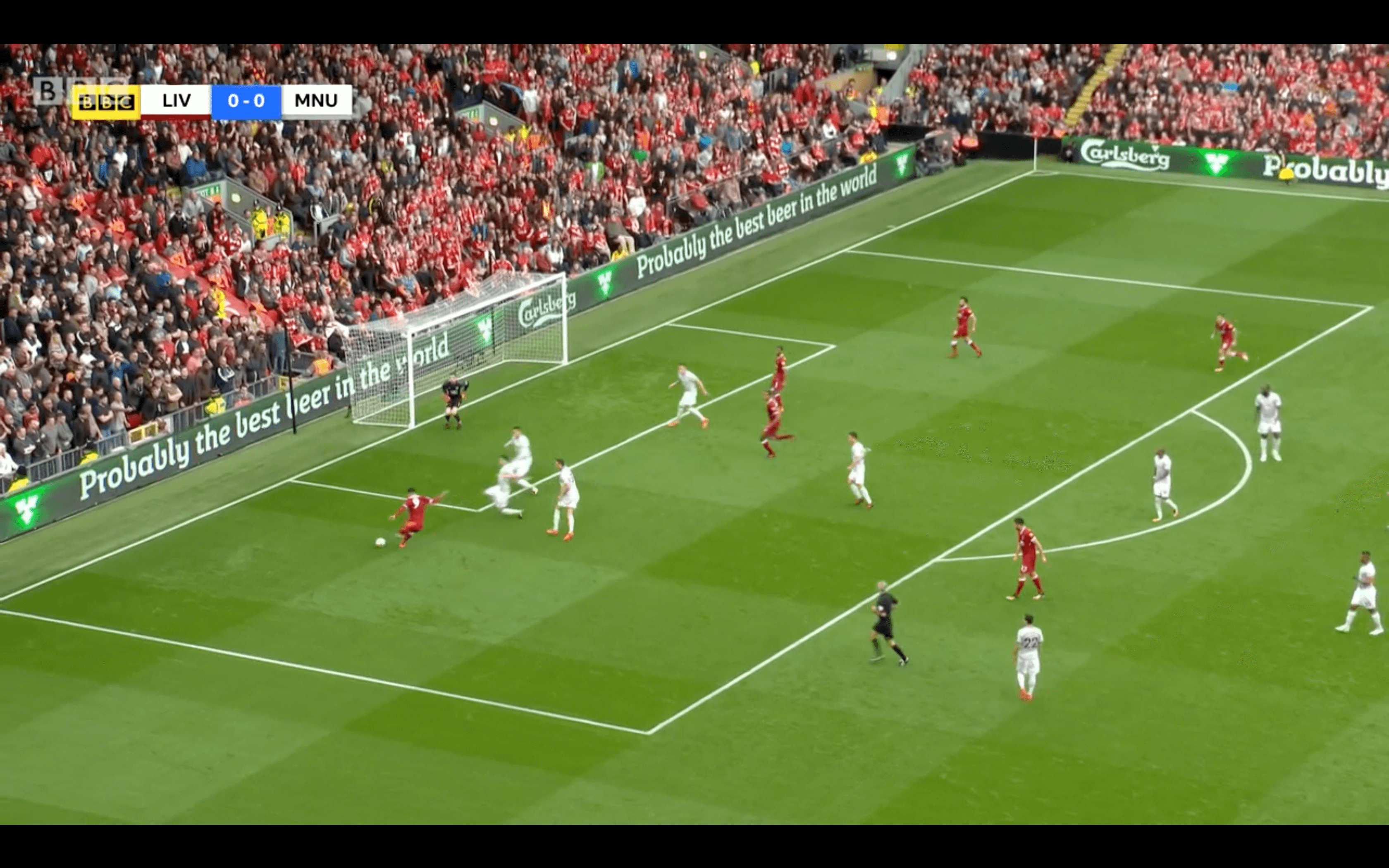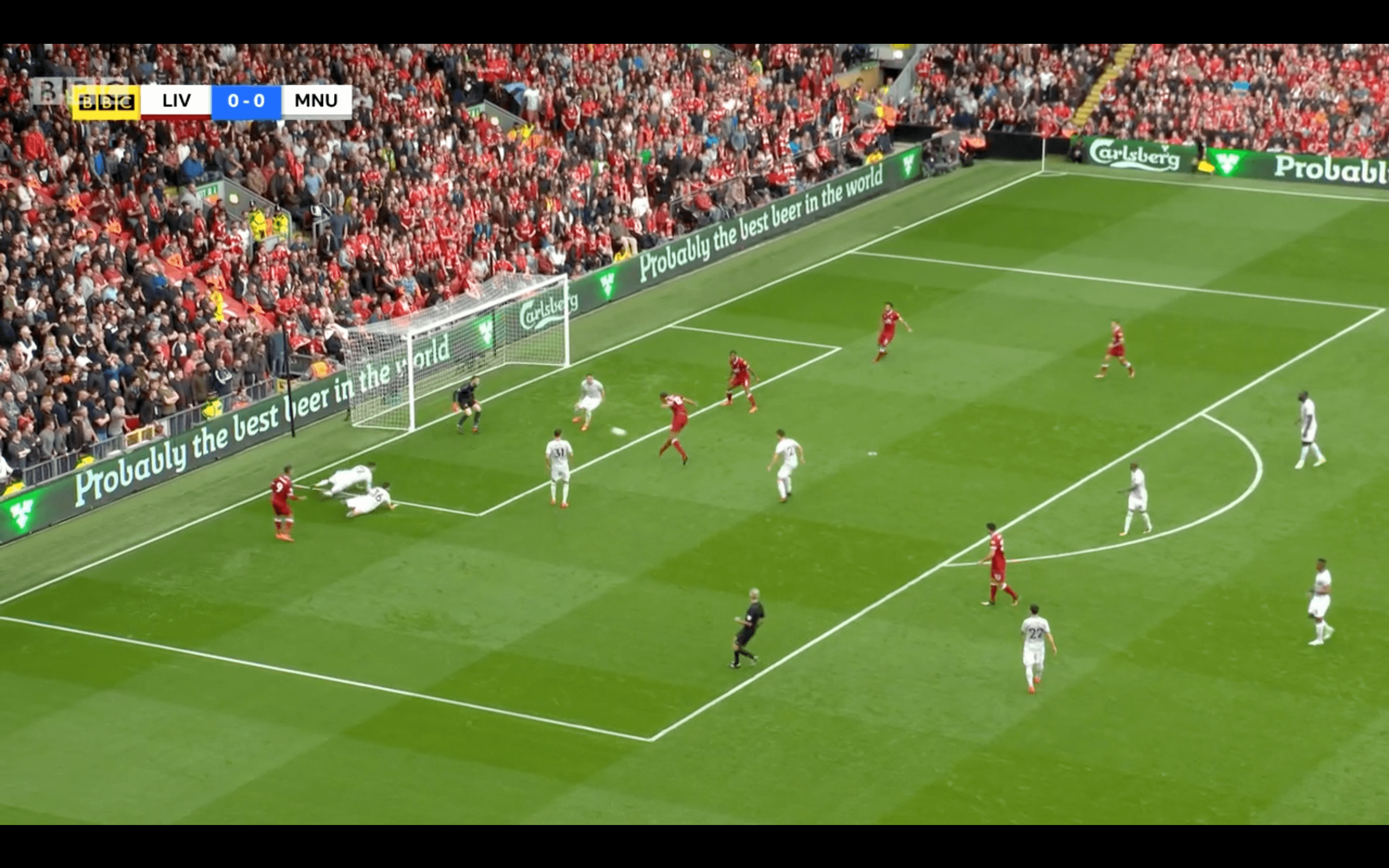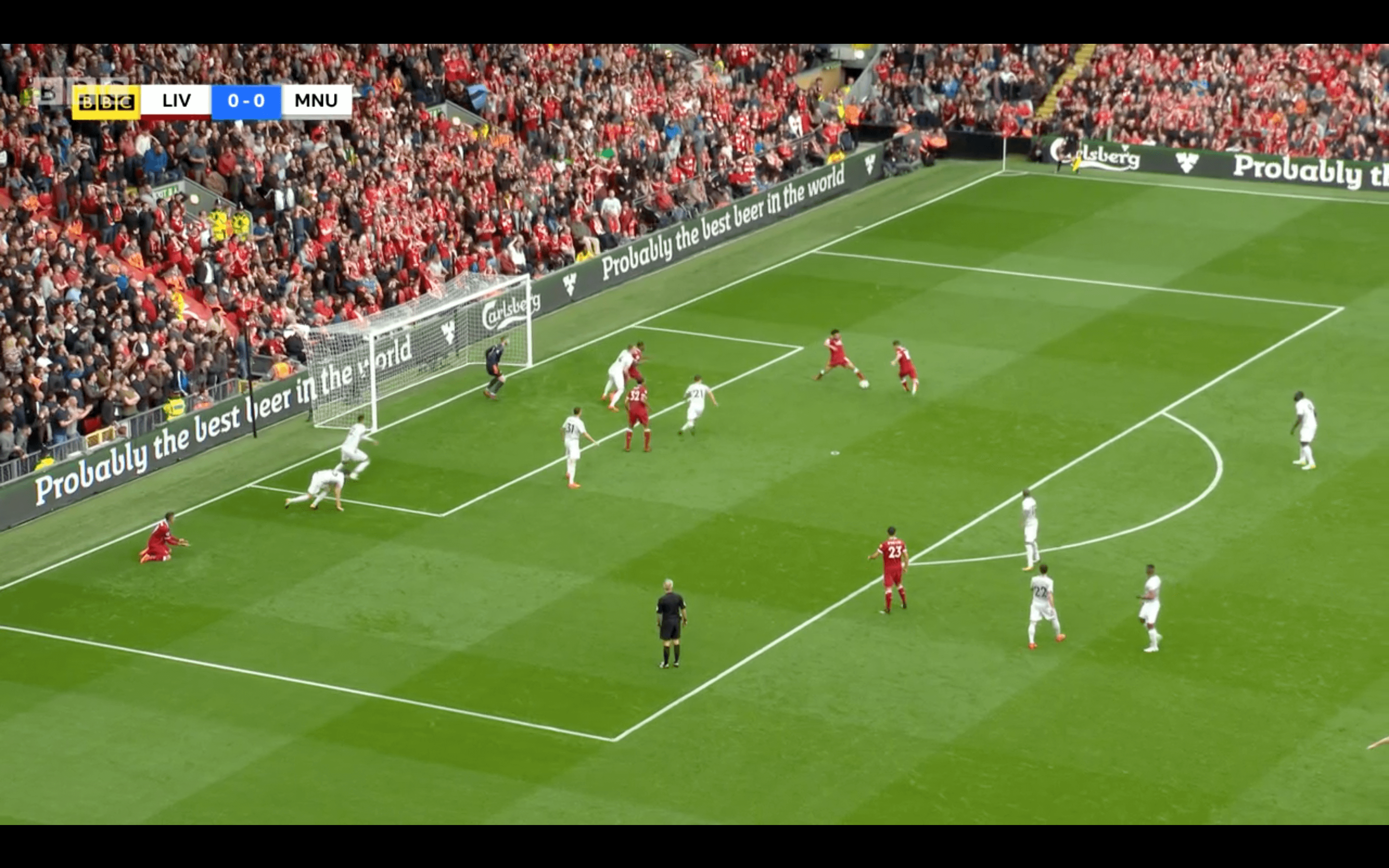 Perhaps had Salah left the ball for Coutinho, Liverpool may well have been celebrating their first goal of the game, yet from that position, Salah really should be doing better, with De Gea coming across to the near post.
Liverpool's other big scoring chance came from Emre Can. The build up came about through some miscommunication between Smalling and Herrera, caused by Wijnaldum's pressing.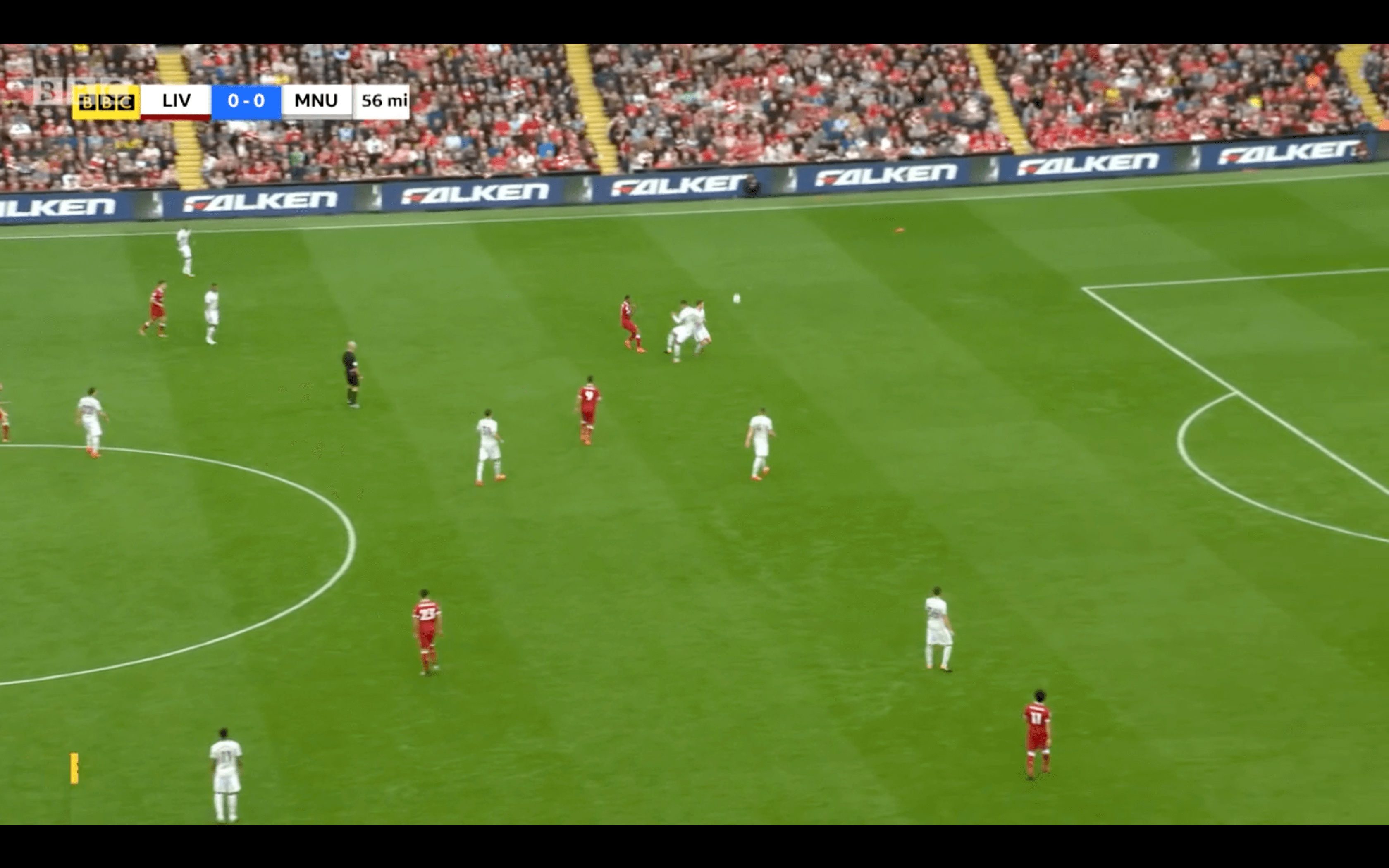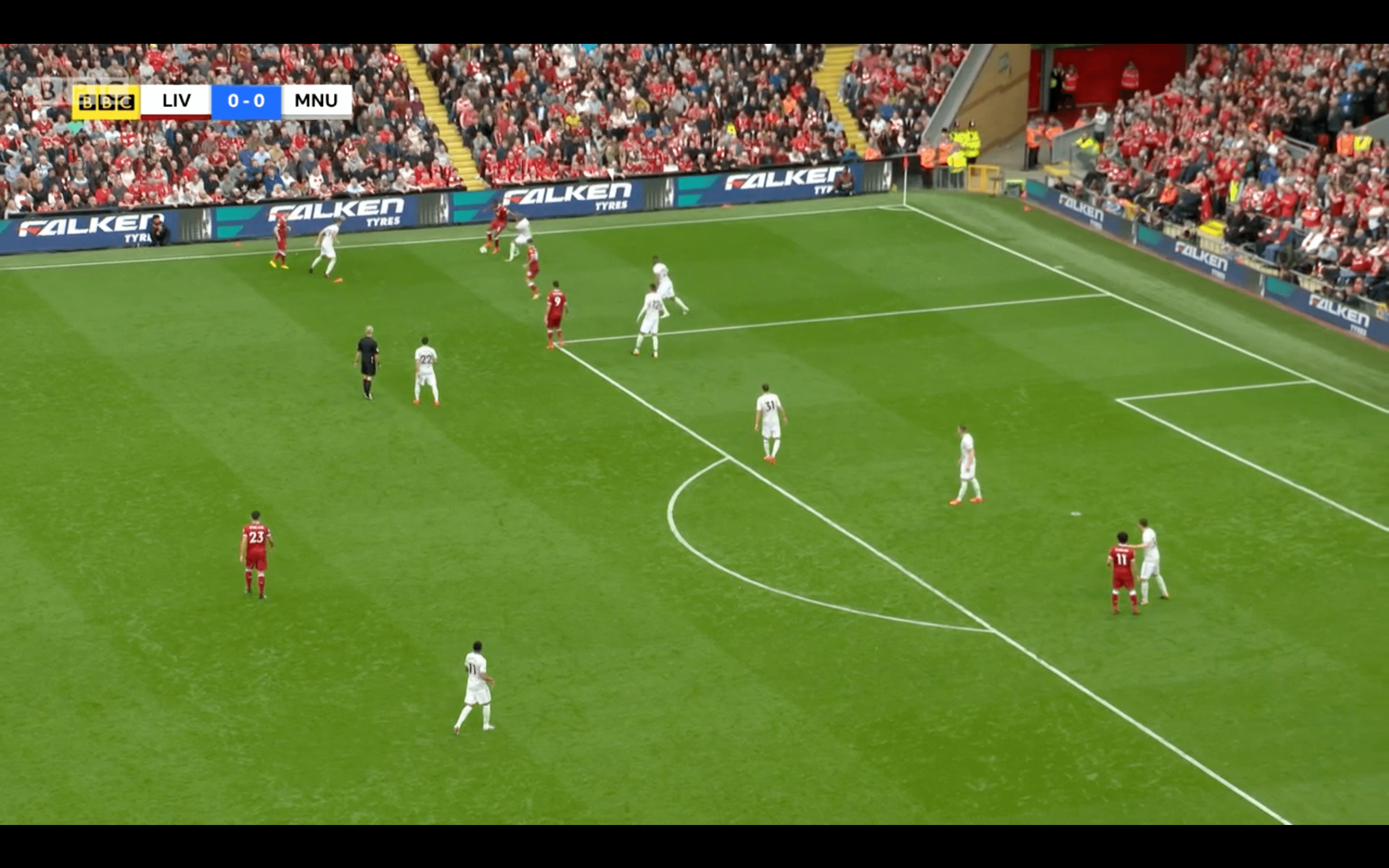 Wijnaldum, who we'll discuss shortly, does well to hold up the ball, and feed it into Moreno.
Moreno's ball is cleared, but instead of retreating, Wijnaldum and Can both run into the box, with his run perfectly bisecting Smalling and Jones, who Firmino and Salah were challenging.
This was a feature we saw a great deal of within the game, with both of Liverpool's CMs going forward, with Wijnaldum often taking the offensive position that we expected Coutinho to assume, having seen the line-up.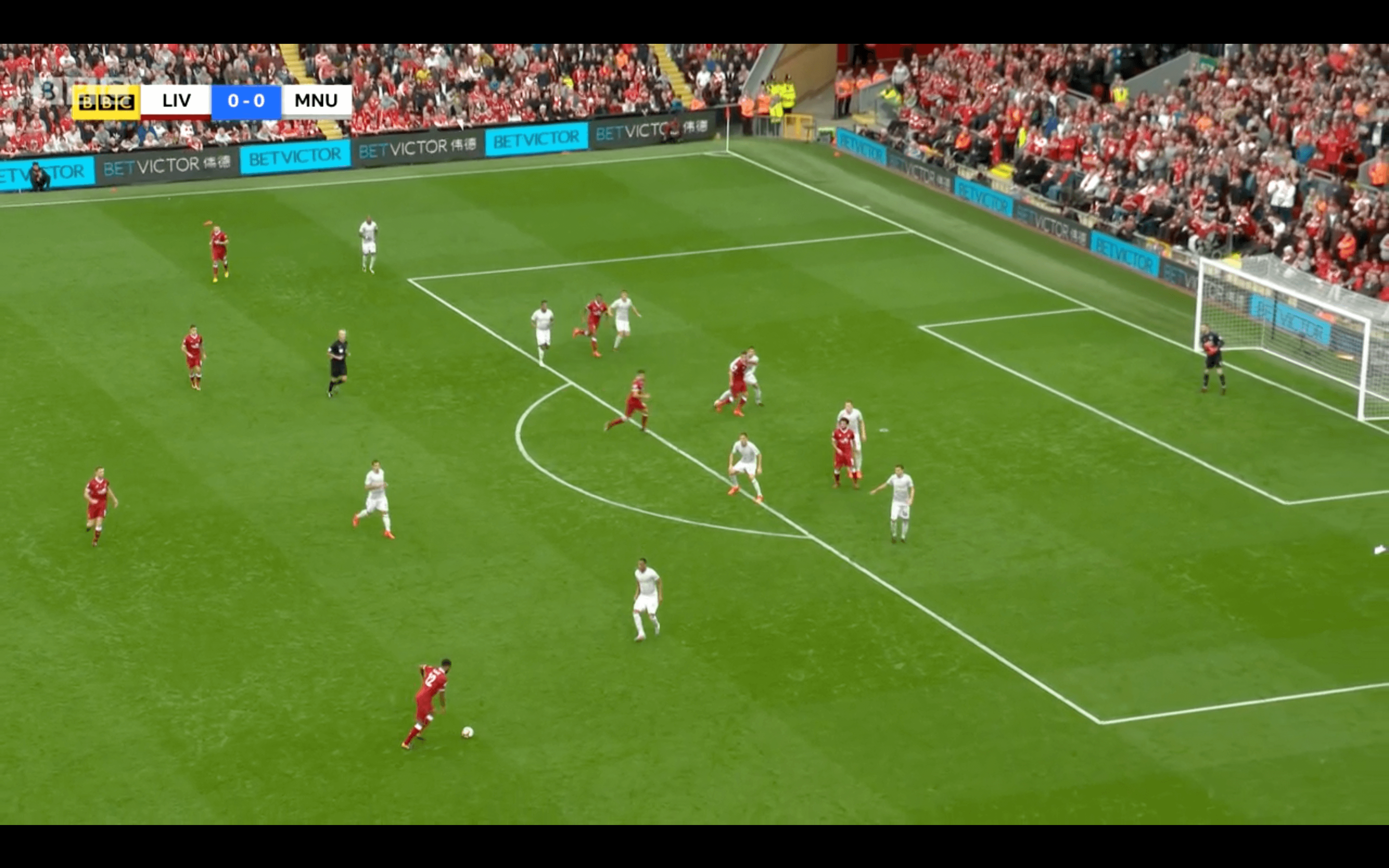 It's undeniably a challenging shot, with the ball coming from behind Can, across his shoulder and with his run almost perpendicular to it; yet from that range, you would hope that Can hits the target – and in all likelihood, from there, if he did hit the target, it probably would have been a goal. Indeed, we've seen Can score tougher chances, but you really would hope he seizes upon such a rare chance in a good area.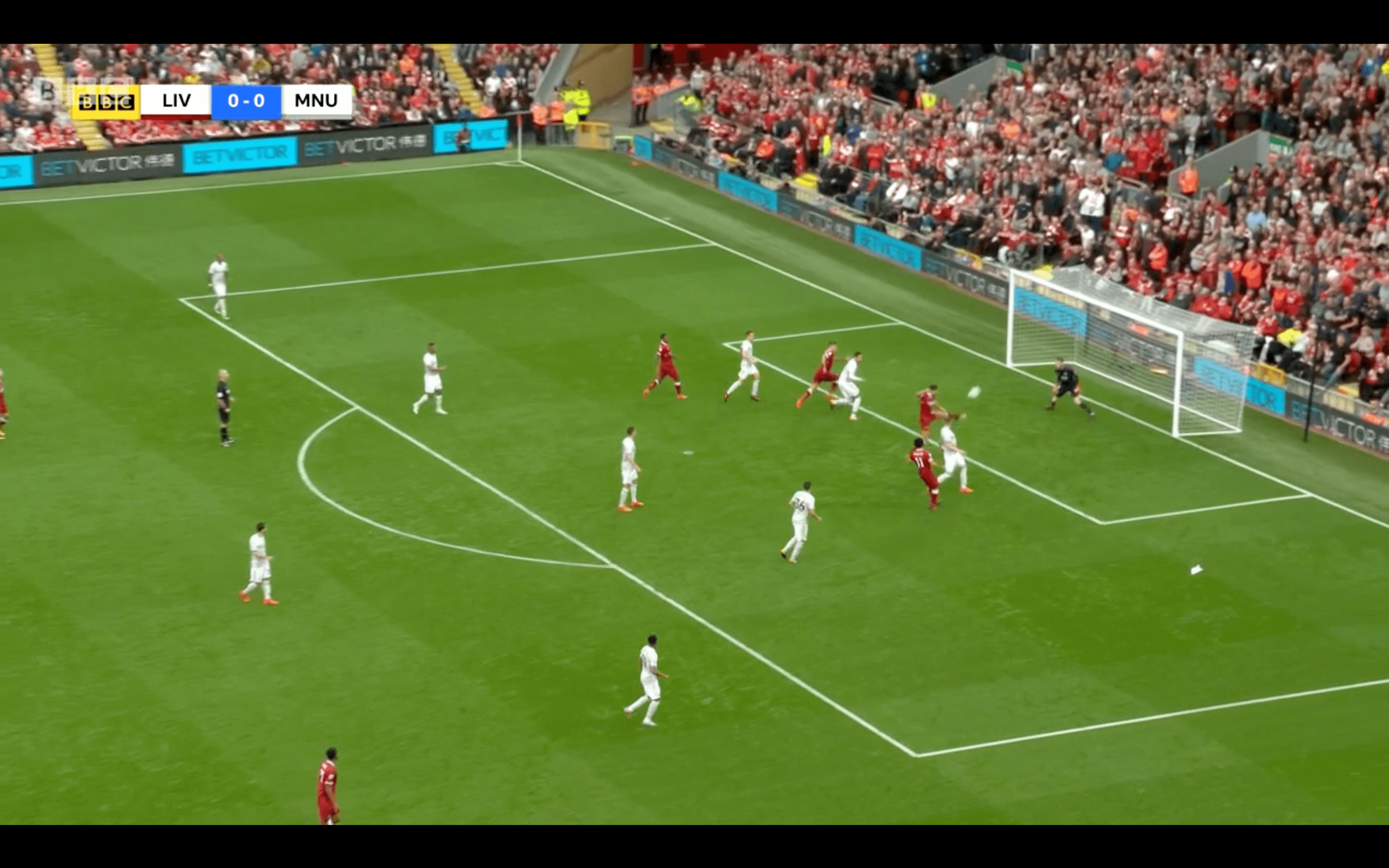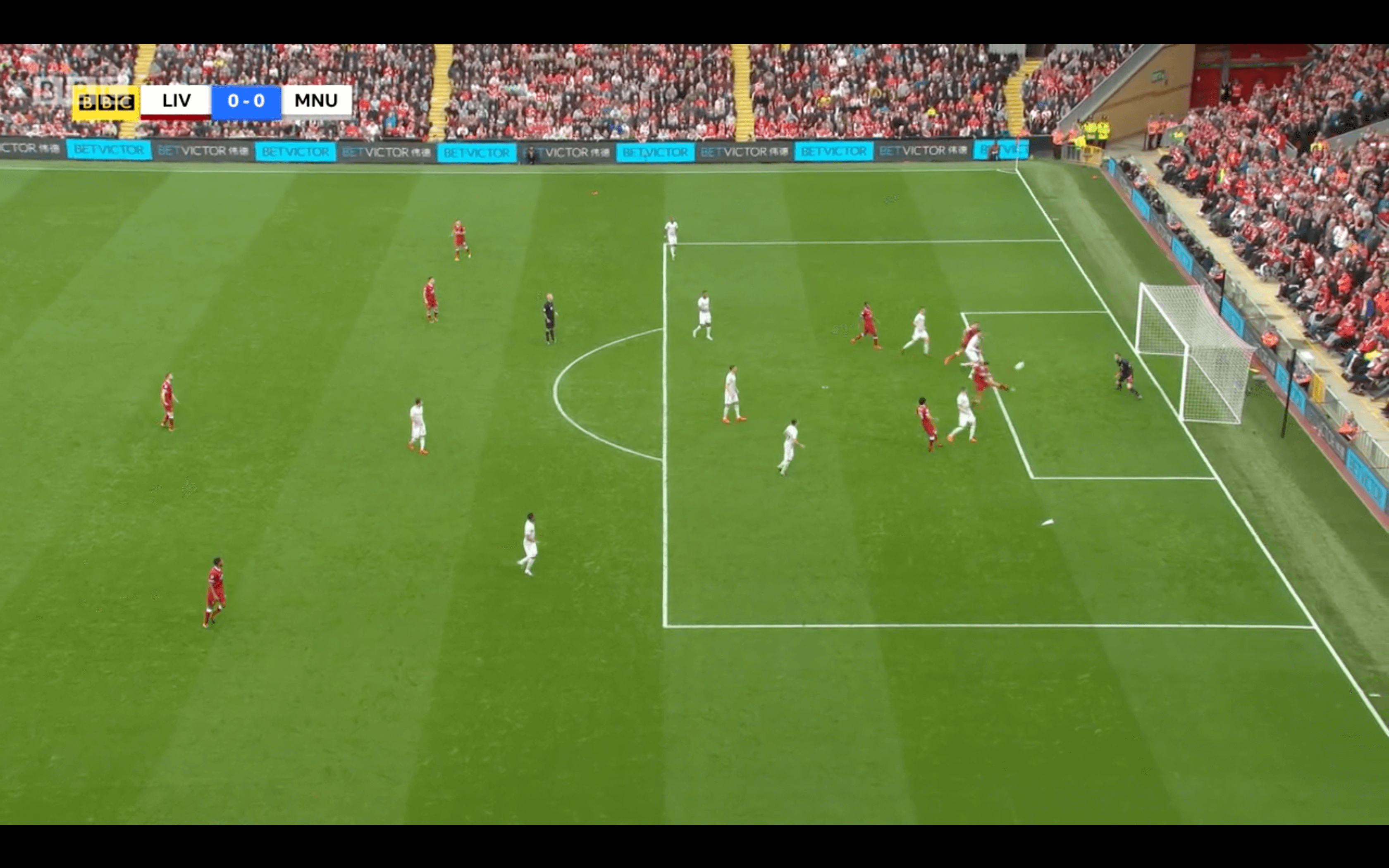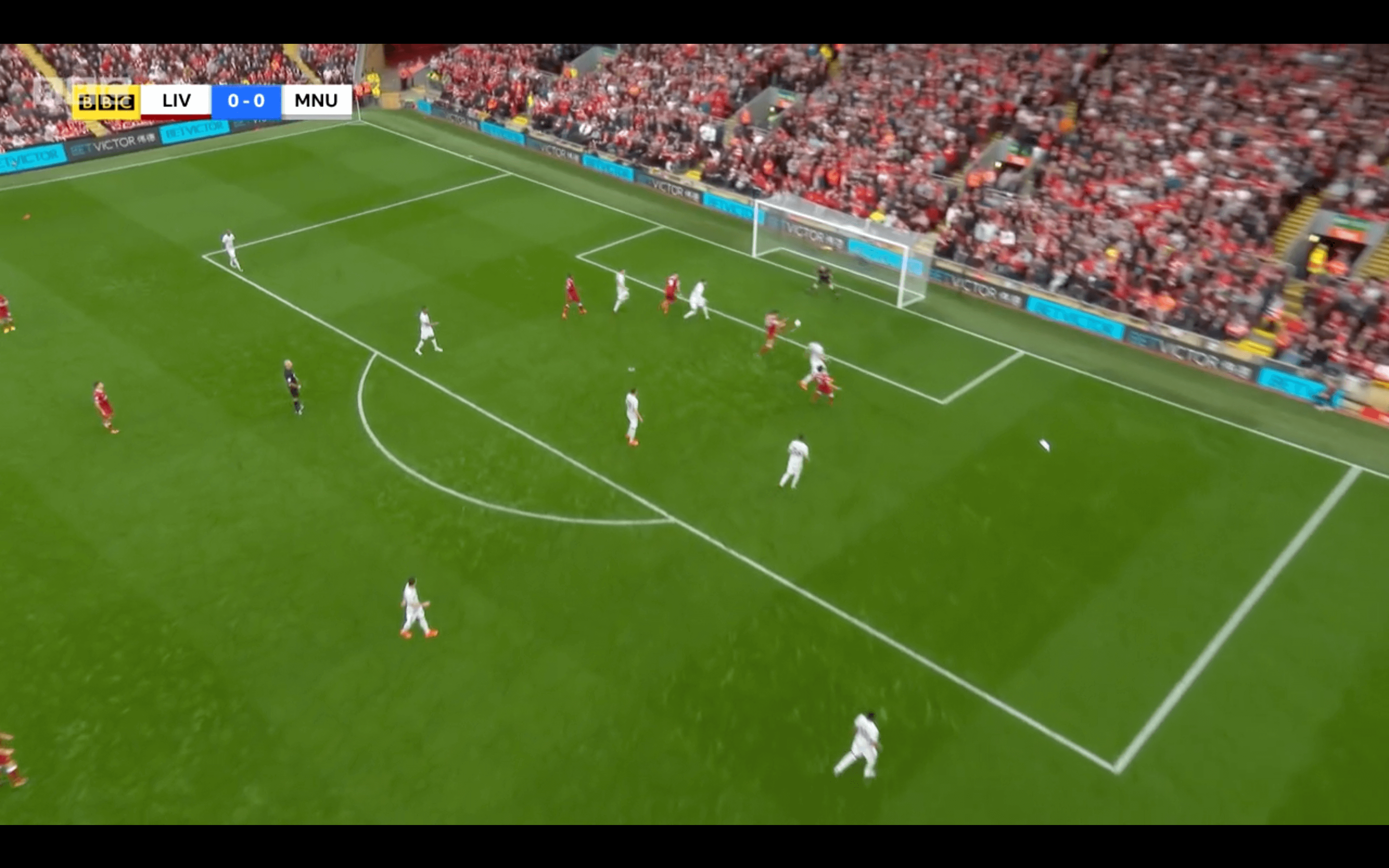 Manchester United's best chance on the other hand was well worked, following a poor touch by Salah, that was seized upon: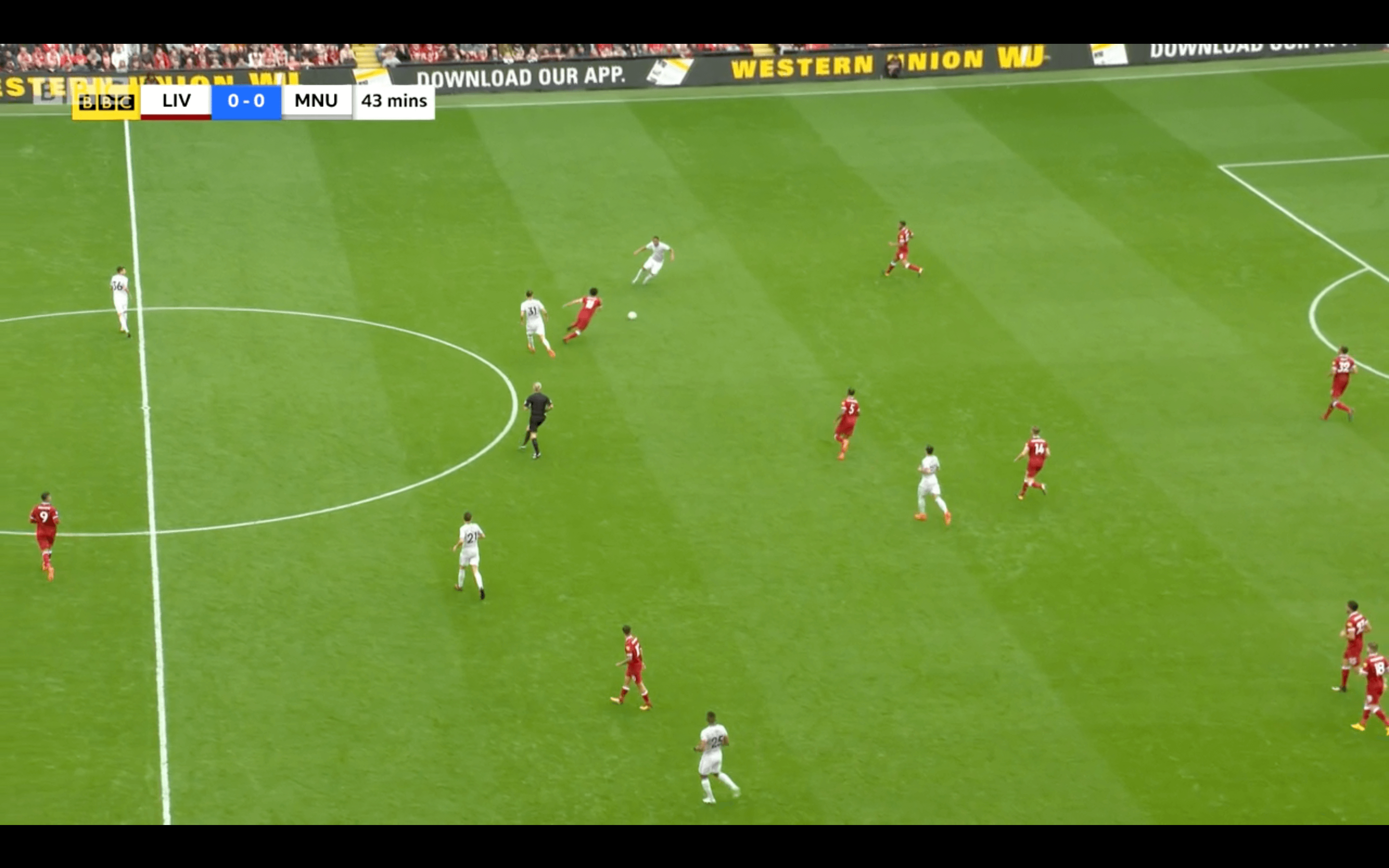 From this point, Joe Gomez has a decision to make: to press and affect the ball – or to hold his position and come in a little tighter, to reduce the gap between him and Matip.
At this point, there's no wrong or right option, but dropping slightly is probably the safer option.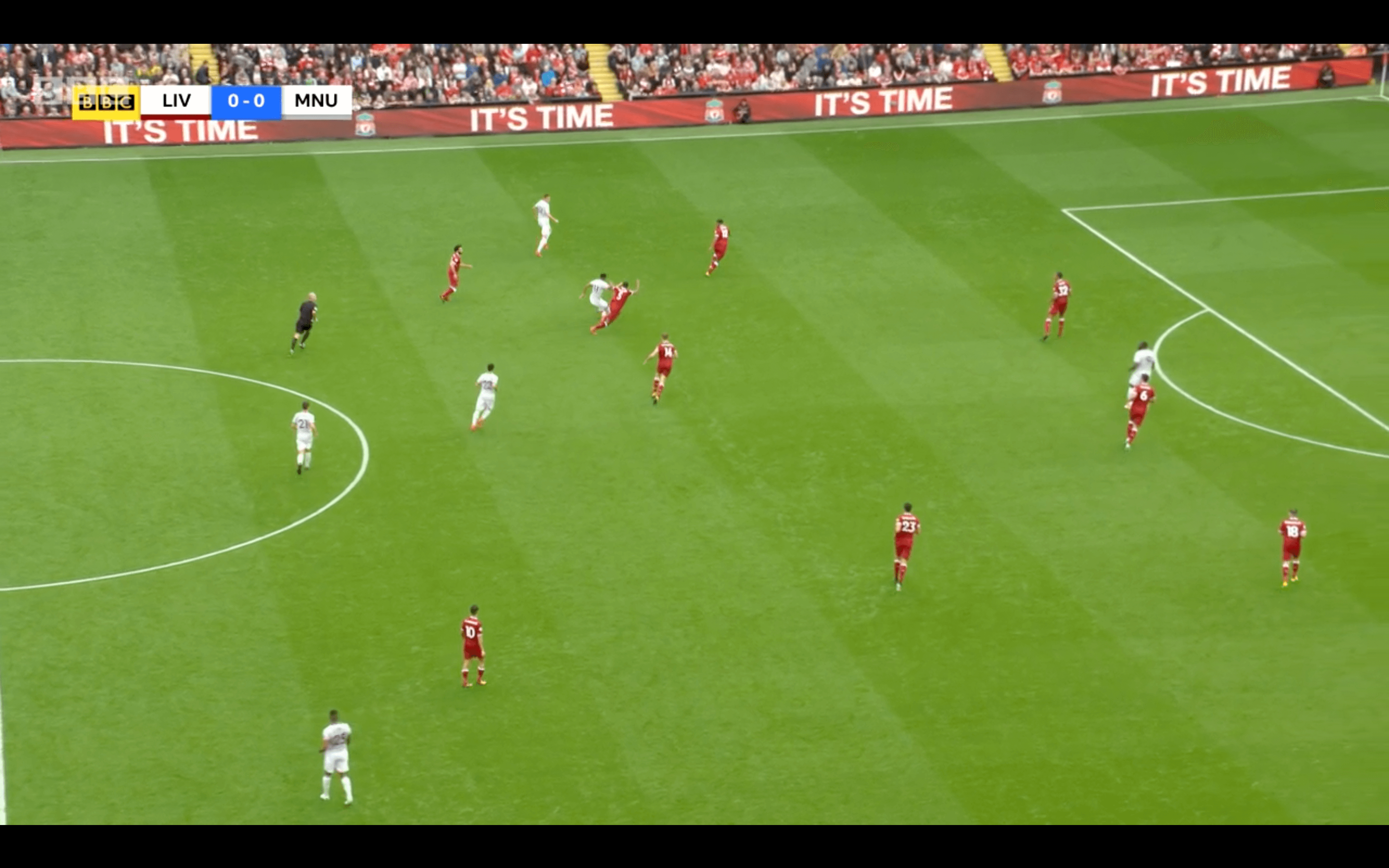 Wijnaldum comes across to deal with Martial, whilst Gomez is drawn to Mkhitaryan, who has moved over to the far side. Ideally, Salah should be taking up a wide position to cover the pass to Mkhitaryan, and Gomez should be further back, so the gap between him and Matip is not as great as it is above.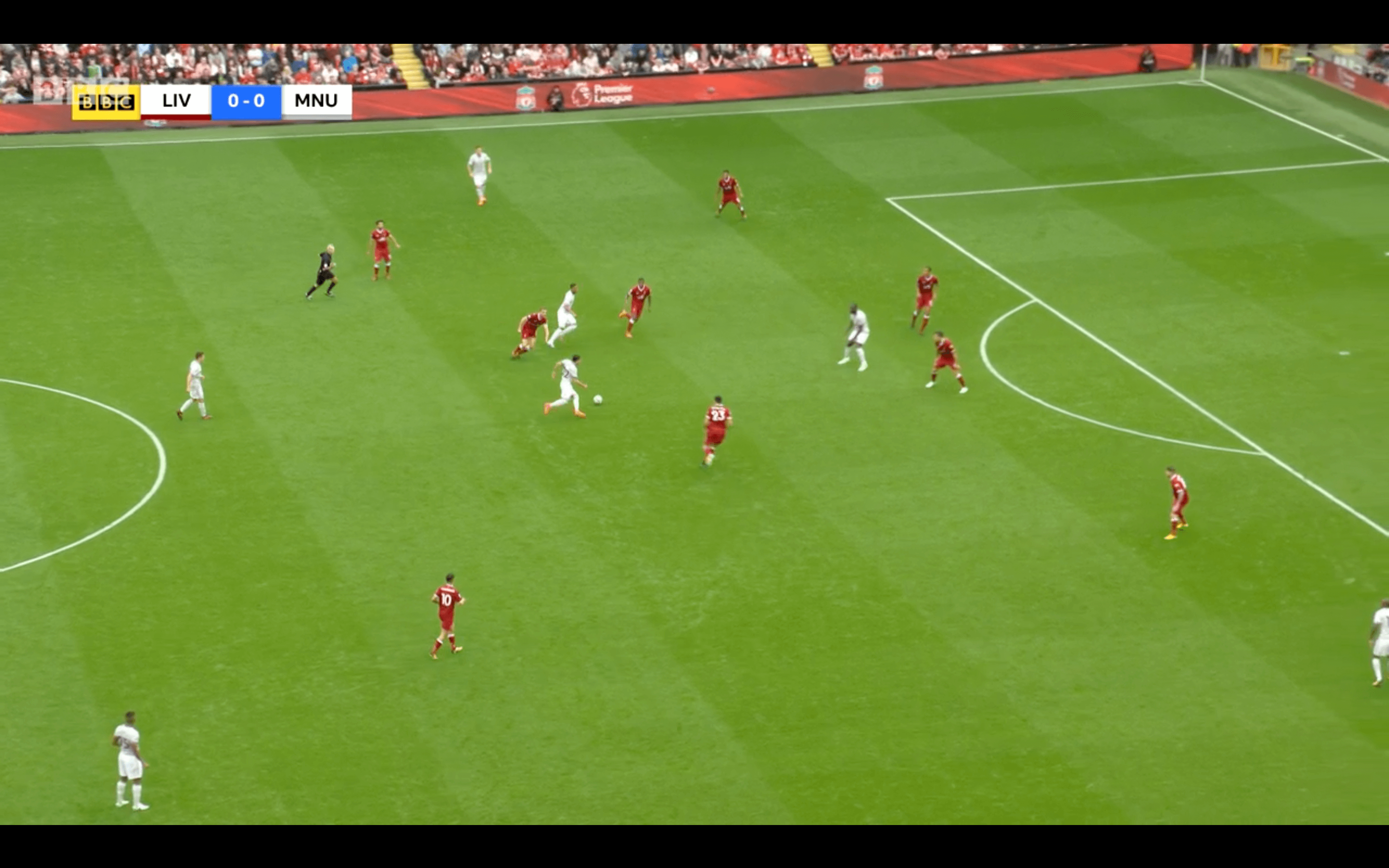 As Herrera receives the pass from Martial, it's clear he's going to play it into Lukaku. With his back to goal, and centre-backs either side of him, Lukaku's immediate threat to the Liverpool goal here is low – however the threat comes from Martial's run. Lovren steps out to apply pressure and intercept the pass into Lukaku, but Lukaku wins the challenge.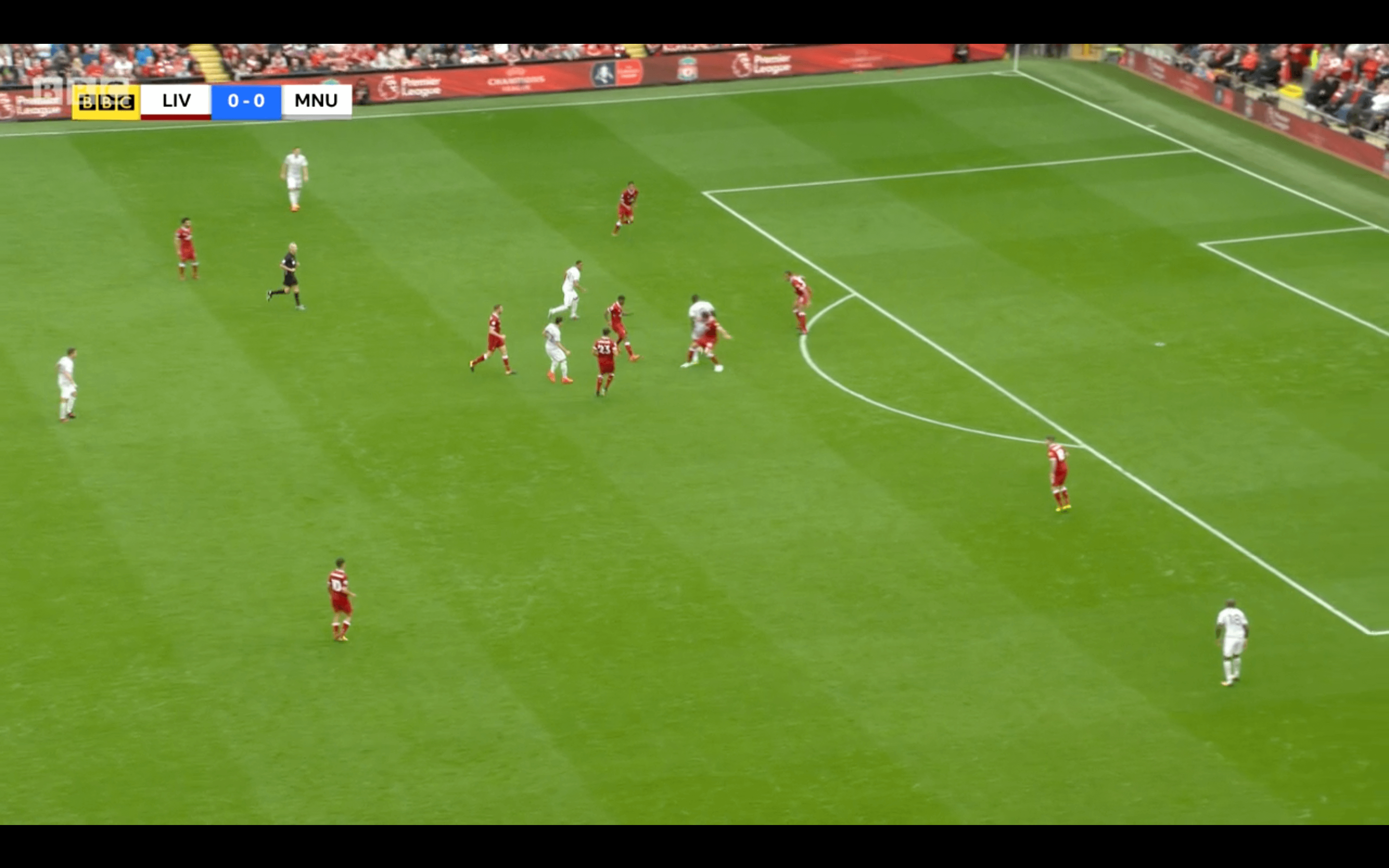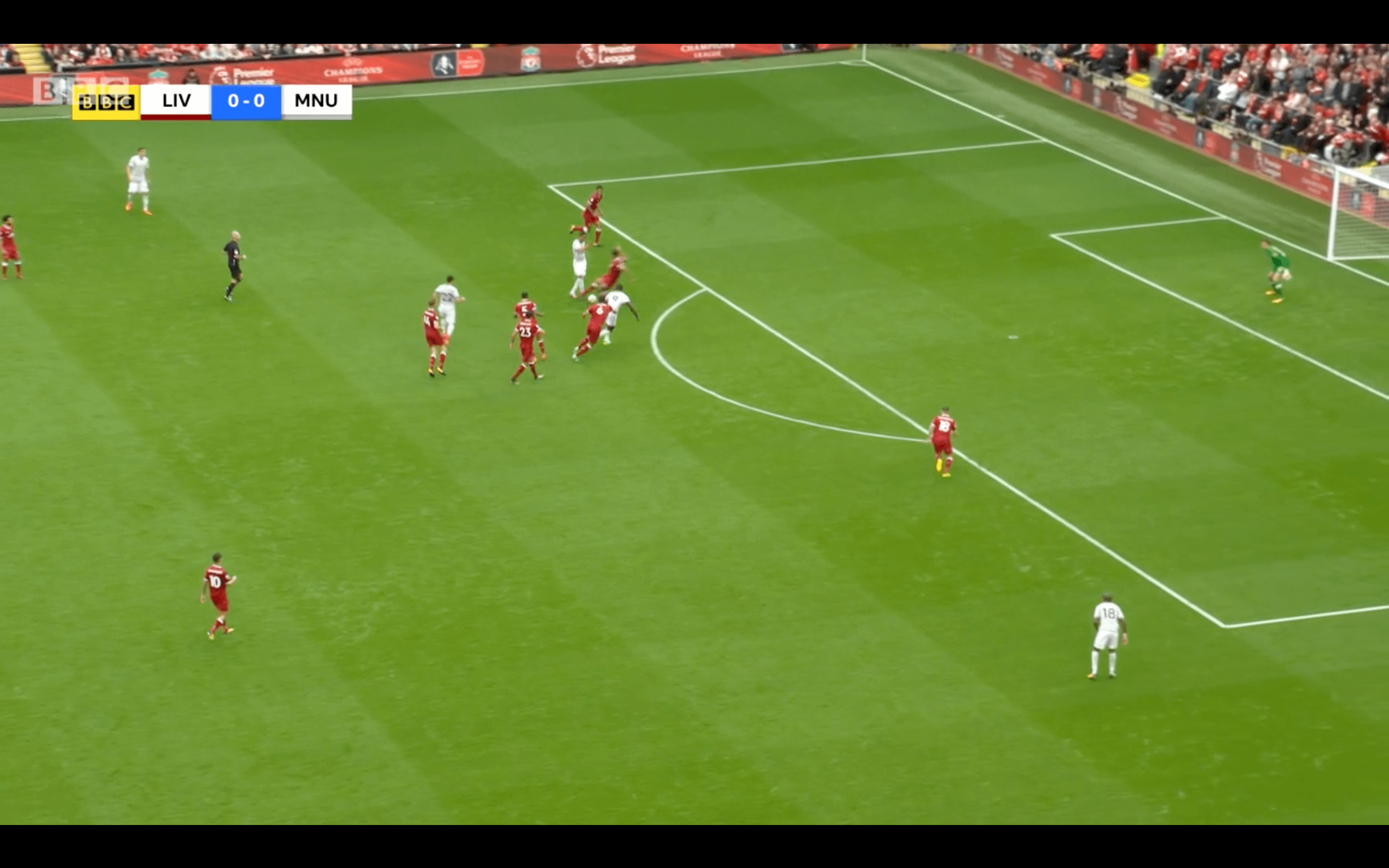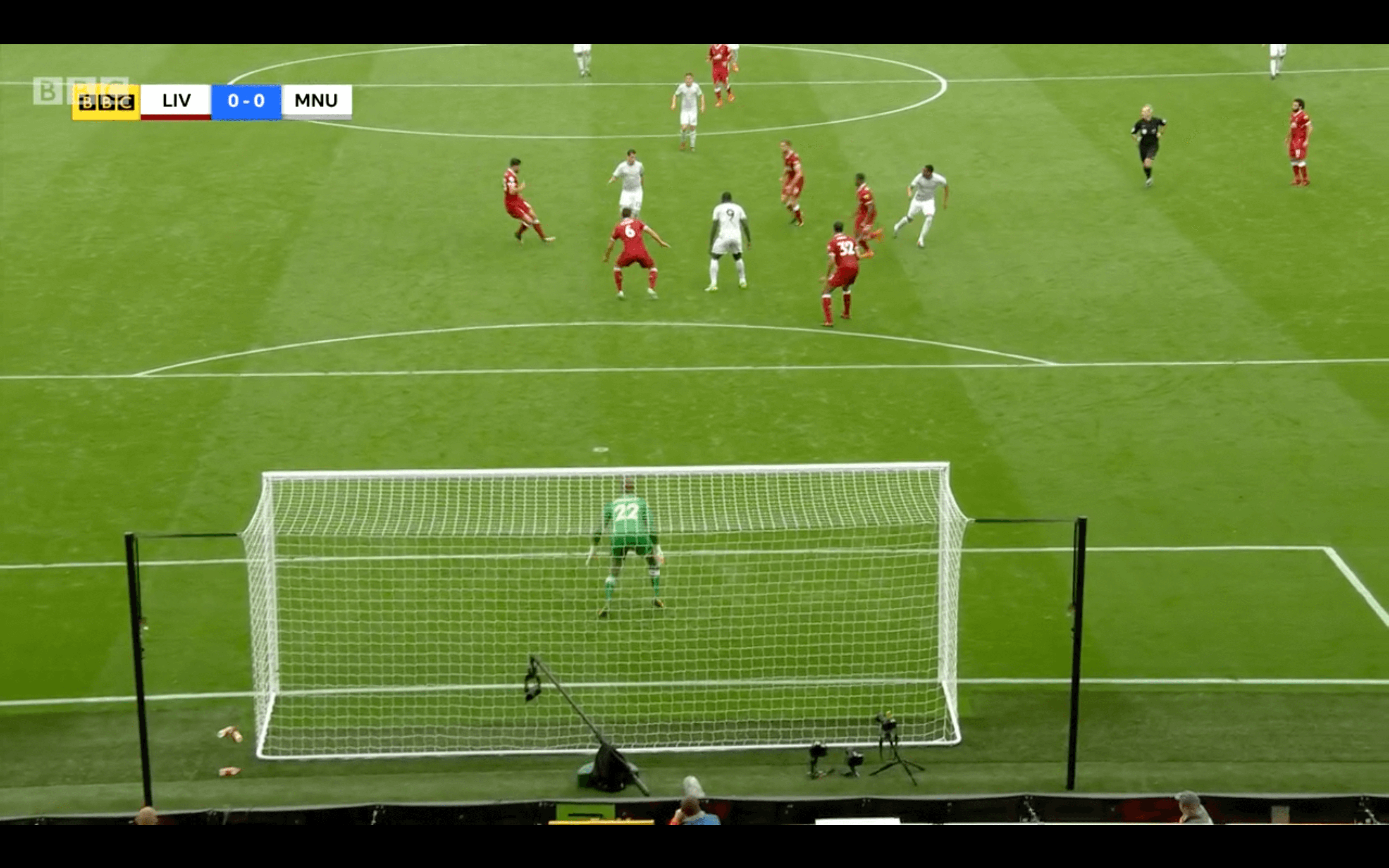 Martial loses Wijnaldum, and immediately draws out Matip, who has to confront the oncoming threat – at this point Gomez has realised the danger, as has Moreno, and both make efforts to come inside and close the ball down – and to Gomez's credit he did so very well indeed.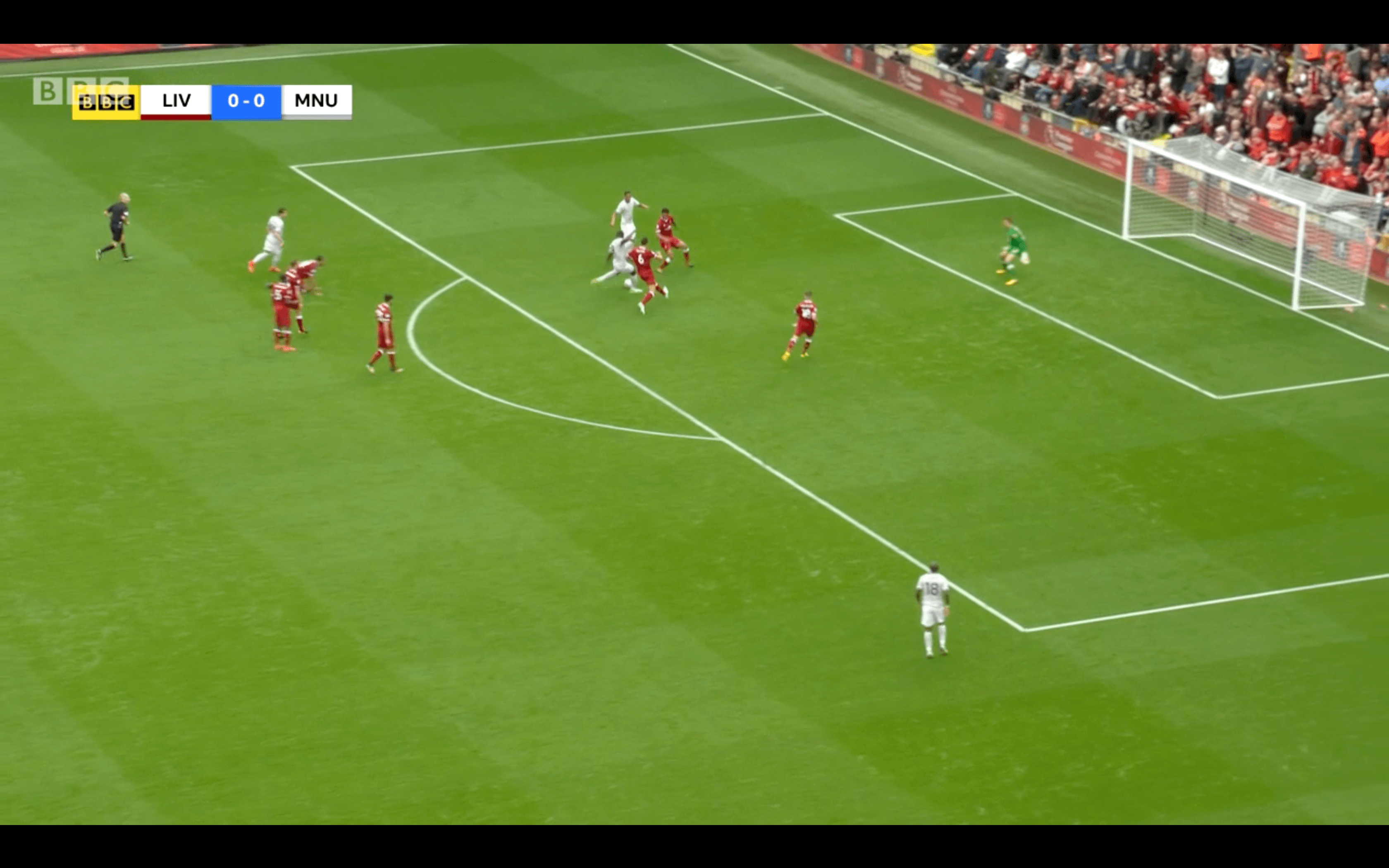 Without the pressure on him from Lovren and Gomez, you would expect Lukaku to score from that sort of range. But both do extremely well to narrow his angle, with Lovren cutting off the far-post angle, and Gomez reducing the near-post angle – and to his credit, Mignolet makes the save to go with the defending.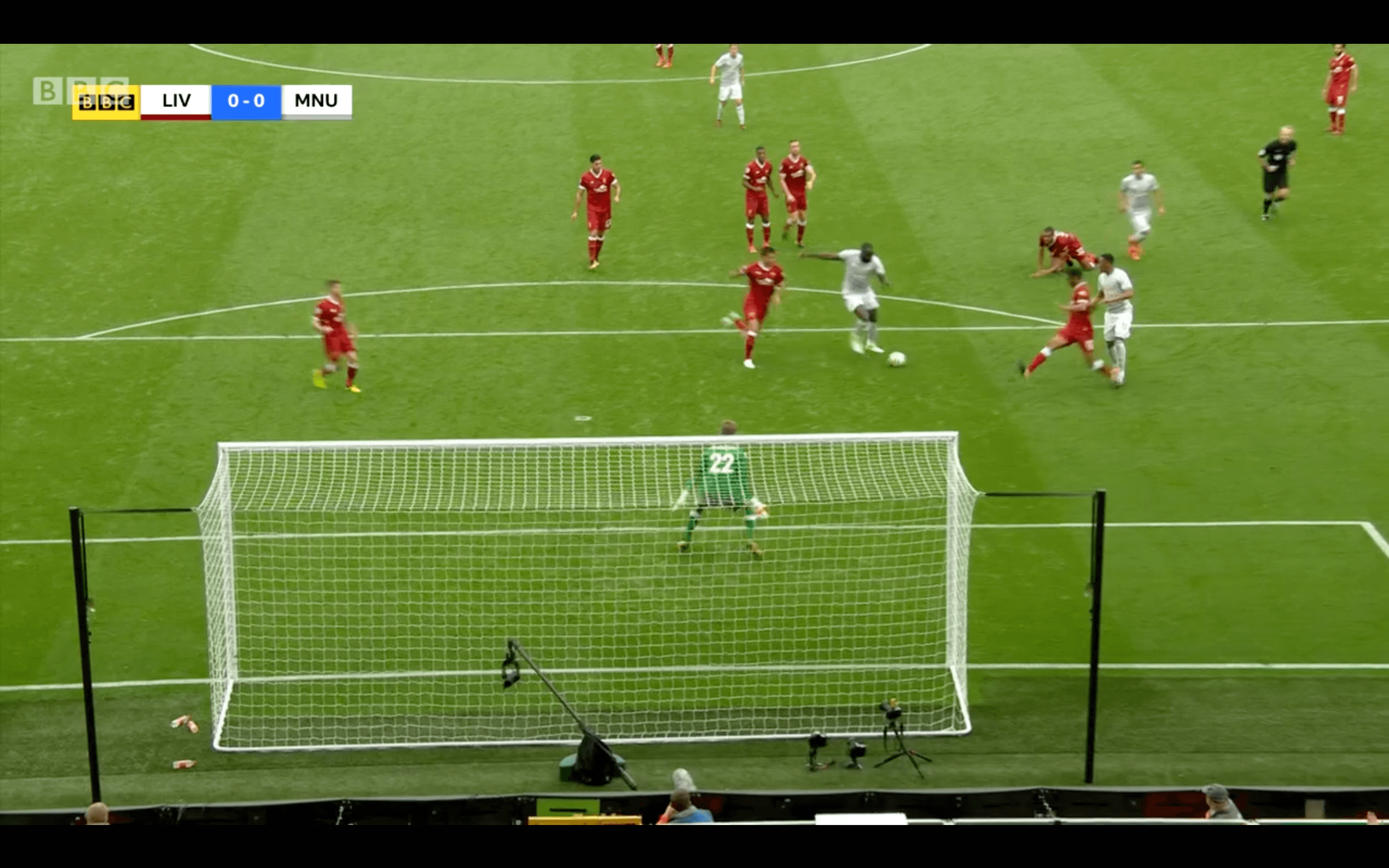 A closer look at Wijnaldum
Passmaps & xGplot for Liverpool against Man Utd. #passmap #xGplot #autotweet pic.twitter.com/FgsgmhazBY

— 11tegen11 (@11tegen11) October 14, 2017
11tegen's average position graphic notably shows Georgino Wijndaldum working as the bridge between midfield and attack. This was something that was evident throughout the whole match – with an added dynamism and involvement to his game, compared to recent games.
Wijnaldum's 5.2pc of total possession – more than every Manchester United player, apart from Matic; he also had 69 touches, the sixth most in the team.
In Liverpool's previous league match against Newcastle, Wijnaldum had 49 touches, the fewest of any outfield Liverpool player, who played the game full tilt. In the 2-3 victory against Leicester, he had even fewer, with 35 – less than even Mignolet, and with a mere 25 passes too.
In light of this, we'll have a quick look at Wijnaldum's league record this season in terms of some simple match involvement indicators, and see if there's any trends that stick out immediately.
| | | | | | | | | |
| --- | --- | --- | --- | --- | --- | --- | --- | --- |
| | United | Newcastle | Leicester | Burnley | City | Arsenal | Palace | Watford |
| Passes | 51 | 38 | 25 | N/A | 18 | 43 | 28 | 41 |
| Possession | 5.2 | 4.0 | 2.8 | "" | 1.6 | 4 | 2.7 | 4.6 |
| Touches | 69 | 49 | 35 | "" | 24 | 56 | 37 | 53 |
| Dribbles | 3 | 1 | 1 | "" | 0 | 7 | 1 | 0 |
| Shots | 3 | 2 | 2 | "" | o | 1 | 2 | 2 |
| Tackles | 1 | 1 | 0 | "" | 1 | 0 | 1 | 1 |
Average passes H/A: 40.66/30.5
Average possession: H/A: 3.96pc/3.25pc
Average touches H/A: 54/40.25
Average dribbles H/A: 3.6/0.5
Average shots H/A: 2/2
Average tackles H/A: 0.66/0.75
Now it's too early into the season to have a full analysis of these league figures, even if it appears that Wijnaldum is very much a player with serious home comforts; but beyond these figures, we'll actually have a look at his positional play, which was very interesting.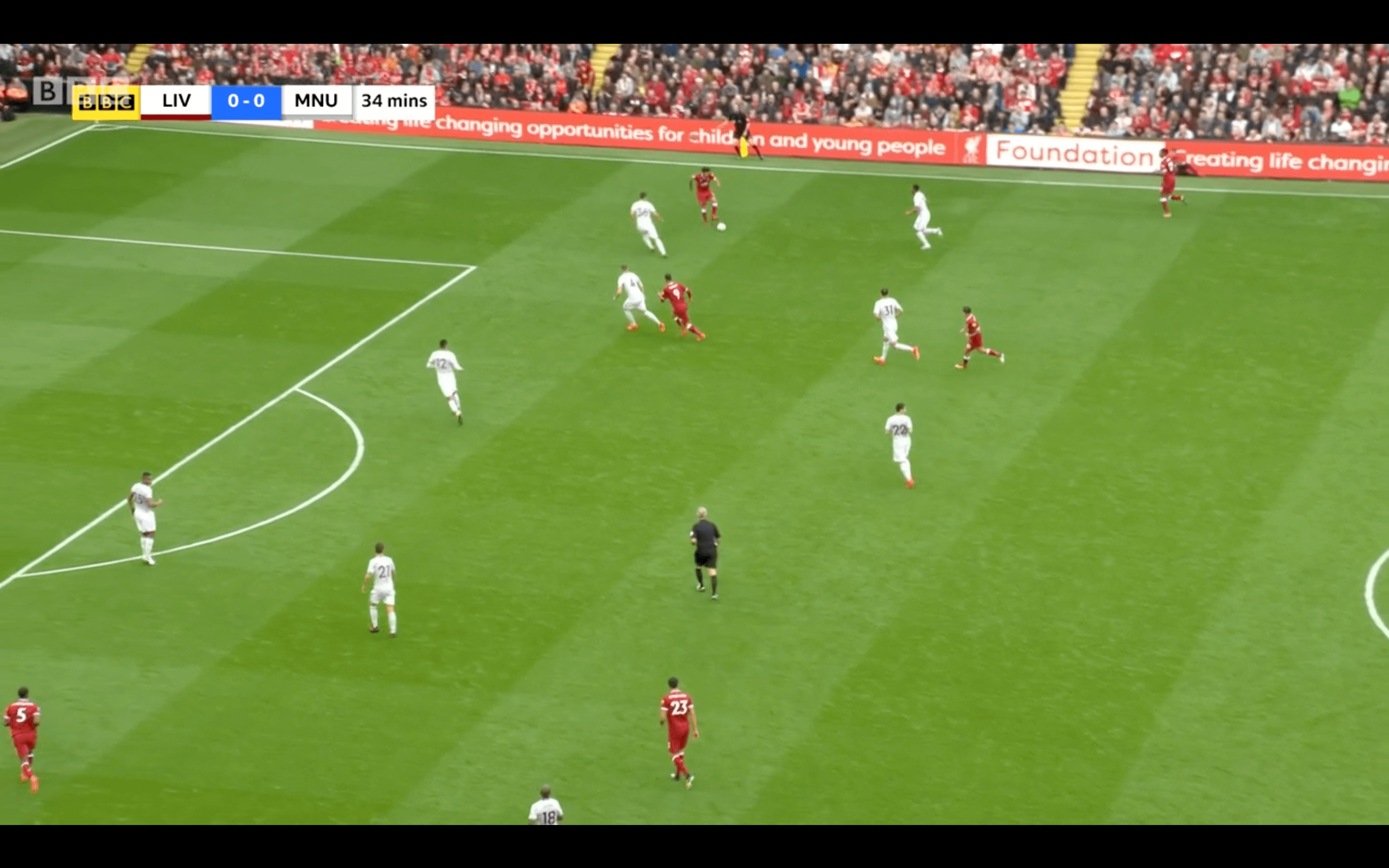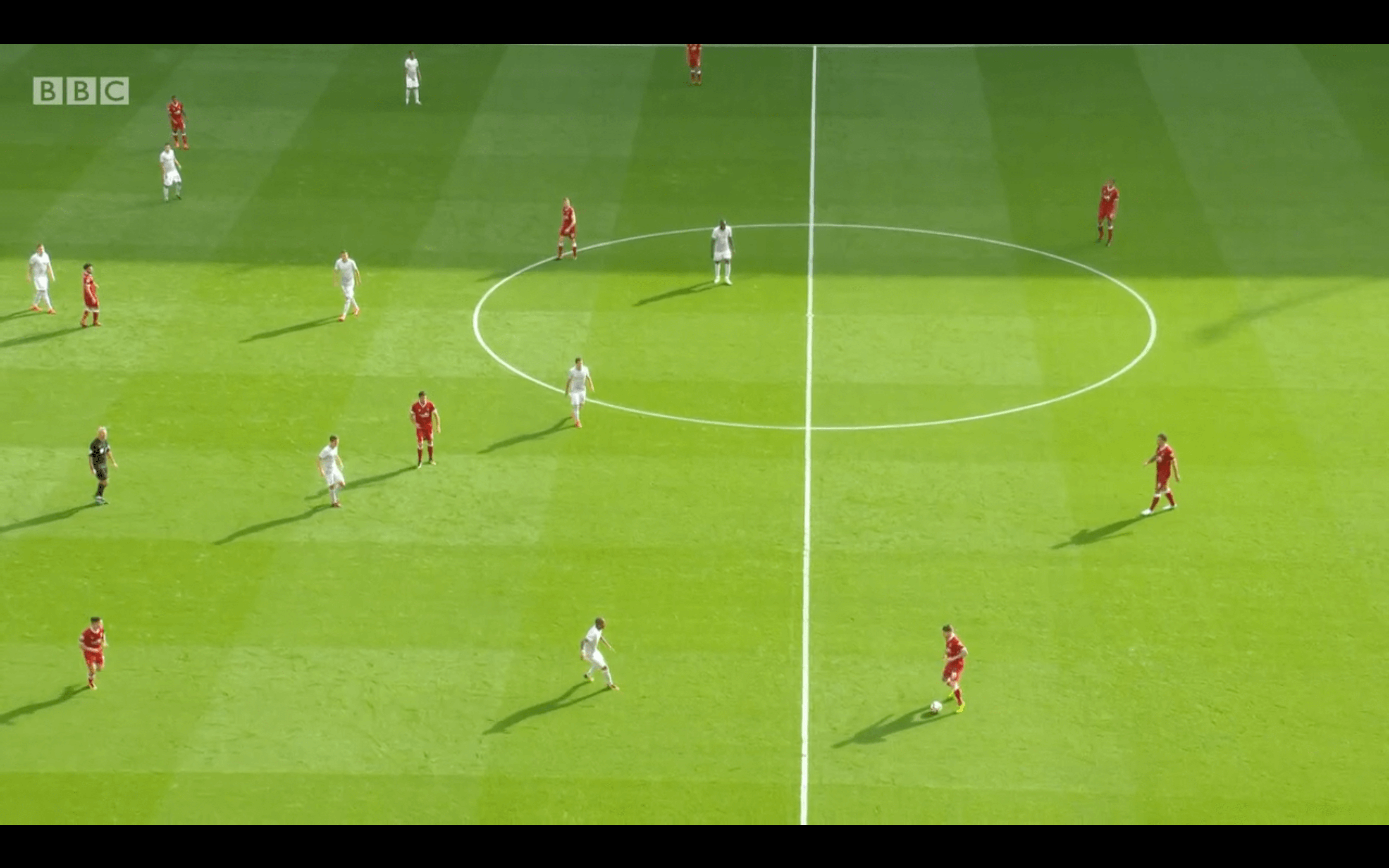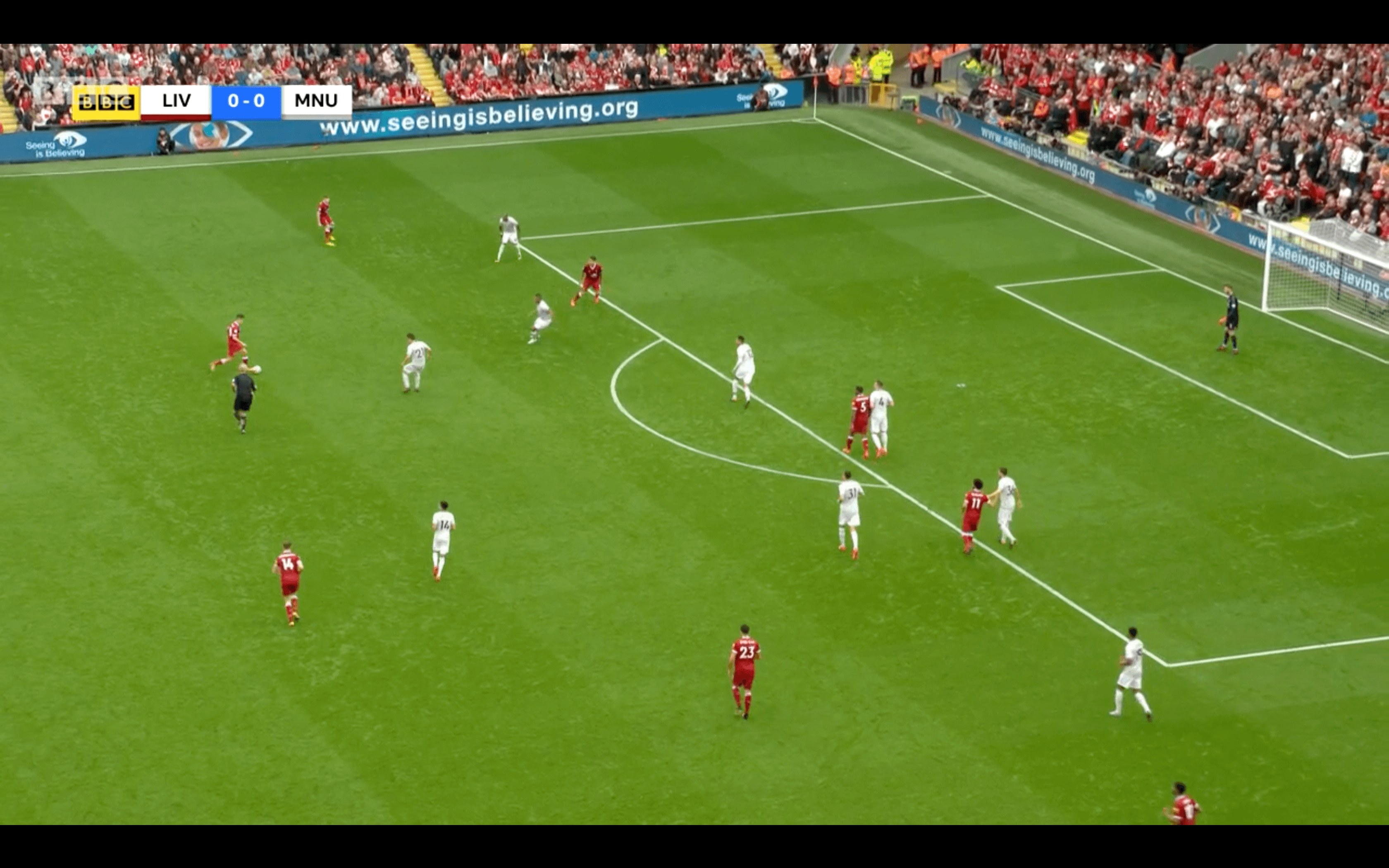 In the images above, we can clearly see Wijnaldum in a far more offensive position to the one we usually see and expect of him. During the game, he regularly pushed into the box, and went wide, in place of Coutinho – who dropped deep – allowing Coutinho to try to pull the creative strings, and using his own positioning to create space, or at least occupy opposition players.
Liverpool's Shape
Wijnaldum's positioning feeds into Liverpool's overall shape, which was compact, and focussed on attacking down the middle of the pitch: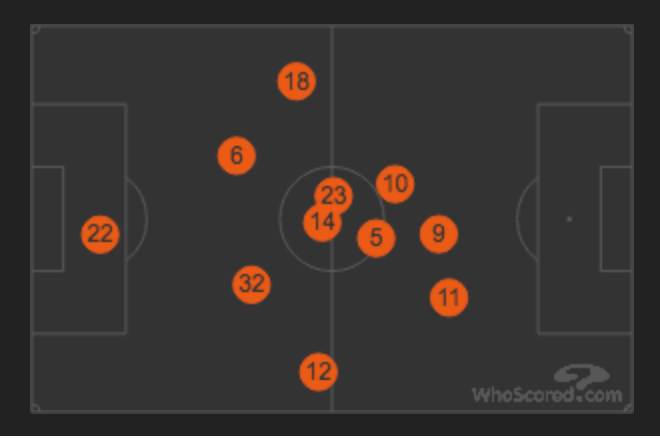 The issue with this was that Mourinho had set up his United team to cope with attacks down the middle, with Martial and Young tasked with marking Liverpool's full-backs, allowing the Manchester United full-backs to set up extremely tight to their centre-backs – making a solid and compact back four, protected with wing-backs on either side, and with two holding midfielders in front to shield the centre-backs.
Because of the wing-backs though, Liverpool's full-backs may have had space on the ball, but rarely space to run freely into – hence their average positions being near but not beyond the half-way line.
Whilst I drew attention to Can's run into the box earlier, and his presence in attacks, he was instructed to fulfil a defensive role too – one which both he and Henderson did very well – minimising United's propensity to break and launch counter-attacks – something Mourinho bemoaned in the post-match presser.
But the lack of width without Mané, and the concern about Manchester United breaking, had Liverpool playing rather conservatively at times, and Paul Dalglish summed up the Liverpool midfield quandary succinctly on the AIPro Tactics Weekly Podcast:
'Liverpool moved the ball, but not enough to move the opposition.'
Indeed, there were only a few occasions that Liverpool made genuine spaces to exploit – perhaps the best one was when Firmino was ruled offside, but against such a defensively strong team, you would expect United to minimise the amount of chances Liverpool could create with regard to spaces in and around the box, but nonetheless, those chances that were made, Liverpool should have been more clinical with.
Final thoughts
In all honesty, Liverpool did enough to win the game – the team created chances that should have been finished off. Liverpool should also have been awarded a penalty too – but like against Newcastle, Spartak and so on, the team of officials failed to make the correct decision: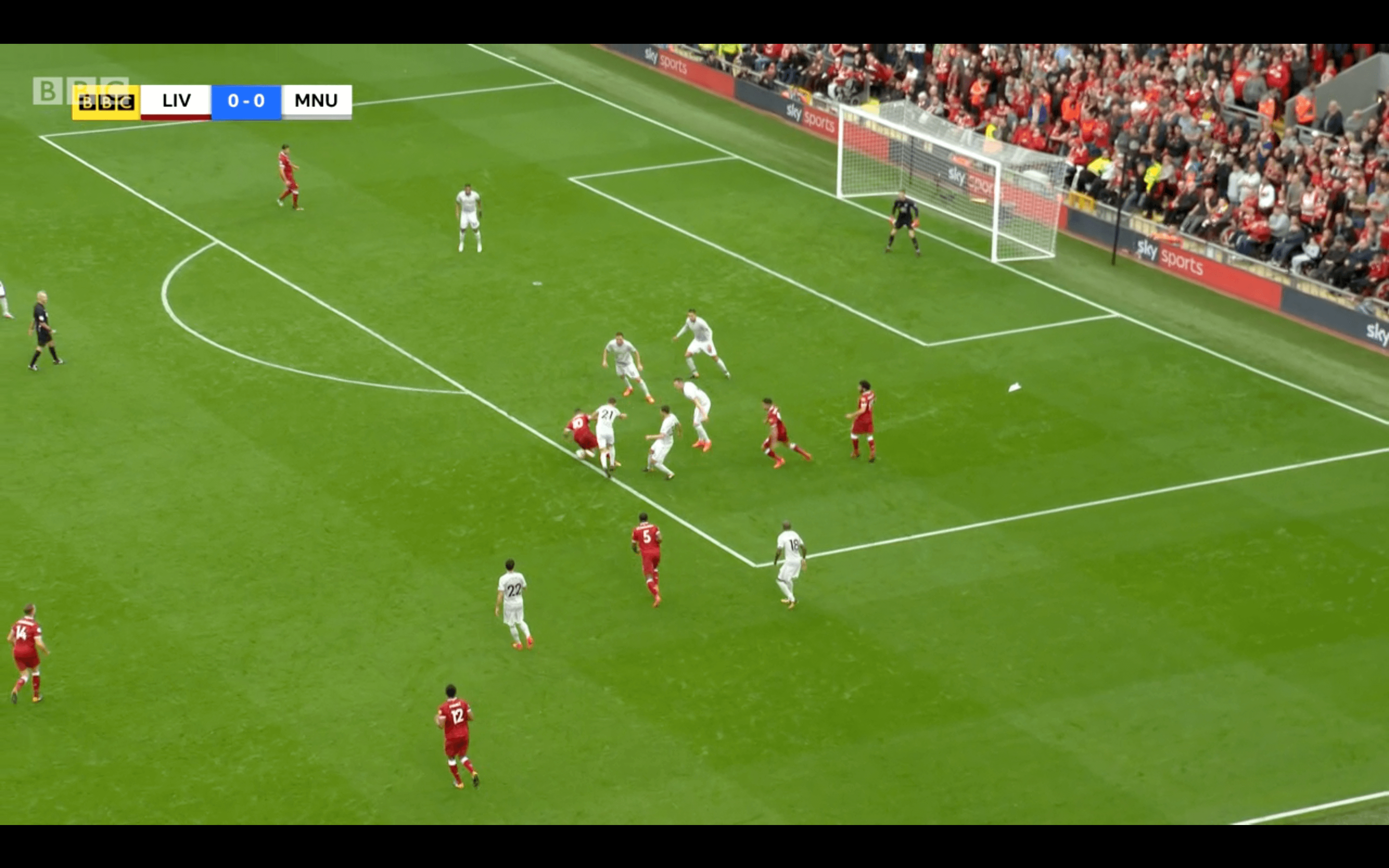 Other than that though, there are a few good notes to take from the game, one being Oxlade-Chamberlain, who looked exceptionally bright, having come on for Salah. The other is that the team's performance was good again, perhaps a 7/10, but still good enough to win – and knowing that the team is doing the right things, for the most part, is pleasing going forward. A similar performance, especially defensively in games to come would be impressive, and should Liverpool improve upon their offensive intensity, the goals should soon follow.
Liverpool 16/19 take ons in that first half.
Season average so far is 15 PER MATCH

— Dan Kennett (@DanKennett) October 14, 2017
I'll leave you with a surprising stat to mull over, until the Maribor fixture:
'Since Mourinho took charge of Manchester United ahead of 2016-17, these two clubs have won the exact same number of points in the Premier League (89).'