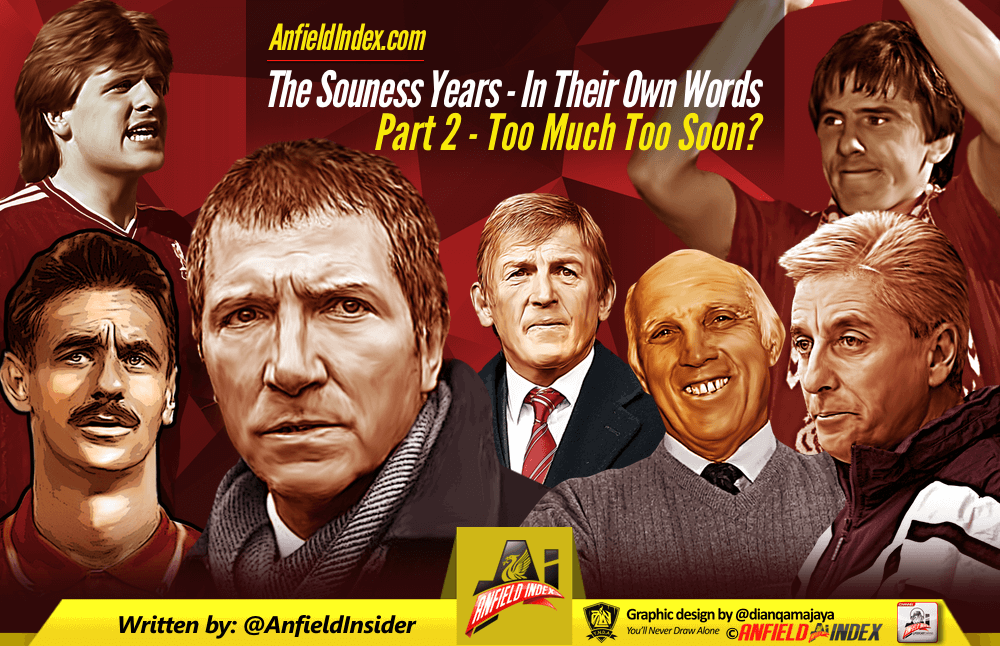 The Souness Years - In Their Own Words: Part 2 - Too Much Too Soon?
In this second instalment of our Souness Years series, we delve deeper into the behind-the-scenes activities during the turbulent Souness era of the early 90s. Part 1 – The Souness Years: In Their Own Words – The Change of Guard was released earlier this week.
GRAEME SOUNESS: McMahon and Beardsley came into my office and hinted they were ready to move on unless there were guarantees of regular first-team football and improved terms to go with it. I was impetuous and recommended we sell if the price was right. That was the wrong approach. I should have kept them for another year and bought myself some time to bring in replacements.
PETER BEARDSLEY: I made an appointment to go and see him. He told me 'you show me the commitment you demonstrated against Arsenal and you'll be in my team at the start of the season.' His words gave me encouragement but they turned out to be false hopes. When we were in Sweden for pre-season, he walked over and announced 'I've had an offer for you.' I asked him from which club, he told me that it was Everton. I asked him how much, to which he replied curtly, 'I am not prepared to tell you.' He said there was a plane leaving the local airport. He admitted it was a bit of a rush but explained that it was the way Howard Kendall wanted it. He made a point of telling me not to say a word to anybody about the deal because he wanted it kept quiet. But later, when I walked outside, the first person I saw was Mike Ellis, a football reporter for The Sun, who said 'So you're off to Everton then?' He told me that Souness had just announced the deal to the press. When I met Howard Kendall, I heard a completely different story to what I had been given in Sweden, that it was Souness who wanted me out straight away, and that the rush had been 'a bit of a nuisance' for Kendall.

GRAEME SOUNESS: Ray Houghton told me his wife was homesick and wanted to go back to London. We agreed a deal with Chelsea, and he was going to see them that day when I got a call from him about a move to Aston Villa. 'I thought you were homesick?' I said, and there was silence on the other end of the phone. At that time, my attitude was 'if you want to leave, go.' I should have been stronger and resisted until I had replacements for them. I was in the same territory that Moyes and especially Van Gaal were in recently at Manchester United. I was trying to buy replacements in a rush for established, older players, and in that scenario, you will make mistakes.
STEVE MCMANAMAN: When I joined Liverpool as an apprentice I was training with the Barneses, the Beardsleys, the Hansens … stars who had won everything. I got into the team with these stars, but then suddenly it seemed five, six, seven, eight of them finished or retired. For Graeme the timing was awful. The older players were too old and the younger players were too inexperienced. There was nothing in the middle. Souey probably got rid of the experienced players too quickly.
JOHN BARNES: Maybe he thought Ray Houghton, Ronnie Whelan and Steve McMahon were finished, but they each had another two years left in them. Peter Beardsley and Steve Staunton were also sold. Souness clearly made bad errors of judgment.
ROY EVANS: Graeme was the most passionate out of all them, he was desperate to do really well and in hindsight maybe some of his signings weren't the best and maybe the team Kenny left him had a few holes that needed to be filled.
JOHN ALDRIDGE: When I look back now I could see some cracks were starting to emerge even in my time there. Individuals like Jockey (Hansen) were getting older. Around the end of the 80s and early 90s, the club signed a lot of players who weren't top class. Hysen and Rosenthal are great blokes, but they'd probably admit themselves that they weren't top class footballers. It was strange not to see the club bring in bigger names. Souness came in and probably tried to change too much. He let too many experienced players move on and signed some poor individuals to replace them. It was tough for me to watch the club fall so far in such a short space of time.
GRAEME SOUNESS: It was too early for Steve McManaman, Robbie Fowler and Jamie Redknapp who were rated as promising youngsters.
IAN RUSH: Young players are notoriously fickle – on fire one game, virtually anonymous the next. A team can cope with one such player in the side.
RONNIE WHELAN: The younger lads, they seemed to get over a defeat a bit too quickly for my liking. It wasn't hurting them so deep down that it was going to be a completely different performance the next time we played a game. And if it doesn't hurt enough, it will happen again. And it seemed to happen too often in those years. It's one reason why you end up finishing sixth in the league and eighth in the league.
JOHN BARNES: But all these drastic changes ran counter to Anfield's tradition of continuity, of bringing players in and phasing others out. Graeme obviously felt radical steps were required and wanted his own men in.
GRAEME SOUNESS: Kenny had become very close to his players as people rather than footballers, and you can't blame him for that.
PHIL THOMPSON: Kenny could be ruthless, but it is never easy when you have to consider replacing people who have been friends and teammates.
GRAEME SOUNESS: It made my job more difficult. Part of Liverpool's success was if they thought a player was showing signs of coming to the end they would sign a potential replacement a year in advance and give him time to learn the Liverpool Way. But I felt Kenny had allowed that policy to slip, and I can understand why. After the Hillsborough disaster, Kenny and his players went through a horrendous time. After all the emotion of that traumatic time, coupled with the stress and the many funerals they attended, Kenny could not say goodbye to those players. And those were the players I inherited. Eventually, I fell out with most of the guys who were at Anfield when I returned.
KENNY DALGLISH: Over the years, a fallacy has spread like poison ivy that Graeme inherited a Dad's army squad off me. Beardsley, Nicol, Whelan and Rushie were still the right side of 30. The balance was good, particularly as I'd stocked up with good young kids who were beginning to come through. A production line had long been in place.
RONNIE WHELAN: He has made a lot of excuses over the years about why it didn't work out. And he has thrown around a fair bit of blame. It was the squad Kenny left him. It was players looking for some more money. It was the older players hanging around for testimonials. It was players not showing enough pride in the jersey. Let's say for the sake of argument he's right about all this. Okay. Now could he be pleased at the players he signed?
JAN MOLBY: His nickname as a player at Anfield had been 'Champagne Charlie'. But the champagne had long gone, replaced by a tendency to pay large amounts of money for mediocre players.
TOMMY SMITH: He bought tripe, players who five years earlier wouldn't have got a game with the reserves.
JOHN BARNES: Dispensing with five players immersed in the Liverpool way and bringing in others, whether home-grown or recruited, inevitably meant an alteration to the playing pattern. It was a problem bedding in so many at once.
To be continued…
References
John Aldridge – Alright Aldo (2011)
Arnie Baldursson – Ronnie Moran – Mr Liverpool (2017)
John Barnes – The Autobiography (1999)
Peter Beardsley – My Life Story (1995)
Kirk Blows – Terminator – The Authorised Julian Dicks Story (1996)
Jamie Carragher – Carra: My Autobiography (2009)
Jan Molby – Jan The Man (2004)
Kenny Dalglish – My Liverpool Home (2010)
Rob Jones & Paul Hassall – Robbed
Dominic Matteo – In My Defence (2011)
Steve McManaman – El Macca (2005)
Neil Ruddock – Hell Razor (1999)
Ian Rush – Rush: The Autobiography (2009)
Graeme Souness – The Management Years (1997)
Graeme Souness – Football: My Life, My Passion (2017)
Paul Stewart – Damaged (2017)
Phil Thompson – Stand Up Pinocchio (2005)
Ronnie Whelan – My Life In Red (2011)