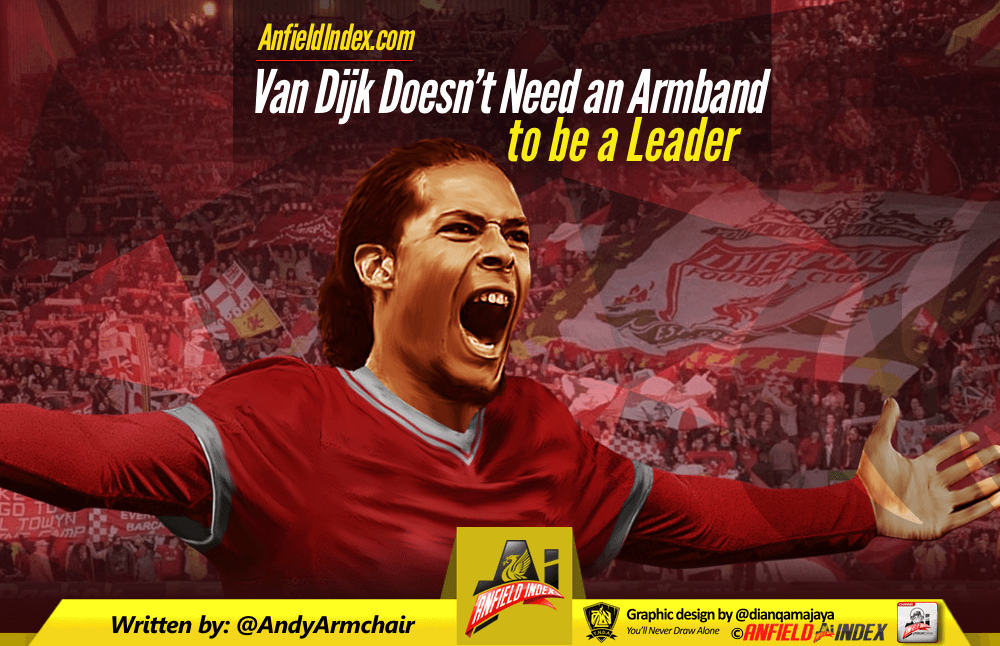 Van Dijk Doesn't Need an Armband to be a Leader
A couple of years ago, I wrote an article here on Anfield Index about Jordan Henderson (which you can read if you click here). Essentially, I made a case for Henderson returning from what has turned to be the first in a growing list of injuries for the midfielder. At the time, I felt he was one of Liverpool's most consistent performers over a two-and-a-half-year period, where he had become a key member of the team.
I had seen glimpses in his first season at Anfield that he had something to offer and could become a success. Before the start of his second season, the then new manager Brendan Rodgers was ready to dispose of him, but I liked the fact that he was determined to succeed at Anfield and wanted to stay and fight for his place. By the turn of the new year, he'd done just that and as the team had a very good second half of the season, Henderson was very much a part of it.
During that period, I felt Henderson's contribution was underappreciated and that he was somewhat underrated as a player. By no means did I think he was another Steven Gerrard or a replacement for the former skipper because Gerrard was a once in a generation player. However, when Gerrard departed I was happy to see Henderson inherit the captain's armband. I felt he'd displayed sufficient qualities to be given the honour at that time.

Fast forward to the present day and sadly, persistent injuries appear to have taken their toll on Henderson's ability to offer some of the attributes that were the hallmark of his game. Instead, he's often struggling to perform in a role that he is not naturally suited to.
Henderson has been particularly poor this season, barring a few games, and in a Liverpool team lacking in natural leaders, the iconic armband he is in possession of has magnified criticism of his performances. Liverpool's midfield has generally been disappointing this season and right now, it would be tough to make a case for Henderson to start in Liverpool's best XI, if all members of the squad were fit and available.
I know Henderson is a polarising figure amongst Liverpool fans, but this is the club captain in a team that lacks leaders and it's difficult to justify starting him.
My point here is not to bash Henderson, heaven knows he gets enough of that. This is not even about trying to defend him, but I do hope the signing of Virgil Van Dijk is not used as another stick to beat Henderson with.
Aside from being physically imposing, possessing strong defensive and technical ability, Van Dijk is a leader and an organiser, something our defence has desperately lacked for too long. Those leadership qualities are a positive, particularly in such a key area of the pitch and his recruitment should be celebrated as such.  The money we're paying for him is insane, but I guess that's modern football and the Premier League for you. Putting that huge transfer fee to one side, the signing of Van Dijk should finally address a long-standing glaring weakness in the team and when you add his leadership qualities into the mix, there is plenty to be positive about for Liverpool fans.
Indeed, the Van Dijk signing for such a high fee is a statement of intent and ambition, given the quality of the player and the fact that the club are willing to pay what is required to get the player they want. This is the message and positivity to take from things, it shouldn't be ammunition in feeding a negative narrative towards Henderson's position as captain.
I've seen fans calling for the captain's armband to be stripped from Henderson and immediately handed to Van Dijk, I've even seen a few expecting that to happen.
Personally, I would be astonished if Jürgen Klopp does that mid-season, with a new player. Klopp is big on team spirit and Henderson is a popular player, so to potentially jeopardise that by publicly disrespecting the current club captain doesn't fit with his ethos. Whatever you think of Jordan Henderson, to strip him of the captaincy mid-season, without doing something wrong, would be a disrespectful move. Now, that's not to say the change won't happen because if Van Dijk settles well into the team and dressing room, it's plausible he will inherit the armband in 18 months' time; or maybe even in the summer, should Henderson be moved on.
So, rather than being a stick to beat someone else with, let's just enjoy the positivity in the signing of Van Dijk. Let's be encouraged that the club are willing to back the manager in the transfer market and are beginning to show signs of ambition. Let's be enthused that we have improved our team by signing one of the best defenders in the Premier League, whose attributes tick all the boxes of what we need and might just bring the best out of defenders around him. Let's be happy we've signed a defensive leader and remember that he doesn't need to wear an armband to be a leader.