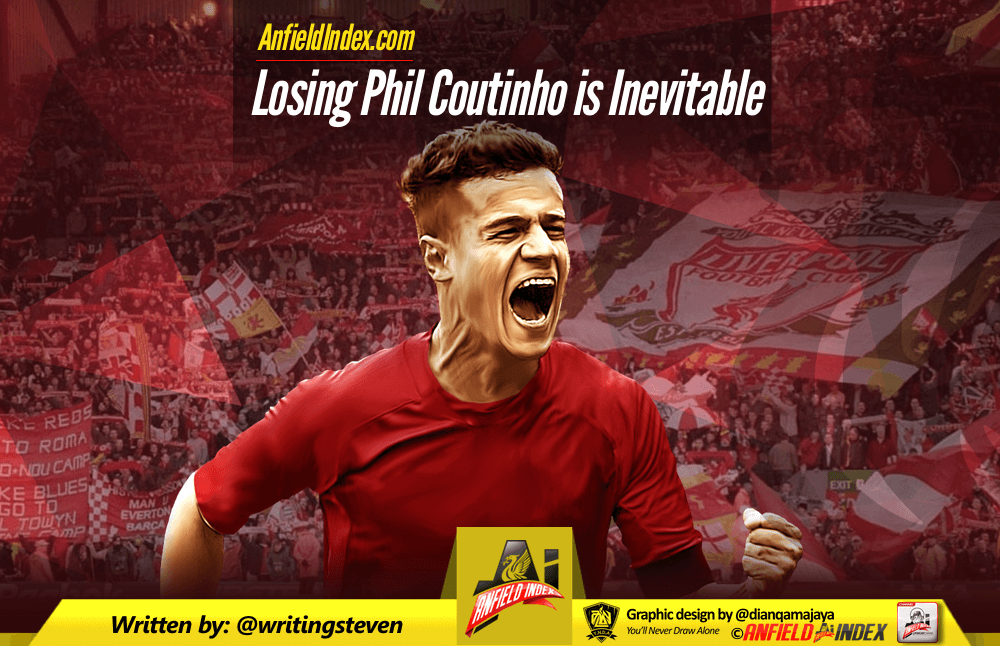 Losing Phil Coutinho is Inevitable
"Liverpool will never progress if they keep selling their best players". 
We've all heard this argument before. And on many levels, it has merit. How could you possibly hope to improve if you are forever losing your best player? How can you be strong when you are continually weakening your team? And what a weakening it would be, because to lose Phil Coutinho is to lose arguably the most gifted player in the Premier League.
Sure, there will be shouts for Kevin De Bruyne as the premier player of the Premier League. And rightly so. He is playing football at a phenomenal level this season. So too is Mo Salah, banging in goals left, right and centre. Harry Kane is also as clinical and instrumental for Spurs as ever. But none of them matches "the wee magician" for, well, magic.
The drop of the shoulder and body swerve that sends defenders reeling, the ball seemingly glued to his foot as he slaloms through defences. Then there's the edge of the box screamers and worldy free kicks. No player in the Premier League can do what Phil Coutinho can do. So how do you replace that? How do you replace the irreplaceable? You don't. You can't. But sometimes, you must try.

Liverpool have been here before. Before Alonso, Mascherano, Suarez and Sterling, there was McManaman, Fowler and Owen. All have left whilst either the most important or most gifted player in the team. All have been difficult to replace. For a time, vast sums of money were spent on players not fit to lace the boots of the players who came before them. Replacement seemed impossible.
But take a step back, and you could argue that in a way, the most recent departures, Suarez and Sterling, have actually now been replaced. The irreplaceable wasn't so irreplaceable after all. It could be argued that the combination of Roberto Firmino and Mo Salah is better than what came before it. Plus there's Sadio Mane to throw into the mix too. This current team seems stronger than the team of 13/14, better set up for a sustainable future.
And whilst Coutinho is the most gifted player in the side, he's not the most important. That role falls to Roberto Firmino. No player is as important to the set up of the team as Liverpool's other Brazilian. He too does things that other players can't replicate, although in a more understated way than his buddy Coutinho. When push comes to shove, losing Firmino would arguably be a bigger blow to the long-term aspirations of the side than losing Phil Coutinho.
Replacing Phil Coutinho like for like is impossible. Having a player of his quality is both a gift and a curse. The gift is the output and threat to the opposition. The curse that such output and threat is coveted elsewhere. And so very hard to find. But that's not to say that his replacements – because surely more than one will be required – can't help to propel the team upwards. That as lesser individuals they can't help to make the whole greater overall.
"But it's still a step in the wrong direction. To be a big club, Liverpool need to act like a big club".
It doesn't work like that I'm afraid. To stop Liverpool players wanting to join the likes of Barcelona and Real Madrid, Liverpool need to be bigger than Barcelona and Real Madrid. And right now, they're not. It's a chicken and egg situation. Saying you're a bigger club, doesn't make you a bigger club. It's trophies that do that.
When Xabi Alonso left Liverpool for Real Madrid, he did so to win things. And win things he did. So too Mascherano and Suarez who moved on and found greater success at Barcelona, whilst Raheem Sterling is sure to get a league winners medal at Manchester City this season. Phil Coutinho wants to win things too. So he wants to go to Barcelona too.
Liverpool can't compete with that. Not right now anyway. Hopefully, with the team Jurgen Klopp is building that time will come in the not too distant future. When they can point to the Premier League trophy and say, "That's what you get when you play for Liverpool". But until that time, they must accept their fate. They cannot always keep their best players when their best players are as good as Phil Coutinho, and when bigger and better teams come calling.
To be fair to the club, as pointed out by Adam Petruccione in his article "Don't call Liverpool F.C a selling club" they've done a good job of holding onto first team starters for a couple of years now. But none of those starters are at the level of Phil Coutinho. None of those starters could walk into any side in the world.
Thus far the Liverpool hierarchy has been resolute. But resolution goes only so far. How long do you keep an unhappy player in the squad? At what point does his presence become detrimental to the morale and atmosphere amongst the players? Jurgen Klopp is famed for the stock he puts into the "buy in" of his methods from his players. At what point does he decide that the payoff of having a player of Phil's ability in the team is not worth the baggage it brings with it?
"If you're going to sell him, don't do it now, sell him in the summer. He's got too much to lose if he wants to play for Brazil in the World Cup".
To sell Coutinho now, with so much of the season left, is far from ideal for Liverpool. But so too is losing him for the whole of January anyway and having the spectre of the incessant transfer speculation hanging over the club. Every press conference, every interview will revolve around Coutinho and Barcelona. It would be an unwelcome distraction to say the least.
He's already proved his willingness to be "injured" and sit on the sidelines during the transfer window in an effort to force a move. And who is to say that there isn't more messing about to come? You only have to look at Ousmane Dembele's antics to see what a player is willing to do to move to Barcelona. And all seemingly at the behest of the Catalan giants.
Sitting out the month of January in the hope of forcing a move isn't a high-risk strategy for Coutinho. Let's say Liverpool hold firm and let Phil sulk for the entire month. When the transfer window shuts he walks straight back into the team. Refreshed from a nice layoff, he is able to finish the season strongly and waltz back into the Brazil team where he will feature in the World Cup, fresher than just about any other player from the Premier League. He'll probably still get his move to Barcelona then too. But he wants it now. So he's willing to take the risk of sitting out now.
"No amount of money can replace him".
To quote the Million Dollar Man Ted DiBiase, "Everyone has a price" and so too does Phil Coutinho. Transfer fees get paid for a reason. Club X finds the right amount of money to convince Club Y to part with their player. If players didn't have a price, no player would ever be bought or sold.
Yes, the Premier League is awash with T.V money and so clubs are richer than ever. Liverpool don't need the money. But then neither do other clubs that Liverpool want to do business with. Such as Southampton, who managed to get a record fee for a defender who, despite his obvious promise, missed the tail end of last season with an injury, has hardly set the world alight this season when he's featured and hasn't ever won a trophy of note outside of Scotland.
And that's not to downplay the signing of Van Dijk. He's a great player and hopefully will prove to be a mainstay of this Liverpool side for years to come. But Liverpool didn't buy him from a big European club. They didn't have to pay a premium because they were signing him from a rival. They paid a premium because Southampton didn't really need the money and could afford to hold out.
The same Southampton who in the summer decided the price wasn't right to convince them to sell at that particular time. Now January has come around, the circumstances have changed, Southampton deciding that holding on to an unhappy player was detrimental given the improved offer on the table. Does that remind you of another situation involving Liverpool?
So like Southampton with Van Dijk, Liverpool will hold out for as long as they can too. They also don't need the money. But in this inflated market, having more cash in your coffers is always beneficial. And if Barcelona find the sweet spot, the price point to make the club say "That's too good to turn down" Phil, like Van Dijk, will be sold.
"He should show some loyalty to the club, he should want to be a part of what's being built here".
Phil Coutinho is not Steven Gerrard. He didn't come up through the ranks of his hometown club. He's not Harry Kane or Jamie Carragher either, happy to be adored and playing in his home city, despite whatever his boyhood footballing allegiances may have been. He's a Brazilian living in England. He's not even you or I. As a youngster he never dreamt of pulling on the famous red shirt.
He has no allegiance to Liverpool Football Club. Sure, this is the club that nurtured him, helped him bounce back from a poor spell at Inter Milan. But that could so easily have been Tottenham Hotspur. And were it Spurs that had signed him instead of Liverpool, he'd have no allegiance to them because they're not winning trophies either.
All of which brings us full circle. He is a footballer. A gifted footballer. A footballer able to play for any team in the world. A footballer who wants to win things. A footballer who in his five years at Anfield hasn't won a single trophy. So, he'll go to a club where – for now at least – he has a better chance of fulfilling those ambitions. Because for as long as Liverpool continue to develop world class players, without being as good a side as Barcelona, they'll continue to lose players to them. It's inevitable.