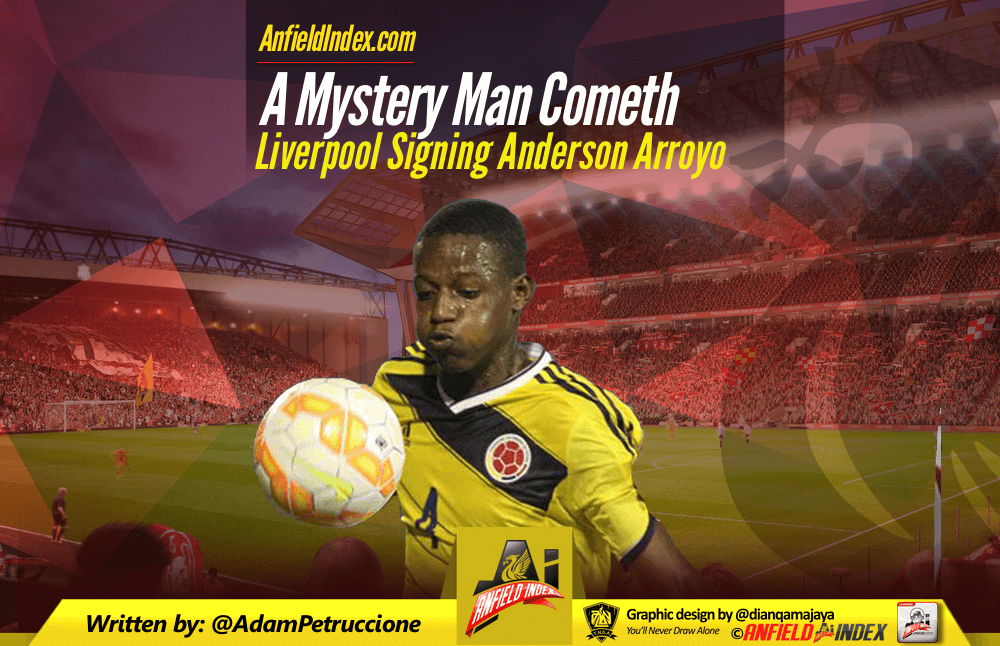 A Mystery Man Cometh: Liverpool Signing Anderson Arroyo
We were promised a mystery signing, and boy did Liverpool deliver…
Since we didn't get the traditional, drawn-out transfer saga with this new addition, I'll set the scene for you.
AN EMERALD IN THE ROUGH
50km inland from the black sands of Colombia's Pacific coast, between Medellin and Cali is the small city of Quidbó, capital of Chocó. A visually stunning region, largely cut-off from the rest of the country; some towns and villages there are inaccessible by road. Most visitors to Chocó arrive via small plane, flown in over the lush green countryside or by riverboat from Buenaventura. The "Romancing the Stone" version of Colombia is largely a Hollywood fabrication, but here, it isn't far off.

It is from this backdrop that our new signing emerged and had the story concluded with him earning a living as a professional footballer in Liga Águila, playing for a big city club in Bogotá he could have considered himself lucky. However, it looks like that was just the beginning for Liverpool's first ever Colombian signing.
ANDERSON ARROYO CÓRDOBA
Play. Standout. Get discovered. Move up. Repeat. That has been the incredible pattern of ascension for young Anderson Arroyo.
Beginning his football journey at local Linaje de Quidbó (amateur level), he was quickly recruited by Boca Juniors de Cali. Arroyo played well enough there to be noticed by Colombia's national set-up and was brought into the under-17 Selección as a winger/fullback. In 2015's South American U17 Tournament the Colombians defeated Brazil (1-0) and drew Argentina (1-1), but were unable to pick up any other positive results and finished last out of the six finalists.
He made a move to Bogotá's Fortaleza CIEF (2nd division) as a professional in 2015, making appearances as a 15-year-old and earned a trial with Liverpool during the following summer when The Reds were on their pre-season tour. He was called up to the national team again in 2017, this time for the South American U20 tournament. Colombia made it through their group, again disappointing in the final stages, but Arroyo stood out.
Liverpool's scouts hadn't forgotten about him and continued to take note of Arroyo's progress.
Liverpool have agreed terms to sign 18 year old Anderson Arroyo.

The Colombia U20 international made his debut for Fortaleza at 15.

He had trials with Liverpool in 2016 & Mallorca in 2017.

The quick, left footed Arroyo is an attacking fullback who can also play on either wing. pic.twitter.com/rdO9enVtH2

— Simon Edwards (@SimonEdwardsSAF) January 19, 2018
The signing itself is still a bit mysterious. First mentioned as a Liverpool player in Diario de Mallorca on December 15th, the signing was verified by Medellin based football journalist, Simon Edwards (@SimonEdwardsSAF) on January 19th. After confirming with the player's agent, Lucas Jaramillo of Alinea Sports Managers, Edwards gave an interview to AIPro's Newsround podcast (subscribe here to listen) to shed light on the new signing and posted the details on World Football Index.
Fast, lanky, direct, Arroyo is able to fly up and down the pitch but has a low centre of gravity that allows him to square up a defender once he's reached the final third. What LFC's scouts saw in the young Colombian is fairly clear just from a few grainy clips, but how will they finish the story and get him to Liverpool?
PASSPORT PLEASE
Dedicated Liverpool supporters reading this story will already have been thinking of the name, Allan Rodrigues de Souza. Why have we never seen the Brazilian play for Liverpool? Work permit restrictions. Allan, now a 20-year-old central midfielder, had been loaned to Hertha Berlin in 2016/17 and Apollon Limassol this season in an effort to get him a work permit. The idea was that with enough senior starts he would qualify, but he was only able to earn 16 appearances in the Bundesliga and only 14 thus far in Cyprus.
How does Liverpool plan to avoid the same problem this time around?
It appears as though The Reds have plotted a two-year plan. There are two ways for Anderson Arroyo to qualify automatically for a work permit, by playing in 45% of Colombia's senior matches over the course of a year or by playing a significant number of matches for a club in one of the world's top leagues. Neither of those look feasible at the moment, though full-back is one of Colombia's weak spots as they head into the World Cup.
What Liverpool have done is sent the youngster on a trial in Mallorca, in the Spanish third division and it looks to have gone positively thus far from local reports, and a loan could be announced in the coming days. Racking up appearances on the beautiful Spanish island won't help him get any closer to Liverpool, but every day that he marks on the calendar there will. The Spanish government allows Colombians and residents from most of its former colonies a relatively quick naturalisation process. In this case; only two years. The club have placed our new prospect in a comfortable setting where he will get playing time and one way or another will be allowed to come to Merseyside by January of 2020.
A right-footed Colombian full-back who can play on either side or even further forward and cost the club next to nothing could be looking like a pretty slick acquisition by that time when even average signings may cost upwards of £100 million.
REDS' REACH
Maybe more important to our long-term success is what this signing says about the reach and creativity of Liverpool's scouting network. As you've read, this wasn't a prospect hanging out in plain sight. Once spotted, it wasn't as easy as getting him to sign on the dotted line and there is still work to be done. Understanding the various quirks and loopholes in the Visa processes between foreign countries and exploiting them to our advantage may become more important as transfer fees spin out of control. Successfully scouting young talent around the world and figuring out ways to get them to Anfield will help Liverpool compete in a post-Neymar football world.
What does this do for the immediate fortunes of Liverpool FC on the pitch? Absolutely nothing. But unearthing a gem, an emerald perhaps, like Anderson Arroyo, shows what's possible for a club that is seeking out any possible way to get an edge.
"This is really a good indicator of Liverpool's scouting network, that they're looking towards Colombia, looking to trial a player, looking to then, work on the loans… I think it's a very good indicator not only for this deal but in the future they're going about things the right way in terms of youth development." – Simon Edwards (AIPro Podcast)
Look out for Simon Edwards' follow-up interview with the player himself in the coming days on worldfootballindex.com