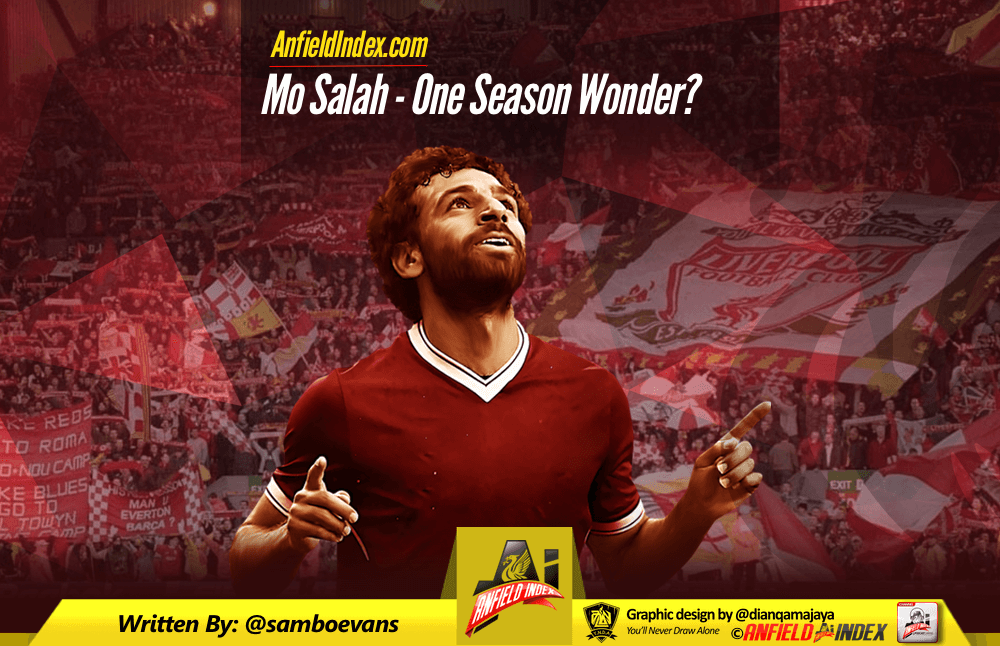 Mo Salah - One Season Wonder?
On this week's episode of AI Under Pressure on Anfield Index Pro, Simon Brundish, Gags Tandon, Dan Kennett and Dan Rhodes discussed how Mo Salah has broken the record for the fastest player to score 30 goals in all competitions for a Premier League club.
Listen to the full podcast by subscribing to AI Pro.
As you can see, Salah tops the list of players to score 30 goals for the same Premier League club in the shortest number of minutes played. (all stats painstakingly collected by Simon Brundish for AI Under Pressure).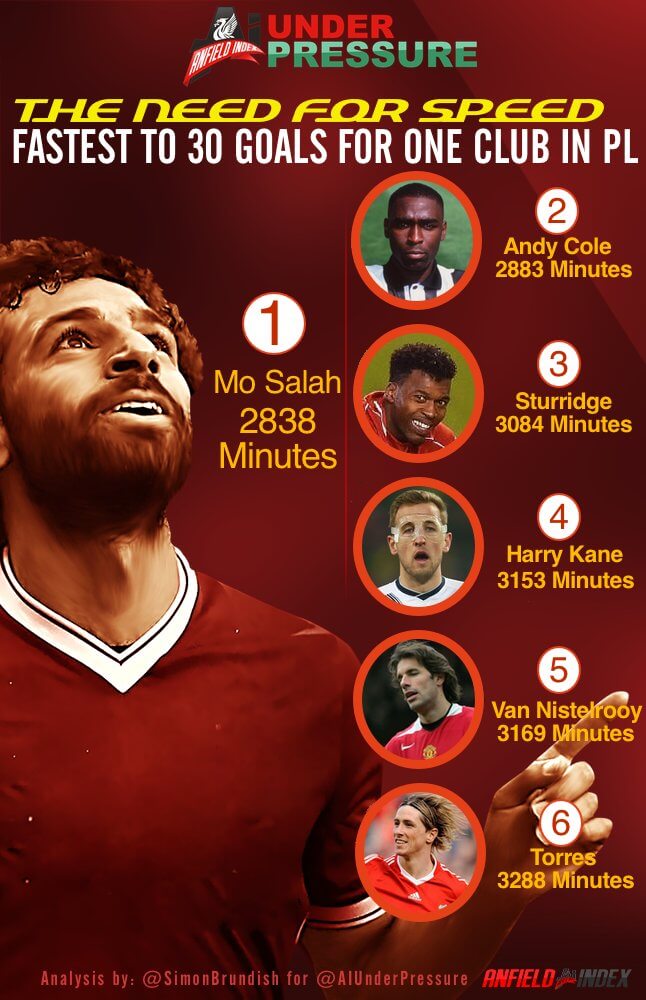 Salah also topped the list for the fastest to 30 goals for Liverpool.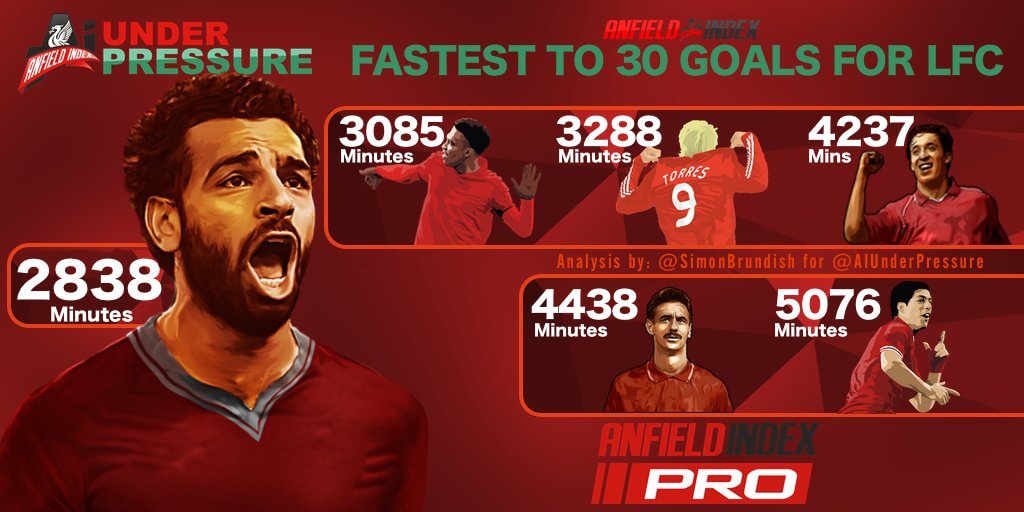 But despite such an astonishing goal-scoring feat, there are still many people who say that Salah is still nothing but a flash in the pan. A one season wonder.  "The new Michu". It's safe to say that despite Salah's incredible season so far, many people are still writing him off.
When Piers Morgan tweeted that he thought Salah is the Premier League's best player since Thierry Henry, Gary Neville had this response:
https://twitter.com/GNev2/status/967542394131570690
He's having a great season but He's not in the top 10 best players since Henry. https://t.co/OW5JXfLlh6

— Gary Neville (@GNev2) February 25, 2018
It's impossible to prove whether Salah will continue his incredible form into the coming seasons and beyond. So I thought I would look at some of his statistics over recent seasons to establish whether we can predict whether his performances are likely to continue to impress or if they are likely to tail off.
Roma 2015/16 (on loan)
Minutes played 3282
Goals scored 15
Assists 7
149 minutes per goal or assist
Roma 2016/17
Minutes played 2860
Goals scored 17
Assists 13
95 minutes per goal or assist
Liverpool 2017/18 Champions League:
Minutes Played 577
Goals scored 6
Assists 2
72 minutes per goal or assist
Liverpool 2017/18 Premier League:
Minutes played 2124
Goals scored 23
Assists 10
64 minutes per goal or assist
As the stats suggest, Salah has been improving his output for the past 3 seasons in a row. In fact, when you look at the statistics from Salah's time at Roma, it's a surprise that so few people predicted that he would be a big hit at Liverpool.
https://www.facebook.com/empireofthekop/videos/10155562258931132/
You could possibly cite his unfruitful time at Chelsea as to why many people had foolishly written off the Egyptian prior to his arrival at Anfield. His opportunities were extremely limited during his time at Stamford Bridge where he was never given the chance to shine.
If Kevin DeBruyne and Romelu Lukaku are anything to go by, being shunned at a young age by Chelsea and Jose Mourinho doesn't mean that you won't develop into a top player.
This season so far, Salah has an excellent 19% shot conversion and 0.78 expected goals per 90 minutes which shows that he is getting in the right areas on a regular basis. And now Salah has also broken the record for most left-footed goals in the Premier League in one season.
See all of @22mosalah's record-setting goals with his golden left foot

🎥⬇️ pic.twitter.com/PWzSQaTZ9T

— Liverpool FC USA (@LFCUSA) February 28, 2018
So to those who doubt Salah's ability or laugh at the prospect that he is one of the best players in the Premier League, the statistics clearly say otherwise. All of the statistics point towards a young player who has shown sustained development over a 3 year period and he is still only 25 years old. The biggest surprise is that Liverpool seemingly had a clear run at signing him and that they got him for what now seems like an absolute bargain fee of around £35 million.
There is further evidence that Salah isn't a flash in the pan because he has scored in all but 5 of his Premier League appearances this season. Not a single hat-trick to boost his figures. Salah is consistently scoring goals on a week to week basis. I'll take a player that scores a goal every week over a player that scores in flurry's any day. It's a sign of consistency. It's a sign of a great player. A sign that he could become one of the very best in the world.
Another indicator of his incredible individual ability is the fact that only one of his 31 goals so far this season in all competitions have come from the penalty spot.
When you look at the stats, it's fair to say that Salah's performances this season have continued on from his performances over the previous two seasons at Roma. There is a clear trend of improvement. With Salah now entering his peak years as a footballer, the smart money is on him continuing to flourish.
So for the doubters out there who are expecting Mohamed "another Juan Cuadrado" Salah's form to fall off a cliff next season, I wouldn't hold your breath.
All statistics for this article were provided by Simon Brundish for the AI Under Pressure podcast. To listen to the AI Under pressure podcasts and loads of other excellent content, subscribe to AI Pro now.