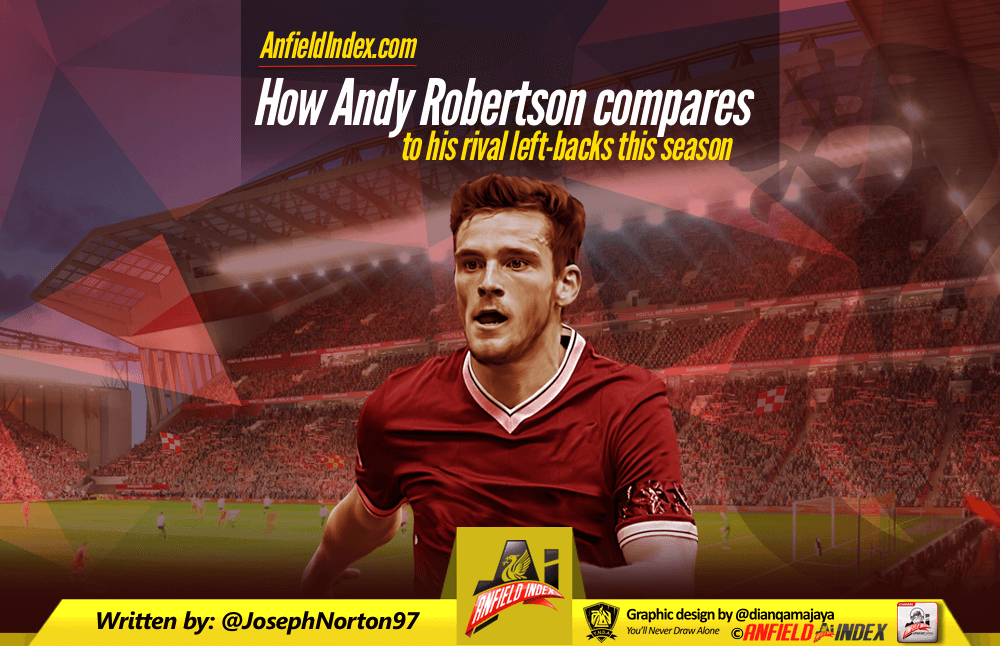 How Andy Robertson compares to his rival left-backs this season
I recently wrote an article discussing whether Liverpool had found themselves a new left-back and compared Andy Robertson's stats to his team-mate and rival for the position Alberto Moreno. Having made some interesting findings I thought it would be a good idea to see how the Scott compares to some of the Premier league's stand-out left-backs this season. If the 24-year-old wants to be the long-term solution then he must develop into one of the Premier league's best full-backs, so how does he currently fare? For the purpose of this article I'm going to compare him to Ben Davies of Tottenham who is currently having his best season for the club aided by the deteriorating relationship between Danny Rose and Mauricio Pochettino, Ryan Betrand of Southampton who was strongly linked to the Reds a few seaosns ago and is likely to be heading to the World Cup in the summer despite the Saints enduring a dreadful season, Fabian Delph and Marcos Alonso although it must be remembered the latter is, of course, playing left-wing-back for Chelsea which means his statistics, in particular, will need to be contextualised.
One of the main concerns surrounding Robertson was his defensive ability and in particular, his 1 v 1 defending, however, after several impressive defensive displays against the likes of Yannick Bolasie, Raheem Sterling & more recently Juan Mata, these fears have been eased – so how does he compare to his rivals? In terms of tackles made per game there's very little between Robertson 1.5, Davies 1.6 Bertrand 1.4 and Alonso 1.5, this is probably as a result of all four players being asked to get forward where possible for their respective sides, therefore, they find themselves in similar positions to make tackles. Fabian Delph, however, makes an impressive 2.4 tackles per game, considerably better than his rivals but this again is largely down to the fact Guardiola asks his full-backs to play much narrower and deeper than most teams with one of their primary roles being to prevent counter-attacks which would explain why the Englishman makes more tackles per game. It is again the City man who makes the joint most interceptions per game at 1.5 alongside Marcos Alonso but the other full-backs are much closer to him in this category. Bertrand averages 1.3 interceptions per game, with Robertson narrowly behind with 1.2 and Davies bottom of this statistic with 0.8 – this could be down to Davies slightly differing playing style which means he prefers to hold his position when defending rather than committing himself as his lack pace means he could find it difficult to get back on his man.
Although looking at the number of tackles and interceptions players make can be useful especially when comparing players/teams differing styles they don't tell us how effective they are at these actions. One of the most alarming statistics for Robertson is his total duels win percentage per 90 where he fares considerably worse compared with other left-backs. Delph yet again tops this category with a win percentage of 54.11%, followed by Davies with 49.75%, Bertrand at 47.75%, Alonso with 46.34% and Robertson with a lowly 36.67%. This suggests that the Scottish international needs to work on his decision making on when to commit to tackles and when is best to stand his man up. Being a front-foot defender means Robertson will always look to engage with his winger when possible, however, in his first couple of games for the Reds it looked as though his timing was slightly off which might be why his percentage is soo low. Having said this, in recent times it looks as though Liverpool's number 23 has improved in this sense and is making much better decisions both on and off the ball so it will be interesting to see if his total duels win percentage improves come the end of the season. One of the Reds' main weaknesses over the last couple of years has been their ability to deal with aerial balls into the box either in open play or from set- pieces, therefore, it is important to look into how Robbo compares to other left-backs in this area of the game. As discovered in my earlier article, Robertson shines when we look at his aerial duels win percentage. He comfortably tops this category at 72.22% with Alonso 50%, Davies 48%, Bertrand 44.58% and Delph 41.18% considerably worse. From a Liverpool perspective this is extremely encouraging and if Robertson can continue his impressive form and run in the side this could help to signal an end to the long-term problem of defending balls into our box.

Now we have analysed how Robertson compares to his rivals in a defensive sense let's delve into the offensive side of the game. In Klopp's system, the full-backs are more often than not asked to get forward and provide width by playing high and wide so it is important the Scott can influence the game in the final third. Earlier on in the season, we would see Robertson swinging in countless crosses despite the Reds not possessing any real aerial threat, now we are seeing him thread intelligent balls through the oppositions midfield and defensive lines whilst developing a great understanding with his team-mates as our left hand-side becomes a real force. In terms of the outlying stats that are regularly used to measure a players productivity, it is Alonso who tops the charts with 6 goals and 1 assist although it must be remembered he plays at wing-back and also takes free-kicks. Ben Davies has an impressive 2 goals and 5 assists this season demonstrating his attacking quality, although, Pochettino does use his full-backs as his main attacking weapon which could be an explanation to his outlying productivity. Bertrand has 0 goals and 3 assists, while Robertson has 0 goals and 2 assists with Delph managing 1 goal and 1 assist so far this season. It is worth remembering the Scott has only started 17 games in the Premier League this season but there is certainly an area for improvement with his end product although as discussed this is something he seems to be gradually getting better at. If we look at key passes, Ben Davies makes the most per game at 1.8, Alonso is next with 1.1 followed by Robertson & Bertrand with 1 and Delph with just 0.5.
Because left-backs are less likely to be directly involved in creating or scoring goals we can take a look at a couple of stats which try to showcase the underlying impact a player is having on their attacking unit. xGBuildup90 shows the total xG of every possession the player is involved in without key passes and shots per 90 minutes. It is Delph who has the highest xGBuildup90 at 0.75 which probably isn't surprising because he's playing in a scintillating Man City side followed by Robertson and Bertrand at 0.44, Davies with 0.31 and Alonso with 0.25. The City left-back has the highest xGChain90 (Total xG of every possession the player is involved in per 90 minutes) with 0.77 again followed by Robertson with 0.52, Davies with 0.44, Alonso with 0.40 and Bertrand with 0.27. This demonstrates two things, firstly it highlights how good Manchester City have been this season and secondly it shows that Liverpool's left-back is quite a bit more effective in an attacking sense when compared with his rivals. This reinforces the idea that since making his debut the Scott has worked hard on the training ground with Klopp and his team-mates to make sure he's using the ball as effectively as possible in an attacking sense. If this continues then we are likely to see Robertson's number of assists improving dramatically and hopefully, he might start to chip in with a few goals also. xA (The sum of expected goals off shots from a player's key passes per 90) is useful at bridging the gap between the outlying stats such as key passes and assists and the underlying stats we've just looked at which tend to benefit players who play in teams which are very good in attack. Quite promisingly it is Robertson who has the highest xA off all of the players we've compared at 0.19 closely followed by Davies 0.17, Alonso 0.11, Bertrand 0.08 and Delph 0.02. Again this bodes very well for the Reds as it demonstrates how effective Robertson is becoming going forward which can only benefit the team in the long run and will go a long way to securing the Scottish internationals long-term place in Klopp's starting eleven.
What we can take from these comparisons is that although Robertson has still got areas of his game he needs to improve, the Scott is performing equally well if not better than some of the best left-backs in the league. We've seen Liverpool's number 23 gradually improve since making his debut earlier on in the season as he learns how he must operate in Klopp's system. If the Scottish international can continue his development then there is no reason why he can't become one of the best full-backs in the Premier league – cementing his long-term position in this Liverpool side. Although it must be remembered the domestic league is not the only marking point for a Liverpool left-back – they have to shine on the European stage too, but if Robertson's performances in the Champions league are anything to go by then he'll take this in his stride also. It looks as though we've got two very good players in this position but Robertson's reliability and impressive adaptation to Liverpool's playing style suggests we've got one of the best left-backs in the league and I'm sure we've got more to come from him.