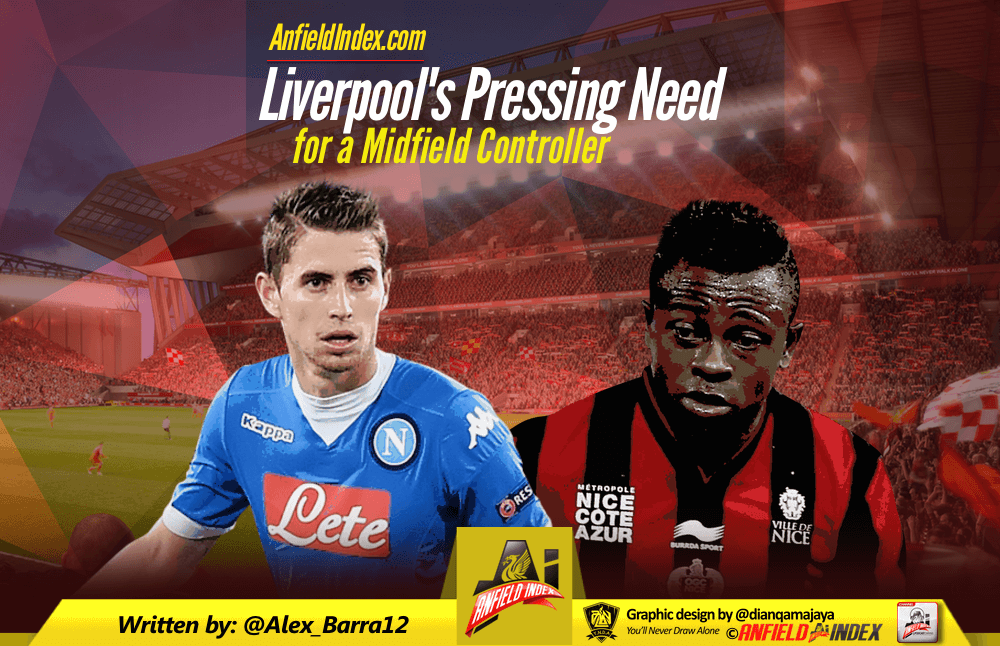 Liverpool's Pressing Need for a Midfield Controller
Liverpool's aura of invincibility was always going to be pierced at some point.
Retrospectively, it was almost inevitable that Jose Mourinho and the "anti-football" rhetoric that surrounds his Manchester United side would be the pin that burst Jürgen Klopp's bubble. Following a dismal exit in the FA Cup at the hands of West Bromwich Albion, the Reds went on a run of five wins and two draws. In that time, they scored 18 times, conceding three.
It's a fair claim to make that the stumble at Old Trafford was nothing more than that – a stumble, one from which Liverpool will recover and continue their assault on a top-four spot. But to say this Liverpool team is without weakness is a fallacy, especially given similar symptoms keep rearing their ugly head.

The fact is, when Liverpool fail to get their electric front three firing via lightning counter-attacks or quick, unsettling dribbling to unseat a staunch defence, they struggle to ascertain any real control on the match. Even with the arrival of Naby Keita in the summer – a player who'll add an incredible dribbling ability and dynamism – Liverpool still require a midfield controller.
"Gengenpressing is the world's best playmaker" Jürgen Klopp was quoted as saying during his Dortmund side's incredible 2010/11 season – the first of two Bundesliga titles that Dortmund would win under their charismatic German leader. He's not alone in that belief, either – Pep Guardiola has previously shared similar insights into the way he wants his team to win the ball up high because the best chance to unnerve the opponent and win the ball back is moments after your team has lost it.
However, as Klopp has quickly found out during his tenure at Liverpool, gengenpressing is not always an option when an opposition team refuses to advance outside of their own rigid defensive shape. Frustrating results such as the one at Burnley last season, or Carlos Carvalhal's gridlock-inspired performance at the helm of Swansea hang heavy in the minds of Liverpool supporters. While gengenpressing may be the world's best playmaker, it's impossible for it to work all the time. Just like any other player, gengenpressing can be marked out of a game. Not by an individual, but by a collective.
Yet, as is described in Raphael Honigstein's book Klopp Bring the Noise, it is possible to have an individual playmaker stand out amidst the organised chaos of gengenpressing. Nuri Şahin was Klopp's midfield maestro.
"'Sometimes it felt as if he was 90% of the team' says Subotic. 'It was like, get the ball to Nuri, he'll do something…you couldn't get the ball off him, he was the brain and the leader.'" (p.197).
Even in a swarm of gengenpressing and furious counter-attacks, Dortmund still required the passing ability of Nuri Şahin to unlock defences and, more importantly, supply chances for the front three when they couldn't carve out their own. Yes, Liverpool's front three have been simply phenomenal when it comes to goalscoring this season – the United defeat was only the second time Liverpool have scored in a Premier League game without one of Roberto Firmino, Mohamed Salah or Sadio Mané getting on the scoresheet.
But the reality is Liverpool need someone in midfield who's able to feed that front three so that when they are indeed frustrated by a staunch defence, there are other avenues to goal.
It's no surprise, then, that Liverpool were linked to a man seen as one of world football's archetypal playmakers: Napoli's Jorginho.
The adopted-Italian was linked to Liverpool via The Times' Paul Joyce, and with Emre Can likely to depart the club to Italian shores in the summer, the opportunity to bring in a midfielder who's able to not just see the incisive vertical pass to a centre-forward, but execute precise long-balls over the top to find the rapid runs of Salah and Mane is a tantalising one. However, he's not the only player who'd be able to address Liverpool's lack of a quality playmaker to feed their hungry front three.
Rúben Neves has been impressing for Wolves, who are storming towards a return to the Premier League, six points clear atop the Championship. The Portuguese is able to sit at the base of the midfield and dictate play whilst also pushing further forward, feeding long balls through to his quick-thinking forward players: namely Diogo Jota and Helder Costa.
Adrien Rabiot has a little over twelve months remaining on his contract and has been courted by Liverpool in the past: the man rarely misplaces a pass and covers lots of ground with the ball at his feet.
Jean-Michael Seri, the standout in a Nice side whose form has plummeted this season after the meteoric highs of last, is as pure a playmaker as you're likely to see at the top level – with the benefit of being a great leader in the centre of the park too. He carves out more key passes per ninety (2.2) than Jorginho (1.5) and has a higher pass success percentage (90.5% to the Italian's 89.4%, both of which are incredible for a midfielder with such a high quantity of passes.)
Of course, any playmaker's presence would likely be belied by a partner of some description, as to ease Naby Keita's defensive burden. Whether or not Klopp would prefer a defensive midfielder such as Wilfried Ndidi is a topic discussed by this writer here.
Liverpool's attacking ability is hardly nascent – they are a team many talk about as competitors to Manchester City. Their upward trajectory under Jürgen Klopp can be attributed to the manager's system, but also the upgrading of personnel to address key weaknesses in the side. Just as Virgil van Dijk was brought in to improve upon Liverpool's defence, someone must be brought in to improve upon Liverpool's lack of midfield creativity.
All stats per Whoscored.com unless otherwise stated. Quotes obtained via Raphael Honigstein's book "Klopp Bring the Noise" which can be found on Amazon here