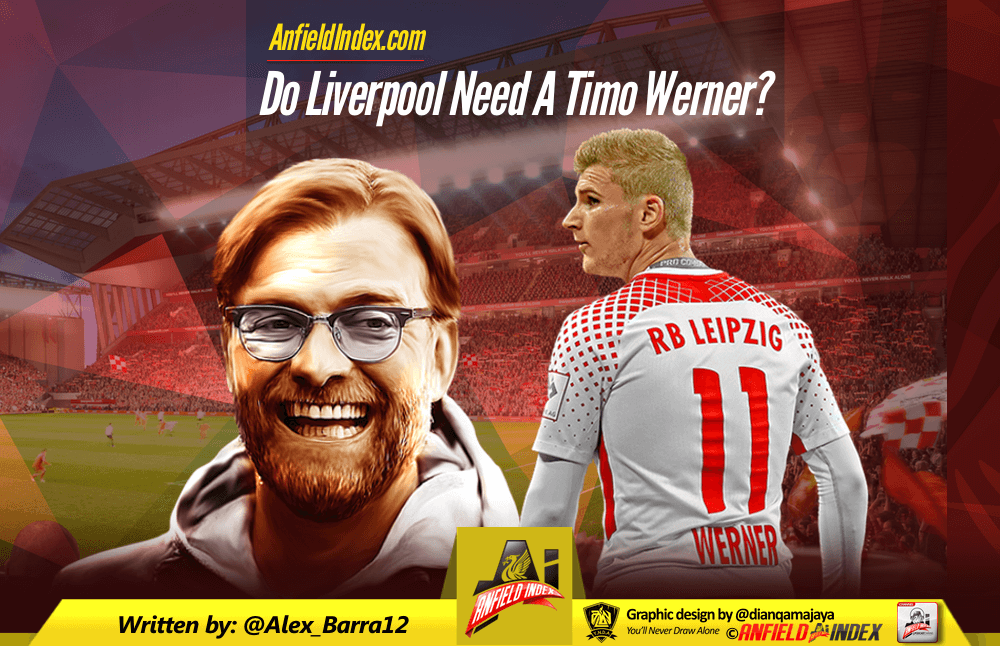 Do Liverpool Need a Timo Werner?
It shouldn't be news to anyone who's watched either the Premier League or Champions League this season or has paid attention to Jürgen Klopp's tenure at Liverpool, but Liverpool are very good at scoring goals.
Liverpool have scored three or more goals in twenty-one matches this season. In the Premier League, they've scored 73 goals, just five less than they managed last season, meaning they average 2.35 goals per game. The incredible trio of Mohamed Salah, Roberto Firmino and Sadio Mané have accounted for 50 of those goals in the Premier League, adding a further 19 out of 28 goals scored in the Champions League.
In other words, Liverpool's front three are rather good in front of goal.

However, with all the excitable optimism that Liverpool's attacking devastation has caused this season – see Mohamed Salah's four goal haul against Watford as a prime example – there does exist a cautious weariness regarding Roberto Firmino and his uniqueness to Klopp's team – and more poignantly, what would happen if Firmino picked up an injury? Dominic Solanke is still young but hasn't seized his chances, while the same goes for Danny Ings who, despite recovering from a long-term injury, doesn't particularly look like a player who belongs at the level Liverpool are aspiring to.
That couples the concept of replacing Phil Coutinho – a need that is still present, despite being buried beneath the impressive form of Liverpool without their former magician. It's clear Liverpool will need some form of attacking reinforcement in the summer, but should that be a young German striker who has recently exploded onto the national stage?
Timo Werner, having been linked to Liverpool by the Independent's Chief Football Writer Miguel Delaney a few weeks ago, has prompted discussion as to whether Klopp's Liverpool – which has evolved season by season since the big, affable German's arrival at the Kop – will continue to change and adapt.
Replacing Phil Coutinho with a more creative, midfield-based player such as the much-talked-about (especially by this writer) Thomas Lemar would be a craftier fix to a lack of creativity in midfield, especially with Werner's Leipzig teammate Naby Keita arriving in the summer. But with a rumoured move for Jorginho mooted in recent weeks, perhaps reports of Liverpool's interest in Lemar cooling have some weight? Instead, could they be pursuing a more out-and-out goal threat like Timo Werner?
The blonde bombshell will likely be Germany's number one striker when they travel to Russia for the 2018 World Cup, having scored 32 goals in 49 appearances over the last two seasons. This season, where his incredible rise had seemingly slowed somewhat, he still averages 0.49 goals per game: that's one in two.
Werner is lightning quick with his movement on the counter-attack, and his familiarity with an all-action, dynamic tactical setup would see him fit right in under Jürgen Klopp. He's also capable of playing off of the left flank, or in a pair of strikers (a setup that could benefit Firmino even further.) However, he isn't capable of doing the berserk pressing of which Firmino is capable. The German may have a higher xG (expected goals) per ninety than Liverpool's Brazilian (0.55 to 0.35) yet they have nearly exactly the same goals scored per ninety this season (Firmino's 0.54 to Werner's 0.52.)
Comparatively, Firmino's xG Chain (the total xG of every possession the player is involved in, essentially how important they are to the build-up of their team's goals) is 0.90, dwarfing Werner's 0.56, and proving the point that in Klopp's system, the striker has a requirement not simply to score goals, but to be involved in the build-up.
The proof is there for all to see: Liverpool have a right-winger currently leading the Premier League Golden Boot.
So, is an out-and-out striker like Werner the solution to backing up the front three? Also, would Werner even want to come to Liverpool if he wasn't starting week-in-week-out? Klopp isn't likely to sacrifice Firmino – who he described as "a different player" this season. The fact of the matter is Firmino needs backup, though, and is a pure number nine the right attacking player to target this summer?
Or should Liverpool pursue a more multi-functional wide man and allow Mohamed Salah or Sadio Mané to play up front when Firmino is unavailable?
The options are there: Leon Bailey, Richarlison or even someone like Robin Quaison from Mainz would be able to come in as able backup to the "Fab Three" and be deployed anywhere in that triumvirate. That way, the Coutinho replacement could be a more creative force, which would help to further bolster Liverpool's attacking potency.
Or, Liverpool could instead look to change it up again, make Roberto Firmino that creative presence and deploy a German incisor up front. Would that work? Or would it ruin the delicate balance of this incredible front three?
Answers on a postcard (or a comment below.)