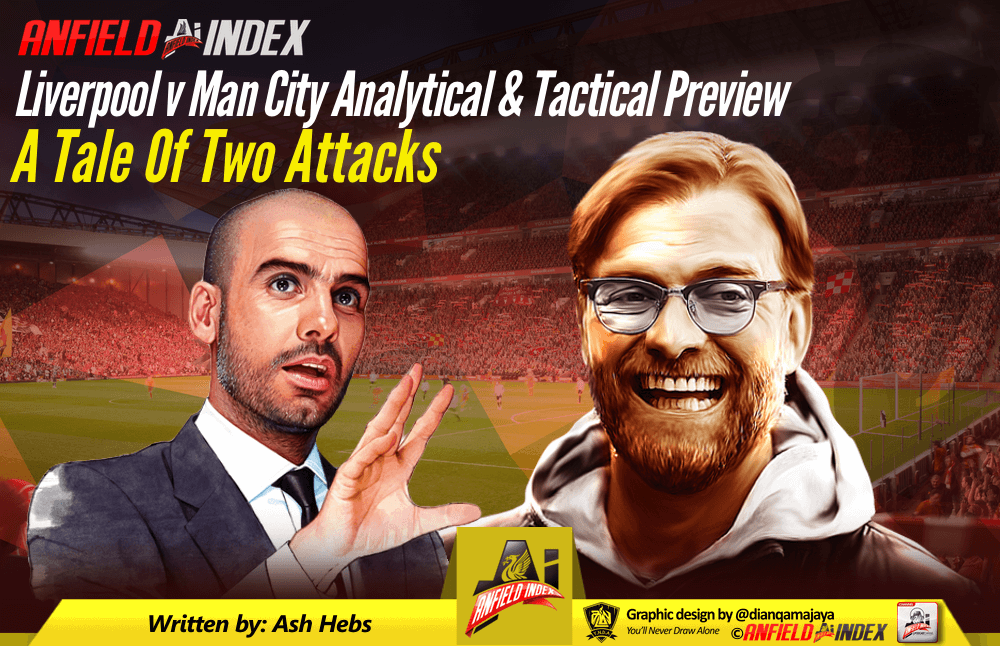 Liverpool v Man City | A Tale Of Two Attacks: Analytical & Tactical Preview
With an epic two-legged quarter-final looming against Manchester City, I took a look at the way both teams attack. The Champions League tie promises to be one of those contests for the ages. Two brave, attacking teams locking horns; this could be another legendary European contest that, we as fans, will be talking about for years to come.
The context
We know we can beat City. However, it is also true that we are facing the (inevitably) greatest champions of the Premier League era. Certainly one of, if not the best, league sides to ever grace the English top tier.
All the same, the evidence suggests that Man City have lucked out a bit this season. The gap is almost certainly much closer between Liverpool and City than the league table suggests. Attacking-wise the Reds are not far off City at all, as I showed here. Defensive and midfield upgrades this summer should bridge the gap further.

However, what cannot be disputed is that Guardiola has once again shown his ability to weave his managerial genius and succeed in a foreign league. People will argue that he has spent a fortune. Guardiola has, but he also has the tactical nous to maximise the performance of the players at his disposal. It's a dynamic combination, culminating in setting new levels of performance-consistency in the Premier League.
Jurgen Klopp is also doing a fine job but his league campaign has been handicapped to different degrees by inferior buying power, atrocious refereeing performances and an imperfect (albeit improved) defence. "Too many draws" has been this season's mantra.
Looking at the pending European games, what works in Liverpool's favour is that Man City's style, as devastating as it can be, is also ready-made for Liverpool if Klopp nails his tactics. The stats (sourced from Understat.com and only reflecting league form) show us where Klopp might focus on nullifying City and where his own team might thrive.
What the numbers say
Having analysed the data, the shot profiles and shot locations of the two teams are very similar. Analysing goals by location (City's graph first), there is very little difference between the two teams.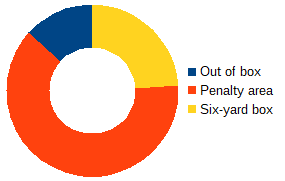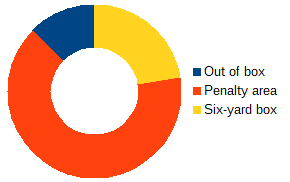 However, City have a higher chance of scoring from a shot in the six-yard box than Liverpool. The graphs below show xG per shot, that is, the likelihood of a goal with a shot in the specified area/zone. A lot of City's goals in the six-yard box come from the chaos caused by numerical overloads against the opposition defenders. A high proportion of these goals result from low cut-backs and easy tap-ins.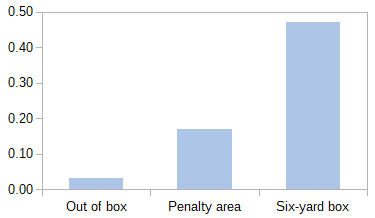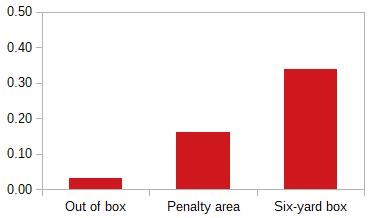 What we can see is that when the game is played at a slower pace, City have more control. Their patient and effective passing style works for them at a slower tempo; their performance is more sustainable, as they can pace themselves and let the ball do the work for them.
On the other hand, Liverpool prosper through organised chaos. A faster game with plenty of space to attack results in better xG per shot. But this has more of a physical toll as LFC are more reliant on their off-the-ball work, rather than on-the-ball quality.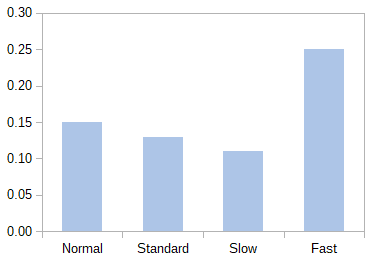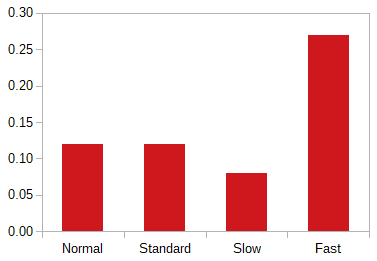 ("Standard" are all shots from a penalty, set pieces or corners. "Fast" are shots after attacks faster than 10 meters per second. Slow are shots after attacks slower than 1 metre per second. "Normal" are open play shots after attacks with normal speed.)
Klopp's possible tactical approach
The key to success against City is to prevent the balls into Kevin De Bruyne and David Silva. This can be achieved by pressing City's defence high and playing a high line at the back. It's risk versus reward. Another approach is to allow the balls into them, but focusing on blocking their own passing lanes. I would expect Klopp to focus on City's weak links on the ball and seek to put pressure on those players.
Patience will be needed from both sides in a two-legged encounter with away goals counting. The ball will naturally gravitate to City because of their preference for a possession game. But given the torrid 20 minutes they suffered at Anfield, will they reverse the tables, cede possession and press us? This is an area where our own midfield is vulnerable as we saw against Sevilla, United, Spurs. When we have the ball we need to use it well and not rush forward losing it cheaply. Playing against City over 180 minutes or more will be exhausting. How well we keep the ball will be key to our fortunes.
Man City have prospered all season from their effective use of width, with the number 8's creating overloads in the half spaces with the wide forwards. Liverpool will need to restrict balls into the box. As we saw in this season's league encounters, if we allow City to get balls into the area, they will punish us. More width may serve Liverpool well, but at a risk that the team loses compactness. Therefore I expect Klopp to defend narrow to help us here.
Klopp needs to strike a balance between pressing City to disrupt their slower, deliberate passing rhythm. But he must not risk leaving room for City's midfield to pick out killer balls and punish our defence. Expect Klopp to focus the team on choosing its moments when to press and when to sit back. The blitzkrieg approach that we saw at Anfield may work well in a one-off game but will be risky over 2 legs, especially with the first leg being at home.
Conclusion
City are a threat and both teams' strengths lie in scoring goals. Both teams are vulnerable at the back and we have the pressing and attacking quality to cause them serious problems. City will also be under more pressure, with the tag of Champions' League favourites a heavy burden around their necks. They have the class and composure on the ball to wear us down and pick us off.
With an aggregate league score of 8-4 in City's favour, Klopp's team has to be on its A-game. This tie is also interspersed with key league games. I think Klopp has to keep the tie down to a low-scoring affair, even if it means toning down his own "heavy metal approach".
However, when all is said and done, our fab 3 are tremendous. They are absolutely firing right now and Mo Salah gets better and better. With that kind of quality, we've got a very good chance of progressing to the semis.