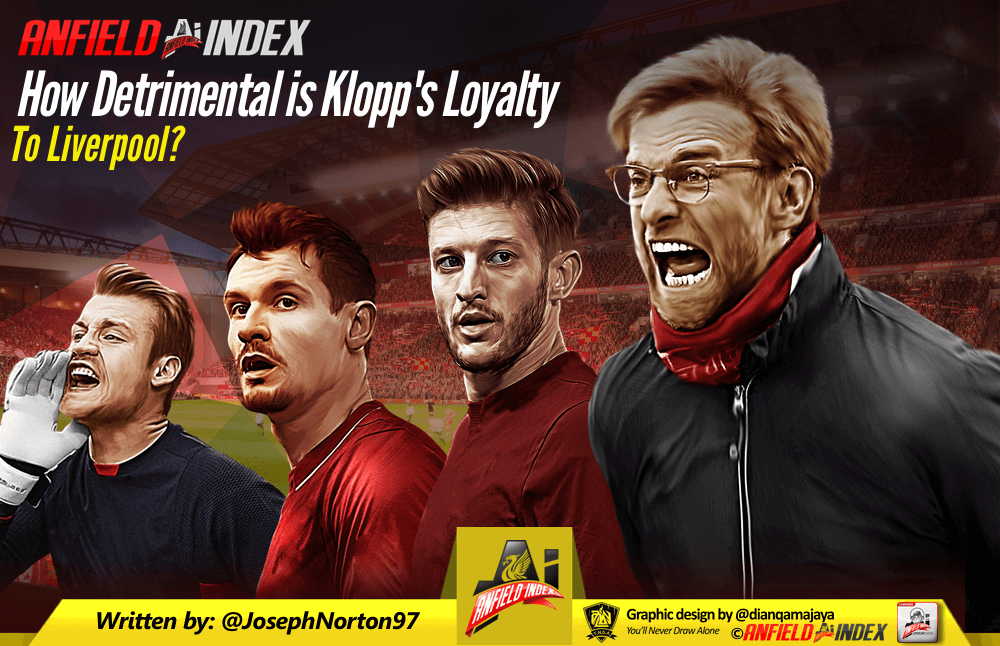 How Detrimental is Klopp's Loyalty to Liverpool?
Despite possessing many qualities and being a world class manager our boss still has his weaknesses. Last week I talked about how Klopp has built a new identity for the club, transforming the way us as supporters and opposition fans now look at us. We're no longer a club who has to sell a long-term project or reminisce about past glories because big Jurg and his team are starting to consistently deliver on the pitch creating a new legacy. Having said this, the German's loyalty to certain players has cost us in the past and if we are to move forward and become genuine title challengers and contenders in Europe this will have to change. It has been blatantly clear since the end of last season that Simon Mignolet isn't good enough in goal, Dejan Lovren can't be playing regularly at the heart of the Liverpool defence and that we needed two new centre-backs so why hasn't our boss recognised this?
Loyalty can be a great quality, it's clear in the way that Klopp's system operates that trust is key. If one player doesn't press properly then the whole unit will break down which is why the German favours developing players on the training pitch rather than simply buying the best players in the world – not that Liverpool have the finances to do this anyway. Having said this, if the player simply isn't good enough then training them can only improve them so much, it might be an unpopular opinion but there is no doubt that Klopp has developed Lovren into a decent defender who operates fairly well in our system. However, because of the Croatian's lack of composure and questionable temperament he makes far too many basic defensive errors that often cost the team dearly. There is an argument for keeping Lovren as a fourth choice centre-back but if Gomez is to make the transition to centre-half then he can't be expected to partner Virgil Van Dijk straight away and Joel Matip has proved over the last couple of years he isn't good enough to be the regular partner for the Dutchman, which means we'll have to recruit another top defender.
On the wages the Croatian will be on we can't really afford to have him as a fifth choice defender, therefore, because of his regular contribution to a chaotic back-line, Liverpool's number 6 must be sold in the summer. The issue of centre-half brings us nicely on to the Reds' failure in the summer transfer window. Since signing the dominant, freak of a defender that big Virg is the club has been praised for its patience in the transfer market – waiting for their number one target to become available. The reality is we still need another top class centre-back, couldn't we have signed Van Dijk's partner before he arrived meaning they got six months playing with each other at the end of this season developing a strong understanding heading into next year? Maybe our targets weren't available but we only ever seemed to be interested in signing one centre-half in the summer which was totally wrong. If we are to come anywhere close to challenging Manchester City next year then our defence needs to improve yet again meaning a top quality partner must be signed. Yes, we're likely to finish in the top 4 and are in the quarter-finals of the Champions league but bringing in another defender could have gone a long way to us lifting a domestic trophy – the importance of which shouldn't be underestimated.
The goalkeeping situation was a tricky one for Klopp after Mignolet ended last season in such good form, however, it was inevitable the Belgian was going to return to his error-prone, nervy self. Credit to Klopp though, he kept Karius match-fit by using him in the Champions league which has without a doubt helped him to cement his place as Liverpool's number 1. The German must be wary of what happened with Mignolet last season though when he decides if he needs to upgrade on Karius – most fans will agree Loris is much better than his Belgium team-mate but to challenge with Man City there's every chance we'll need a world-class goalkeeper. It might be tough on Karius but he would still get game time in the domestic cups – football's a ruthless game if you want to get to the top.
Last season we saw Klopp show far too much trust in the likes of Adam Lallana who was asked to play out-wide in the closing stages of the season despite him being completely ineffective out there. The team was crying out for a bit of pace and penetration – playing Alberto Moreno out-wide was definitely worth a go. Despite having a very good start to last season in a slightly deeper midfield position Lallana has continued to pick up several injuries this season resulting in him starting just one Premier League game. The Reds already have the likes of Jordan Henderson and Alex Oxlade-Chamberlain who have had their injury problems in the past so can we really afford to keep hold of Lallana next season when we could upgrade on him dramatically whilst still receiving a decent transfer fee for him as well as freeing up some wages. Thomas Lemar anyone?
If we return to Moreno it is worth remembering that after last season most managers would've sold the Spaniard, discarding him as a waste, however, Klopp's loyalty and ability to develop players appears to have rubbed off on Moreno who at the start of the season was one of the Reds most consistent defenders. If Klopp would've demanded Robertson to come straight into the team despite not fully understanding the system there's every chance he wouldn't have been performing at the elite levels he's currently demonstrating, especially if his confidence would've been knocked following a difficult early spell in the side.
Nobody can question our boss is working wonders on this squad and we finally have a team we can believe in and recognise as being something close to what Liverpool Football Club represents but Klopp must make sure he doesn't show too much loyalty to players who are simply not good enough or can't be relied on. Develop and improve them as much as you want, there are certain players who will let you down time and time again. Football is a ruthless business and this bus should wait for nobody.