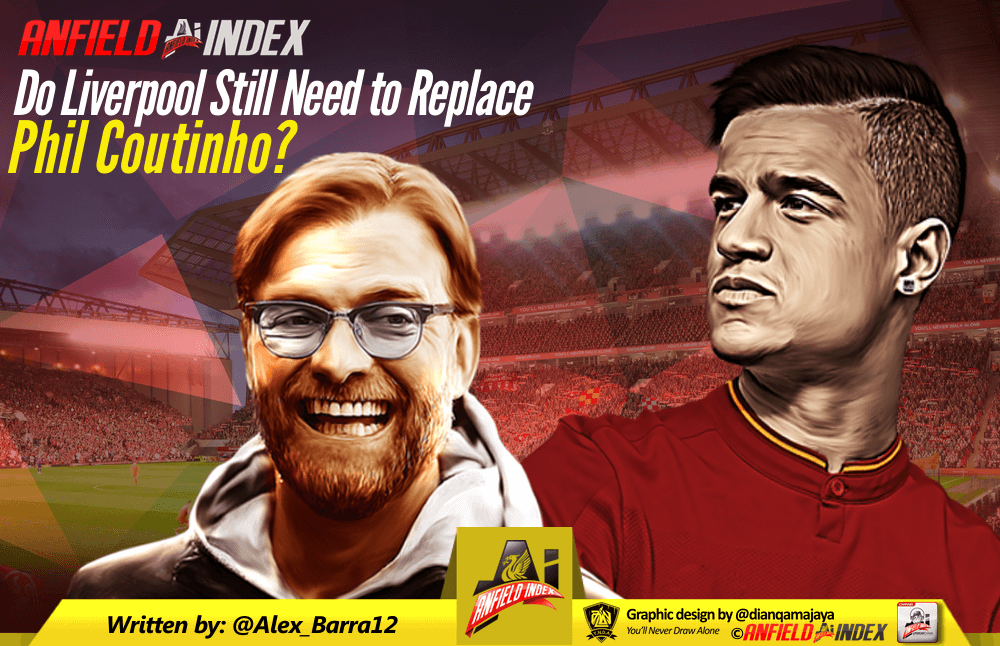 Do Liverpool Still Need to Replace Phil Coutinho?
Euphoria, that's the feeling washing over most of the Liverpool supporter-sphere at the moment.
Their front three are reaching meteoric heights, and their devastating influence on games has become a staple of both the Premier League and Champions League. Teams now fear Liverpool, not simply because of the goalscoring prowess, but also the knowledge that it is now harder to breach what used to be a shaky back-line. Liverpool bought the most expensive defender in world football to help fix their defence, and that's exactly what he's done. With reassurance at the rear, Liverpool's counter-attack has become even more devastating, with Alex Oxlade-Chamberlain fast becoming a key component to supply Mané, Firmino and Salah's rampage. He'll have an accomplice to help with that ferociously quick movement next season, too: Naby Keita is one of the world's most talented young midfielders, and his arrival will only increase the fervour with which Liverpool fans treat every potential counter-attack.
It's quite easy to forget, amidst all that, that this is a Liverpool side that sold its most valuable asset in January to Barcelona.

The season wouldn't be where it is now without Phillipe Coutinho; he made 13 goal contributions (7 goals and 6 assists) in the Premier League and was involved in a further seven goals in the Champions League group stages. No matter the acrimony of his departure, Coutinho was a distinct influence on this Liverpool team.
And yet, the months since the 31st January have shown Jürgen Klopp to be right. Liverpool look to have secured top four despite the absence of their "magician". Liverpool have continued their devastation on the scoresheet, especially in the Champions League, where they recently set the single-season Champions League record for the most goals scored by an English team, as they hit their 32nd and 33rd goals of the competition against England's current dominant force, Manchester City.
The sale itself has proved to be something of a masterstroke in the short-term, with the incredulous goalscoring of Mohamed Salah quickly brushing any sorrowful thoughts regarding Coutinho from the minds of Liverpool's faithful. In a business sense, too, Liverpool sold an asset who was clearly not the most important facet in Klopp's team for £142 million, all while going on a storming Champions League run that will see the club earn a minimum of £52 million as a reward.
This was despite the clamour for an instant Coutinho replacement in January. Klopp refused to spend what he labelled "crazy money" for any of the targets he had in mind and instead gambled on his front three continuing their dominant streak.
It paid off.
The question is, then, do Liverpool still need to replace Phil Coutinho?
Recent reports suggest Liverpool have been scouting Bruno Fernandes, a talent who many will undoubtedly compare to Coutinho should the Reds make that an active pursuit. Fernandes possesses the same game-changing influence as the £142 million man and could well be one of the ideal fits to directly replace the Brazilian given his dribbling ability, positional versatility and ability to contribute goals (he's netted 9 and assisted 8 in 29 Liga NOS appearances this season.)
Unfortunately, his release clause currently sits at €100 million. That's a similar figure to the one AS Monaco were demanding for Thomas Lemar in the summer and January when Coutinho's departure seemed imminent. This writer has been on record about why Lemar would be a phenomenal addition to this Liverpool squad, yet paying £90 million for someone who's not necessarily guaranteed to start every game is still a lot of money.
Consider too, that Liverpool have a pressing need to address their midfield. Positionally, there are still plenty of gaps between the defence and midfield, leading to problems defensively. A defensive midfielder will surely be paramount on Klopp's shopping list with Emre Can's likely departure and Jordan Henderson's worrying injuries.
Would the money not be better spent on a creative midfielder to sit next to Naby Keita? Liverpool are reportedly interested in Napoli's Jorginho, and while Oxlade-Chamberlain has been immense for Liverpool in the second half of the season, perhaps it's him that can provide the hybrid of midfielder and attacker that Coutinho brought to Klopp's tactical setup.
Then there's the fact that Roberto Firmino currently lacks an adequate understudy. Would a Coutinho replacement allow coverage for when Firmino – Liverpool's functionally most important player – needs a rest or picks up an injury? Spending £100 million on a Coutinho replacement, when this side has shown exactly why they could get away with selling him in January, may be dangerous when there are more important positions to address.
Put simply, if the decision is between buying the pair of Jorginho and Wilfried Ndidi or buying a shiny new Phillipe Coutinho, the latter should be ignored for the purpose of moving forward. The notion that Liverpool should simply spend big money because they need to be seen as "a top club" is absurd and, thankfully, Jürgen Klopp agrees.
While Virgil van Dijk cost £75 million, Andy Robertson cost £8 million. Mohamed Salah cost £40 million less than Romelu Lukaku and has scored twice as many Premier League goals. If Klopp and his director of football Michael Edwards have proved anything during their tenure at Liverpool, it's that the right signing matters.
That right signing might not necessarily be a replacement for the forsworn magician. And that might be a very good thing indeed.