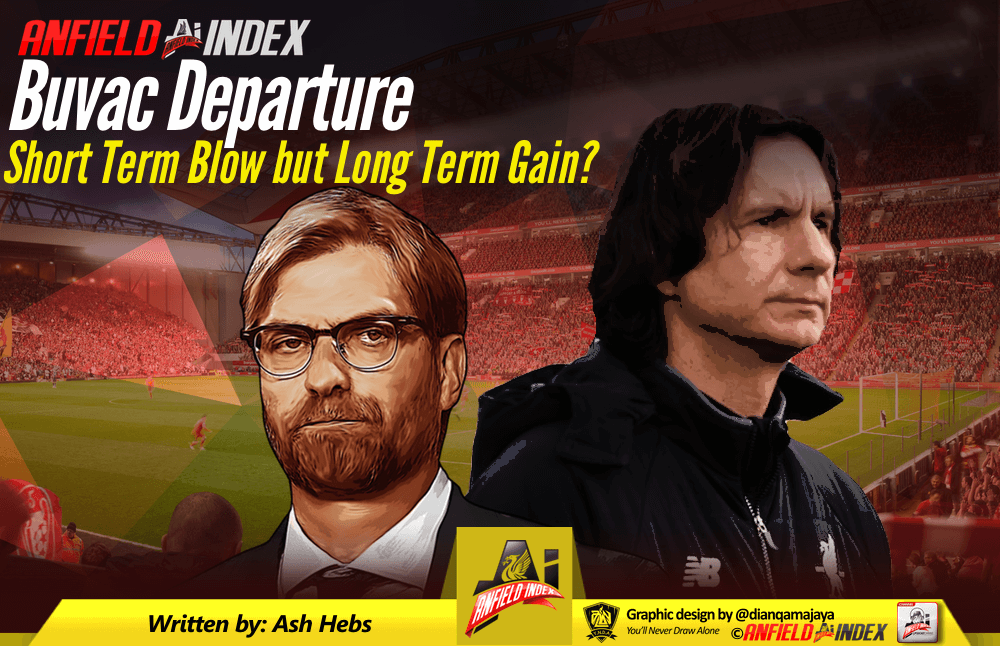 Buvac Departure: Short Term Blow but Long Term Gain?
The news of the sudden departure of Zeljko Buvac comes as a surprise to many. Personal reasons have been cited but the full details are currently unclear. Whether Buvac returns next season remains to be seen. The timing isn't great, particularly as the Reds go into the remaining handful of games that will define the season. There's no doubt that it's a blow at such a crucial stage of the season.
The Brains behind the operation
After all, this is the man who has helped Klopp take pressing to new levels in both Germany and England. Often nicknamed the "brains" of Klopp's setup, Buvac has played a huge role at Liverpool. The club has gone up a notch tactically. Transformed from an inconsistent team, that for too long was a top 4 also-ran, to a genuine top 4 contender.
However, it would have been far worse had the announcement come earlier in the season. But we will only know the true extent in the short term, once we come to the end of the campaign. There is evidence to suggest that the team is well drilled enough at this stage, to get through the remaining tests that lie in wait.
With a top 4 spot and a Champions League trophy in sight, the players need no motivation to raise their game and deliver both objectives. It's all about believing in their abilities and keeping their nerve.
Evolution
What is clear is that the tactical set-up at Liverpool is undergoing an evolution of sorts. If Buvac leaves for good, Klopp may need some restructuring of his support team this summer. The manager will be coping with the loss of two key tactical influences in both Pep Lijnders (who left at the start of this year), and Buvac also.
But longer term, such a restructure could be the ideal opportunity to freshen things up tactically. It might be the enforced and necessary change (and a break from the past) Klopp needs to win the league. I wrote this here back in October:
Klopp has been criticised for not being quick enough in making in-game changes. I think this is a combination of being too emotionally invested in the game at times and also having a sub-par support team. He isn't the "best" tactician around so needs help. Even if Klopp is missing things his team of Buvac, Krawietz and Ljinders should be able to assist him on and off the pitch and fix issues. Of course, the players themselves aren't blameless either but inspiration comes from management. There is a valid question mark over whether this support team is good enough. There is a case that to reach the next level Klopp needs to change parts of his support team as Rodgers did before him and that is an option going forward.
City lay the gauntlet
Liverpool are a terrific team without the ball. But Man City have raised the bar. The huge number of league draws have held Liverpool back this season. Refereeing decisions notwithstanding, the team has to be better on the ball.
Our struggles against the likes of Everton and West Brom have come because the team has missed the right tactical tweaks. Despite the brilliance of our attack, there is still work to do.
Opportunities Await
In short, Buvac's work at the club must be commended. He's been instrumental in giving an identity to Klopp's team. A team that is simply unplayable on its day. Should his departure be permanent he will be a big loss to Klopp. It will mark the end of a 17-year partnership that, despite its ups and downs, has been relatively successful.
All the same, Klopp, as all experienced managers will recognise, this unwelcome distraction is also an opportunity to improve the tactical setup at the club. Whatever happens, we should be grateful for Buvac' contributions but recognise that to become title winners, perhaps we need a structural change to get us there.
It will be fascinating to see how the situation develops. The summer should tell us more. Let's hope Klopp gets it right.