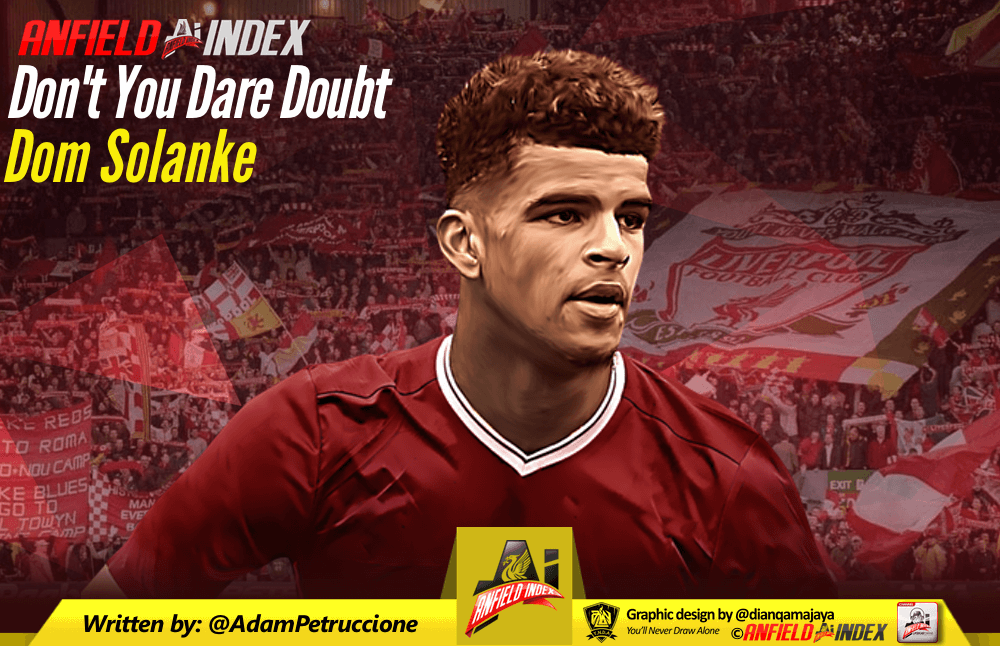 Don't you dare doubt Dom Solanke
Twenty-year-old Dom Solanke was signed last summer in a heist from Chelsea. The forward subsequently went on to take the U20 World Cup by storm, taking home the Golden Ball for the tournament's most outstanding player.
A PRESEASON OF PROMISE
After showing flashes throughout Liverpool's preseason schedule, there was a serious buzz around Solanke as it looked like the Reds had pulled one over on the Plastics once again. Daniel Sturridge had been brought in from Chelsea four years earlier and it was Studge who would make way for the youngster on Jurgen Klopp's depth chart as the season progressed.
Minutes for any of our reserve forwards have been in short supply, and Solanke struggled throughout the year to get in a regular rotation. With one two matches left in the season, Solanke has amassed 539 minutes in the Premier League and Champions League combined. That's roughly six matches worth of actual time on the pitch.
262 minutes, nearly half of his overall playing time, came against Big Sam's Everton and Burnley. Mané, Firmino and Salah have also struggled to break down sides like this. In his other appearances he has often been brought on to save Bobby's legs and harass the opposition with his pressing, but not we haven't really been in attacking mode. His 16 minutes against Chelsea probably represented his best chance of the season to be involved in a typical Liverpool attack, but again, the Blues had parked the bus at that point, protecting a 1-0 lead.
Solanke headed one just over the bar, had a few touches in the box, holding the ball up where his decision making could have been quicker and finally, he had one last gasp header sail wide as Rudiger crashed into him.
Of course, we want him to be scoring match-winners rather than just providing a good effort. Solanke should have had the winning goal against West Brom in December, but it was ruled out controversially for hand-ball. Would things have gone differently for Dom if that goal had counted?
HAVE YOU SEEN THE SIZE OF HIS STATS?
A glance at Solanke's deeper metrics (via Understat.com) shows a player with higher xGChain/90, xA/90 and KP/90 than the player he is shadowing, Bobby Firmino. Of course, Firmino is providing those performances over long stretches where Solanke is coming on in short bursts, but that's all he can do at this point.
A comparable player might be one that is fresh in our memories, Patrik Schick. The 22-year-old, lanky forward from Roma looked lively against us in the Champions League and was roundly praised by Liverpool supporters. He has played more than double the minutes as Dom and has only 2 Serie A goals to go with 1 in Coppa Italia. Solanke dwarfs Schick in terms of xGChain/90, xGBuildup/90, KP/90, xA/90 and xG/90. Would you trade Solanke for Schick because a couple of those xG's turned into actual goals? Doing so could be a major mistake. Compare him to Rashford, Timo Werner, any other young striker and you'll see that Solanke is doing a lot of things extremely well that take years to train forwards to do. Literally, all he is missing are the goals.
Dom Solanke vs Patrik Schick, Marcus Rashford and Timo Werner. #LFC better be convinced he can't add goals to his impressive analytics before sending him anywhere.
(via https://t.co/ALtPGzhvEe) pic.twitter.com/gdyTksfLpE

— Adam Petruccione (@AdamPetruccione) May 8, 2018
TALENT & HOT TAKES
On a very basic level, it is understandable that Liverpool supporters are frustrated with a reserve striker who hasn't scored for the senior team this season. However, we must keep in mind the limited and challenging opportunities that he's been thrown into. Criticism can and probably should be levelled at Michael Edwards and Jurgen Klopp for failing to add an experienced rotation option for the front three instead of trying to piece it together with Danny Ings, Daniel Sturridge and Solanke.
Going forward though, Liverpool have one of the most talented forwards in the world in Solanke's age group. He proved that over the summer and his overall stats still bear that out. If supporters want to jettison him because he couldn't score in a handful of opportunities against the epitome of parked busses then they're not really being fair to the kid.
Can we leave Solanke here

— Sabah (@Sabah07) May 6, 2018
https://twitter.com/chiidishsadbino/status/993173299457875973
Solanke is without a doubt the worst player to ever play for Liverpool

— Demetri (@DemetriSmith_) May 6, 2018
So before you hit send on your Solanke hot-take, remember that Liverpool is full of senior players who seem to only perform when the style of the match suits us. We aren't asking for all of them to be thrown off of the island. Surely we can afford the same kind of understanding to a player who turned 20 in September.