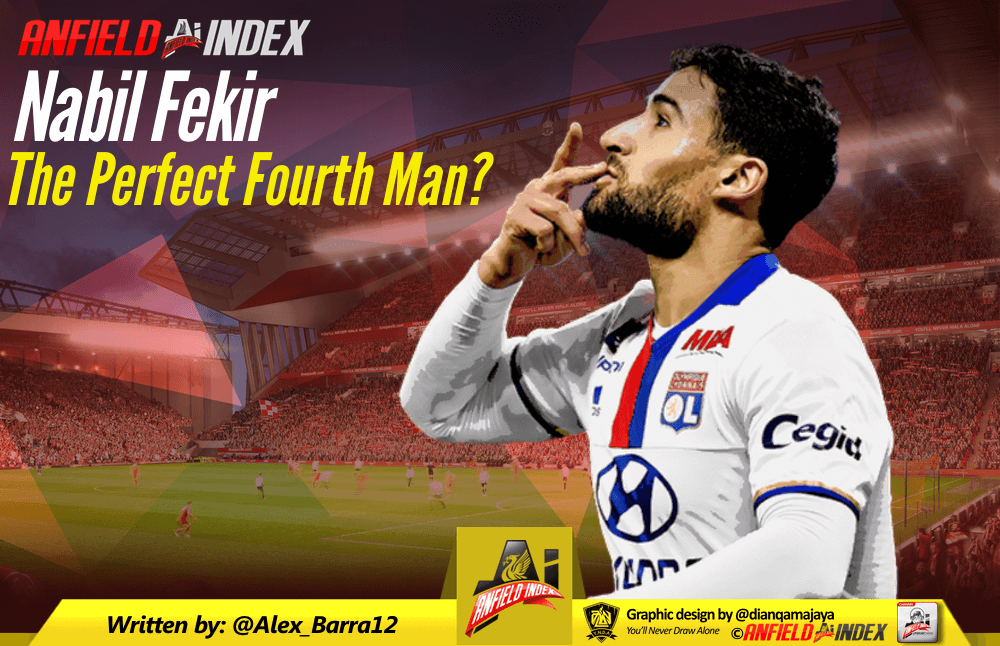 Nabil Fekir: The Perfect Fourth Man?
Liverpool are on the march to Kiev.
Amidst the blitzkrieg of goals, celebrations and stunning attacking tsunamis, however, is quite the stark realisation. Liverpool got to the Champions League final off the back of a scintillating, devastating, and unparalleled front three, with a lion tamer of a manager orchestrating their rise to potential infamy.
But there needs to be a fourth.
Phil Coutinho once rounded out the quartet, and the signing of Mohamed Salah was an excellent one solely for the added "fire" it brought: nobody knew that the Egyptian would rival Lionel Messi and Cristiano Ronaldo in the fashion he has. Now, sans-Coutinho, as a lack of depth means Liverpool's top four hopes are once again dependent on the last day of the Premier League season, Liverpool require that "fire" again.
Enter Nabil Fekir.
The Frenchman, of Algerian descent, was vehemently linked to Liverpool by French outlets Canal+ and RMC – the latter of which is widely respected for its reliability – on Sunday. The reports garnered the regular "no comment" from Jürgen Klopp and even more regular denial from Lyon president Jean-Michel Aulas, who would deny a transfer was happening even if the player was posing in his new kit.
So, why would Nabil Fekir be so ideal?
Style
Having played as a winger on both sides, number nine and number ten in his career, Fekir is pretty much an all-around attacker, capable of tantalising penetrating runs and electric left-foot finishes all while being the central figure on counter-attacks.
Since returning from a six-week injury layoff, Fekir has been played at the tip of a midfield diamond, ahead of an assortment of Mariano Diaz, Memphis Depay, Bertrand Traore and Maxwel Cornet. Before his injury, however, Bruno Genesio often played him as the #10 ahead of a two-man contingent, meaning he would track back and engage with the midfield.
With Maxime Gonalons' departure to Roma back in August, he took up the mantle of Lyon's captaincy; relishing in leading the side he was once rejected from as a twelve-year-old. It's hard to think young Fekir would've known he'd return to the club four years later, and at age 24 lead them to a 5-0 demolition of rivals St. Etienne, nearly sparking a riot in the process.
Strengths
What Liverpool desperately need is someone who can create for Salah and Mané from all areas to compensate for the lack of spark in midfield, and back up those two players when they're in need of a rest. It's the role Phillipe Coutinho played, and the role Thomas Lemar was touted to fill upon the Brazilian's departure. Now, however, the role has shifted from less of a creative spark and someone who can bring the pace, fluidity, and swiftness that the current front three already display. It's why, on top of their contrasting fortunes this season, Fekir has become the ideal candidate ahead of Lemar.
Phillipe Coutinho had a combined xG+xA of 0.53 p/90, i.e. an expectation of being involved in a goal every two games. Nabil Fekir's numbers are rather similar: his expected goal involvements are 0.44 p/90 (numbers per Football Whispers).
His ability to be the key figure for his side, as both a goalscoring force and creative outlet comes from having quick, itinerant collective around him, always moving to create space for their teammates. Once he does get the ball, it's always to attack defenders, knowing that if they're too tight to him, his skill to keep the ball close to him during the dribble and subtly change directions will leave them for dead, or his pace when dribbling will allow him to glide past them (as occurs below against Dijon.)
Speaking of goals, he scores a lot of them. Despite being deployed in the hole this season, his history playing both wide of the striker and as the number nine itself means he's always going to have an eye for goal and since the departure of Alexandre Lacazette, Fekir has shown himself to be quite the talisman, scoring 22 in 38 games across all competitions. That eye for goal manifests itself in poacher-like positions: he's adept at drifting into the box in the critical moment; a trait not usually seen in a man of his size.
But it's his ability to pick up the ball from deep, drive past players with the initial dribble and exploit space that allows Fekir to cause so much damage as a hybrid of a midfielder and forward. Dropping deep to pick up the ball (and engage in the press) alongside his two deeper midfielders, the little Frenchman is most dangerous when he sees space with the ball at his feet. It's a trait that Phillipe Coutinho often displayed, able to bypass a player with a dribble and then cause havoc. Except Coutinho completed 2.3 dribbles p/90, while Fekir completes 3.1 dribbles p/90 (the fifth highest in Ligue 1).
Just watch him pull three players into him, after dribbling past one, and then play a delightful through ball into Mariano, who is then fouled for a penalty.
Defenders will ask themselves, is he going to take another touch? Or will he lay it off to someone between me and my fullback? Should I be getting close to block a shot or watch for the through ball?
His finishing is that of an elite striker with a shot conversion rate in Ligue 1 of 18.5% (Mohamed Salah's, by comparison, is 21.7% in the Premier League, while Harry Kane's is 14.1%.) On top of that is his post-shot xG (which factors in the placement of the shot as opposed to just the position it was taken from. If a player's post-shot xG is better than their standard xG, then the player is picking the right areas to finish.) Fekir's post-shot xG (courtesy of Football Whispers) is 11.33, substantially outperforming his standard xG of 8.0.
He's also made more key passes (2.0 p/90) than Thomas Lemar (1.8 p/90), seen by many as the more creative player, and mirrors Phillipe Coutinho (2.1 p/90.)
The trick is that defenders simply can't tell, in tight spaces, where he'll go next. Some have labelled him over-reliant on his left foot, and he can just as easily feign a move onto his left foot (which the defender expects) and turn onto his right. And if there was any doubt as to his right-footed execution, or his inventiveness, witness the goal he scored from the halfway line against Bordeaux. It's the stuff of magic.

Weaknesses
Should Jürgen Klopp decide that he's already got enough goalscoring firepower in the front three and instead opt for a purely creative wide-man, then Thomas Lemar is still the preferable option. He would be a purer replacement for Coutinho's role in the "Fab Four" – which was that of the man pulling the strings from deeper.
Similarly, he would have to improve his defensive contribution on the physical front: he offers the outlet of a third midfielder in transition, but if he's going to be deployed at the tip of a midfield three, he'll have to learn both Klopp's organised press and the more physical nature of gegenpressing.
Added to that is a tendency to go too hard at opposing players and lose the ball – he's dispossessed more times per ninety than Coutinho and Lemar; a by-product of his desire to dribble.
Where would he fit in at Liverpool?
A pairing of Naby Keita and Nabil Fekir, in transition, is devastating in it's sheer velocity on the ball. As long as a deep-lying playmaker was stationed alongside the deeper-sitting Keita, Fekir would be allowed to roam, press, and get on the ball in tight positions. Of course, he'd also be the ideal man to rotate across the forward line, given his experience as a player both wide and as a striker.
Should you require more convincing, Sadio Mané's words were quite evocative:
"Nabil is a very great player, if that's the case, we will be really happy to have him here. I think he would do very good things with us. We always need this kind of player, if we have him it'll be fire!"
Fire indeed.