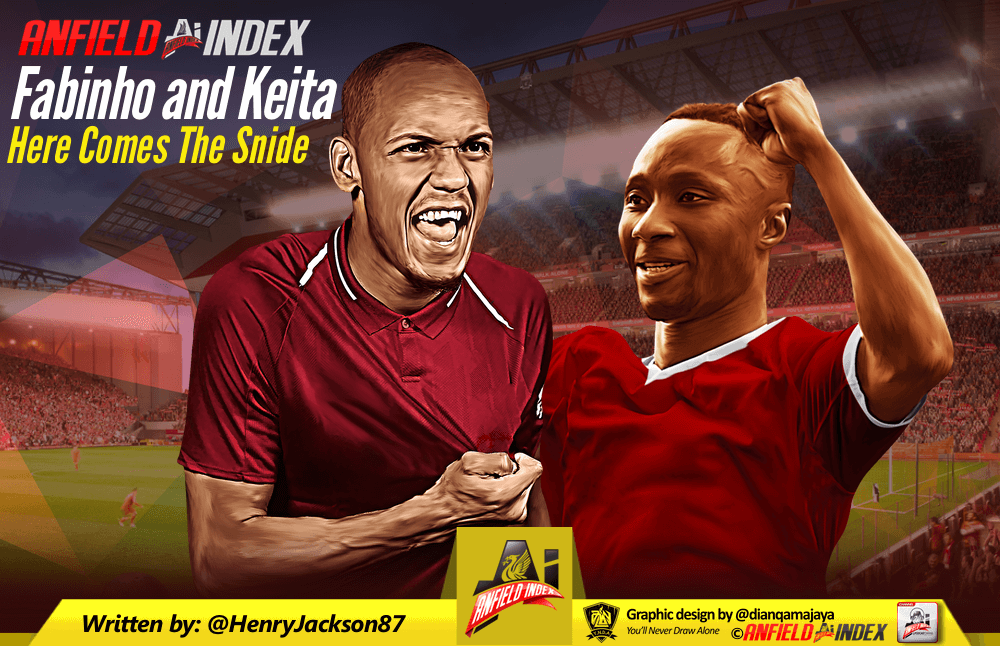 Fabinho and Keita: Here Comes The Snide

I can't help but begrudgingly respect Sergio Ramos. There, I said it.
It's possibly the worst thing you can say as a Liverpool supporter right now, but rather than childishly sign petitions and cry-arse about his behaviour, I find myself admiring him.
I know we're meant to hate the horrible Spaniard for what he did to our dear Mo Salah – I do in some ways – but what a winner that man is. Perhaps the greatest of his generation.
Just last week, I wrote an article entitled, "Time For Liverpool To Prove Nice Guys Can Finish First", as the Reds stood on the brink of Champions League glory in Kiev.
The thought of this enormously likeable group of players winning Europe's biggest club competition would have been a victory for football. Unless, of course, you were one of the many non-Liverpool fans willing them to lose.
Sadly, that harrowing night against a fortunate and ruthless Real Madrid side yet again proved that only bastards seem to finish first, with almost every major incident going perfectly in their favour, and their big-game nous coming to the fore.
It was Ramos' assassin-like antics which effectively decided the final, even though Loris Karius experienced an evening that may haunt him for the rest of his life, and Gareth Bale scored the finest goal ever scored in a European Cup final.
As soon as Salah left the pitch in tears with just half an hour on the clock, following Ramos' act of snide – he also threw a cynical elbow on Karius and faked an injury after a challenge with Sadio Mane – the contest effectively felt over.
That may sound idiotic, considering it was still 0-0, but the confidence his exit gave Madrid was huge, and even more telling was the effect it had on Liverpool.
The players knew how significant losing arguably the world's most in-form player was, and they never recovered, despite Mane's second-half equaliser.
It was just another reminder that Jurgen Klopp's almost innocent outfit lack the nasty edge that wins you trophies, unjust though that may be.
This is a lovely bunch of lads who rarely roll around feigning injury, endlessly waste time or berate referees.
Sure, they got to the Champions League final playing in that fashion, which shows playing fairly can get you a long way, but you always felt they might fall agonisingly short.
In the real crunch games, mastering the dark arts can make all the difference, which is precisely why Liverpool cannot quite get over the finish line in finals, and why Madrid have now won four Champions League titles in the last five seasons.
Nastiness has been called for within the squad for a long time now, and thankfully, they are finally getting it in abundance this summer.
The quick-fire signing of Fabinho on Sunday night felt like a delightful surprise to end the weekend, especially after the crushing disappointment of Kiev. It was the perfect pick-me-up.
It bolsters Liverpool's midfield options greatly ahead of next season, as well as filling the void left by the departing Emre Can.
Fabinho joins incoming superstar Naby Keita in the middle of the park, and not only are they fantastic players who will transform a one-dimensional midfield, they are beautifully snide and capable of replicating Ramos' level of unpleasantness.
I realised Fabinho had that edge to his game as soon as I saw him 'shushing' the feisty Parc des Princes crowd in a clash between Monaco and PSG. It had Luis Suarez, Liverpool's last nasty piece of work, written all over it.
He is a midfield bully, as well as a tremendous technical player, and his physical presence and ability to ruin the rhythm of opposition sides will make such a difference.
Twelve yellow cards this season suggest he is a footballer willing to play on the edge and Can was the only Liverpool player to match that tally.
Then there's Keita, who has gained a reputation for being a hothead, and someone who is seemingly capable of starting an argument with himself.
He is a spiky character who leaves his foot in, gets under opponents' skin and is never too far away from controversy. It follows him everywhere.
Three red cards for RB Leipzig this season are testament to that, as was a mass brawl in a Bundesliga clash with Frankfurt that was sparked by the man himself, following a late tackle.
Fabinho and Keita are two midfielders that other supporters are going to grow to loathe immediately, which is exactly what the doctor ordered.
You need players who you only love if they play for your team – trust me, you would adore Ramos if he was partnering Virgil van Dijk – and the incoming duo fall into that category.
They will be the equivalent of Ander Herrera, Ashley Young and Marouane Fellaini, to name but a few snide rival players, but with the added ability to go with it.
Klopp will ensure Liverpool still play in a fair manner much of the time, as is his preference, but he knows more than anyone that an injection of bite was needed.
With Fabinho and Keita, he is getting it by the bucket-load.
Nabil Fekir isn't a shrinking violet either, and if the Reds can acquire the Frenchman's signature as well, their midfield could be joyously horrible next season.
We won't be complaining.