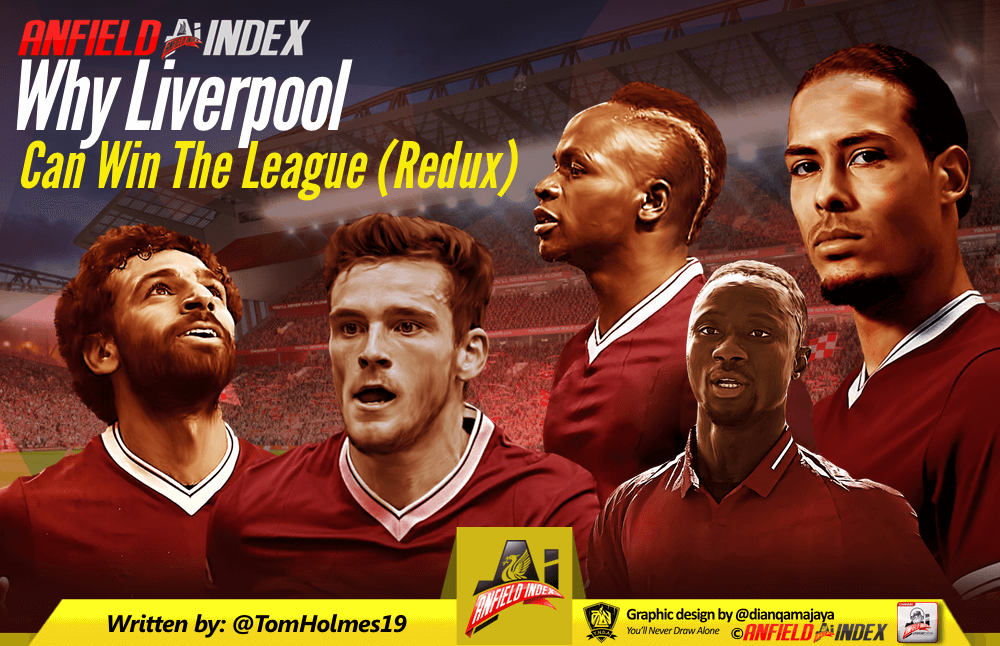 Why Liverpool Can Win The League (Redux)
Last summer I wrote a piece on how I thought it was possible Liverpool could win the Premier League title. I felt most of the points that I made in that article were largely valid, although of course things didn't pan out the way we hoped. Overall, the lack of a centre-back signing, Phil Coutinho turning into a huge snake and Man City going full cheat mode were the big reasons we didn't end up winning the league, but here we are, twelve months later, with a new season just a few weeks away.
So I'm going to predict Liverpool can win the Premier League again.
The Mathematics
Last summer I said Liverpool would need to get another 10/15 points in order to be major title contenders, and irritatingly that same level of improvement is still needed, as the Reds didn't move forward in terms of points in 17/18. So where can Liverpool make up 10/15 points? Well, the main issue is consistency. The Reds got off to a poor start and struggled to score goals even when creating lots of chances in certain games. Their form against the top six left a lot to be desired, especially away from home and after big European games.

In terms of goals scored and conceded, the Reds unquestionably need to be better in front of goal. Despite scoring 84 goals from 77.5 expected goals, a ratio of 1.08 goals per expected goal, the Reds simply weren't clinical enough. Only four teams in Europe's top five leagues: Real, Barca, City and PSG created more xG than LFC. And yet nine scored more goals: Lazio, Monaco, Juve, Bayern and Lyon the other five. Only Real (1.03) had a worse goal to xG ratio of Europe's top ten scoring teams than LFC, with Juve the pick of the lot at 1.45.
Defensively, there is plenty of scope for improvement, as the Reds conceded 38 goals last season, ten more than the two Manchester clubs, with Barcelona, Atletico Madrid, Bayern Munich, Juve, Roma, Napoli and PSG indicating that to be a title-winning club, whichever league you're in, you need to be conceding less than 30 goals.
Closing The Gap
Nevertheless, there is already evidence that Liverpool are closing the gap. Even without defensive reinforcements, Van Dijk is making a noticeable effect on the defence, and Liverpool conceded just 22 goals in the 29 league games after the Spurs debacle, which would be 29 goals if they could extend that over a whole season.
And of course, Liverpool have made defensive reinforcements already. Van Dijk getting a full pre-season will make even more difference to the defence, and Fabinho may only be a defensive midfielder, but nevertheless, he's the sort of player that this defence needs shielding it. Naby Keita will also bring more defensively than the likes of Wijnaldum or Milner, even though he's not a defensive signing.
And then there's the attack. Liverpool need to find a way to score more goals in tight games. Although 84 goals is arguably enough to win the league, they were not distributed evenly enough. It's one thing to beat teams by four or five when they're chasing the game in the second half, but breaking down obstinate teams is something the Reds have struggled with at times, and they dropped points in thirteen of the fourteen games last season where they failed to score twice.
Keita is of course, the main difference there, with his vertical passing and direct dribbling adding an extra dimension to Liverpool's midfield. Keita is not necessarily a purely creative force, but his dynamism, directness and ability to take players out of the game is vital for Liverpool to generate space for the front three. None of that, of course, is to say Keita isn't creative, at 0.19 xA/90 in the last two seasons, he's produced consistently over two years in that department.
Moreover, and this is maybe an element of Liverpool's game that hasn't been highlighted as an issue as much as it should have, but Keita scores from midfield – 14 goals in his last two seasons at 313 minutes per goal is better than any regular starter for LFC last season apart from the front three and of course Phil.
And then there's Xherdan Shaqiri. Whilst Shaqiri isn't a flashy signing, and his output is questionable, his underlying numbers are not. Shaqiri certainly has the attributes to add goals to this Liverpool team, and given how reliable on Salah, Mane and Salah the Reds have been for goals, he'll add some vital depth in that area.
Signings Yet To Come
As ever with these situations, we're dependent on a good end to the window. I felt Liverpool needed to buy Van Dijk last summer to win the league, and this summer I think they still need two players. To win the league with this goalkeeper is possible, but it's entirely dependent on Karius returning to near his best form and right now it's hard to say how he manages to reach that, especially given the toxic atmosphere created around the player by Liverpool fans. There are still goalkeeper rumours in the pipeline, but realistically it's not certain that Klopp will upgrade that position. As I've outlined above, there's plenty of reasons to be positive that Liverpool will concede less goals this season, but all of that goes out of the window if we don't have a confident and competent goalkeeper, at least matching Karius' back half of 17/18, but preferably improving on it.
The one area Liverpool do still need to improve if they are to win the league is attacking midfield, an area that the club seems to be taking seriously this window. The Nabil Fekir rumours are not going away, and make no mistake that lad would be the piece of the puzzle required to take this attack to the next level and bridge the considerable gap to the top four attacks in Europe. But even if Fekir doesn't sign, there's a leisurely confidence that Klopp and Edwards will find the right man to replace Coutinho and bring in a player of the title-winning calibre.
Right now Liverpool have seven starters good enough to win the title – Robbo, VVD, Fabinho, Keita, Mo, Sadio and Bobby. If Trent has another season of upward trajectory than he should not be an issue, Lovren is good enough with a partner that he can be carried through a title-winning season and Karius is just about good enough as a keeper – assuming the aforementioned conditional that he doesn't fall off a cliff after Kiev. Nevertheless, the Reds need to make that eight or nine title-winning players if they want to actually win the title because their strongest opposition have a similar number. Which brings me onto:
The Opposition
There's no sugar-coating it. I'm a lot less optimistic than I was this time last year because Man City are absolutely terrifying. Fresh off a 100 point season, they're looking to improve their team, they have probably the best manager in the division and a frightening amount of depth. Yes nobody expects them to get 100 points again, but surely they'll be close and frankly, there's no reason to think that they can't be nearly as good again, if not better, given the players at their disposal, and their window hasn't even really started yet.
That said, as with last season, nobody else really worries me. Arsenal have made one astute signing and several mediocre ones, starting from miles back with a decent but not game-changing manager.
Spurs once again are low on depth, will struggle to settle in their new stadium and will suffer the most from World Cup fatigue when their players return. A decent Champions League run could easily cripple them.
And Man United are Man United. They've bought a right-back who is an unknown quantity and a decent midfielder from Ukraine. Their team is good on paper but completely and utterly unbalanced, they're still massively reliant on De Gea, Mourinho has created a relatively toxic atmosphere and once again I think they'll struggle to get near the title, although they've spent enough money to surely guarantee top four again. If they can find a way to get the best out of their better players then they should improve, but there's just no evidence that they're on a better trajectory than us.
Chelsea are extremely interesting. They're going to be undergoing a completely colossal overhaul this summer. Having finally replaced Conte with Sarri they've added Jorginho to their midfield which looks an extremely smart signing. However, if they lose experienced title-winners and their best players in the likes of Courtois and Hazard, then replacing them and creating both a balanced and deep squad will require a lot of hard work in a short space of time. Chelsea have the money to do that, but it might be tough for them to instantly, especially with a new manager, turn it on – even assuming they can replace two of their most important players.
Conclusion
So can Liverpool win the league?
Yes, obviously I think that, read the title of the article. But in all seriousness, I think Liverpool have the capacity to improve in the vital areas needed to win the league. On paper, we needed a DM, an AM, a backup winger and a GK/CB this summer. If we can secure most of those targets before the window ends, then we're in a good position. And as ever, it's not just about the numbers, but the quality too. Naby Keita is a genuine game-changer, good enough to lift a mediocre side to a title challenge, Fabinho is a terrific DM, and that's before we even get into Van Dijk getting a full season, and of course the best-attacking trio in Europe.
They'll need a lot of luck, a lot of strong performances and if we're being honest probably a goalkeeper, but the title is definitely within Liverpool's grasp if City give them even a sniff. Let's just all hope that they do. YNWA.