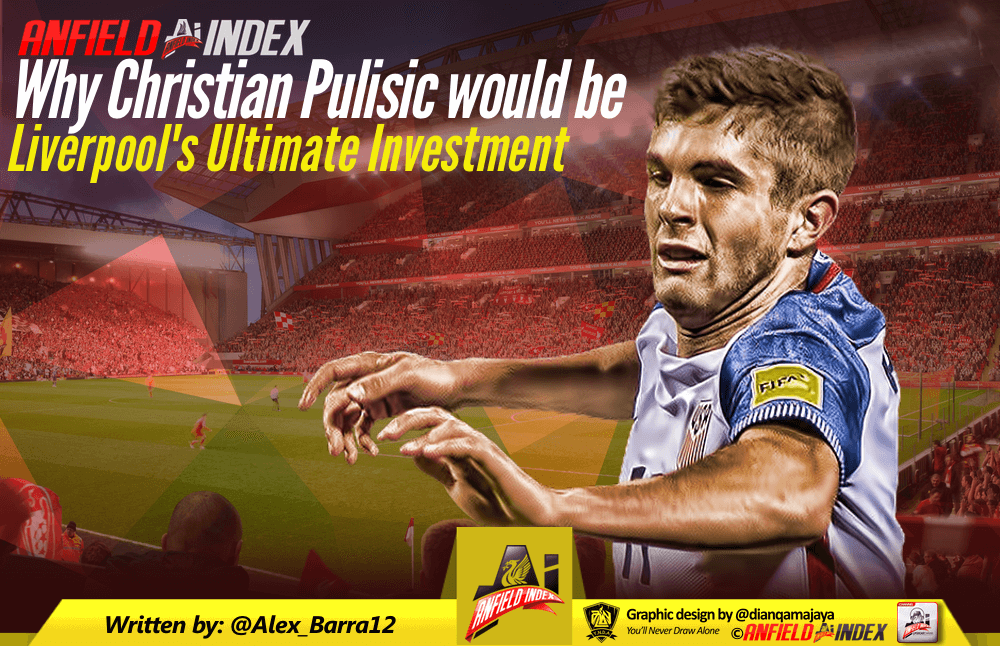 Why Christian Pulisic would be Liverpool's Ultimate Investment
With football's ever-growing obsession with the word "potential", it's not often one gets to make statements of absolution. Indeed, football is obsessed with making resolute, consummate statements within a game that is transient and is cursed with never really knowing what is real and what is just, essentially, an educated guess.
Football clubs have the power of analysis, of an endless stream of statistics and opinions from those most qualified to make decisions, and yet no decision ever made could be an absolute certainty. Even Juventus' purchase of Cristiano Ronaldo – which was a seemingly infallible decision, given they only paid €10 million more for the man with myriad Ballon d'Or trophies than they paid for Gonzalo Higuain – contains the possibility of not working out. Unlikely, but not impossible.
So, as football works in the realm of hypothetical, here's an assertion that will be shared among social media for as long as the transfer rumour mill continues circulating and Liverpool fans remain hopeful of that one more signing:

Christian Pulisic is the best investment Liverpool could possibly make this summer – or next.
Experience above his years
Imagine, at nineteen, having the expectations of the famous Yellow Wall (sometimes literally) bearing down upon you.
Imagine being plucked from the youth setup as a sixteen-year-old by a 6 foot 3 grinning German and being told you're training with the first team because there's something special about you.
Imagine being the man responsible for carrying your entire nation's hopes for a World Cup on your shoulder, and then imagine the disappointment when the lack of anyone resembling a coach means that country – one of the biggest in the world, in terms of cultural importance – doesn't make it to Russia 2018.
Christian Pulisic is a footballer whose experience already belies his years. Arguably the second most impressive nineteen-year-old footballer on the planet – outshined by the World Cup-winning Kylian Mbappe – Pulisic was required to carry Borussia Dortmund's hopes of a Champions League finish on his shoulders during the end of Thomas Tuchel's reign – when the squad was simply not working – and then required to score important goals (such as a delightful chip against Hoffenheim) under Peter Stöger.
In the Bundesliga, Pulisic isn't seen as just another prospect – he's perceived the way he ought to be; as Dortmund's leading light. Dips in form and a lack of proper goal and assist output are holding him back at the moment, but that's when you have to remember the most important feature of the dazzling American winger:
He's nineteen.
A Desire to Beat Players and a Familiar Style
For an in-depth scouting report, check out this writer's piece from earlier this year regarding Dortmund's teenage sensation, but (spoiler alert) Pulisic fits in extremely well with Liverpool's identity. If Klopp and Michael Edwards' carefully planned transfer strategy prioritises anything, it would be mentality and tactical fit. Compromises can't be made for a player who would hinder the collective, and this is where the Pulisic fit seems to be most prevalent: at nineteen years of age, Pulisic possesses the traits to be transformed into anything Jürgen Klopp wants.
A dynamic winger with pace to burn and an innate desire to beat a defender, he's never going to be shy when it comes to taking someone on. His dribbling numbers are impressive (2.4 – more than Sadio Mané and nearly as many as Liverpool's other target – Nabil Fekir) but more impressive is the cavalier attitude with which he treats an attack; always looking to move into the right space, able to duck to either side to try and glide past a man and ever-present for a quick one-two.
Quick, clever and having been brought through by the same club which Klopp coached for seven years, Pulisic more than fits the bill.
During the United States' World Cup qualifying campaign, he played as the number 10 and was involved in twelve goals in sixteen appearances, putting to bed the notion that he's simply a winger.
And yes, a goal or assist every 210 minutes for Dortmund during his entire Bundesliga career isn't exceptional: yet, on the flipside, this is a "boy" – by age, he would be an unproven prospect – who's been involved in 20 goals for Borussia Dortmund in two and a half seasons. Harnessed properly, there is an undoubtedly exciting future in which Christian Pulisic becomes a goalscoring weapon; one who is able to engage in Klopp's press, lead Liverpool's line and make good on being the second best nineteen-year-old in World Football.
His middle name
Christian Mate Pulisic.
Mate. Come on. You can't say no to that.
The Marketing
It seems an over-stated pretence, but the ideal signing for FSG is, without a doubt, Christian Pulisic. A winger – the kind of player whose dazzling performances will steal headlines – with that pristine reputation in his home country, John Henry and Tom Werner would see the signing of Pulisic as a marketing masterclass in waiting.
Considering Liverpool's deep ties to American Sponsors, and the recent 101,000 attendance to bear witness to Liverpool's pre-season friendly against Manchester United in Michigan, it's fair to say a Red shirt with "Pulisic" on the back would be a money-maker.
Much is made of perception in today's social media day and age, and to have an American Soccer public's attention entirely directed on your club is an invaluable asset, especially given the aforementioned suitability of Pulisic to Klopp and his play style.
The Future
Back in early January, German Football Expert and author of the excellent "Bring the Noise" Rafael Honigstein told the Totally Football Show that "I'd be very surprised if Liverpool don't come in heavily for [Pulisic] next summer."
In a piece Honigstein wrote for ESPN, he also detailed the reason for such a pursuit: "it's not the player Pulisic is that other clubs covet, but the player he is likely to become".
And indeed, Pulisic might not be the instant success that many fans crave. But he would be the best investment the club has made in years.